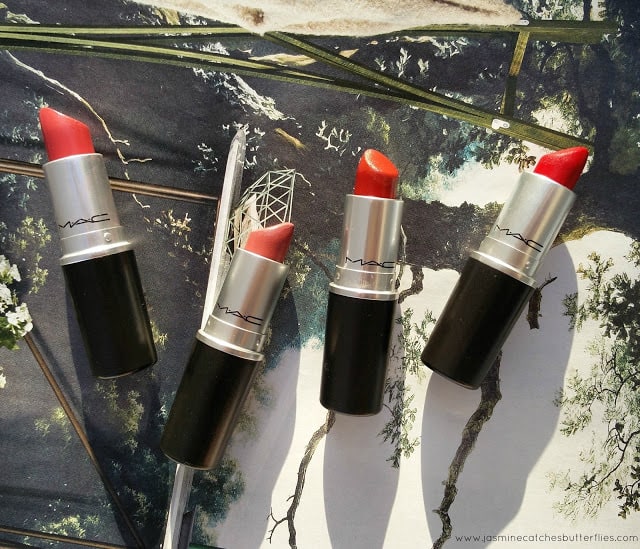 Four MAC Lipsticks For Olive Skin Tones
An olive complexion basically has a tinge of green and usually warmer complexions are known for having this but some pale beauties can carry it as well. Olive itself can be classed as an overtone and many a times people with this skin tone experience ashiness. Anyways, now that you know what I mean by olive, I would like to point out that I myself have this skin tone and a lot of Pakistanis and Indians do too. So for the longest of time I hated lipsticks because I never got around trying any that suited me.
When I first started blogging, MAC was seemingly the daddy of all lipsticks and I would say that a good ol' bullet of MAC still has class. Today I am sharing with you four MAC lipsticks that compliment olive skin tones and mind you this is my mini collection altogether. There are so many other lip products out there now and I am getting into collecting more and more liquid lipsticks for the time being so I do not think I will be making another MAC purchase anytime soon. The brand is not even sold locally and I have to pay double the amount for each. Though that is one reason why these lipsticks that I have work for me as I bought them after extensive research.
I will share with you my other staple lipsticks in another blog post but for now people who ask me for MAC suggestions, here is a nice mix with four different finishes too. Most of these shades would work for just about everyone anyway as they are safer options to pick.
Crosswires – Cremesheen Finish 
This was my first ever MAC lipstick and back in the day I was not a matte girl but did not like glossy looks either so a cremesheen seemed like the perfect option. Crosswires is a warm bright pink that screams desi and holidays to me. It is my least worn shade now because it can be a bit bold for every day and I like other finishes better. Nonetheless, it looks gorgeous especially with traditional or super girly attire. If you are looking for a coral shade, this is bound to compliment your tan. You can see me wearing it in my detailed review post.
Twig – Satin Finish
This is a beautiful mauvy pink shade and it happens to be my favourite out of all four as it makes a perfect nude shade for olive brown skin tones. If there is a special occasion and I do not want to take any risk with my makeup, I will most probably wear Twig or Jeffree Star Gemini. Whenever I wear this, I bag lots and lots of compliments and I guess my signature look (so fancy) is incomplete without a dusty pink. Satin is one of my favourite finishes by MAC as it feels comfortable on the lips and it lasts longer than cremesheen for sure.
Chili – Matte
If you want a red lipstick for your olive complexion but you have not had much luck in the past, go pick Chili right away. It is not bold and looks stunning on warmer skin tones because of the terracotta shade which makes it deep and subdued. I adore this matte finish by MAC because it is similar to Satin, glides on easily and does not dry out my lips.
I featured this in my Top Five Fall Lip Shades but it can be worn all year round if you are feeling sassy. You can see me wearing it in my Rocking Short Hair blog post and when I shared that photo my social media A LOT of people said it looked like my perfect shade. So you know, it is made for us.
Ruby Woo – Retro Matte
Here comes the Queen. If you want to go all out, bold, bam, in your face, you need a Ruby Woo. Known as the classic jewel toned red, this baby will surely makes all the heads turn. Another shade that would work for a lot of skin tones but honey, when you are olive you naturally have to own the reds. Ruby Woo looks more formal and elegant than Chili. The Retro Matte finish does feel dry and is actually straight up matte but it is the longest wearing lipstick of the lot. You can read more about this along with seeing the swatches in my review post.
I love all of my MAC lipsticks and I am glad about picking these shades for myself. I certainly have a couple other popular ones in mind but I guess I will let them pass for now. So, you tell me which of these are your favourites too.