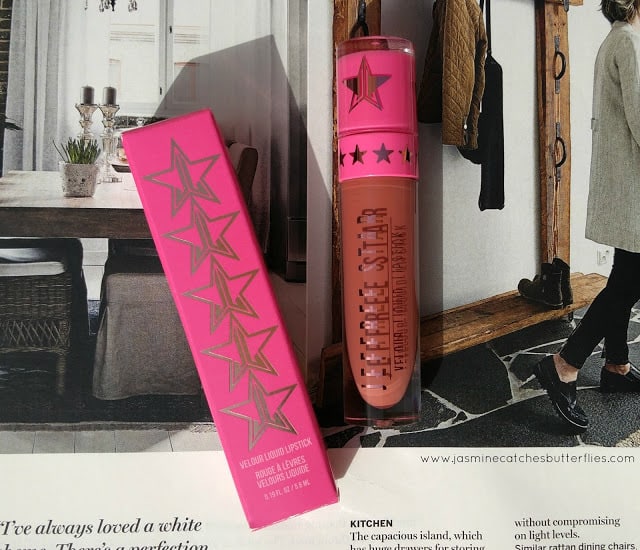 Jeffree Star Velour Liquid Lipstick in Gemini
For the past month, I have been obsessed with the YouTube makeup guru, Jeffree Star, and all of a sudden my best friend bought me this Jeffree Star Velour Liquid Lipstick in Gemini as a birthday gift. My own zodiac sign is Gemini and I was so ecstatic to receive this because if you have been around for long enough, you would know that that I love dusty rose nude shades on myself.
I don't even know where to begin with this review but I have been singing praises ever since on my social media and constantly telling my friends that they need to get it. I have tried a few liquid lipstick brands previously and for the most part, I do not gravitate towards any of them. However, the minute Jeffree Star Gemini touched my lips, I fell in love and I do not take it lightly when I say it has been a life-changing experience, at least when it comes to liquid lipsticks.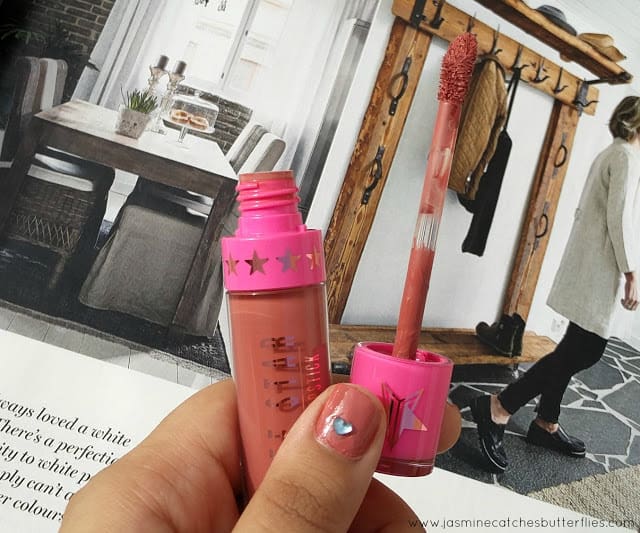 All of the Jeffree Star permanent velour liquid lipsticks come in a chunky acrylic tube with a bright pink cap, packed in a similar bright pink box which has multiple gold star logo on it. The sturdy tube itself is clear with the brand name and cap details in rose gold. The packaging is unique in its own way and even though the tube is stubby it fits perfectly in a common lipstick holder. I also like how the cap securely locks in place so that you do not have to worry about leakage.
If we talk about the applicator, Jeffree has further added a touch of class by keeping the stick acrylic too and the soft head resembles a doe foot but it has a slight indent which holds the liquid lipstick as you pull the applicator out through the stopper on the top. I personally feel that even this amount is excessive for me and I can always cover my lips with a lesser amount. Also, I find it quite easy to manipulate as it bends slightly with gentle pressure.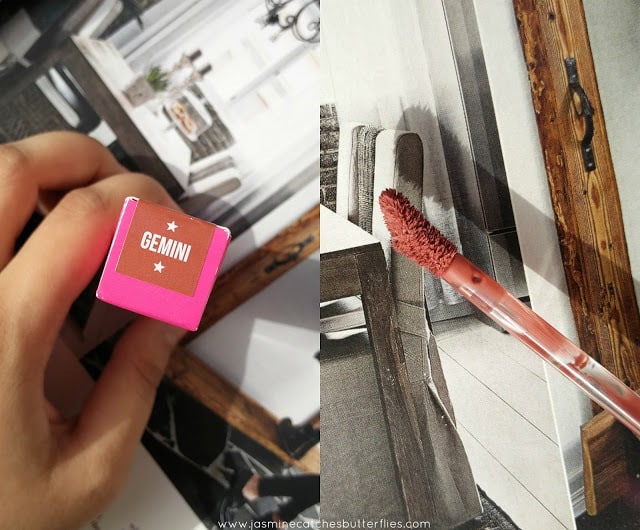 The reason why I am ready to set my entire lipstick collection on fire since having this is the mind blowing formulation. The first time I used Jeffree Star Velour Liquid Lipstick I was pleasantly surprised to find how thin and runny it is in comparison to other liquid lipsticks which I prefer using with a lip brush as mentioned in my Pro Advice on Liquid Lipsticks post for a thinner layer. This is by no means overly fluid but it feels oily and I think that is what makes this lipstick so comfortable to wear. Just one swipe and you get full opacity. I use a thin layer without even dipping back in the tube and still the pigmentation holds up pretty well for hours at length. It fades ever so slightly with light snacking and drinking and hardly transfers otherwise. I have worn this lipstick for up to 8 hours without the need of any major touchups. Crazy, right?
I do not find the lipstick drying and have not experienced any feathering. You also get a sufficient amount of play time before the lipstick dries down to a matte finish and I find it perfectly timed because it does not take too long to dry either. The best part is that you can layer this lipstick wet or dry, smack your lips in the process, feel a little bit of the tack and still it would not ruin or crumble at all, so touchups are easy even after an oily meal when the lipstick finally breaks down but that is mainly noticeable on the inner rim of the lips. To take this lipstick off all I use is Bioderma miceller water or Nivea Gentle Cleansing Wipes for dry/sensitive skin which has almond oil in and it does not require any tugging so the lipstick does not give me a hard time at all.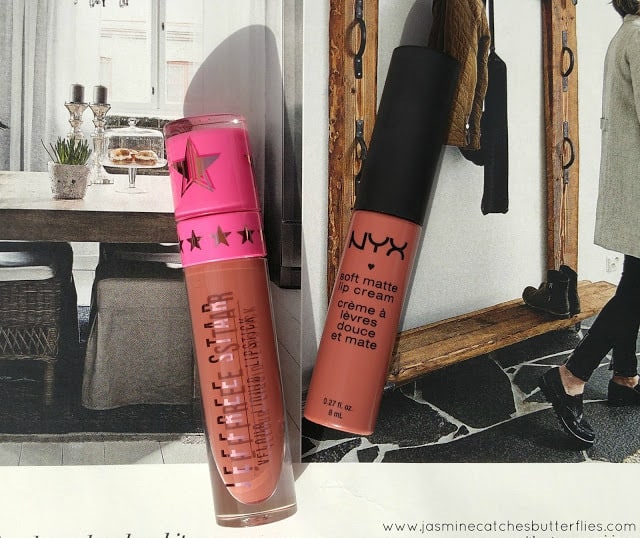 In the tube and initially, Gemini looks milky brown but on drying down it looks like more of a terracotta-rosy-brown. The shade is not absolutely unique but the formula, finish and lasting power are unbeatable. Going through my own collection, I could only find NYX Soft Matte Lip Cream in Cannes to be kind of a dupe for the shade though that is still lighter and redder than Gemini. You guys always tell me to show how the lipstick looks on my lips so I have included a photo of myself at the end. Please excuse the awkward pose, my rooftop terrace is quite windy. The lipstick appears to be lighter on my lips than it does on my arm but my face is a lot tanner and I find it more wearable for every day this way.
While this liquid lipstick is moisturising and does not accentuate dry flakes it is always advisable to scrub your lips for a smoother application. Also, Jeffree says that shake the tube before use so that the separated ingredients mix well and you get the most out of his Velour Liquid Lipsticks. Most of Jeffree Star lipsticks do not have any added fragrance so the brand admits that they smell of chemicals. Gemini on the other hand, along with a couple other from the range, has a rootbeer scent. It is a little sweet and I am not a fan of it but it is not at all overpowering once on so you do not have to worry about it.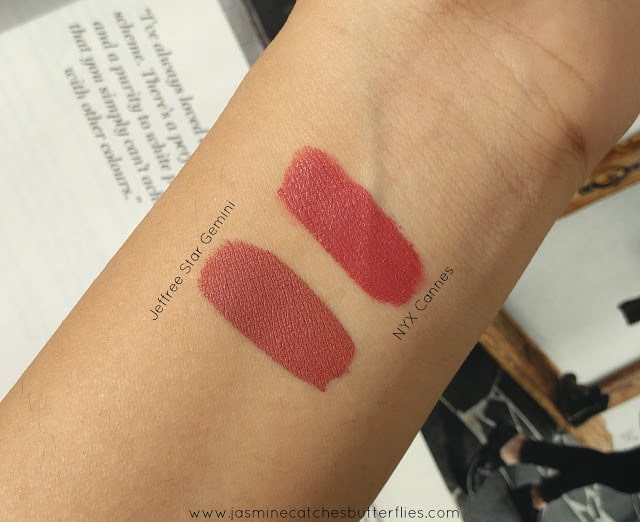 Jeffree Star Velour Liquid Lipstick in Gemini in comparison to
NYX Soft Matte Lip Cream in Cannes
Jeffree does not have a whole zodiac sign range like I first thought but instead just two shades named after zodiacs. One is Scorpio, which is his own star sign, and the other is of course Gemini which was inspired by one of his best friends. These though make such apt and thoughtful birthday gifts for makeup lovers. To top all the goodness, the brand is vegan and cruelty free too.
Now I want to try pretty much everything from Jeffree Star Cosmetics because the quality and the quantity are as good as it can get for the pricing. However, it is a bummer that the brand does not yet ship to Pakistan and we have to currently rely on the Facebook sellers. Currently, Indelath on Facebook is offering the best price for the liquid lipstick and I have bought a few things from the page so far so I do find it reliable. You can also buy Jeffree Star products from Morphe Brushes website but I am not sure about their restock timings and the shipping takes a couple months to reach Pakistan.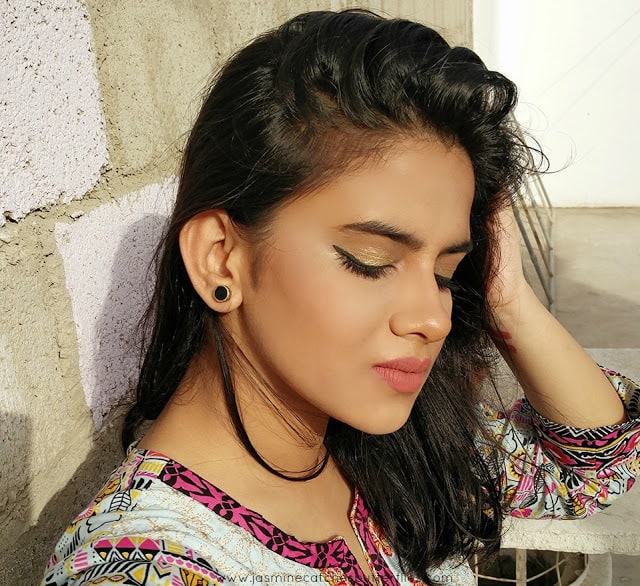 Price: $18
Quantity: 0.19 fl. oz
Availability: Jeffree Star Cosmetics website (Doesn't ship to Pakistan), Morphe Brushes website (Ships to Pakistan)
Local Facebook Page Sellers and Prices:
1. Indelath – 2800 PKR, 2. Zensky – 2850 PKR, 3. Rouge – 3000 PKR