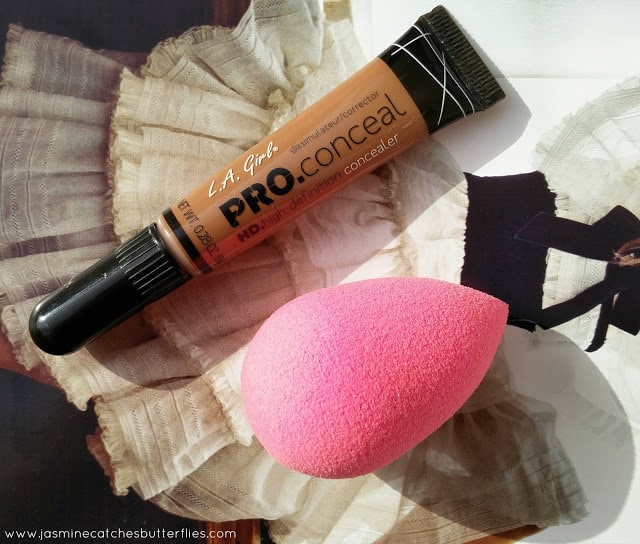 L.A. Girl HD Pro Concealer in Beautiful Bronze
I think for most of us, the earliest memories of crazy cream contouring goes back to Kim Kardashian and love them or hate them, the Kardashian/Jenner clan has been one of the most influential celebrities when it comes to makeup trends. A lot of people prefer powders over creams and liquids, especially during summer because of the hot, humid weather that melts just about everything. However, if you want your makeup to last, just powders won't cut it for you so that is when it is advised to start with a cream base and layer it with powder.
I personally have dry/combination skin so I love using liquids and creams when it comes to makeup but I agree I do need to powder hardcore during this time of the year because of the sweat dripping season. L.A. Girl HD Pro Concealers have been quite popular lately as the brand has a wide range to choose from for all skin types. They have one of the most sought after colour correctors and concealers. The latter of which are often seen used for cream contouring.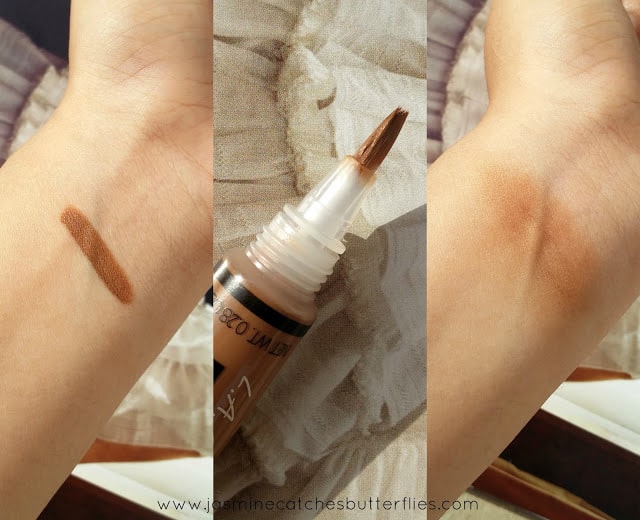 Now contouring is one makeup skill that is not as easy to learn as applying a blush or even liner. It varies a lot for everybody and you need to study your own face shape to perfectly implement it. So, I am not here to teach you how to contour, but be mindful that it does take a lot of trial and error. However, I do want to share my own L.A. Girl HD Pro Concealer experience with you as I feel it has helped me in mapping out my contours better. With powders, I have often felt that I am not sure when to stop layering and it gets a lot messier but a cream contour gives me a good base to begin with so all I need the powder for is setting.
Toast happens to be the most popular shade amongst Pakistani ladies from L.A Girl for contouring as it is dark brown with a little bit of grey and it works well for fair to medium skin tones. However, it was out of stock when I placed my order at Indelath (Facebook Page) so I opted for Beautiful Bronze as I saw a lot of makeup gurus with my skin tone use it. This shade is a tad bit lighter than Toast and on my arm it does look a little orange but since my face is a lot tanner it works perfectly without that tinge.
This product definitely lives up to the hype as it has a very smooth formulation, gives great colour payoff with only a small amount and blends easily. I use my beauty blender to blend and tone it down because the two together work best as this concealer tends to set quickly otherwise and it is waterproof so does not budge. This also means that it does ensure longevity and I just go over with a contouring powder to further set it. Using a cream underneath has certainly been a game changer for me as the contours look a lot nicer and professionally done.
Excuse the crazy highlight!
Onto the packaging, I am not the biggest fan as I find it a little unhygienic but also inconvenient as squeezing the tube for squirting out product can lead to depositing an excess and that can get messy. Though I like the fact that the tube turned out to be bigger than I imagined and you get a lot of product for a decent price. As far as the scent goes, I do not smell any added fragrance and it rather reeks of chemicals but I don't mind since it is not at all detectable unless you sniff the tube.
New or old, I would definitely say that you should try cream contouring as a guide and it makes my job a lot easier. Just start little by little, don't go overboard but you will fell in love with the results once you get the hang of it.
Price: 650 PKR // $5
Quantity: 8g
Availability: Indelath (Facebook Page), just4girls.pk (5% off code: J4GJB5)

Follow
(function(d, s, id) {var js, fjs = d.getElementsByTagName(s)[0];if (d.getElementById(id)) return;js = d.createElement(s);js.id = id;js.src = "https://widget.bloglovin.com/assets/widget/loader.js";fjs.parentNode.insertBefore(js, fjs);}(document, "script", "bloglovin-sdk"))