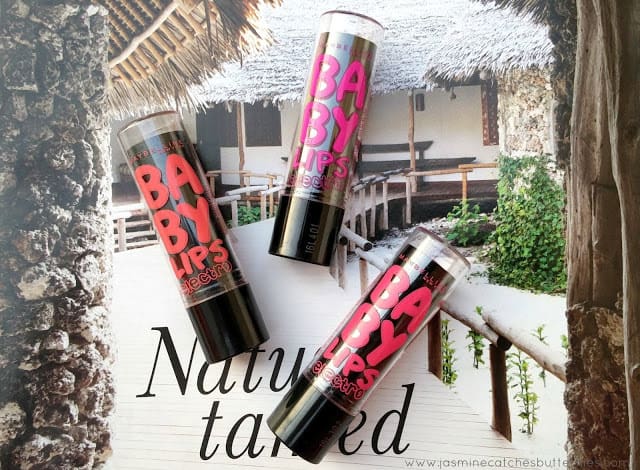 Maybelline Baby Lips Electro Review and Swatches
One minute we are all whining how hot Karachi is, next minute the sudden shift in weather takes a toll on our skin. Nothing drives me crazier than dermatitis getting out of control on my cheeks, but today we will spare it and talk about lips instead.  Dried, chapped lips do not only look gross but are quite painful too since the skin over our lips is thinner than the rest of our body. So, I always make sure to have a lip balm on me as soon as winters arrive and for the past few years Maybelline Baby Lips has been my saviour.

Now, I know some people love it while others do not get the hype, and before I tried one I was skeptical myself. However, in my experience, I have not yet come across a better lip moisturizer and I will tell you why. With most of the lip balms that I have used in the past, I always felt that they left my lips feeling drier after a few hours when their effect wore off. On the contrary, with Baby Lips even after a good night's sleep when the balm has completely absorbed into my lips, they do not feel dry that way and are in fact supple. Also, this lip balm does not leave unattractive white marks around the rim of the mouth like some lip products do.
I already talked about Maybelline Cherry Me Baby Lips on my blog a couple years back and when electro was launched in Pakistan, everybody said that it was better than the original. So I ended up picking all three of the flavours; Oh! Orange!, Strike A Rose, Pink Shock, that are available locally to see for myself. These happen to be some of the most pigmented shades from the collection and they are all very girly. They do feel a little more hydrating than the original as the formula is slightly thicker which I like. My lips were drier than Sahara this evening and only after a few hours of application they felt softer.
Baby Lips Electro come in a black twist-up tube with a transparent cap that has the font in the same colour as that of the lip balm. The whole Electro range comprises of bright neon shades but they are not shockingly over the top once applied to the lips. They are intensely pigmented for a lip balm and have a nice sheen to them. You can wear these on their own if you are going for a casual look and like a glossy finish.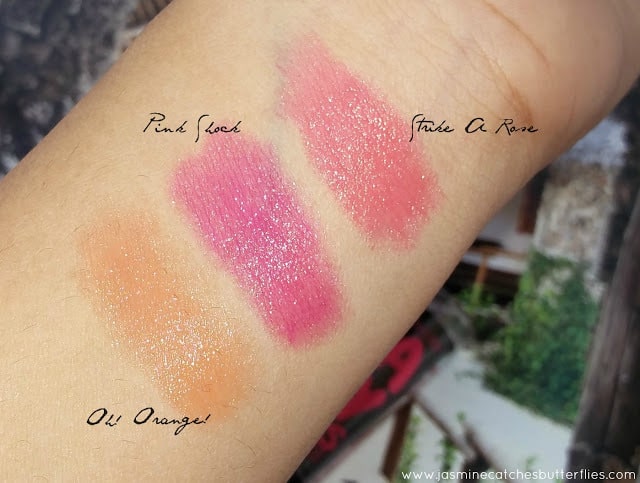 Maybelline Baby Lips Electro: Oh! Orange!, Pink Shock, Strike A Rose
Oh! Orange! as the name suggest is a true bright orange shade with the scent of an orange which I love. Pink Shock is a hot pink and it smells fruity too. While Strike A Rose is a barbie pink that looks really cute and this has a faint floral scent. I do not have any shade favourites as I love them more for moisturising my lips than wearing them for a makeup look. You do not have to worry about the scent if you are someone who does not really like scented products as it is not bothersome and goes away soon after application of the lip balm.
Price: 450 PKR
Quantity: 4.4 g / 0.15 oz
Availability: All leading superstores nationwide and just4girls.pk (use J4GJB5 for 5% off).
If you are looking for a good lip balm this fall, then I do highly recommend Baby Lips Electro for its good hydrating power. Just like with any moisturizer, you do need to apply it regularly and certainly a fair few times during the day but it is totally worth the pain and cracks it saves you from.