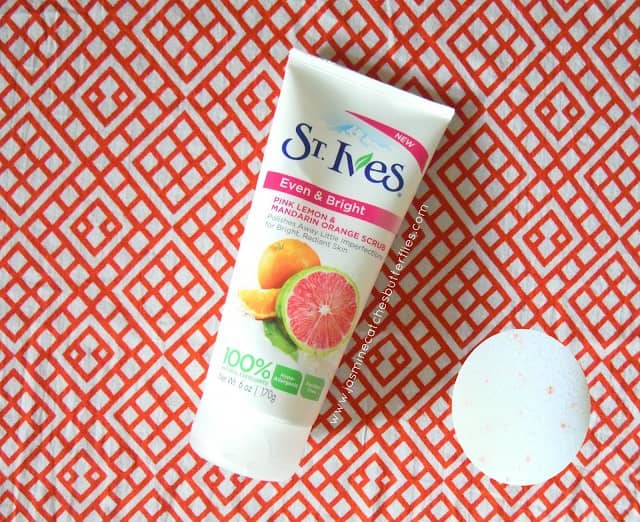 After the St. Ives Fresh Skin Apricot Scrub, I wanted to try something different from their range and ended up picking this interesting sounding St. Ives Pink Lemon and Mandarin Orange Scrub. Heads up, I am a reptile for the most part of the year so I love me a good scrub and in fact, I am kind of a scrub hoarder. So I got this scrub because how often do you even hear Pink Lemon? At least, I never had before and the citrusy combo seemed quite appealing to me. But how did it fare for its 'Even and Bright' claims? You will soon (and by soon, I mean soon, since we won't linger) find out.

The first time I tried this scrub, I noticed how much gentler it felt than the apricot one, but soon learned that if I take more amount of the product, it gets scrubbier. Formulation-wise too this is runnier in comparison with any of the scrubs I have ever used and surprisingly soapy when applied over the damp skin. To top that off, it smells nice but extremely detergent-y! I don't mind any of that, though since I really love the scrub for the job it does. However, since it is soapy I prefer creamier scrubs during winter time because my skin dries out readily. The scrub itself is made up of teenie-tiny white particles and pink beads, as you can see in the circle within the photo.
Basically, this St. Ives scrub, as mentioned earlier, claims to even and brighten out the skin, both of which I do find to be true. Pink Lemon and Mandarin Orange Scrub is what I rely on when I get extra tanned on a sunny day for de-tanning afterwards. That doesn't mean it instantly flips through the skin tones by 5 shades or unnaturally, but the results are visibly amusing. It always leaves my skin looking brighter and softer. The citrus extracts perhaps do work their charm and this alone gives a salon facial look.
The good thing about the brand is that it makes paraben-free products out of natural ingredients and that makes me want to buy more of it. Also, St. Ives packaging is so tidy, the tube is easy to dispense product from and the lid snugly clicks. I would definitely recommend this scrub to you guys because I have been using it for around past 9-10 months, switching up with other scrubs I own, and Pink Lemon and Mandarin Orange has made its way in my all-time favourites.
Price: Around 400 PKR
Amount: 170 g
Availability: I picked mine at Imtiaz Supermarket.