Movember is a portmanteau word from moustache and "November". The month of November is now known for growing awareness of prostate cancer and other male cancer. Movember aims to increase early cancer detection, diagnosis, effective treatments and ultimately reduce the number of preventable deaths. Besides getting an annual check-up, the Movember Foundation encourages men to be aware of any family history of cancer, and to adopt a more healthful lifestyle.
So, to play my part, today I'm posting a Movember Manicure to raise awareness! Stay blessed and take care of yourselves people. 🙂
I used a pearl pink nail polish as the base coat and drew on the moustaches using a tooth-pick with black nail polish.
Tips & Tricks:


1. Keep cleaning the tip of your toothpick so that it does not draw thick.
2. Practice on a piece of paper before doing it on your nails.
3. Keep your hand as steady as possible when drawing.
4. If you wish, draw one same moustache on each nail or do a variety like me.
5. Do not worry about messing it up, you can always wipe it off and start over 😉
6. Seal your nail art with a top coat to give your nails a smooth finish.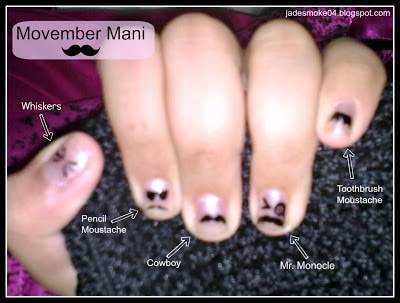 My favourite is the Pencil Moustache (in Manicure!!) What about you? 🙂
Leave me a comment below and subscribe via GFC 🙂