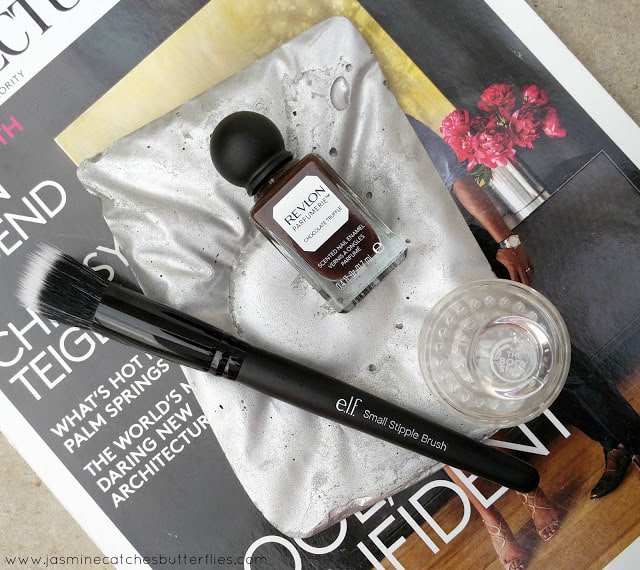 PR Samples*
I know a lot of us are not much of a fan of online shopping because we like to physically see and feel what we are buying, however, online businesses have had a boom over the span of past few years and it is not only a lot more convenient at times to just *click* *click* *click* and shop, but also unavoidable when foreign brands are more readily available online than in stores. So, I was recently introduced to MyGerrys (mygerrys.com) which is an online portal that sells a wide range of products like clothes, cosmetics, gadgets, appliances, camera accessories, homeware, garden and outdoor goods, etc.
I ended up picking three random bits for myself which include E.L.F Small Stipple Brush, Revlon Parfumerie Scented Nail Enamel in Chocolate Truffle and The Body Shop Facial Brush With Lid. Now, I have only been using these for a few days so I can give you an opinion based on the first impression I have had so far.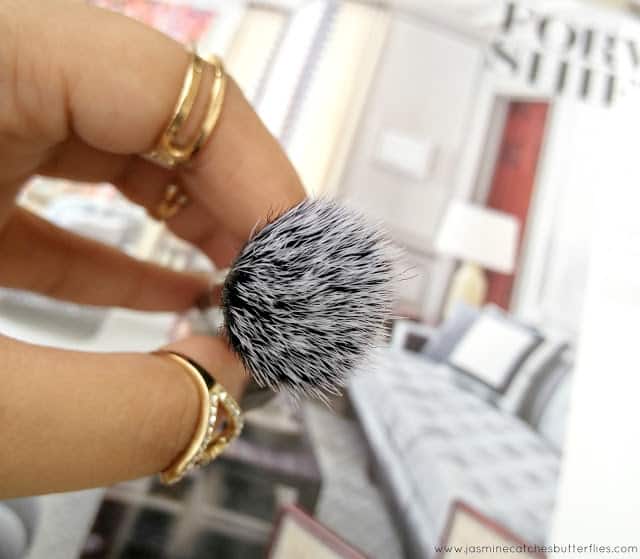 E.L.F Small Stipple Brush
This is my first brush from the brand as I am a loyal Sigma Beauty user but I definitely do want to branch out and try different brands as a beauty blogger. So I decided to pick this stippling brush because I didn't already have one in my stash and I wanted this for my cream blushers. It is smaller than an average blush brush so it seems to be nice for precise product placement. I have tried a few of E.L.F products in the past and it has been a hit or miss scene for the most part. Therefore, I did fear shedding but so far I have not experienced anything crazy so all is well. Since the bristles on a stippling brush are not densely packed, this brush just adds a light flush of colour while giving an airbrushed finish.
Price: 650 PKR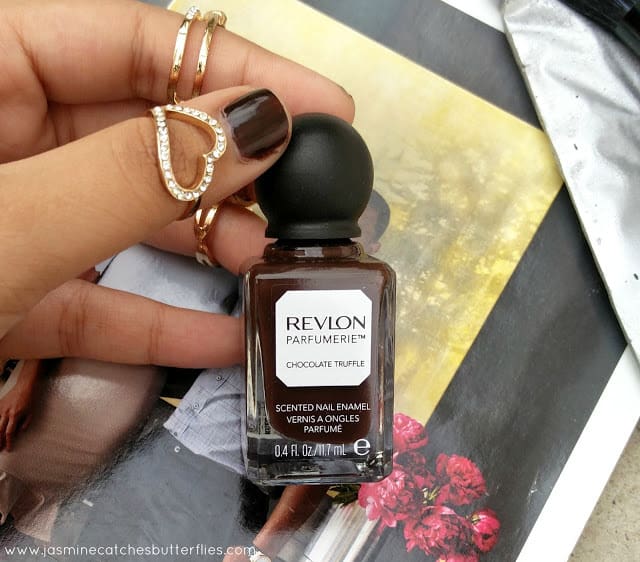 Revlon Parfumerie Scented Nail Enamel in Chocolate Truffle
I had been eyeing Revlon Parfumerie Scented Nail Enamel for a couple years already but I always wanted to get Balsamic Fir or Lime Basil. However, I could never justify the price and therefore ended up buying a shade of green from Golden Rose instead. At this point, I have already been hoarding a lot of liquid lipsticks and other makeup items so I did not really want to buy anything of the sort and this seemed to be a perfect opportunity to try one of the Revlon scented nail enamels with the voucher that I was given for my blog.
Going through all the shades, I settled for Chocolate Truffle since I have nothing like this in my collection. It is an extremely dark shade of brown and it pretty much looks black unless you are looking closely or are in sunlight. I do wish it was a shade lighter and I also feel incredibly dumb to not have realised sooner that this would actually smell like chocolate too because I am not a fan of that scent. I don't know why I assumed this would have a fresh or floral scent, the kind I expected the green shades to have. Initially, I regretted getting this because the smell of enamel and chocolate perfume together was way too strong but it died down after a while and the shade has grown on me since too. I can only smell the chocolate scent if I closely sniff my nails but not otherwise.
The applicator is thinner than that of most nail varnishes that I have used like Color Studio and Sweet Touch so I do not feel the need of wiping any product on the rim of the bottle before applying to get an even layer of polish. The shade is a bit streaky and you have to carefully work your way with it. On some nails I require double coats while on others one is enough or else layering causes a globby mess. I do have to say though that the polish does not chip easily. Still, I cannot spend an amount like this merely on nail paint and if I ever buy another one of these again it will be solely for the aesthetically appealing bottle.
Price: 800 PKR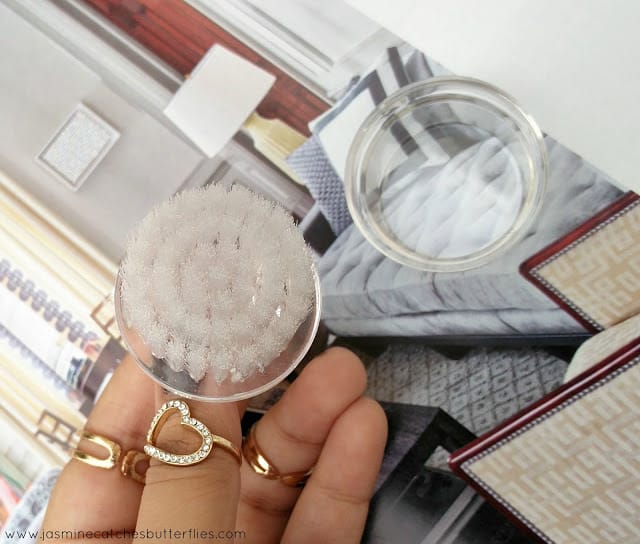 The Body Shop Facial Brush With Lid
This is another product that I wanted to get for a long time but it always kept getting pushed onto the back burner because every time I go to The Body Shop I splurge on body butters and bath products but skip buying stuff like this. I know it makes no sense but it has been the case for some odd reason. Facial brushes are good for gently exfoliating the skin and since I cannot afford a Clarisonic I wanted to see if I like the concept at all with a much cheaper option. The bristles on this brush are soft but tough enough to provide a good exfoliation. I use it with my face wash once every other day and so far like how it leaves my skin feeling squeaky clean. It is also really easy to wash this brush after use and I leave it face-up in the lid that comes with it to dry.
Price: 375 PKR
MyGerrys also offers daily deals where you can shop a certain product for a lesser price so do definitely check them out. I like how easy it is to navigate the website and you can filter through categories, manufacturers and prices to suit your need. I will be surfing more but since I have been through the cosmetics section already, I would like to give a heads up to all the makeup enthusiasts that you can find L.A Girl Pro HD Concealers for a tad bit lesser than Facebook pages. There aren't all the shades available but they do have a bunch and this is true for most of the other brands too.
Now, the best part for me when it comes to ordering online is to get free shipping and MyGerrys offer that without any minimum shopping limit within Karachi. The website does however also claim to deliver within 24 hours in Karachi and I had placed my order on a Friday but did not get it until Tuesday so I was a little disappointed. My purchases came safely packed in a bubble wrap and I was notified via email and text message when my order had been received as well as when my parcel was on its way. So, I do appreciate that at least I was informed when to expect it after the initial delay which probably could have happened due to the weekend in between. I am happy to see a rise in local websites like MyGerrys as they make online shopping in Pakistan easier and a little safer too in comparison to Facebook sellers.

Follow
(function(d, s, id) {var js, fjs = d.getElementsByTagName(s)[0];if (d.getElementById(id)) return;js = d.createElement(s);js.id = id;js.src = "https://widget.bloglovin.com/assets/widget/loader.js";fjs.parentNode.insertBefore(js, fjs);}(document, "script", "bloglovin-sdk"))