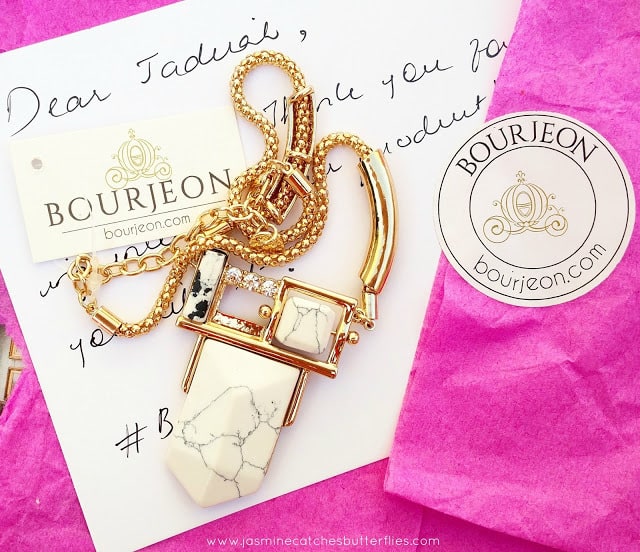 As a child, I remember collecting bangles and bracelets but once I grew a little older I began an affair with earrings. On the contrary, I have always seen my mum layer on necklaces and while I was always attracted to them, I am not certain why it took me so long to incorporate them in my own outfits. Now as an adult, I have been gravitating towards neck jewellery and when I saw this beautiful Rock Collar Necklace from
Bourjeon
, I knew it had to be mine. Bourjeon is a newly launched online portal for shopping jewellery and most of the things that I have seen on the website are statement pieces.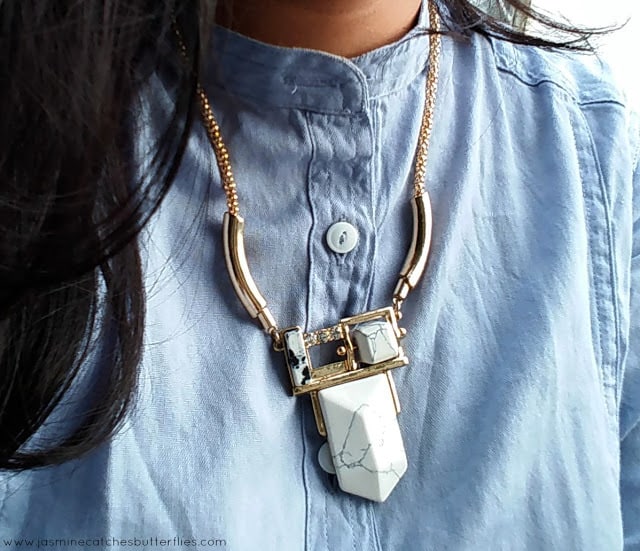 I adore the Rock Collar Necklace because everything about it is just perfect. To begin with, the design of this necklace is so artistic and modern with three pieces of marble print stones cut into different shapes. The largest one is rectangular on the top and triangular on the bottom with ridges running diagonally down the sides and through the centre. Then there is a chunky cube on top right-hand side, while a slim cuboid on the top left-hand side. All of these stones are supported by a gold plated frame underneath. Between the top two stones, there are three sparkling rhinestones which add more glamour to the necklace. While the Bourjeon Rock Collar Necklace is really well made, it comes with an extra rhinestone so in case if one of them pops off and gets lost you can always glue on another one.
Now, even though this necklace is not an actual collar necklace, there are two small gold plated half collars on the chain which make it look more classy and valuable. The chain itself is the prettiest gold chain that I have ever seen. It is thicker than an ordinary chain and has a network of mesh along its length. One thing that often puts me off about chains is the hook and clasp attached at the end as mostly those are difficult to open and clasp in place in just a single go. However, I was super impressed by the quality of the duo on this chain as they are pretty easy to work with and secure in place without the need of fumbling around.
Bourjeon Rock Collar Necklace can be worn to make any look dressier and chic without the need of trying too hard. It looks extravagant and has a good weight to it but still does not feel heavy on the neck. I also really liked the way my parcel was packaged as it was not only cute but also ensured that no damage occurs during shipping.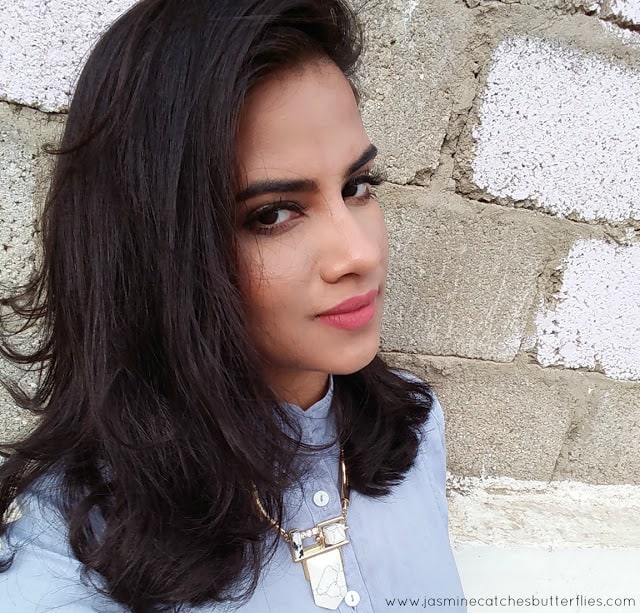 If you are eyeing this necklace, now is a great time to get your hands on it because it retails for 1700 PKR but is currently on sale for 1399 PKR. Also, if you spend 1500 PKR or more on bourjeon.com, use my 10% off code jadirah10 and save some cash! I personally loathe paying shipping charges because I would rather buy something else in that amount so the best thing that Bourjeon has to offer, apart from awesome jewellery, of course, is nationwide free shipping! Check the brand out for yourself and I can vouch that you will be pleased with their quality.

Follow
(function(d, s, id) {var js, fjs = d.getElementsByTagName(s)[0];if (d.getElementById(id)) return;js = d.createElement(s);js.id = id;js.src = "https://widget.bloglovin.com/assets/widget/loader.js";fjs.parentNode.insertBefore(js, fjs);}(document, "script", "bloglovin-sdk"))