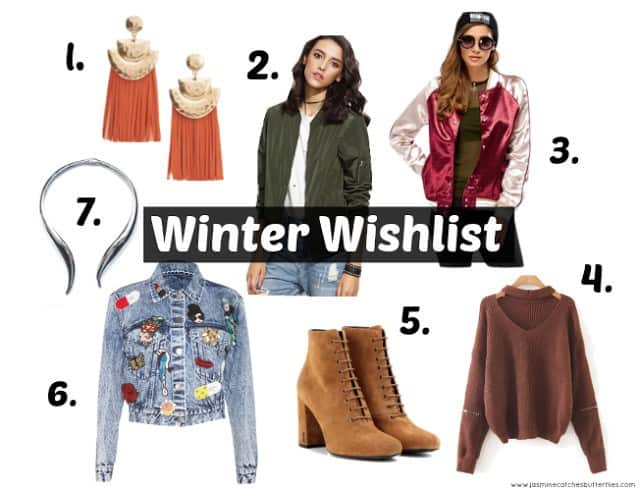 Based On Trends Winter Wishlist For 2017
It is finally getting chilly in Karachi and this morning I felt that it is about time I should go into hibernation. Too bad that is not an option, however, layering fashionable winter clothing is a great way of not only warming up the body but soul too, right? Towards the end of 2016, I came across a lot of cute winter outfits and they are surely stylish enough to transition with us into 2017. So my wishlist is based on everything that I find trendy this season. It mostly comprises of jackets and cardigans but I have included some accessories too. Fashion this year will continue to be a revival of outfits from decades ago but the best part is you can carry them as they are or add a funky twist. This is the age where everything is accepted and appreciated.

1. Fringe Earrings – I have seen some high profile celebrities wearing fringe earrings as of late and while I have never been a fan of tassels, fringes surely get my fancy. I find this trend to be pretty chic and at the same time great for making a statement. These earrings would specifically go well with an evening gown or with more formal outfits.
2. Olive Bomber Jacket – All the supermodels and their mamas have donned an olive bomber jacket already and while the trend is a little older than last year, it is here to stay. It exudes power even when you just casually throw one on. If olive is not your colour, you can totally get one in another colour but bomber jackets are here to stay and I suggest this is a great time to invest in one. I have seen tons at Outfitters if you want to shop in store, or you can buy one online on Zaful or Rosegal. There is a lot of variety in patterns and materials and I am personally having a tough time in choosing one for myself.
3. Satin Jacket – Satin is one material that seems pretty major this fall and the glisten it has is pretty alluring. You can get a jacket in this material in numerous styles and it is perfect for an added pizzaz to the attire since it seems more expensive and less casual. I have been eyeing varsity jackets too and while I would still like to get a plain one, how cute is this Autumn Lurex Baseball Jacket on Rosegal?! I love the wine red colour as it looks feminine but still sporty.
4. Choker Sweater – Chokers have made a strong comeback and people have been pretty creative with them as of late. I mean there are a lot of styles and patterns that have surfaced now. However, nothing quite beats an adorable choker sweater as it is cute and comfy at the same time! You can wear these oversized sweaters as a dress on their own or pair them with your leggings or jeans.
5. Camel Coloured Boots – It hardly gets cold in Karachi so I had only bought my first pair of booties last year from Stylo. Since then I have worn them a lot more than I thought I would and therefore, I think it is about time I invest in another pair. After black, I now want to get camel coloured boots because they will be easy to wear with most of my winter outfits too. However, I am looking for something fashionable than just plain flat boots so I would go for a little bit of heel and a Jeffree Campbell style this time.
6. Patch Denim Jacket – Denim jacket is such a timeless staple for winters and it looks great on its own but recently patches have been big and people have been putting some on everything from bags to jackets. I have seen a lot of jackets even bombers and varsity with patches but I like them patches most on denim as the colours pop a lot more on a light wash jacket. Some of my favourite patches to add would be a slice of pizza, girl power quotes, heart eye emoji and a flower.
7. Asymmetric Curved Cuff Choker – Like I said, a lot of variations can be now seen in chokers and this particular one looks the classiest. I first saw Jeffree Star talking about one such cuff from some high brand on his Snapchat and was absolutely dazed by its beauty. Luckily, a few weeks later I stumbled upon a much cheaper version on Rosegal and I am looking forward to now getting it for myself.
So that is all on my winter wishlist for now. Tell me what other trends you have spotted and would like me to talk about!