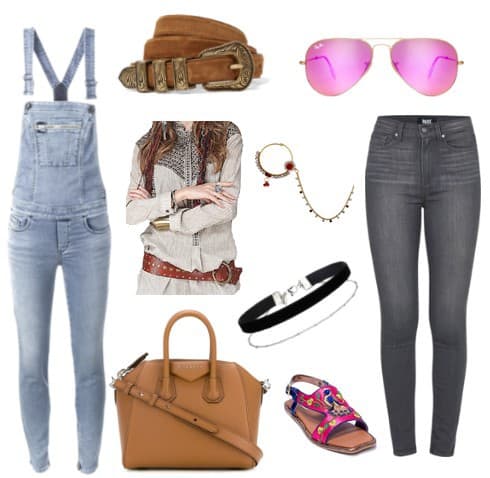 I think I have collected enough makeup over the past few months and therefore am now ready to stock my closet with new basics as well as some bohemian and desi (traditional) fashion apparel since my style has evolved a lot in the past couple years. Obviously, I have had the vision but it was always somewhere at the back of my mind and after a fair share of experiments it is clear to me that how I want to carry myself here on. I believe I do not have to just stick to one thing to express my style and therefore to sum it up I can best put it this way that I like a little bit of androgyny in my dressing but also would go all girly when it comes cultural attire.
I feel now is the time when I can shop some of the stuff that I have been eyeing since long. So sorry, Jaclyn Hill and Jeffree Star, those highlighters have to wait because I am into clothing at the moment.

1. Dungaree
I have wanted a dungaree ever since I grew out of my childhood one but recently when we had student week at university and the theme for one of the days was Retro, I couldn't have wished harder to have bought one in time. It is really difficult to get hold of adult-sized dungarees in Karachi and what I have been able to track are way too expensive for something that I wouldn't be able to wear on a daily basis, albeit I would totally love to.
Overalls certainly are old-school but I still adore this fashion comeback as they look laid back and yet absolutely chic. Besides, there are so many ways to style a dungaree.
2. Brown Belt
Well, this is quite basic but now I am working towards acquiring a more neutral wardrobe when it comes to western wear so all I need now is a trendy brown belt with some detailing on the buckle for accessorising and even dressing up a casual outfit.
3. Zaful Stand Neck Embroidered Loose Fit Shirt
This pretty cool bohemian brand, Zaful, reached out to me a little while ago and I went gaga over their website as everything on there from dresses to even swimwear is just so cute. This Stand Neck Embroidered Loose Fit Shirt on Zaful caught my eye in particular and I love how it has been styled on the model. I can't wait to do an outfit post featuring this so keep your eye peeled.
4. Camel Brown Handbag
I am the kind of girl who can walk out of the house without even taking a cellular phone because I like to keep my hands free when I am on the go. However, at 22 it is not such a wise habit to roam around town for hours at length without having any essentials like wallet, makeup bag, body spray etc. So, for a change, I am looking for proper handbags rather than just carrying clutches. I recently bought a black handbag, which by the way makes me feel like a grown lady, and has also taught me the importance of having one. Now, of course, I want a camel brown one as another staple piece in my collection to mix and match.
5. Hot Pink Aviators
You might be aware that I am a sunglass hoarder but I have not yet gotten onto the funky bandwagon with these. Nonetheless, hot pink mirrored aviators seem like a good pair to begin with. I do not want to invest in any expensive ones right now and I would rather try a few colourful ones from street hawkers to see if I like them on me.
6. Nath with Sahara (Nose ring with String for Support)
Excuse me for the weak translation, I just want a nose ring the kind South Asian brides wear but just smaller. I am so into traditional stuff right now and I love the fusion of statement desi jewellery with every day as well as western attires. I don't have a nose piercing and I would never even get one because I don't have a flattering nose shape for pins and rings but a nath with a sahara looks good on pretty much everyone. I mean you have to have a certain taste and style sense to appreciate any such jewellery incorporation. I for one would like to look badass in a nath paired with a bomber jacket.
7. Choker
A lot of 90s trends are making their way back into the fashion scene right now and thanks to Coachella everybody is once again rocking chokers. I want to get my hands on a delicate black choker so that I can wear it all the time but I would also like a couple layered ones for more festive looks.
8. Truck Art Kheri/Kohati/Peshawari Shoes
It just cannot get any more creative and traditional than handpainted truck-art kheris. I am a fan of Pakistani truck art because it is loud, kitschy, colourful and very desi. Now, even though sans the paint these shoes are considered masculine I love the twist local shoe designers/artists have come up with for us ladies. I definitely want to own a gazillion pairs of these shoes because our truck art is so diverse that you can never run out of options.
9. Dark Gray Jeans
One more basic piece that I want to add to my closet is a pair of dark gray jeans. I live in navy blue jeans all day, every day because I love the shade and it goes with nearly all my shirts/kurtis but a pair of gray jeans seems equally appealing to me all of a sudden. Gray also looks a tad bit formal in comparison to any blue jeans and is still not the same as black.
That wraps up my current fashion wishlist. Of course, I could add a lot more to it but I just wanted to share the gist and this will be a good enough start for me. Tell me what's on your wishlist and would you like to see a fashion haul?

Follow
(function(d, s, id) {var js, fjs = d.getElementsByTagName(s)[0];if (d.getElementById(id)) return;js = d.createElement(s);js.id = id;js.src = "https://widget.bloglovin.com/assets/widget/loader.js";fjs.parentNode.insertBefore(js, fjs);}(document, "script", "bloglovin-sdk"))