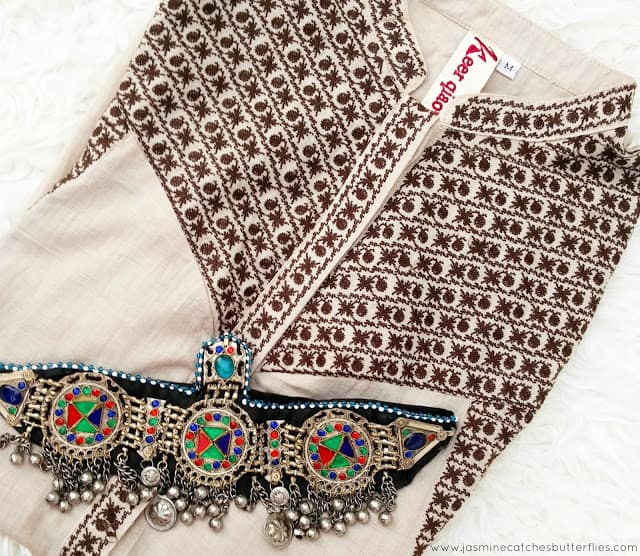 Stand Neck Embroidered Loose Fit Shirt
PR Sample*
I love style fusion because I don't believe in settling for just one thing. Only last night I was talking about how my style has evolved and what I currently wish for when it comes to upgrading my wardrobe in the Current Fashion Wishlist: Basic, Bohemian and Desi post. I had mentioned Zaful, an online portal for shopping fashion apparel, that has a wide variety of bohemian as well as modern and chic clothing and accessories. So, I got my pick from the brand which is this greige colour Stand Neck Embroidered Loose Fit Shirt and I couldn't wait to share it with you guys.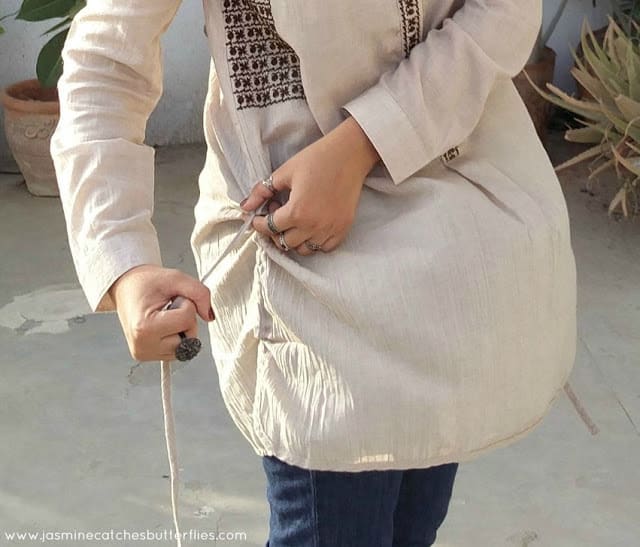 The top is made out of polyester and has dark brown floral embroidery around the collar as well as some of the upper half. I personally like stand-up collar as I find them to be flattering on myself and this shirt also has four wooden buttons hidden down the front strip of embroidered fabric. It is slightly fitted on the top but flowy towards the bottom and I adore the bohemian feel of it. There are two drawstrings on the sides and you can tie them up but I don't mind leaving them loose. I am 5'3 and the shirt is nearly knee-length long on me. I opted for medium size and I am glad that even though the sleeves are full, they fit me well.
To style this top I added my Afghani/Kashmiri tribal jewellery head-piece (matha patti) which I feel so obsessed with lately. It is traditional and I just want to flaunt my own, eastern, cultural heritage. Boho itself is tribal but this top paired with a navy jeans keeps things contemporary without going overboard. The matha patti is quite heavy and colourful with numerous small metal bells (ghungroos) and stones sewn on a black fabric. However, to dress up my look I chose to play with hair because layering accessories would have taken away from the embroidery. My inspiration for the braids was the model on the website who slayed the attire and I don't even come anywhere near. Nonetheless, I tried to accessorise a little more by slipping on a chunky and some nomadic silver rings.
Makeup-wise I stuck to red/maroon tones because they complemented the shade of the shirt. So, on my lips, I wore MAC Chili lipstick and on my nails I wore Red Wine by Sweet Touch. When I sport this top more casually, I would probably switch to mauvy pink shades to keep everything toned down.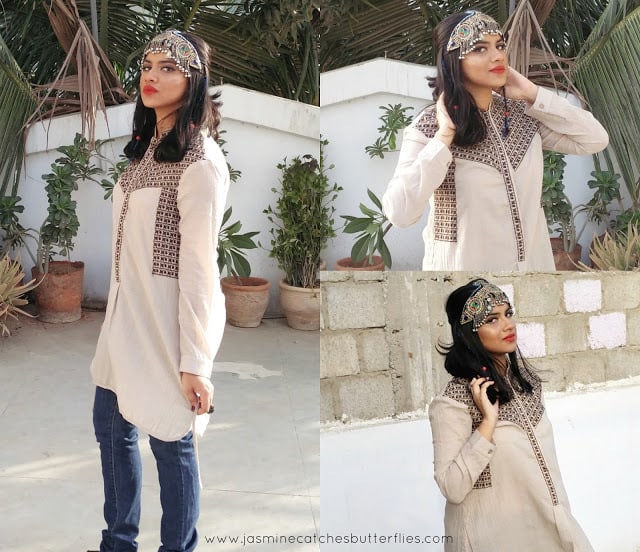 On Zaful, you can shop fashion falling in a wide range of prices. This Stand Neck Embroidered Loose Fit Shirt retails for $34.99 which is not bad. The brand also offers worldwide shipping and my order arrived safely in less than a month.
I would love to try some more stuff from the brand soon, especially accessories and cardigans. I also secretly wish to get the adorable swimwear that is listed on the website but I know I wouldn't be able to put it to good use, sadly. So, tell me if you like this contemporary tribal look of mine and what would you get for yourself from Zaful?