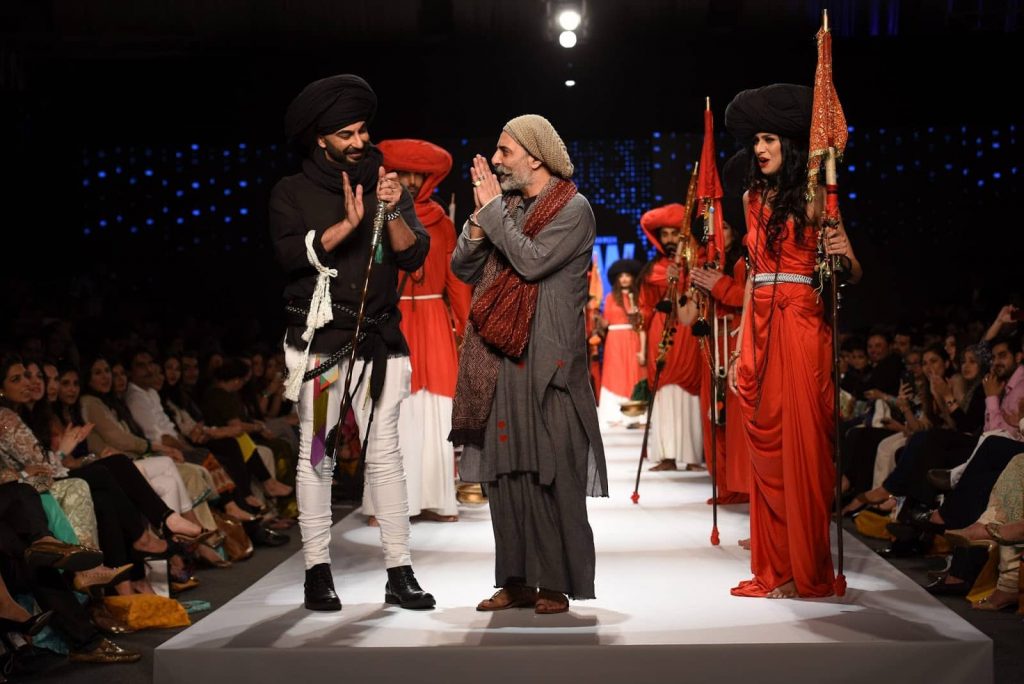 Laal Shah Mast by YBQ
Here I am, back with another edition of my Telenor Fashion Pakistan Week favourites. In case you missed out my last one, click here and check out what I liked from Day 1 and 2. Just for the record, Zaheer Abbas, the designer I most liked and praised previously, read my post and followed me on Twitter! Eeeep! 😀 Now that's big! Anyways, back on my feet, let's jump in.

Day 3: The designers that showcased on the third day are Body Focus, Levis Somal Halepoto, YBQ, Wardha Saleem, Sania Maskatiya for Alkaram, Inaaya and HSY.This was the day that had the most hits and I am pretty gutted to miss it as I had an exam the next day. Nonetheless, all that social media hype and the photos that followed completely sucked me in and I just realized, I like almost all of them.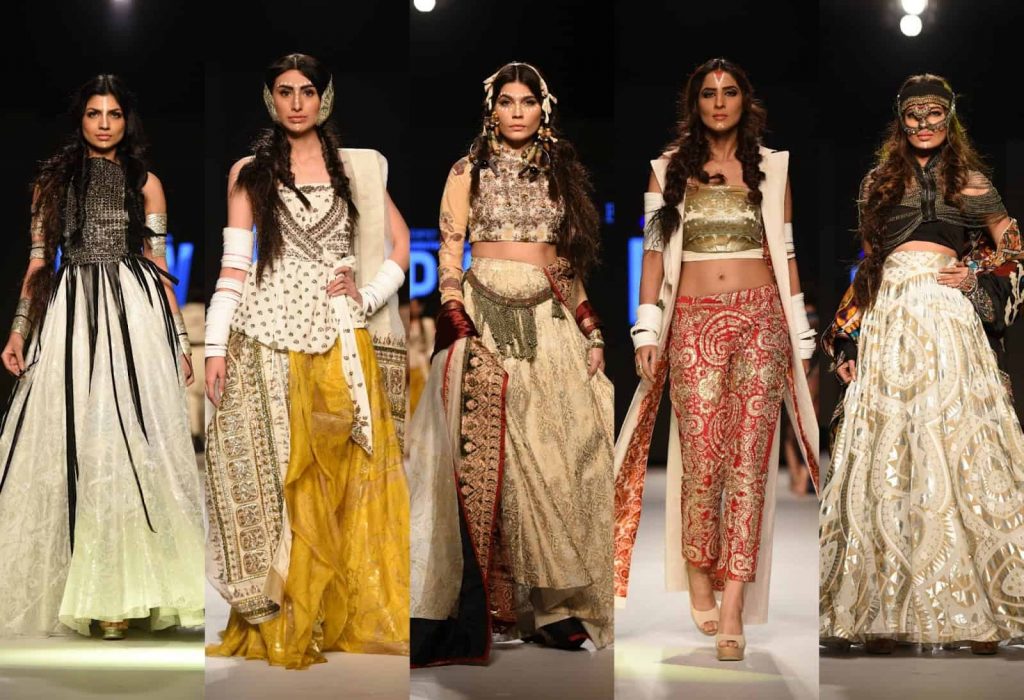 Sartorial Philology and the New Nomads by Body Focus
1) Body Focus came up with a unique yet eye-catching collection called 'Sartorial Philology and the New Nomads'. I love the boho touch and the colour palette used.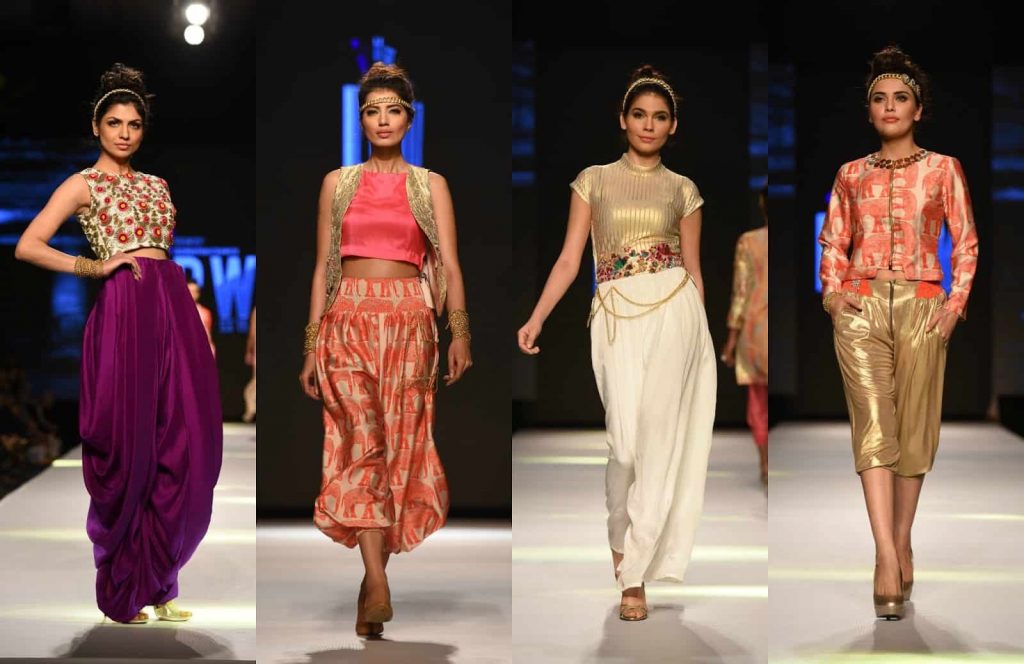 Color Glam by Somal Halepoto
2) Relatively new in the industry, Somal Halepoto displayed a shiny collection aptly called 'Color Glam'. Now, I am not personally a fan of all that gold but it still looks quite subdued and appropriate for night outs. My favourite piece has to the one on the extreme left. That floral blouse is absolutely gorgeous. Other than that I also adore those printed orange elephants.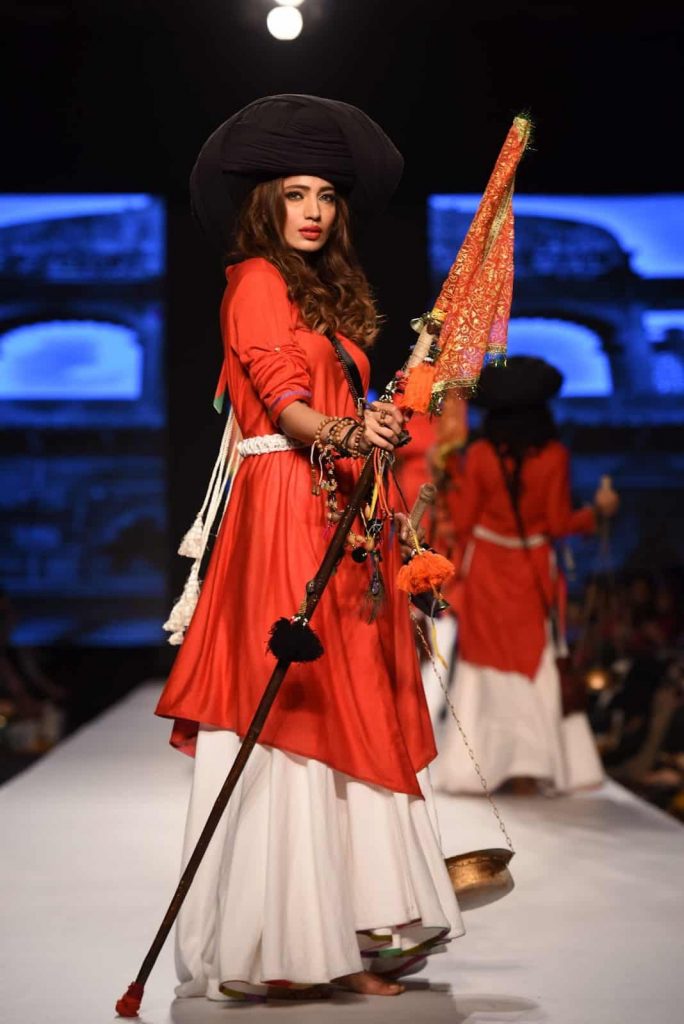 Laal Shah Mast by YBQ
3) YBQ just does not cease to amaze. His collection 'Laal Shah Mast' was a tribute to Sindhi Sufis and HSY himself walked the ramp for him. Predominantly orange, the collection was mindblowing as every minute detail was taken care of and it truly celebrated the Sufi culture of Pakistan.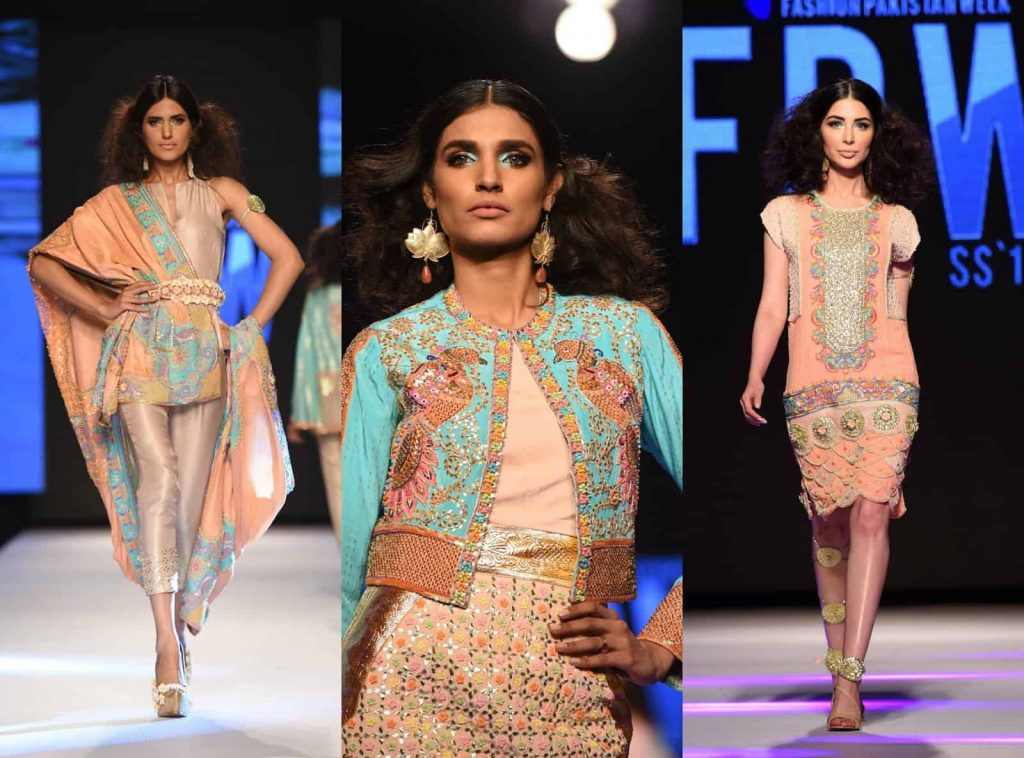 Lotus Song by Wardha Saleem
4) 'Lotus Song' by Wardha Saleem
was a collection that I was really looking forward as you might have read in my
TFPW Fever
post. This beautiful collection was undoubtedly an ode to spring and Wardha did a brilliant job sticking to her peach, blue and brown colour palette. All three aren't the shades that would instantly strike you on hearing 'spring' but this is where Wardha cleverly played, taking care of the detailing.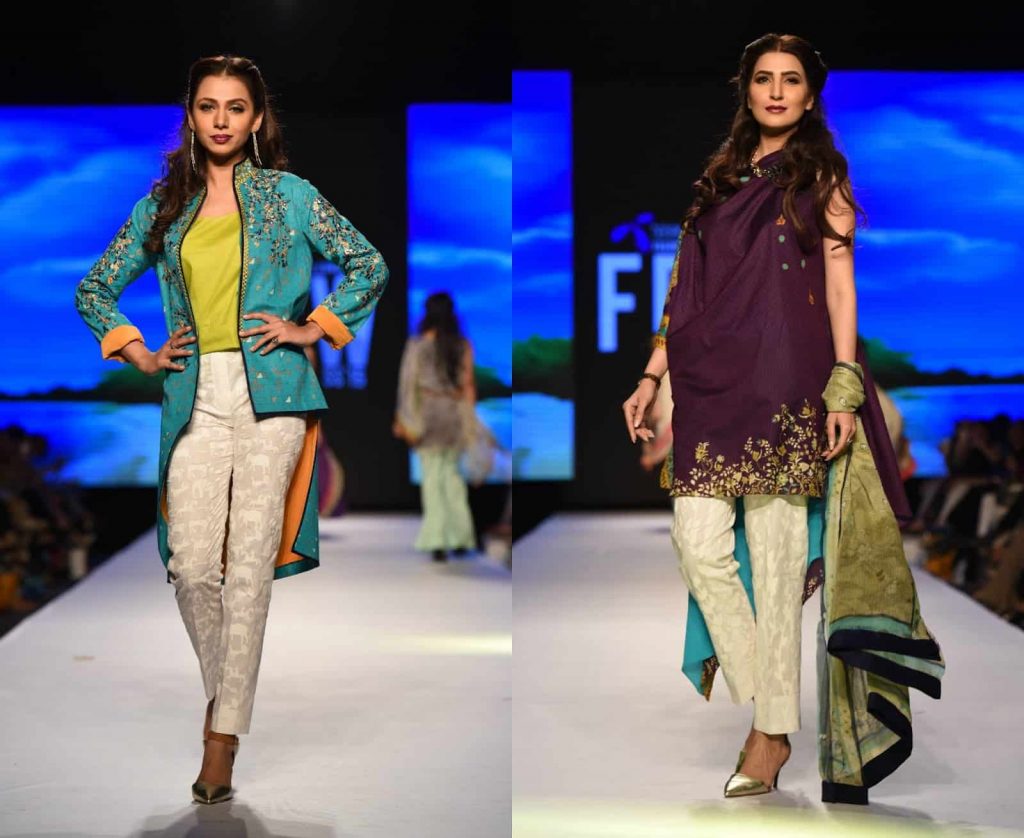 Sania Maskatiya for Alkaram
5) Sania Maskatiya displayed a semi-formal and wearable collection for Alkaram in which the models looked very confident and the colour palette used also deviated from the white that we have been seeing this season.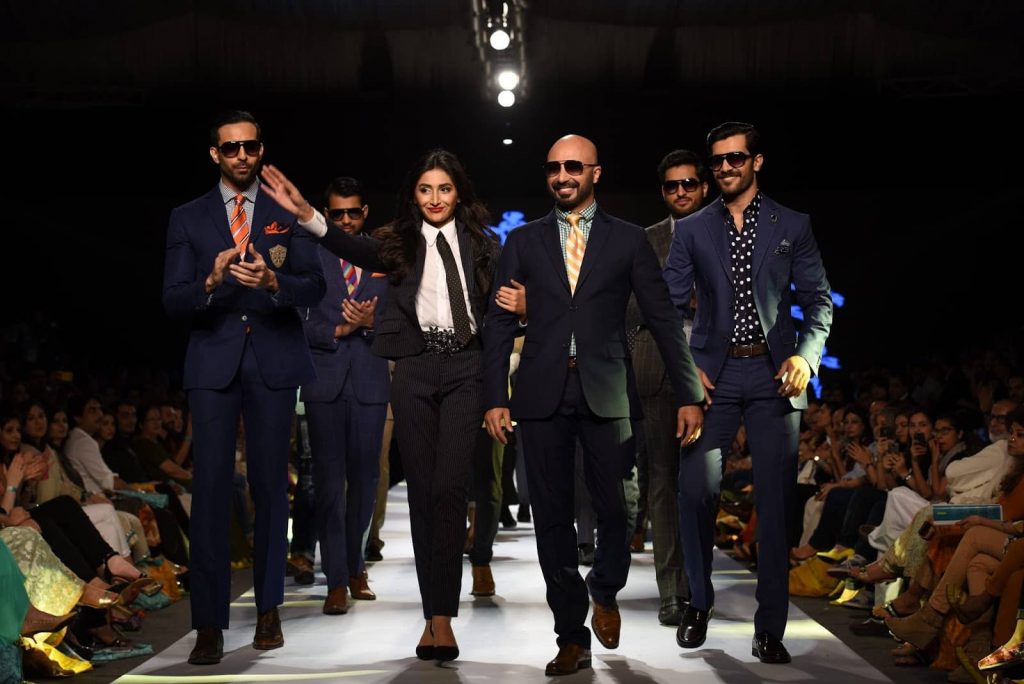 Hi-Octane by HSY
6) The third and the most exciting day concluded with 'Hi-Octane' by HSY, which was a smart looking menswear range. However, Hira Tareen being the DJ for the show, actually set the ramp on fire.
Day 4: Luckily, I made it to the fourth and final day and not only that, but I had an amazing company. The designers that displayed on the final day are Sonya Battla, Rizwanullah, Maleeha for Daaman, Zara Shahjahan, Deepak Perwani, Aamna Aqeel and Shamaeel Ansari.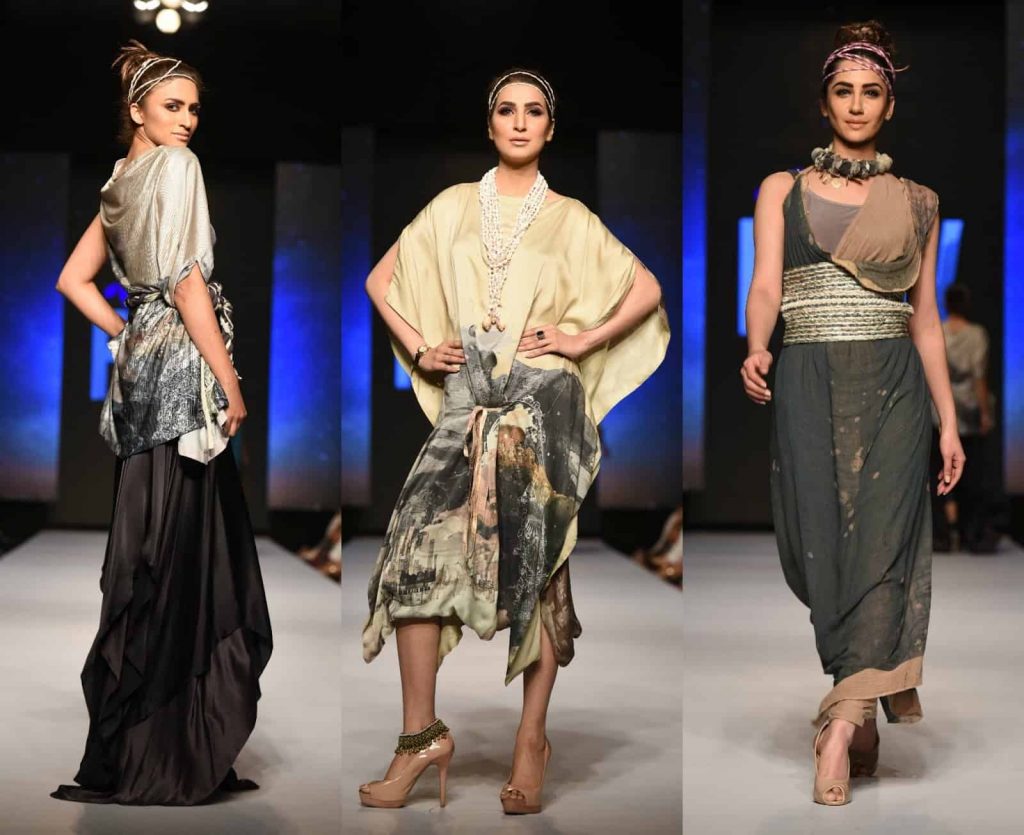 Manora by Sonya Battla
1) The show opened with 'Manora' by Sonya Battla and while it did manage to capture the elements of the infamous Manora beach, I was a wee bit disappointed by the dullness of this collection that comprised of taupe and gray silks and chiffons. The only two pieces that got my fancy are the left side ones in the photo above.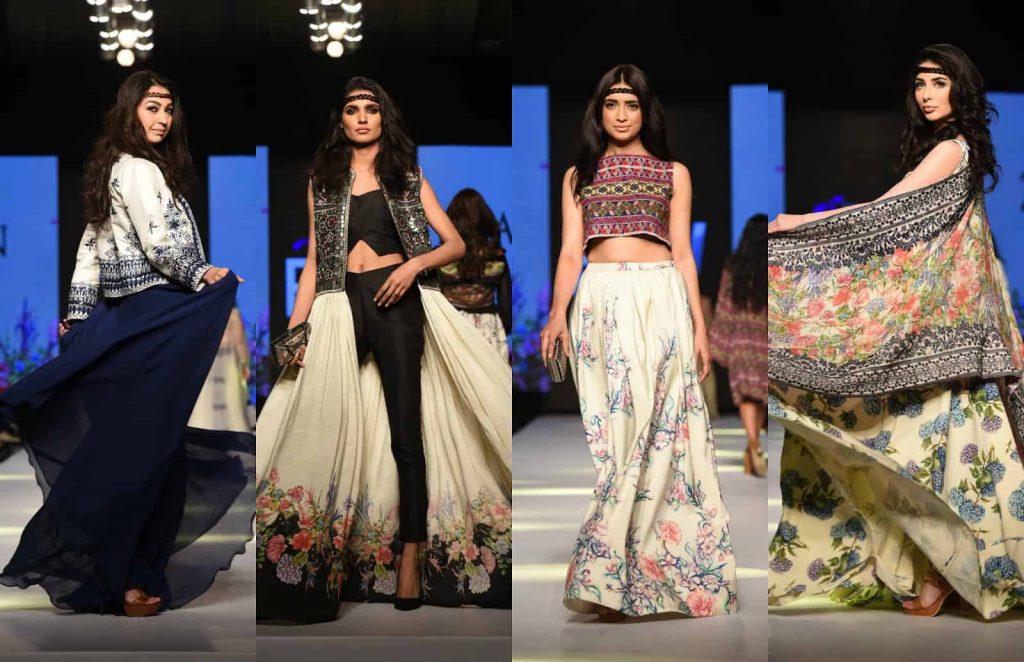 Forever Boho by Zara Shahjahan
2) Zara Shahjahan's nomadic collection 'Forever Boho' stole many hearts. It was made up of heavily printed and adorned pieces and the forehead braid added to the gypsy feel.
La Dolce Vita by Deepak Perwani
3) 'La Dolce Vita' by Deepak Perwani was the most awaited collection of the night as the cat was already out of the bag that Pooja Bhatt would be showstopping. The stunning collection was definitely reminiscent of vintage spring.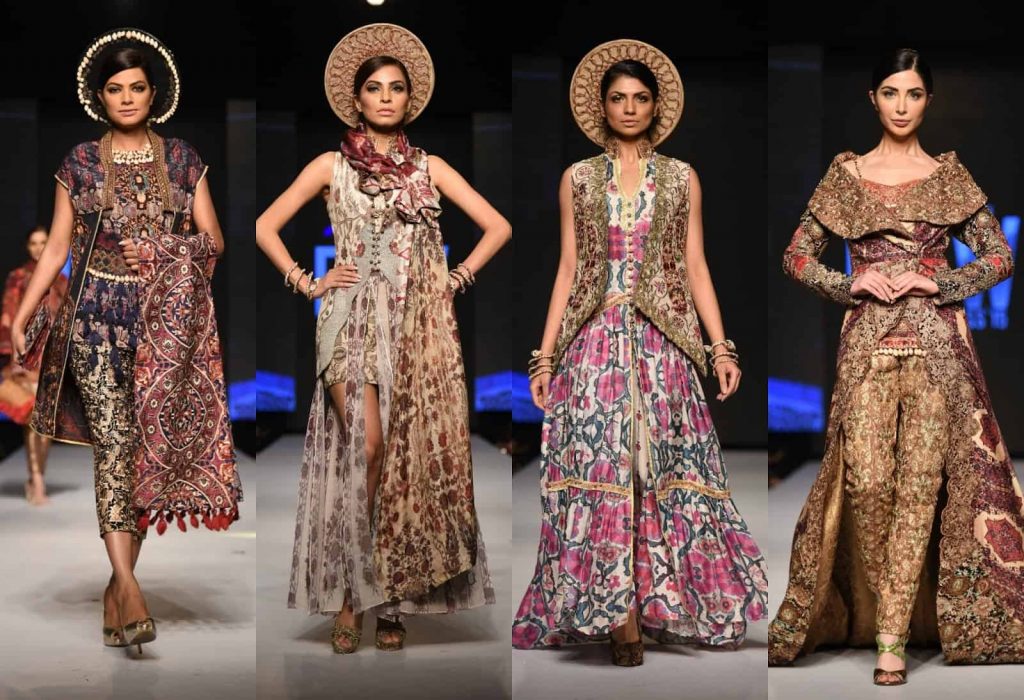 Hali by Shamaeel Ansari
4) 'The Renaissance' by Shamaeel Ansari, as obvious from the name, was inspired by the Hali prints and it was one of the most thoughtful collection of the night.
I must say that they saved the best for the last and Shamaeel Ansari undoubtedly did a great job for the grand finale. Nonetheless, I also really liked YBQ's collection and it was a tough call to pick one over the other.
Photo Credits: Tapu Javeri
Just like the last time, tell me your favourites! 😉