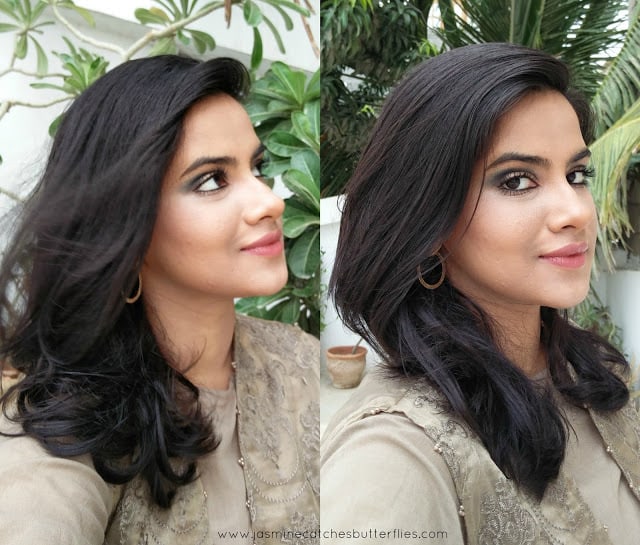 The minute the moon of the month of Shawwal was sighted, our whole nation was thrown into a frenzy last night. This happens nearly every year and yet we never learn. Surprise chaand raat (the night a new moon is sighted) and sudden Eid announcement after a month of fasting is always exciting but so many of us still wish to have known earlier. There are always little things left to be crossed on the shopping list and I myself wanted to get matching earrings somehow before time ran out. That couldn't happen since I had to get my henna applied too but putting all of that behind, Eid Mubarak! 🙂
A few days back, Maybelline New York sent me a bag filled with some of their makeup goodies to incorporate them in my Eid look to be their Babelline! So for today's makeup I tried all of them out and you can find the details below.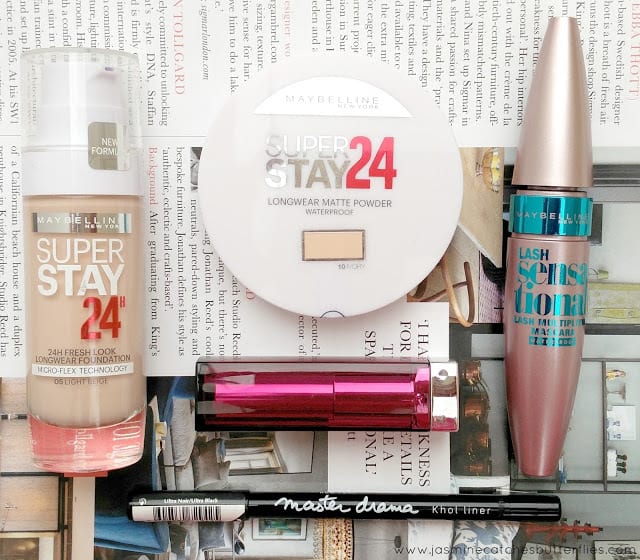 1. Maybelline New York Super Stay 24H Long Wear Foundation
This foundation claims to have a micro-flex technology which ensures long wear. I haven't tested it enough to comment about that but I did like the way it laid on my skin and made it look smooth. The shade I was sent is Light Beige which I find light and pink toned so I did have to mix a little bit of my L.A Girl HD Pro Concealer in Beautiful Bronze to make it work for me.
2. Maybelline New York Super Stay 24 Matte Powder
Again I wish the brand would have asked me my skin tone because the shade Ivory that I was sent turned out to be way too light and pink. However, since I used Maybelline Fit Me Concealer in the shade Medium for highlighting my under eyes and the rest of my face, this powder worked fine for setting those in place without looking odd. It is mattifying and waterproof so did actually held up nicely while I shot photos for my blog in the hot weather on our rooftop terrace.
3. Maybelline New York Master Drama Khol Liner
I used my Makeup Revolution I Heart Chocolate palette along with Sigma Beauty Fall Softly* and Glamorous Face USA eyeshadows for my eye makeup, but to complete the look with a traditional touch applied this Maybelline Master Drama Khol Liner on my waterline. I have already used it in the past so I like it for its creaminess as most pencil liners are not as intense. You can read my detailed review for more details.
4. Maybelline New York Lash Sensational Mascara*
This was one product that I was really excited to see in my parcel as I have heard great things about this mascara and I must say that it lived up to the hype. I will be reviewing this in more detail later this month so watch out for that.
5. Maybelline New York Color Sensational Sweet Pink Lipstick*
Sweet Pink is a gorgeous pinky nude shade but it has a frosty finish so it looks very light on my lips. Therefore, I mixed this with MAC Twig to create a toned down mauve pink shade that goes with the dark eye makeup.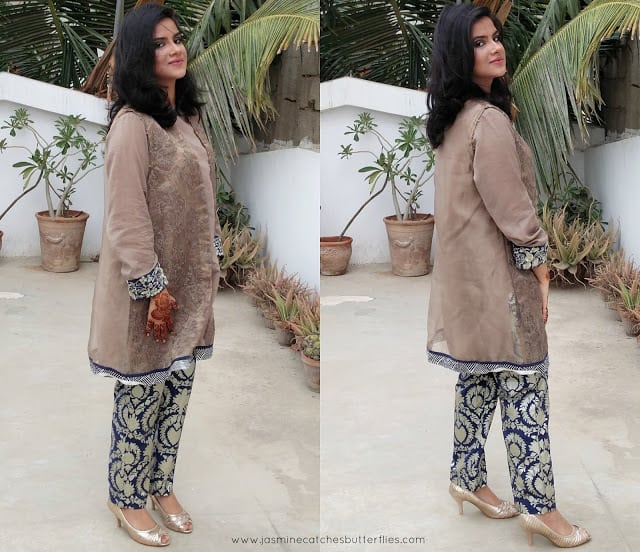 Other than these products I used Rimmel London Blush in Tuscany to bronze up my skin and Tarte Amazonian Clay Blushing Bride as a subtle blusher. For first impressions, I am pretty pleased with all of these Maybelline products based on their formulation and I would definitely recommend you should try the mascara if nothing else.
Moving on to my outfit, I kept it pretty simple since I could not get any accessories to match. My dress is from Maria. B and it comprises of a loose-fitting grey shirt, a fine net sleeveless coat that goes on the top and dark blue trousers which have light gold embossed leafy pattern. I was looking for bright yellows and greens but somehow I ended picking this for Eid. My heels are from Walk Eaze and I bought them a couple months ago for a friend's wedding bearing in mind Eid as well.
Now I would like to know what all of you guys did and wore for Eid! Let me know.

Follow
(function(d, s, id) {var js, fjs = d.getElementsByTagName(s)[0];if (d.getElementById(id)) return;js = d.createElement(s);js.id = id;js.src = "https://widget.bloglovin.com/assets/widget/loader.js";fjs.parentNode.insertBefore(js, fjs);}(document, "script", "bloglovin-sdk"))