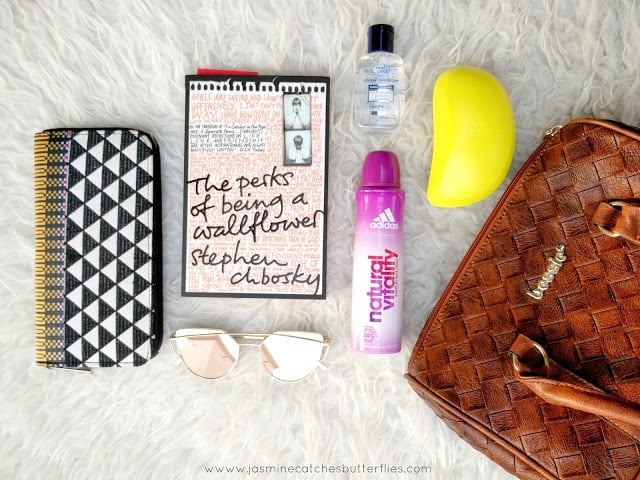 Handbag Essentials
Rosegal Brown PU Leather Weave Bags*
I like to keep my hands free so while I loved carrying a matching purse with every outfit as a child, as an adult it is not my favourite thing to do. It has been a while since I last shared what I carry in my handbag and though I do not carry much now either, there are always handbag and makeup essentials that I do need to have on me at all times. I have made the mistake of going out without these two on numerous occasions and then regretted. A lot of people like seeing such 'What's In My Bag?' posts so I figured I will do an updated version too. In case you are curious about what I had shared previously, click 
here
. That was more of a tag post by the way.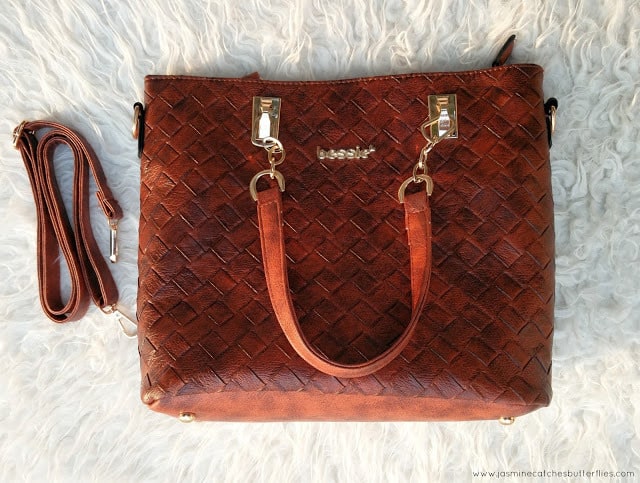 Rosegal Brown PU Leather Weave Tote Bag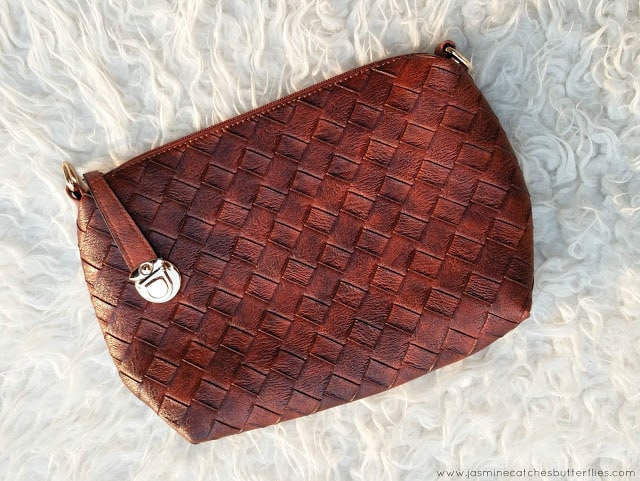 Rosegal Brown PU Leather Weave Crossbody Bag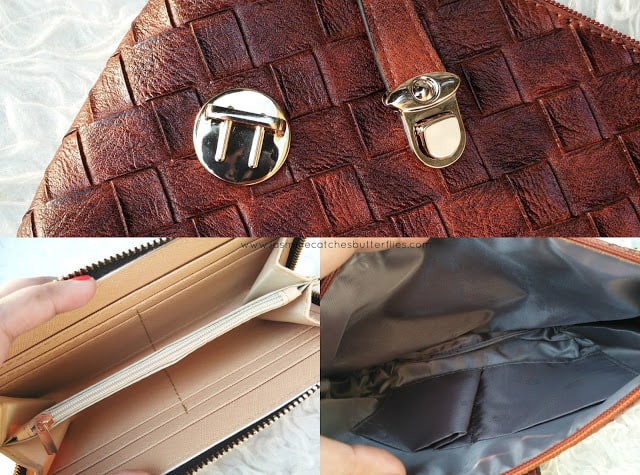 Rosegal Brown PU Leather Weave Bags
Top: Zipper of Crossbody Bag, Bottom: Insides of Wallet and Crossbody Bag
I keep switching my bags and do not currently own any designer handbag as a staple but I recently ordered a massive set of five Brown PU Leather Weave bags from Rosegal*, which is a Chinese online shopping portal, similar to Zaful and has a wide variety of inexpensive clothing as well as bags, shoes and accessories that you can buy for casual wear. So the set contains a handbag, a tote, a crossbody bag, that comes with a detachable handle (which can be used for the tote too), a cosmetic bag and a wallet. That's a lot, right?
It costs $59.27 but is currently on sale for $43.27. Personally speaking, that seems a little bit more than what I would ideally pay for such handbags but I do know that bags in general, are expensive and for a set like this, the sale price is not too bad.
The delivery from Rosegal only took 8 days which is super fast. However, I was charged 4100 PKR by the local customs on the delivery of this parcel which is absolutely ridiculous as it was almost equivalent to the actual value of the package. Since this was a PR parcel, I was compensated by Rosegal but sadly, there is not much that can be done about tariffs and you can only hope to be lucky that your parcel gets through with a smaller duty cost.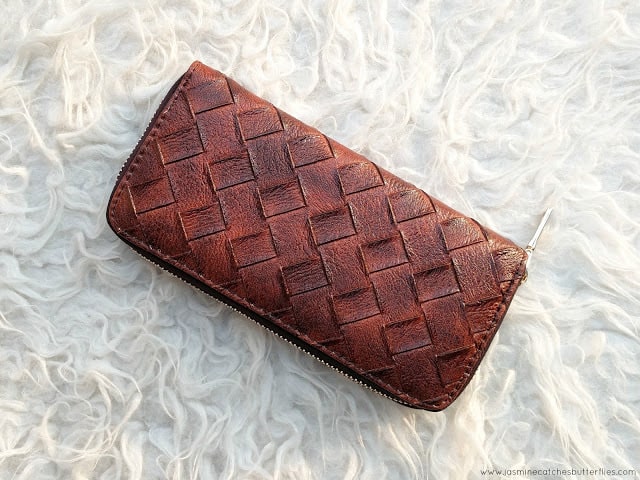 Rosegal Brown PU Leather Weave Wallet
Anyways, all of the bags are made out of faux leather and have a weave pattern on them which gives a vintage look. I cannot use all the bags on my own so I asked for my mum's opinion and this set was mainly her choice. The bags have a sturdy feel to them and apart from a teeny tiny tear in the detachable handle, which is not even noticeable, I could not find any faults in the material or stitching.
So out of all the bags, my favourites are the handbag (listed as a shoulder bag on the website) and the crossbody bag. The handbag is just very convenient to carry and has a good size for keeping a handful of essentials on an average day for me.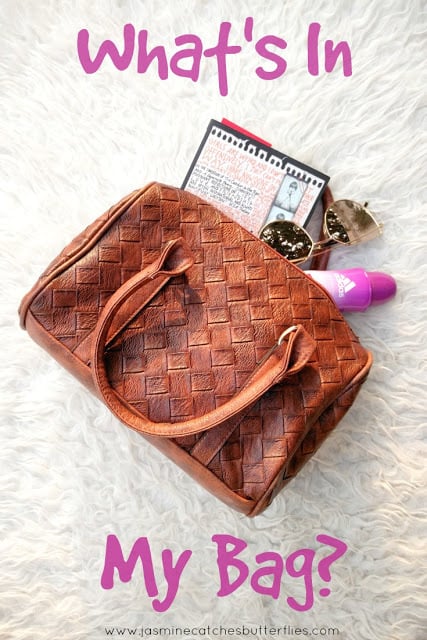 What's In My Handbag?
1. Wallet: Goes without saying this contains all the dosh and my important cards. This particular wallet is from Khaadi and I love the embroidered pattern and the colour palette of it. Though I am kind of bummed about the fact that it is half white and has gotten a little dirty already from being in my university bag.
2. Book: I always carry the book that I am currently reading (which is The Perks of Being A Wallflower by Stephen Chbosky right now) as it not only gets me through the waiting areas and similar situations but also helps me in finishing it faster. I do not usually get time to read now due to my hectic schedule and this is the only way I can ensure that I read all my KIBFs purchases.
3. Sunglasses: Glasses and watches are two things you will never catch me without during the day time. It has been a practice since childhood but sunglasses are just as important as sunscreen. They help in preventing crows feet which can develop around eyes with age so I would advise everybody to wear them when out in the sun for lengthy hours. The glasses that you can see here are Metal Bar Golden Frame Pilot Sunglasses from Zaful* and I adore the look and feel of them!
4. Hand Sanitizer: There are loads of icky places we put our hands on and having a hand sanitizer is a must-have for me. It is especially handy in between meals on a day where I am eating out and do not have access to a restroom.
5. Deodorant: Karachi can get boiling hot and nobody likes to inhale each other's toxic BO (sorry for the TMI). Also, there are a lot of times when I forget to wear a perfume in a rush so I can always spritz on some deodorant later on just for smelling nice even if I am not killing people with any obnoxious odours. My favourites are fresh and floral scents and I am loving this Adidas Natural Vitality body spray at the moment.
6. Tangle Teezer: If you have fine, silky hair like I do, chances are they easily get tangled once you step out of the door and the sad news is their messy state is not inconspicuous like that of a curly mane. Honestly, I rely on my hair for the majority of my look and if it is dishevelled I do not feel too good about myself. A Tangle Teezer has been a life-changing hair brush for me as it is not only small enough to be carried in a bag but also eases knots without excessive tugging.
I also always have a pack of tissues, bandages, hand lotion and of course my phone in my handbag.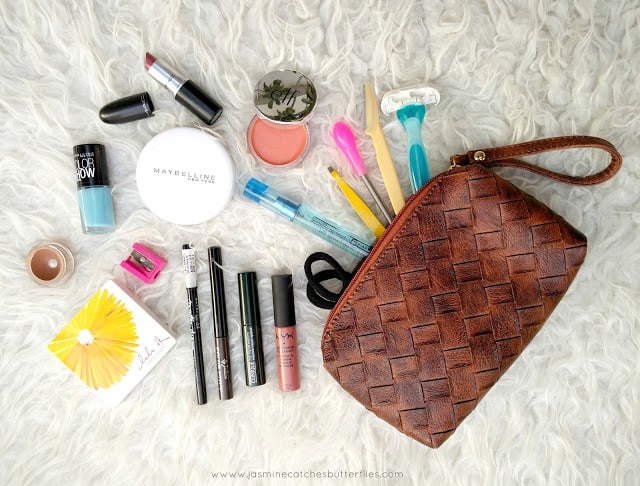 Rosegal Brown PU Leather Makeup Bag
In the whole set of these bags from Rosegal, the tote bag is the biggest (obviously) and is the kind that I would have carried to university but not otherwise. The crossbody bag is the coolest of them all as it has a zipper that comes with its own pressable lock. Just like the handbag, it also has a good size and I do see myself carrying it a lot for everyday use. Then the wallet too is well-made and has numerous compartments but since I do currently have my Khaadi one, I would give this one to my mum. The makeup bag is small enough to be carried in any of the three larger bags but since it has a boxed shape it can hold a lot of things. Let's dive into it too.

What's In My Makeup Bag?
1. Hair Removal Tools: Before, you call me a crazy razor lady, let me tell you that only a couple months back I had to attend a very important meeting all of a sudden and that was the day when I dearly wished that I had my tweezers and makeup to at least look presentable. I do try to keep my girl-stache in check but there are days when you can't be bothered unless there is an absolute code red. Since that day I have actually put more thought into what I must carry in my makeup bag and as a result I carry a little bit of everything. So now you will always find a REM Tool, a pair of tweezers, facial razor and even normal razor in my makeup bag. I do not really use the latter often but I still keep it in there for just in case.
2. Eau De Toilette: I keep a slim eau de toilette (this one is Engaging Story of Love) irrespective of carrying a deodorant, just to keep my options open. Also, I often switch handbags so there are chances of me forgetting to transfer everything and you know things like these are extremely important given the weather conditions.
3. Hair Ties: For the days when my hair completely refuses to cooperate.
4. Cream Blush: It is just easy to dab on without a brush and I like the shade of this E.L.F Beautifully Bare Peach Perfection Blush*.
5. Colour Corrector: It is not practical for me to lug around my foundation so I largely rely on my colour corrector for quick fixes. This NYX Dark Circle Concealer* has been another life-changing product for me as it helps me in covering my discolorations.
6. Face Powder: To set my concealer and so that it does not look too off and orange, I use Maybelline White Super Fresh 12HR Whitening + Perfecting Compact*. The shade that I have is Coral and while it is quite light for me, it works well in combination with the dark circle concealer. I love this powder a lot for its fresh scent and good setting ability.
7. Lipsticks: I carry my two all time favourite lipsticks, MAC Twig and NYX Cannes Soft Matte Lip Cream, as these go with all my looks and hence are safe options to always have with me.
8. Eye Liners: I keep a liquid as well as a pencil liner with me as both of them are quite different and I mainly use the pencil as a kajal in my waterline rather than on lids. Jordana Color Envy Waterproof Liquid Liner in Brown Desire* is one of my favourites and this Maybelline Master Drama Ultra Black Khol Liner is pretty good too.
9. Pencil Sharpener: To sharpen the pencil liner, of course, as I might not always remember to sharpen it at home after a few uses.
10. Eyeshadow: I know, this is something extra but then again there can be days when an extra dash of pizzazz is needed for a look and therefore I carry my Lulu DK Clinique Palette for such days. It is palm-sized and has three gorgeous neutral eyeshadows with a powder blush in it.
11: Mascara: I am more of a mascara person than a liner person as an eyeliner can be a little over the top for some formal meetings but mascara helps in opening up the eyes. Currently, I have Clinique High Impact Mascara in black in my makeup bag and I like its small wand.
12. Nail Polish: Okay, this is very very extra but you cannot really tell a girl to not to carry this or that. I like to keep a fun shade of nail polish in my purse because you never know when you might "want" to apply one.
So that is everything in two of my most important bags. I hope you enjoyed this post. Tell me what do you think of my Rosegal bags and also what do you carry in your own bags.