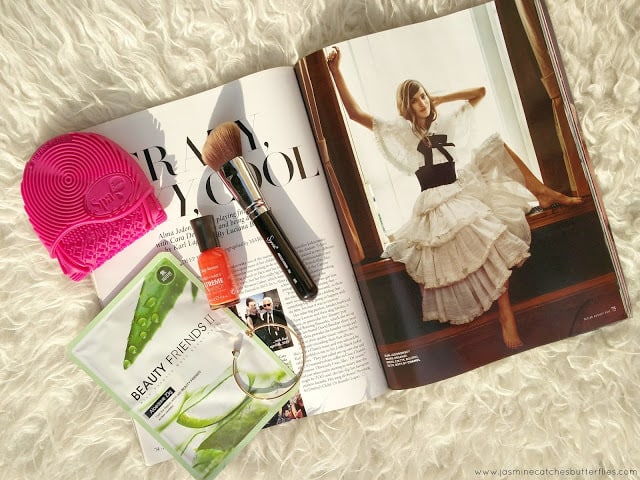 Beauty Friends II Aloe Essence Sheet Mask*, Sally Hansen Hot Tamale Xtreme Wear Nail Color*
Rose Gal Triangle Alloy Cuff Bracelet*, Sigma Beauty Spa Express Glove* & Angled Kabuki F84
I just got done with exams and I am nearly through with my biomedical engineering degree (only final year project is left to be finished). Woot, woot! So, after a long and stressful week due to my finals where I barely slept, it is only fitting to slow down and pamper myself. I haven't been able to post for a while here either so I decided to share the five things that I do to de-stress on a Sunday!
1. Apply A Face Mask 
I have simplified my skin care routine a lot for the better and after a recent hike in my dermatitis, switching out things has helped my skin to stabilise since. I will share all the details of my new routine in-depth in another post as I know some of you guys want to see a proper winter care post. Anyways, one thing that I still love doing are face masks but I only do them every fifteen days usually.
After a busy week, nobody is in a mood for anything fancy and when I say de-stress, I really mean it. Therefore, I opt for sheet masks over mud masks on a day like this because they are a lot easier to work with. You just have to apply one on your face, sit back and relax for half an hour and you are good to go. There is no need to wash your face afterwards and personally washing off mud masks seems like a lot of effort to me which I am not always up for.

The mask I used today is an Aloe Essence Sheet Mask by Beauty Friends II* that I got from Skin18. It is a Korean brand and if you read my blog often, you would know that this year I have been trying a lot of K-Beauty products. Like I mentioned, my skin had been acting up due to dermatitis and the change in weather only make it worse so I find aloe vera to be quite soothing. A mask enriched in aloe essence just cuts down a lot for me on a lazy day as I don't have to manually extract the gel and get it all over myself in the process of doing so.
This was my first time using this particular sheet mask and I put the packet in the refrigerator for an hour prior to applying it. This practice not only helps in soothing the skin but also tightening the pores. On the contrary, you could also use this mask after heating the packet up in lukewarm water for a few minutes. Aloe is supposed to be good against bacterias, it is ideal for people with sensitive skin and it also moisturises and tones the skin.
After the thirty minute mark, I removed the sheet mask off my face and allowed the essence to completely absorb into my skin. Most masks make my face red for a few hours which is absolutely normal due to the increased circulation in the area. Surprisingly this did not do so, probably because of its soothing properties and my skin looks glowy and rejuvenated right now. I am pretty pleased with this Beauty Friends II Essence Mask Sheet Pack in Aloe and I would love to use it again. It only costs $1.40 but is currently on discount for $0.95 on skin18.com.
2. Paint My Nails
I love painting my nails as it is therapeutic in a way and it just makes me feel more put together even without dolling up. I was recently sent a pair of sandals from Stratford Street Shoes and the PR package included this gorgeous orange-red Sally Hansen Xtreme Wear Nail Color* in the shade 170 Hot Tamale. Now even though this is not a fall shade, I find it to be flattering on my complexion so I have worn it three to four times already since getting it last month. It takes a couple of coats to be completely opaque and long-wearing but it is easy to work with and looks equally pretty with a single coat.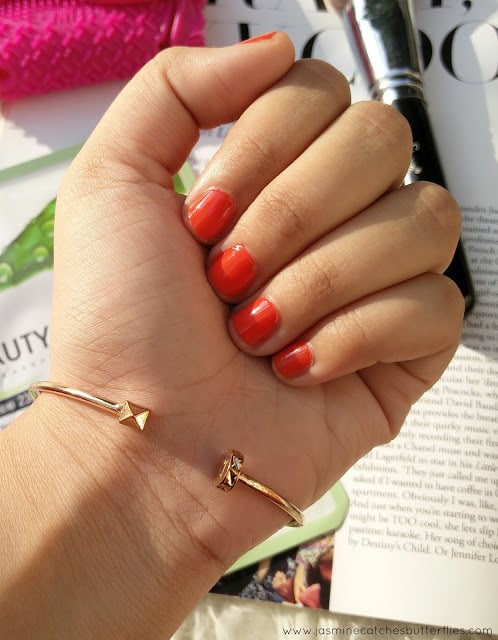 3. Pop On My Favourite Jewellery 
It sounds really girly but makeup and accessorising make us all feel good, right? I am going makeup free as much as I can for now as my skin is not in the best state and I have a few weddings coming up in my family too so till then I want my skin to be well rested. Also, I am not the kind of person who lounges around in makeup but popping on some jewellery does no harm. For now, I am keeping it toned down with just my Triangle Alloy Cuff Bracelet* from Rose Gal, which is a based in China online portal for buying fashion apparel and accessories.
It is so dainty and chic that it can be worn all day long without being bothered by its weight or anything. This cuff has a small flat circular plate with 'x' pattern around the edge on one end and a cube with a pyramidical top on the other. It is adjustable but easy to slide onto my wrist so I don't have to expand the cuff every time to wear it. I have worn it pretty much every day since I got it and I love it. While I do notice some tarnished spots on this gold plated cuff bracelet now due to local climate and water exposure, I still think it looks nice and I wouldn't actually mind even if it goes a deeper shade of gold. However, you need to be careful with how you store and protect it if you want this to stay pale gold. It costs $2.31 but is currently on discount for $1.36 so now is the time to grab it if you want to. You can also find other variety of such cuffs on Rose Gal and they are all very cute and classy.
4. Wash My Makeup Brushes
I am a highly organised person so before entering another week, it is important for me to take care of all the mess like cleaning up my room and washing my used makeup brushes. It helps me with my inner peace and Sunday is not only a spa day for myself but also my brushes. I have shared my brush washing routine in a couple of my previous posts so you can check them out here. Only yesterday, I received the new Dry 'N Shape Spa* from Sigma Beauty so watch out for a detailed post on that too and possibly an updated brush washing routine.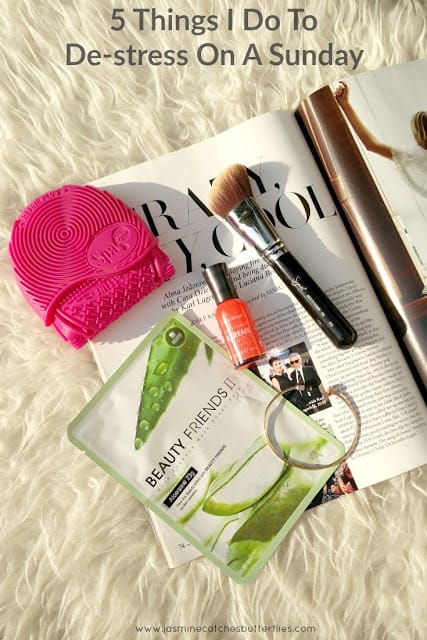 5. Seek Inspiration
After a hectic week, my mind is drained but it is essential for me to keep my creativity alive and to energise my brain I look for inspiration. Pinterest has to be favourite for this and it makes me so happy as I can explore so many different areas in one place. Visual inspirations are very powerful and effective and they help me in planning my future blog posts too.
Also, working on a blog post is inspiring in itself and I feel so pleased that I am finally posting tonight after a short exam break. Now I am stress-free and I would love to read what do you guys like to do for de-stressing yourselves.