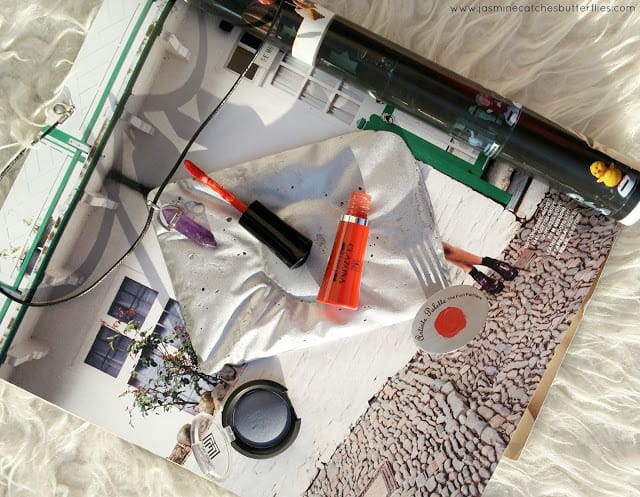 Clazona Beauty 24 Hours Matte Lipgloss 511
The most common request that I have gotten over past few months is to review a liquid lipstick that is easily available in Pakistan. While, I have only reviewed one shade of Jeffree Star Velour Liquid Lipstick and one of Kylie Lip Kit on my blog so far, those of you who do follow me on social media are aware that things got a little out of hands and I have since collected a few more shades of Jeffree Star and was even gifted one of Kat Von D.
I know how I feel about all of them by now but the shoot for the blog will just take me a while and I want it to be perfect so I will try to get them up in December. Nonetheless, I have swatched them all on my Snapchat in the past and I guess Instagram stories too so do follow me @JadirahSarmad on my social media to keep up with such sneak peeks. Anyways, based on those swatches, a follower even asked me to find local dupes for all the Jeffree Star shades that I own.

Now, I have tried a couple drugstore options of liquid lipsticks and I wasn't really pleased so I steered clear for the most part. However, more recently, I have been seeing people talking positively about Clazona Beauty so it was definitely on my wishlist. It just so happened that my university farewell (guys, I am finally graduating!) which was supposed to be in December, all of a sudden was rescheduled for November. You know farewell for us girls is no less than going bridezilla crazy and knowing me you would know that this was the moment I was waiting for all four years at university. Obviously, I wanted it to be perfect (and it was for I won the title of Lady of the Night!) but all the arrangements were so last minute. I ended up wearing my mum's 25 years old sari (I always wanted to wear a sari to a farewell and this was it) which was orange with a beautiful gold detailing and bits of royal blue in the border. I had never thought that I would actually ever wear this combination as it was popping bright but at the same time very South Asian and that's what I loved about it. I paired it with a royal blue blouse and golden heels.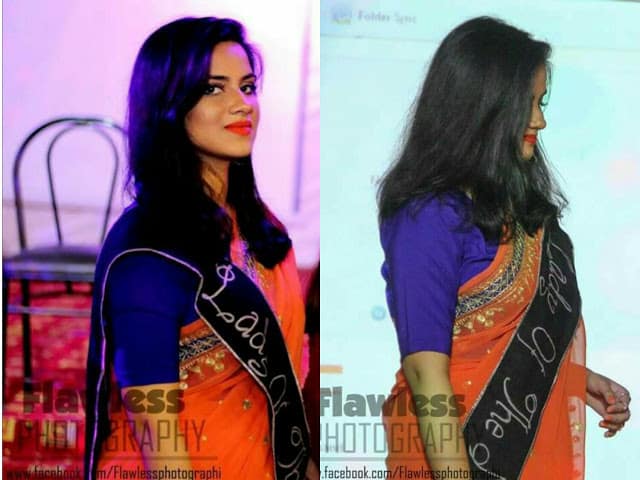 Once my outfit had been picked, the only question in my mind was what lipstick should I wear? I mean at first orange was not even an option for me. I had never worn the colour before. I thought it would look ridiculous on me and maybe I should go for a nude lip or maybe even red but I wasn't really convinced by either. So, I bit the bullet and went to my local area supermarket, Saverz, to be exact to see what I could get because I was in no mood to throw my money on a shade that could be a fail for me. Luckily, I spotted Clazona Beauty 24 Hours Matte Lipgloss and 511 was the only shade of orange available. To be honest, I fell for it the moment I saw it because it is a beautiful burnt orange that I knew would compliment my medium skin tone and would go well with my sari too.
Clazona Beauty 24 Hours Matte Lipgloss comes in a palm size tube with a basic doe foot applicator. The applicator handle is short because of the size and the applicator itself is relatively small in comparison to other brands. I think a lot of people would like it as it makes the application easy and precise around the corners of the mouth. This product has a liquid to matte formula and I cannot wrap my head around the fact that why it is still called a lipgloss because there's nothing glossy about it. I always wipe the applicator on the rim of the tube before applying this lipstick as it is insanely pigmented and a little goes a long way.
The formula is fast drying but I do not find it difficult to work with. Of course, just like with any matte lipstick, you should scrub and moisturise your lips beforehand, the usual. It does tug my lips a little bit, but it is not as drying as Kylie Lip Kit. I do find the formula comparable to Jeffree's in terms of lasting power but undoubtedly his is more soft to the touch and comfortable. If you use only a small amount of product and have just a thin layer on (as it is enough) you can easily add more product without worrying much about the flakiness when it comes to touch-ups. Clazona Beauty matte lipstick lasts pretty long on my lips and it just fades on the inner rim of the mouth with eating and drinking but I don't find the 24 hours wear time claim to be really practical.
Surprisingly, I am in love with this liquid lipstick and I guess I do not really have to spend money on products that cost ten times more than this 215 PKR lipstick when the brand is more accessible too. For those of you who are interested in seeing Jeffree Star's shade dupes, I will try and hunt down as many as I can but this particular shade, 511 from Clazona looks pretty similar to the soon to be launched Checkmate from Jeffree's holiday collection! I still prefer the formula of my Jeffree Star Velour Liquid Lipsticks over this but since it is not sold in stores and costs a lot more through Facebook sellers, it is so much easier to go for a brand that I can at least see and swatch in person.
However, a product this cheap also has a questionable ingredients list which is something that is not often discussed when it comes to inexpensive brands. I haven't had any allergic reactions to this lipstick though and it does not stain my lips once I wipe it off with an oil-based remover. One thing that might initially bother some of you is that this lipstick has a strong candy scent to it but it does fade away once the lipstick dries.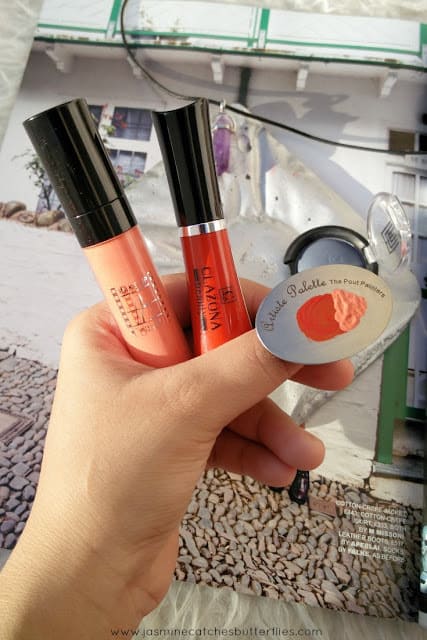 Now, I am looking forward to trying more shades of orange that suit me. I was feeling a little experimental last week so as you can see on my Artiste Oval Ring*, I mixed Clazona Beauty 511with Makeup Atelier Paris Mandarine*, which is more of a peachy shade that I haven't been able to wear much since it washes me out. 511 is a pretty dark shade so it took a lot of Mandarine to lighten it up and of course, the overall formula altered too. I still did like the shade outcome and now I am thinking to mix in some pink or other nudes to see what they lead up to.
Side note, in case you are wondering about this cute little mixing ring, I got it from The Pout Painters and you can get it in a square shape too. Or, if you have been looking for a proper mixing palette, you can check out their Artise Palette too. For more details, you can check my review on all of the Artiste Palette products here. Also, see the palettes in action on The Pout Painters Instagram.
The brand is my Seedling Advertiser for the month and so is offering 10% off to all my readers on the entire range of Artiste Palette. You can avail this using my discount code JCB10 when you place your order at The Pout Painters till 30th November only.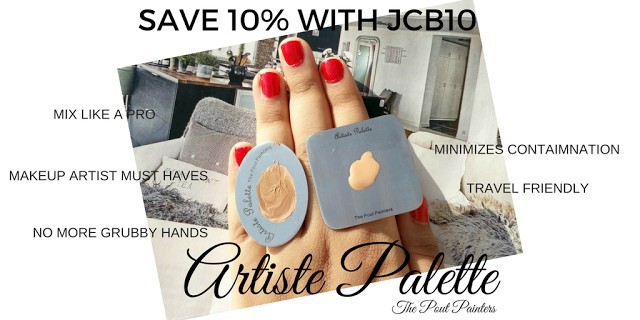 Discount is only valid till 30th November 2016
"Never complain about your stained hands again! Our easy-grip Artiste Palette has been manufactured with export grade rust-proof stainless steel that is super easy to use, clean and store. 
  
Mix up your concealers, foundations, highlighters, bronzers, cream blushes and lipsticks to get that elusive perfect match. They won't dry out like they do on your hand.

Keep your daily makeup routine germ-free with our double-ended spatula. It is ideal for dipping into containers without getting your fingers dirty or your makeup contaminated.

Our Artiste Rings can be slid onto your finger for quick and convenient touch-ups on the go."
I feel ancient every time I mention that a few years back I used to be so lipstick shy that I would go bare lipped with a full face of makeup. Though now that I think of it, I find it funny that actually there has never been a farewell in my life where I haven't worn a bold lip. I mean I don't know what I was thinking when I wore a red lipstick to my O'levels farewell because just thinking about it makes me cringe now. Then I painted my lips hot pink on my A'levels farewell, wore Ruby Woo on the farewell we gave to our seniors last year and this year orange to my own farewell. Sure, what shy? who's shy? I have always been gutsy.