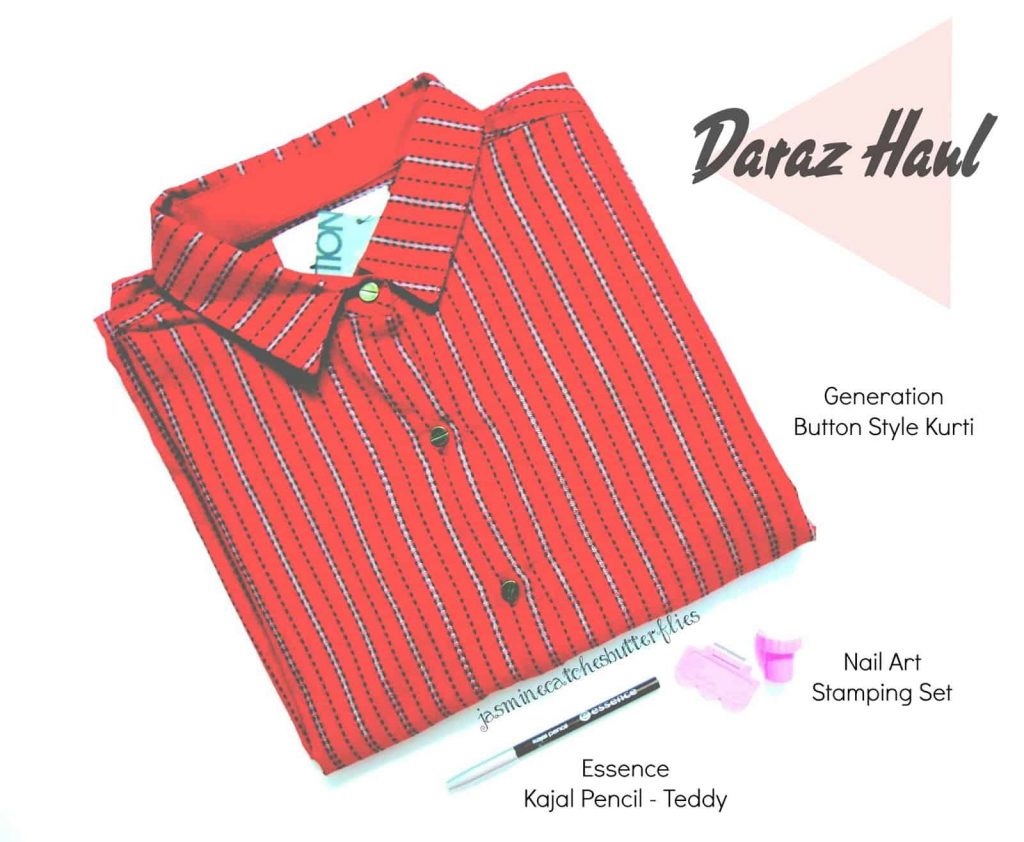 Generation Red Cotton Button Style Kurti – 1398 PKR*
5 Pcs Nail Art Stamping Set – 250 PKR*
Essence Kajal Pencil Teddy 08 – 195 PKR*
I had only shopped from Daraz once back in the day when it was still new and my experience at that time was fairly good. When I was again recently given the chance to redeem a voucher at Daraz in return for a post, I accepted. Now while I am pretty happy to see that Daraz has started stocking more brands and even makeup, there are minor website glitches I faced while surfing. Also, I feel the service has gone down a bit. I had some payment issues initially as my parcels were sent in two partial units. Then I wanted to return the kurta I got earlier but their phone line was unresponsive. However, their email support is good, they patiently replied to all my queries and handled the matter smoothly. I was compensated and the deliveries were all on time.

Here's what I got and my thoughts on them;
1) Generation Red Cotton Button Style Kurti: You know how skeptical I feel about online shopping and buying clothes online is a bit risky due to sizing issues. So I was looking for something within my voucher's range as at this point in my life I need new clothes more than anything since I am a university going student where we have no uniform and every day is a struggle when it comes to closet decisions. The kurta I first ordered was from Fashion Cafe and even though it looked nice in images, the quality wasn't good at all. I had to return it and then I found a chic looking kurta on Generation, I had decided to buy it but my return voucher took longer than expected and it sadly went out of stock. That's the thing about Daraz. They run out of stock or sizes very quickly! Therefore, I ended up buying this kurta which is much better quality for the price and I love the buttons on it. So, lesson learned, if you are looking for low range kurtas on Daraz, check out Generation and get it right away!

2) 5 Pcs Nail Art Stamping Set: I have been eyeing Konad kits for God knows how long. Perhaps, ever since I was little but they were never sold here. When I found this set on Daraz, I knew I had to get it. Though it's pretty useless for me right now as I don't have the plates! I don't know why this product is named '5 Pcs…' when it only comes with two! I expected to get 3 plates or something! Before the day I placed my order, I had seen one plate along with these in an image but at the time of my order they had changed the image to just 2 pieces. Tch, they should have changed the name in that case too! Checked the web again after I got these and they are selling individual plates for 250 PKR but I don't fancy any of the designs.
3) Essence Kajal Pencil Teddy 08: While everybody here goes on hunting blackest black kajal, I look out for the brown ones. This pencil is super creamy but not intense so my hunt has not commenced, but I have found a use for this which I will share in a future post.
That's all folks!
Disclosure: I did pay a small amount for these myself as my order exceeded the voucher limit.
What have you bought lately? I feel nosy!