This year, I showed you two winter trends that I had been longing to try for a while. One of which was
Choker Sweater
and another was
Olive Bomber Jacket
. Apart from these, one other fashion trend that has been around for some time now is the incorporation of satin. Be it cocktail dresses, shirts or jackets, satin is in at the moment and is one material that will last through the seasons this year.Karachi's weather is fluctuating as always and while summer is being anticipated, I am still not quite over winter wear. So, as often as possible, I keep pulling out jackets and cardigans from my closet. After seeing so many celebrities rocking satin bomber jackets, I wanted one too. However, I have been looking for a good varsity jacket too. As mentioned in an earlier blog post, finding trendy western wear, that too at an affordable price is difficult in Pakistan. So, I felt lucky when I came across this gorgeous
Wine Red Autumn Lurex Color Block Baseball Jacket on Rosegal
*.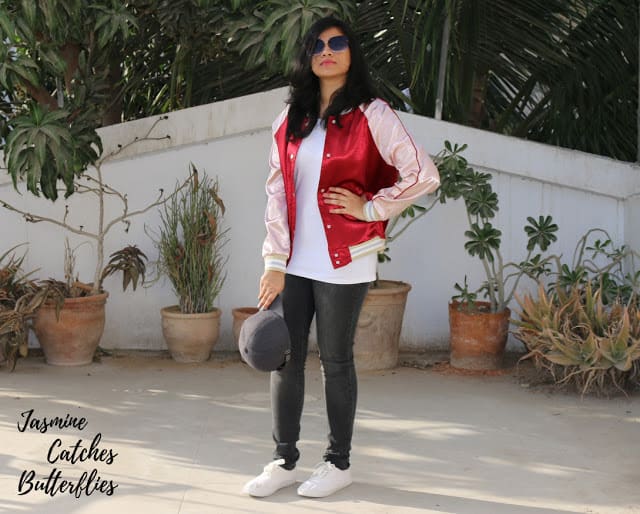 How To Style A Satin Baseball Jacket
Rosegal Wine Red Autumn Lurex Color Block Baseball Jacket*
PR Sample*
This only retails for $23.15, so obviously it is not made out of real silk but has polyester instead. I like how the brand does have such details listed in the description box, along with the size chart. The jacket, however, looks beautiful, has a nice weight to it to keep me warm, and is of great quality. I could not find any stitching faults in it and the snap fasteners (tich buttons) down the front, click in place snugly.

Even though the colour of this jacket is quite girly for a normal varsity jacket, I fell in love with the style and I do actually adore the combination of wine red and muted light pink. There are a lot of jacket options available on Rosegal, a lot of which do offer the similar satin look, including bomber jackets, but the reason I chose this is because it is plain.
Patches and embroidery are also hot in fashion right now and I might get something with them on in future but for now, I wanted a plain satin varsity. The collars, sleeves, and waistband on this jacket, do have gold and silver lurex for embellishment but with white in the mix, they still do not make it look over the top. I love the inclusion of pockets on both the sides too because they always come in handy for storing small things like keys and change.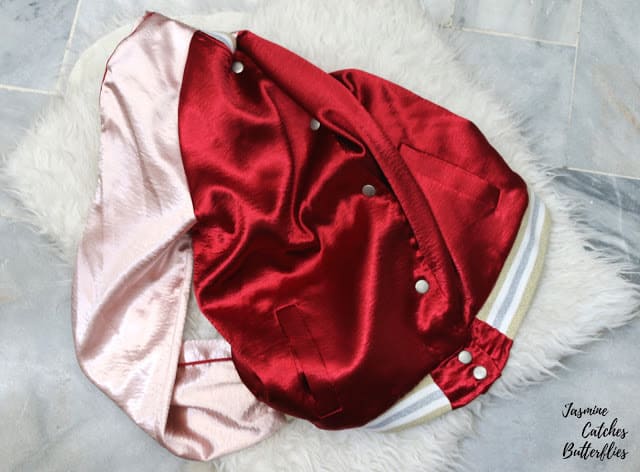 Rosegal Wine Red Autumn Lurex Color Block Baseball Jacket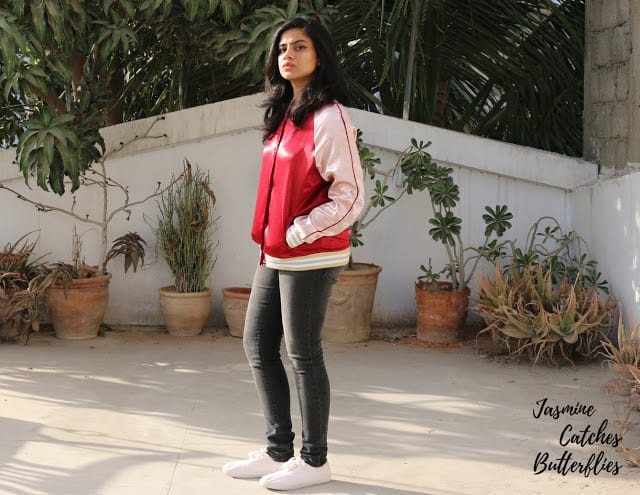 Rosegal Wine Red Autumn Lurex Color Block Baseball Jacket
I opted for a medium size because that's something safe for me to choose when I am shopping online. I can pull off a little bit of baggy outfit, but not something that cuts my oxygen. The jacket itself is a slim fit with a regular length so medium turned out to be perfect for me.
A satin jacket of the sort, that speaks for itself, is not at all difficult to style. In order to achieve a cute but trendy look, all you need to do is keep everything else basic and preferably monochrome. Therefore, in order to style this popping wine red baseball jacket, I paired it with a plain white tee shirt, dark grey skinny jeans, a similar grey baseball cap and a pair of white tennis shoes. You can totally wear white sneakers too!
The overall look is pretty casual but it still stands out because of the colour of the satin jacket. If you want to go for an edgier and more sophisticated look with the same jacket, just swap the cap with shades and the sneakers with wine red heels, or even black or white would do.
I know I will be able to get a few uses out of this outfit for night outs before I have to store the jacket away for winters. If you are somebody who lives in a colder climate than I do, then you can probably pull it off for a couple of weeks ahead. It is warm and comfy but of course, can be layered if you need something extra. Just keep the rest of the pieces plain and simple and you will be good to go.
For Rosegal shipping and details like that, you can check my previous Rosegal blog posts. Unlike last time, this time I did not have to pay much to customs and I was only charged around 200 PKR in total for all my parcels as the order had been broken down into smaller packages. It included other items too, which I have already reviewed and shown on my blog and channel. However, this time the delivery took a month as opposed to a week. Nonetheless, it was expected and I would much rather wait than to pay a heavy customs duty which ridiculously costs just as much as the original value of the products.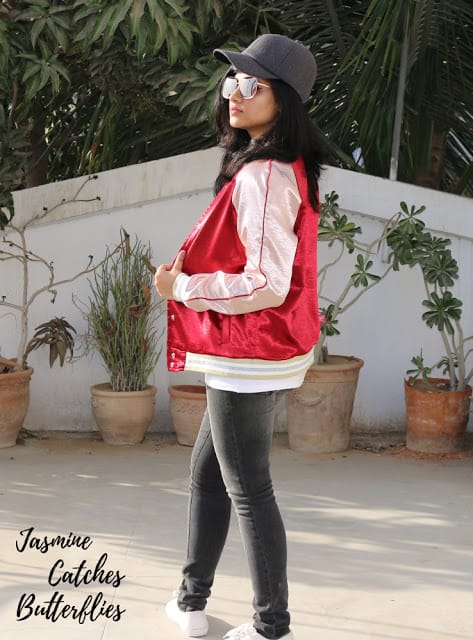 How To Style A Satin Baseball Jacket
I have not seen many people styling satin jackets, especially the ones which come in bold colours, so I would love to know how you would style this yourself. Make sure to leave a comment so that everybody gets more inspiration when it comes to styling.
Also, please do subscribe to my YouTube channel for lookbooks and clothing hauls! I have some plans up my sleeve! 😉