The ongoing
Burns Road Night
at
Avari Towers
' restaurant,
Sky BBQ
, is any desi foodie's dream come true. Burns Road is the infamous food street of Karachi, which used to be busier a few decades back, probably when my parents were my age. I have heard countless stories of scrumptious food that they have had with their friends in their youth and I have always wanted to try it out for myself. While the place is still existent, I have never been able to go there. Probably because the area itself is not as safe as it once used to be and also, it has changed a lot.You know, Avari hosts a lot of food festivals around the year in its many different restaurants from Asia Live to Dynasty to Fujiyama to, of course, Sky BBQ. So, on the occasion of 23rd March, which happens to be Pakistan Day, for those of you who do not know, Avari Towers came up with the idea of having a Burns Road Night to relive the olden era in a tasteful manner, literally as well as figuratively.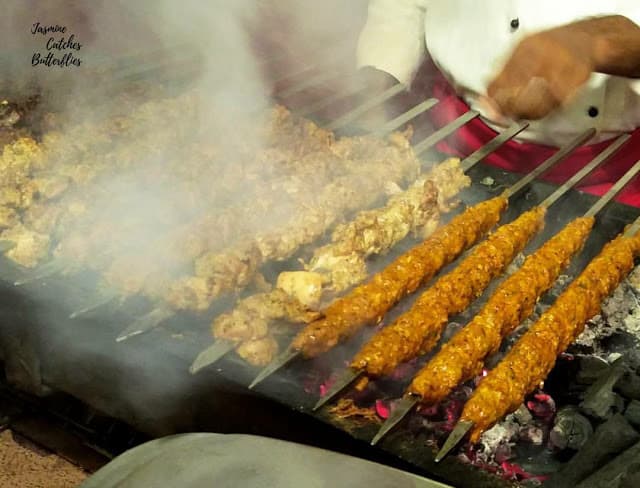 Barbecue at Burns Road Night at Sky BBQ, Avari Towers
Sky BBQ as the name depicts, is a rooftop barbecue restaurant from where you can view the bustling nightlife of Karachi while enjoying your dinner and the zephyr. I personally love the ambiance the restaurant has to offer as it is formal yet relaxing. Last night, to go with the Burns Road theme, there were painted canvases hung of old movies, the way they used to be outside cinemas. There were also truck art style painted utensils and cultural items like handheld fans displayed. The tables too had an ajrak print cloth along with the usual white and the well-lit setup tied everything together by painting a diorama of livelihood.

Now I did have a lot of photos of the food as always, along with a few of myself with the canvases, however, my phone broke last night. So the only photos I was able to recover were the ones that I had already posted on my social media and the ones I had shared with Aesha, who is a blogger herself and I am sure you know her as we are at most such events together. Therefore, apologies for not being able to show you guys everything that was on the menu, but I will still list all of it for you in detail.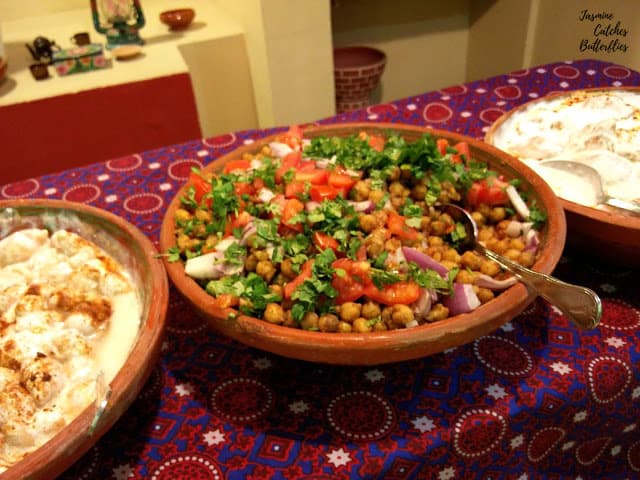 Chana Chaat and Dahi Bhalay
Burns Road Night at Sky BBQ, Avari Towers
For starters, of course, there was a stand for chana chaat, gol gappay, dahi bhalay with lots of variety, thanks to chutneys and masalas. You can customise your plate to be sweet, sour, salty, spicy, or all of the above.
Moving onto the main course, there is every mainstream desi food on the menu that I can think of and I mean it when I say that I had a feast last night. There was Sindhi biryani, karahi, beef haleem, mixed vegetable, nali nihari, mutton paya, chargha, sajji, fried fish, prawns to name a few. My personal favourite was the chicken handi and of course all of the barbecue, but especially malai boti, beef kabab, and barbecued fish, the masala of which had my taste buds dancing. Just typing this post is making my tummy rumble.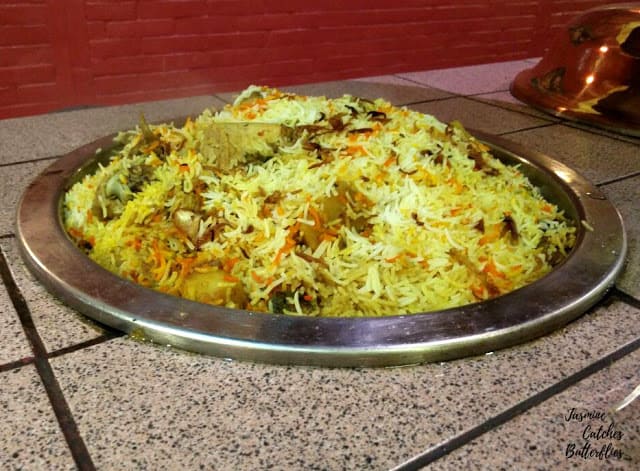 Sindhi Biryani
Barbecue at Burns Road Night at Sky BBQ, Avari Towers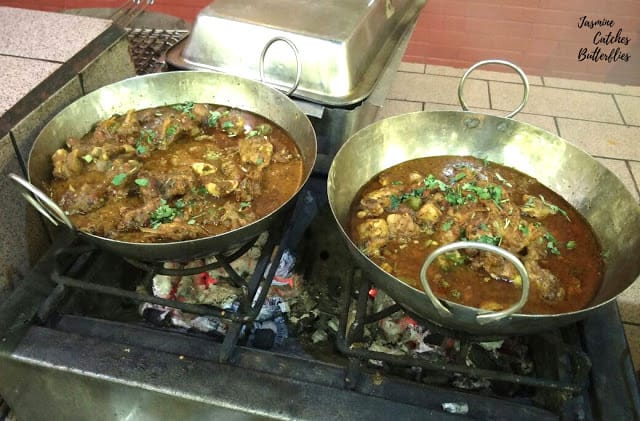 Karahi
Burns Road Night at Sky BBQ, Avari Towers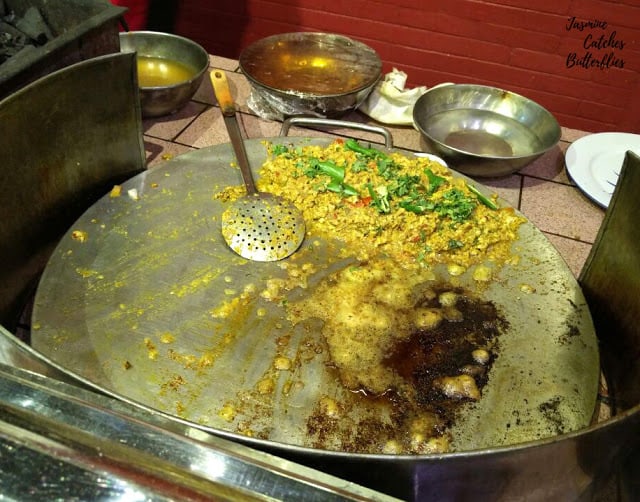 Kata Kat
Burns Road Night at Sky BBQ, Avari Towers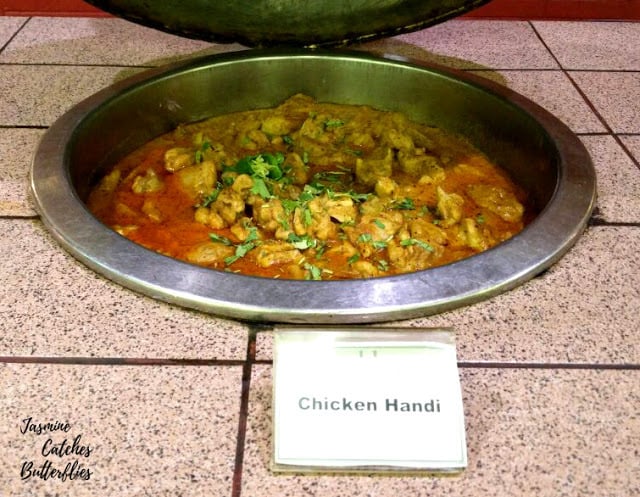 Chicken Handi
Burns Road Night at Sky BBQ, Avari Towers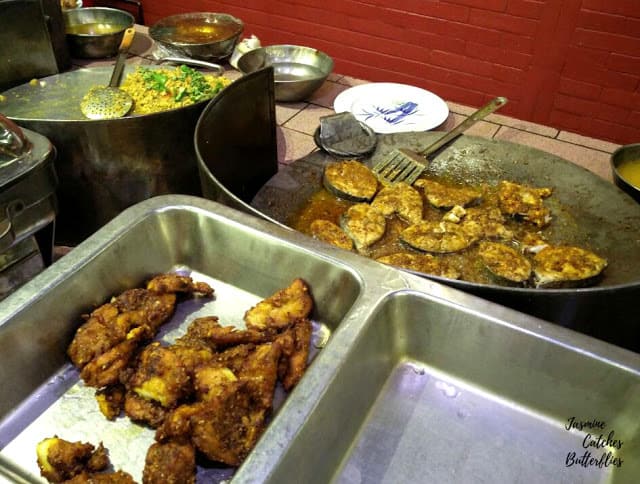 Barbecued Fish and Fried Fish
Burns Road Night at Sky BBQ, Avari Towers
To top all of that, there was a separate kiosk for puri chholay which we in Karachi call halwa puri even sans the halwa for some reason! Now this is a classic breakfast dish here in Pakistan, however, I a Burn Road theme could not have been complete without it. Besides, how many of you guys wish that halwa puri or puri chholay was sold all day long rather than just until 12 or 1 PM? I do because I love it so much.
As always, Avari had the usual buffet dessert which includes pudding, custard, cake etc on display, however, I am glad this time there was rabri, kulfi, and kheer on the menu too. God, give me back some of that rabri please is all that my heart desires right now,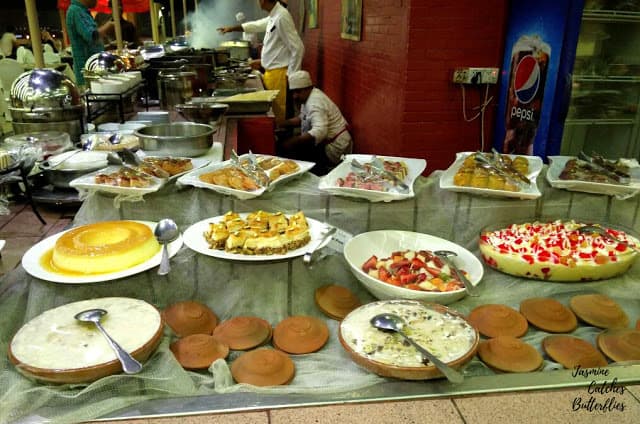 Rabri, Kheer, Kulfi and other desserts
Burns Road Night at Sky BBQ, Avari Towers
For the beverage, there was lassi, which is a chilled drink made with yogurt, and depending on your preference you can choose between 'namkeen', which is salty, or 'meethi' which is sweet lassi.
Burns Road Night is something that should not be missed by any desi food lover. The buffet deal in which you can eat the best of desi cuisine in one place is only for 1995 PKR, exclusive of tax, and it is on until 26th March so you still have time to go and have a good time with your family and friends. The only thing that I think could have been added to this menu was bun kabab, but let me know if there's anything else reminiscent of Burns Road in the comments below.