Beauty Bar
is an online shopping portal for makeup and beauty products. For the
Women's Day
, this March, Beauty Bar decided to run a little campaign and promote some of the local businesses which are owned by women entrepreneurs.
Willa Hafeez
, who herself is the owner of Beauty Bar, wanted to make quality products accessible to women in Pakistan and hence started the business a year ago. However, she soon realized that women need to cooperate and mutually support each other to be stronger and therefore, took on board 4 equally ambitious women. The idea was to highlight their contribution as female entrepreneurs and in order to do so, all of them together sent some care packages to bloggers filled with one product that each brand has to offer.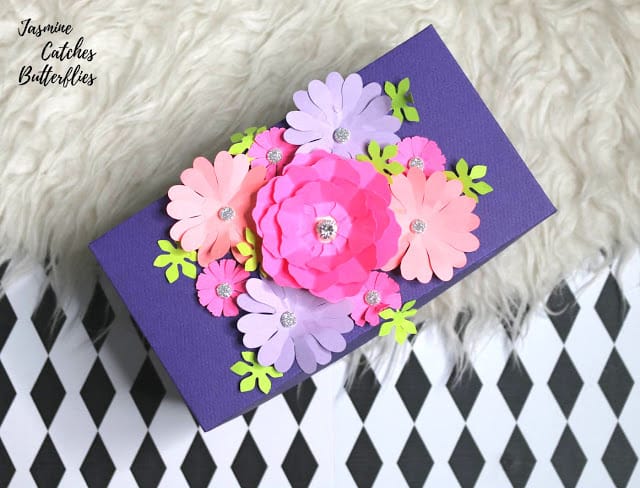 I did post a couple of unboxing videos of the parcel that I was on sent, on my Facebook page and Instagram, so do check them out if you are interested. I am super proud of the one I posted on Instagram because I tried my hand at something new while making it and it is different than a usual unboxing video.

The Gift Fairy Gift Box
Speaking of unboxing, the first thing that caught my and everybody else's eye was the box itself that the beauty goodies were sent in. The purple cardboard box with beautiful paper flowers on top is surely one of the nicest handmade gift boxes that I have ever seen. The Gift Fairy, which is owned by Abeera Iqbal, is to be credited for this beautiful packaging. I visited their Facebook page out of curiosity and I must say that they have some pretty amazing stuff on their so do check it out yourself if you are looking for some cute handmade boxes or are looking for any such gift wrapping and packaging page in Pakistan!
Conatural Allure Lashes
So the first thing that I pulled out of the box were the Conatural lashes. The brand is owned by Myra Qureshi and it is basically all about organic beauty products. I have heard a lot about Conatural's skin care range in the past, but these lashes happen to be the first item that I now have. These lashes are in the style Allure #2 and they are cruelty-free so therefore these have been made out of hundred percent real hair.
I have not worn them yet but I just feel they do not look identical in shape. While the lashes on the right one taper beautifully, the ones on left do not seem to be trimmed properly. I reckon I was sent a faulty pair and this is something that did put me off. 850 PKR for a pair of lashes is not inexpensive so they definitely should have better quality control. However, I will report back once I use these and see how they look applied.
Conatural currently offers one other style of false eyelashes and it is called 'Brilliance' which is supposed to be a fuller pair apparently.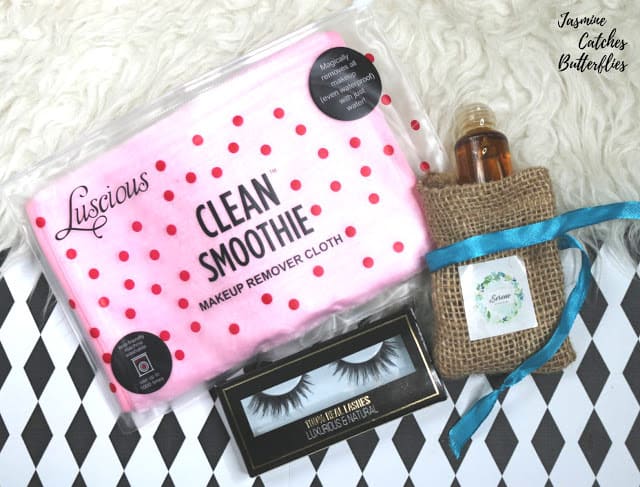 Serene Organics Mustard Oil
I do not know about you guys but mustard oil is the most used oil in my household. Mustard oil has a lot of benefits when it comes to good hair, skin, and even a healthy diet.
Serene Organics is owned by two LUMS graduates, Fatima and Shahama and they offer a range of pure organic oils packaged nicely in jute to keep their brand eco-friendly.
These girls do aim to help the poor oil producers by giving them a share of the profit, however, a bottle of 100ml mustard oil costs 500 PKR on their page, which is supposed to include the shipping charges, but then also costs the same on Beauty Bar which is strange. Considering the fact that it is only mustard oil I still find it overpriced either way as you can easily get much more of it, yes even the purest of its kind, for the same price from local shops.
Luscious Cosmetics Clean Smoothie
The idea of a makeup removing cloth seemed bizarre when I first saw a YouTuber reviewing one from some other brand a year or so ago. However, when I came across one by Luscious Cosmetics, I genuinely felt intrigued because now something similar had been made accessible in Pakistan too. Luscious of all brands does not need any introduction as it has been around for a decade and was founded my Mehrbano Sethi in 2007. The brand has been producing some good quality affordable products over the span and while I have not used much from them, the Clean Smoothie was something that I really wanted to try.
I would probably show you a demonstration in a future video on my YouTube Channel but all that is required is to wet this cloth with water and you can remove your makeup by rubbing it gently against your skin in circular motions.
So far I have used it twice and while I do think it works, I am not yet a fan of this makeup removal procedure. It is just odd and one thing I do not like is that some of the lint from the cloth comes off and goes in my eyes and mouth. Also, the brand claims that this can remove waterproof makeup but it certainly did not work too well for my waterproof Maybelline Lash Sensational mascara. I will post a detailed review once I fully test it out and keep you posted in case my thoughts change.
This was my first encounter with Beauty Bar too and I would say that they are doing a decent job of selling mostly international drugstore makeup along with some Pakistani brands like the ones mentioned in this post. Currently, the range is pretty limited for most of the brands that they have on their website. Nonetheless, I appreciate Beauty Bar's effort for bringing all these ladies together for a women empowerment campaign and I hope they improve and get better with time.