Who remembers my first time of trying out
French Food
(including snails!) at
Avari Towers
last July? If you do, props to you for sticking around and being here for yet another scrumptious post. Asia Live Restaurant is currently hosting yet another French Food Festival, which will last until 1st April, and things are quite different this time around.Last year the
French Food Festival
offered only an a la carte menu while the rest of the food festivals that followed solely offered a buffet dinner. However, this here's another round of the French Food festival again and Asia Live has added a new twist. So now you are getting a buffet for salads and desserts but an a la carte menu for the soups and the main courses. The thought behind this was to prevent food from wasting while people still do get to enjoy salads and sweets as much as they like. It is something new that they have tried but I must say that the restaurant seemed busier than usual and our own order took a while to arrive.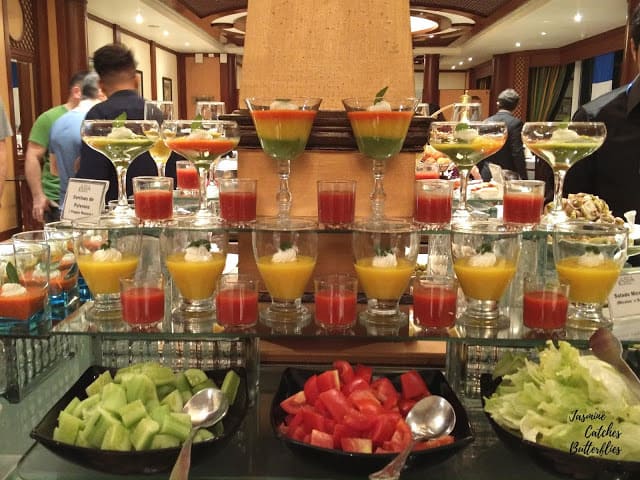 Salad Bar at French Food Festival
Anyways, starting with the salads, you can see how colorful and tempting the setup looked right from the beginning, that is as soon as I entered, I was drawn to the salad bar. They had the usual assortment of vegetables along with mini sandwiches, tiny meat pies etc. There were also pureed vegetables including bell peppers which tasted amazing with a dollop of cream on top.

Traditional French Onion Cream Soup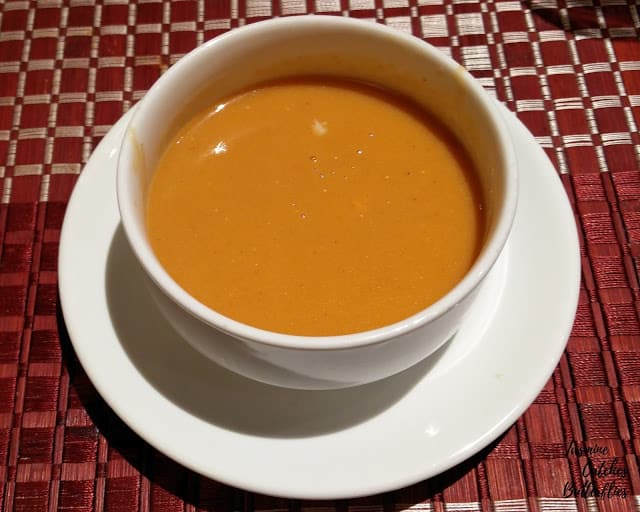 Lobster Bisque
For soup, I ordered the Traditional French Onion Cream Soup which was salty but appetizing with a layer of bread and cheese floating atop. The other soup on the menu was the Lobster Bisque which I did also try and liked. If you love seafood, definitely go for it. Last year they had this soup but with prawns in it too. I did not, however, sense much difference.
Moving on to the main course, there was a long list of authentic French cuisine and with a variety of steaks and other protein like chicken, duck, and lamb. I initially wanted to play it safe with chicken but I was suggested to try the Steak Diane which was a beef fillet served with mushroom sauce and pureed potatoes. Now, while it tasted really nice, it was medium rare so I could not really finish it as I prefer my steak to be well done, like a typical Pakistani. The mushroom sauce and the pureed potatoes were really scrumptious and perhaps one reason why I would ever want to order this dish again.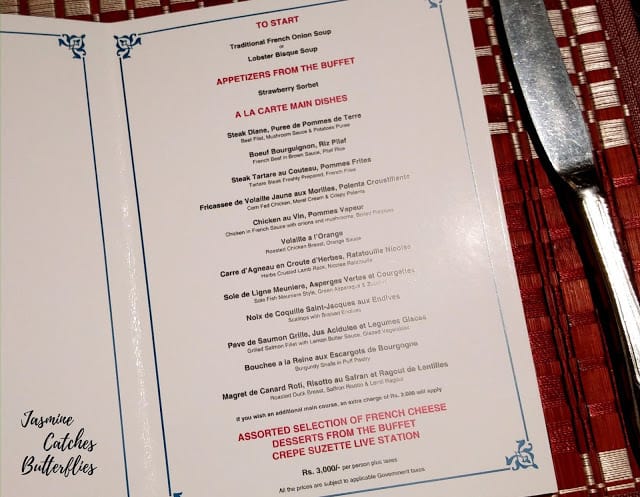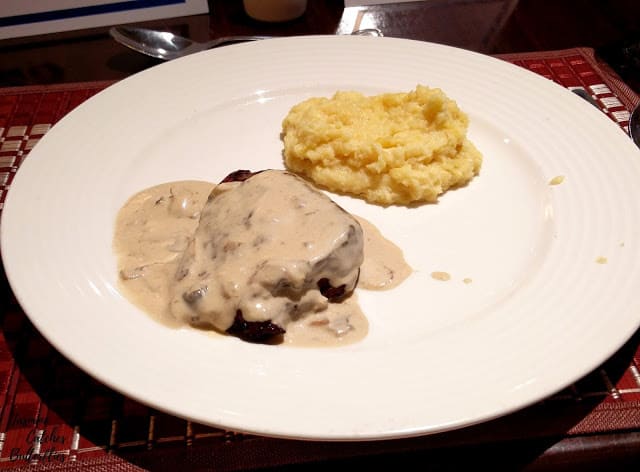 Steak Diane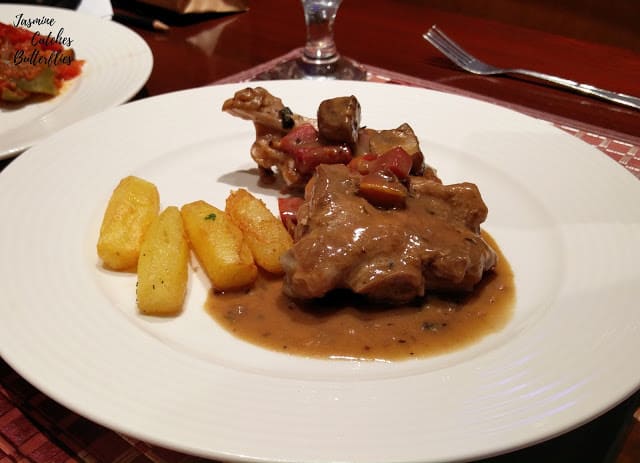 Chicken au Vin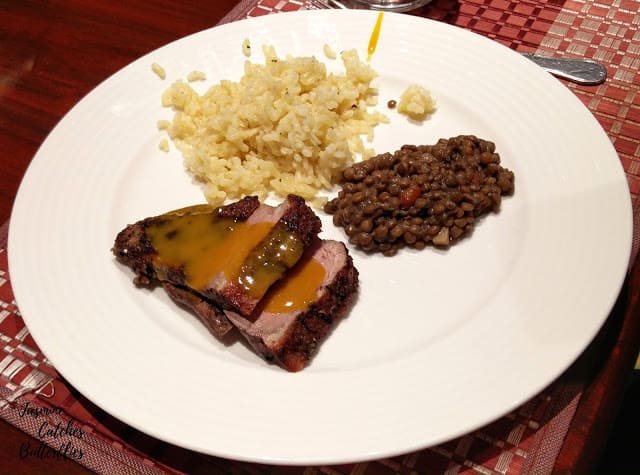 Magret de Canard Roti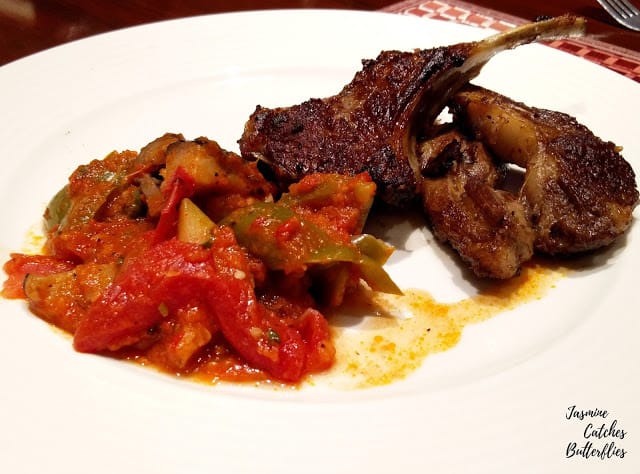 Carre d' Agneau
Other bloggers who dined with me opted for Chicken Au Vin, Magret de Canard Roti, which was the duck, and Carre d' Agneau which was a lamb with herbs dish. I must say the serving size was pretty generous in comparison to the last time. The bloggers who had chicken and duck did seem to enjoy their meal. In fact, the kid who actually had the duck happens to be the youngest food guide of Karachi at only 16 years of age. You guys should follow him on Instagram at Feast Karachi to discover more amazing food from around the city. He has reviewed the dish he ate on his account so do check it out. I did try the lamb and it was cooked well and tasted good with the side of herbs and vegetables.
Everything aside, the dessert station was my absolute favorite for it had so many little fruit tarts and I personally LOVE lemon tart so I was guilty of popping one in my mouth even before having the main course. It was quite tangy but I still could not help myself and devoured a fair few. On the other hand I did, however, missed the Chocolate Fondant from last time and really wished that they had brought it back too. Nonetheless, the chocolate bundt cake and cheesecake are two cakes that I would still always appreciate. The cheesecake at the French Food Festival was blueberry flavored and tell me it looks divine, does not it?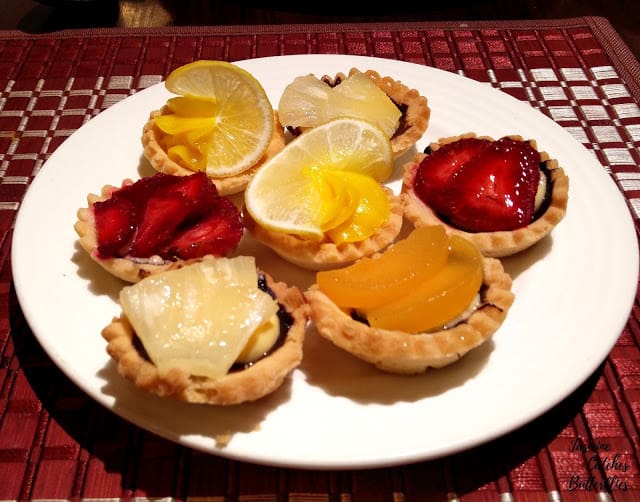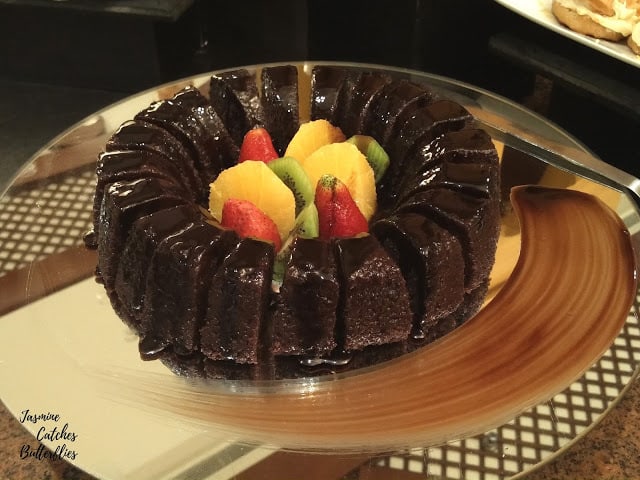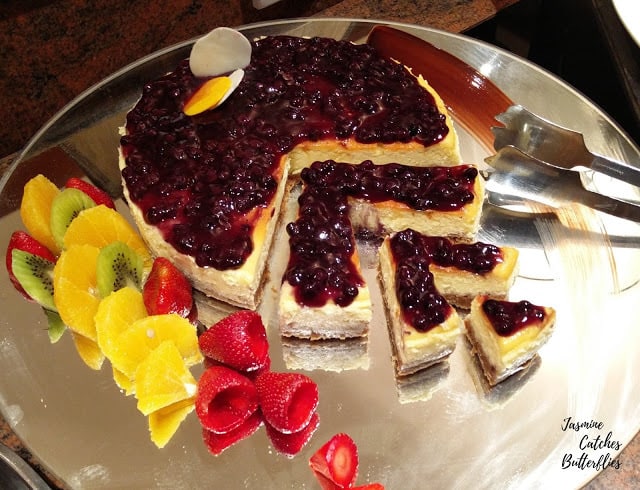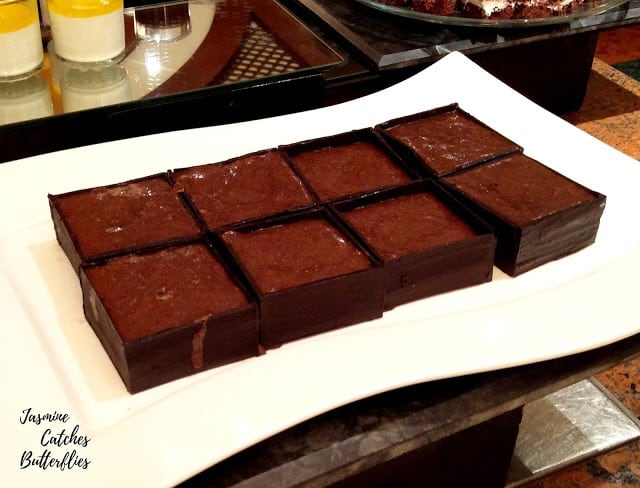 I could not try each and every dessert on the buffet but I did snap a lot of photos for you guys so I hope you enjoy! One dessert that really made me ecstatic at sight was the Croquembouche! I recognized this towering dessert on the table from some of my favorite episodes of Masterchef Austrailia. Every time Zumbo used to bring one in, everybody had cold sweats. The cone at Asia Live was nowhere as decorated as Zumbo's but it was still great to see an iconic French dessert. The cream filled choux pastries tasted nice on their own but the caramel was a tad bit bitter for my liking.
There were a lot of fruit desserts and strawberries, in particular, were at least on three of them. There was also an orange cream dessert and Paris Breast, both of which I could not try as the desserts wiped out pretty fast and I was too full by the time they refilled the platters.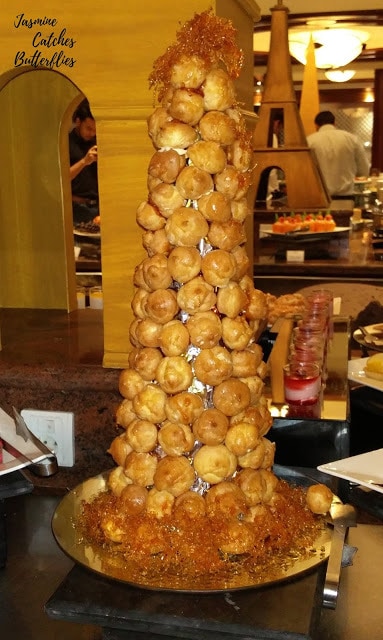 Croquembouche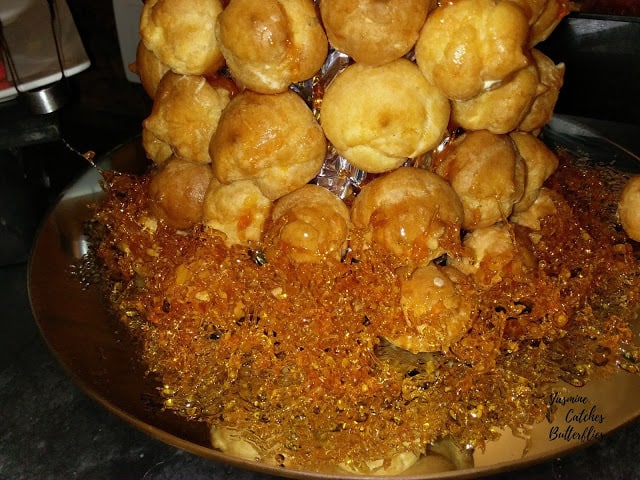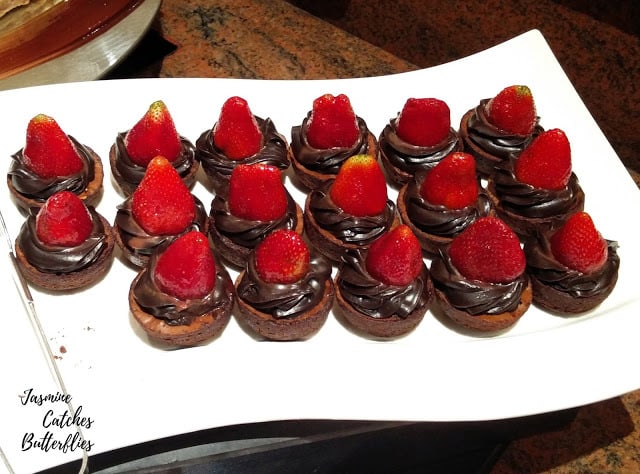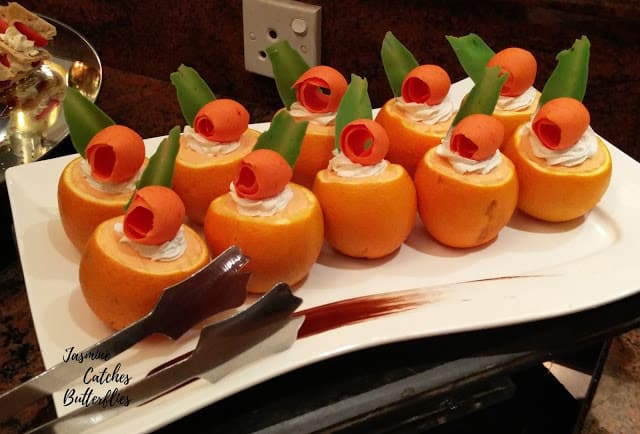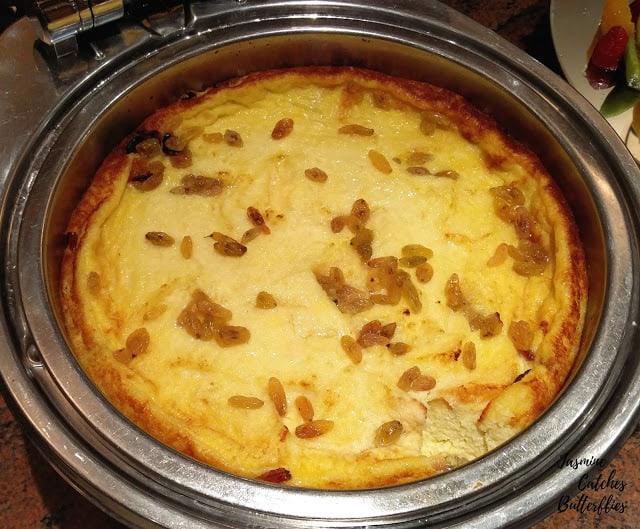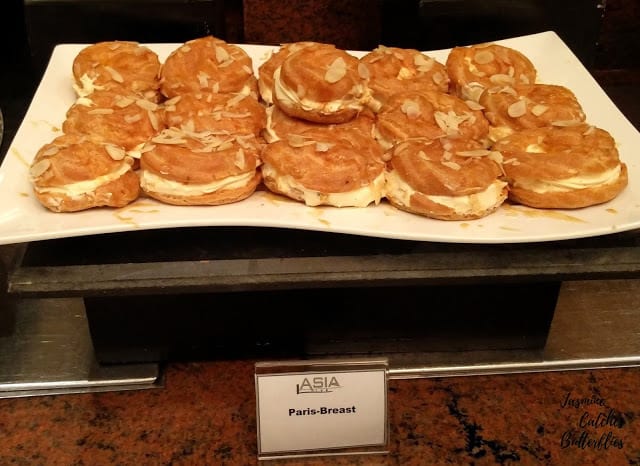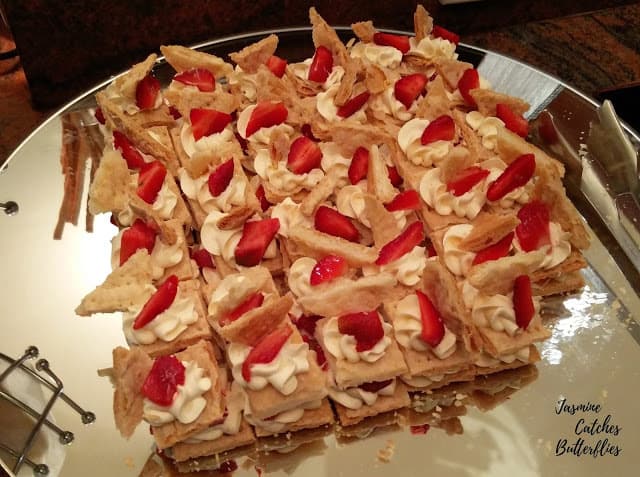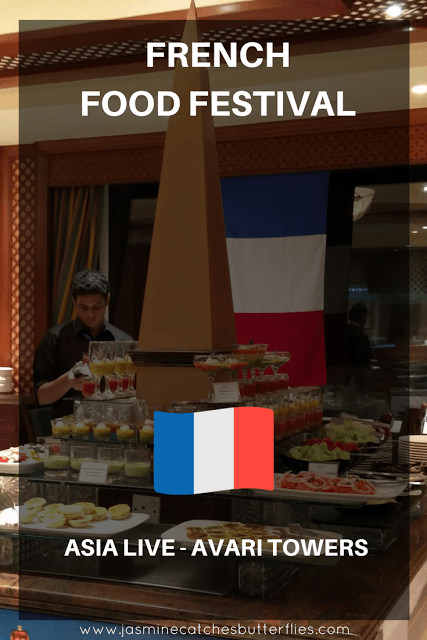 For beverages, we had the choice of getting Pina Colada, Blue Margarita or Fruit Punch and I, of course, chose Pina Colada as I love this tropical drink. It was not as sweet as I like but it was still light and frothy.
This time the French Food Festival at Avari costs 3000 PKR per head, exclusive of taxes, which I think is a better value for money in comparison to last year's as you get to try a lot more food as part of the buffet in a much lesser amount. For soups and main courses, you have the choice of choosing any one from each.
I know you guys like seeing these food festival posts and I like writing them just as much. Let me know which dish caught your eye this time around and what do you think of French cuisine. By the way, there are snails on the menu this time too and you might want to try them. Speaking from experience, they do not taste odd at all so take it as a dare and maybe gobble one! 😉