Once again, I am back with another food post, but I am glad that most of you guys do appreciate these. So, last Saturday I got to attend the Egyptian Food Festival at Avari Towers, and here is all that you need to know about it.Now, I have had Middle Eastern food a lot in this lifetime for I have been to quite a few Arab countries and also do have family friends from the Middle East. Personally speaking, I love my spices so I do prefer Pakistani food over everything, but there are obviously tasty treats that the Middle East has to offer as well. That being said, this was my first time trying out Egyptian cuisine and boy, I was excited. Egypt has such a rich historical background and I am so intrigued by it that I went in expecting that it would somehow reflect in the food as well.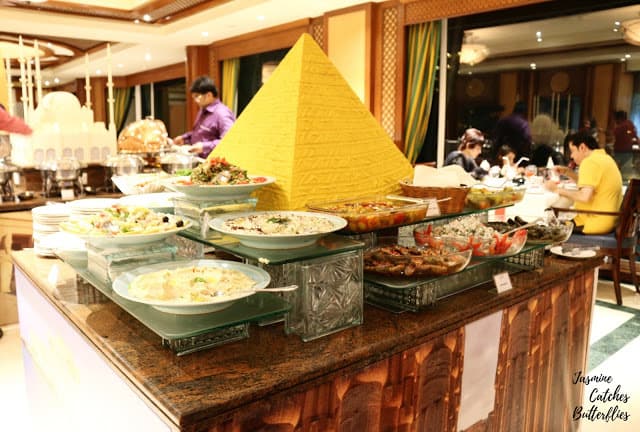 Egyptian Food Festival at Asia Live, Avari Towers
Mind you, I did not get a chance of noting down the names of every single dish that day, because I was a bit tired since I already had another blogging event to cover right before this food festival on the very same day. So you will have to do with my descriptions, which I guarantee will be scrumptious (for the most part).

Salads and Appetisers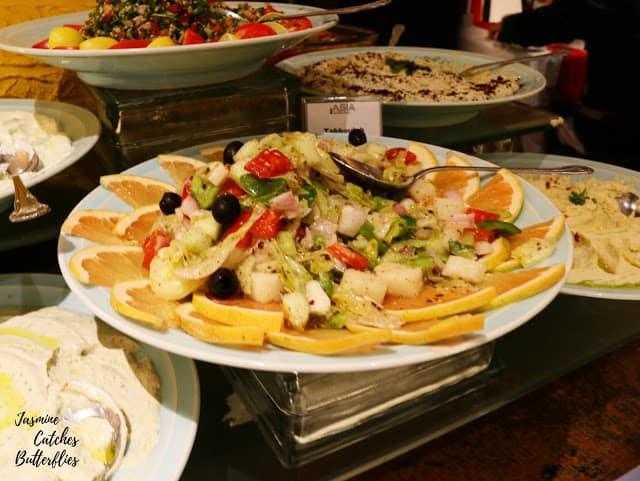 Right of the back, the first things I noticed were hummus and tahini, which we have seen in a couple of previous food festivals too, but of course, it was always totally appropriate. I love them, so I was happy about having them and they tasted no different than the previous times.
There was a good selection of salads in general, but I was happy to see fruit options too as fruit salads are not that common. My favourite, however, was corn with some Thousand Island dressing and iceberg lettuce. I know that is super basic, but it is super yummy too.
One thing, that caught my attention was a platter of stuffed grape leaves for I have had them in Oman before. I find the taste to be quite strong and kind of bitter so I am not much of a fan, but I know my dad really likes it, so who knows, you might too if you like Middle Eastern cuisine in general.
Main Courses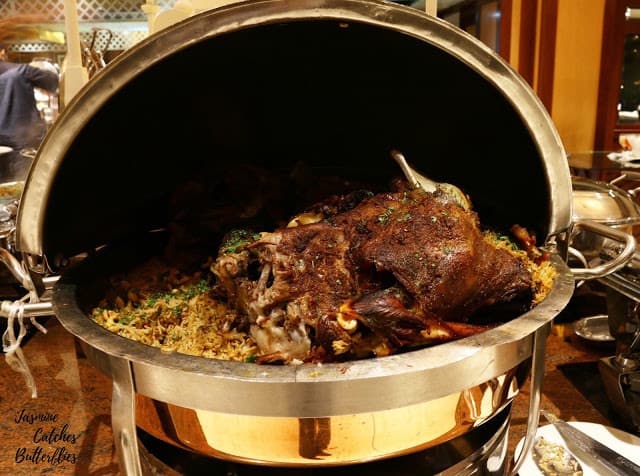 Whole Stuffed Lamb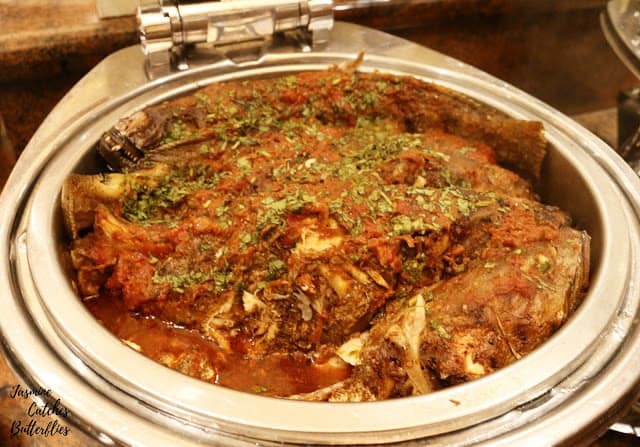 Egyptian Fish Dish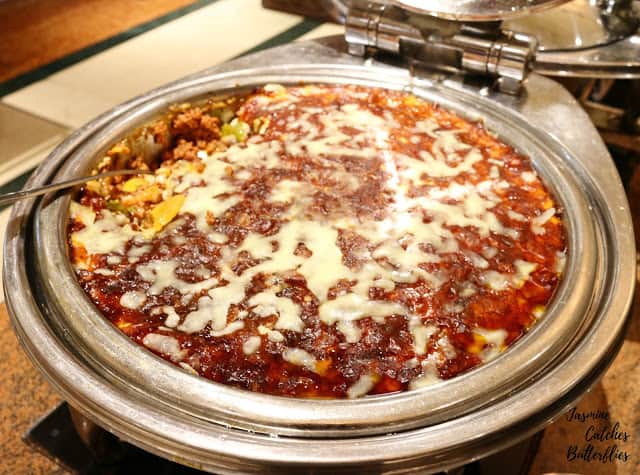 Lamb Moussaka
Coming to the highlight of any meal, the Egyptian main courses included numerous lamb dishes, fish, but there were chicken and quail on the menu too. If we talk about the basic ingredients, I believe, Egyptian cuisine excessively uses tomatoes, onions, and cheese. Is not that combination just amazing? I mean for me at least, it is. Just add a little bit of chili in the mix too.
There were some rice and okra dishes too, but as indicated above, my favourite out of everything that I tasted had to be the Lamb Moussaka. The dish was made up of minced lamb meat, onions and had a thick layer of cheese on the top. Honestly, I did find the sauteed onions to be a bit overpowering and personally, would have preferred a lesser amount, but other than that, the dish was really yummy.
Like I mentioned, since I was already exhausted, I did not eat much but now that I am looking at the photos, I wish I would have tried more things. There was Chicken Shawarma, Zalabia Balls, Egyptian Dawood Basha (which looks similar to kofta), Lamb Fatteh, Dajaj Kabsa, Lamb Stew, Ful Medames and even Whole Stuffed Lamb.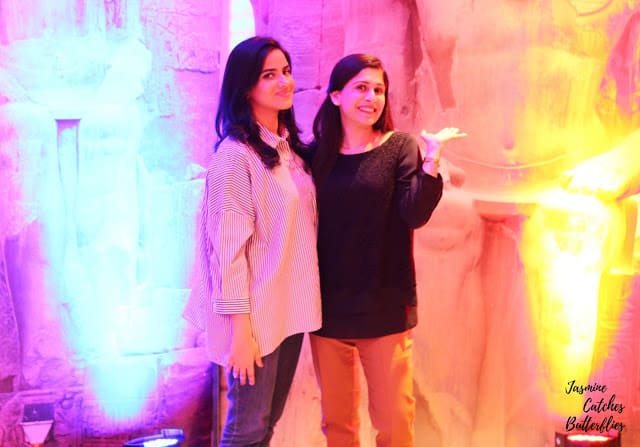 Just posing with the mummies, FYI.
Desserts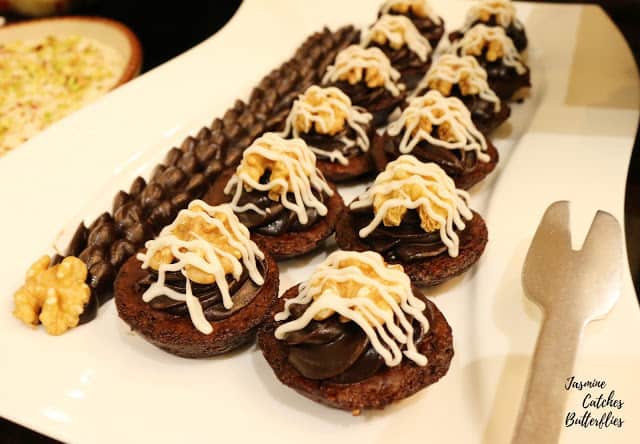 Chocolate Tarts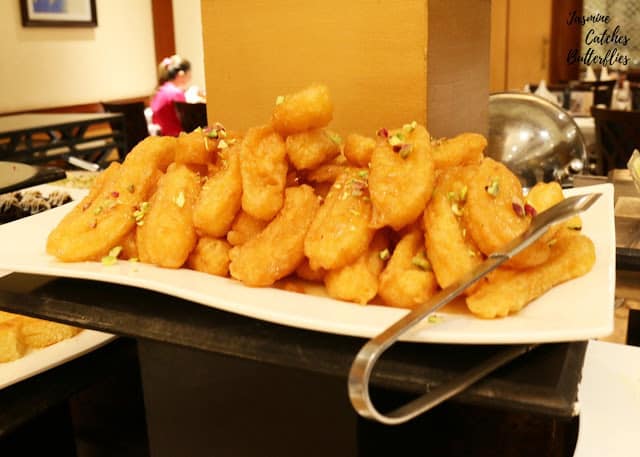 This was something like churros but not really!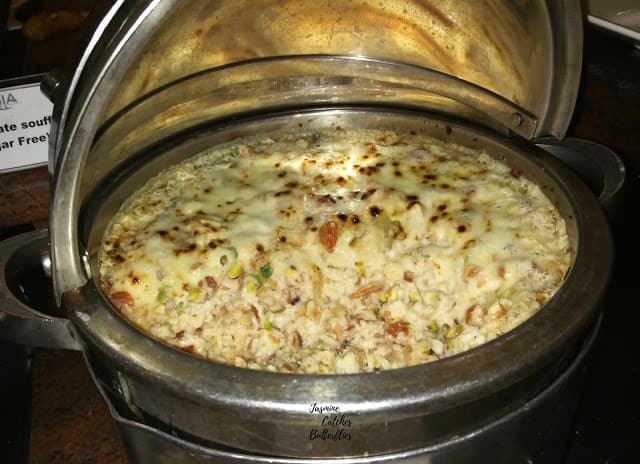 Om Ali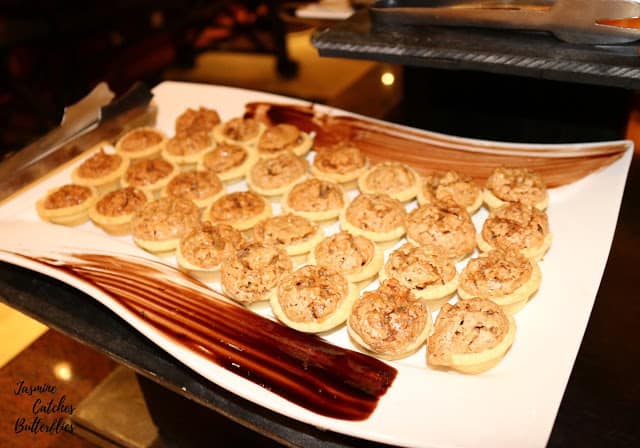 Walnut Tarts
No matter how worn out I am, dessert is something that I can never say no to. These food festivals always do keep some of the usual desserts on the menu, like red velvet cake, apple pie, and chocolate tart etc, however, there were also some good traditional sweet dishes included this time.
Om Ali, which literally means 'Mother of Ali', is a dish associated with a dark historical event of the Ayyubid Dynasty, in which the lady named Om Ali was murdered and this dish was cooked in celebration. As terrible as that story is, the dessert itself is extremely delicious, for it is rich in dairy and nuts.
Another dessert, that I ended up loving was the Walnut Tart. The tarts were tiny but full of flavour and I love walnuts so I guess after lemon tarts, I would rank these as my favourites now. Then there was also Basbousa which is a cake made out of crushed coconut and semolina. It is really nice and similar to the coconut meethai. Other than these, Baklava and Kheer also made it to the menu, but we here are already familiar with the two.
As usual, this food festival is on for a week's time at Asia Live restaurant within Avari Towers. You have until 7th May to visit and devour a buffet of Egyptian cuisine for 2300 PKR per head, exclusive of tax.