A busy week calls for a chill weekend scene and what better way to spend a Sunday than a brunch by the beach?
Beach Luxury
has just relaunched their
Sunday Brunch
and I was invited to the opening yesterday. It was pretty exciting as it brings back a lot of childhood memories of the time that I have spent with my family at the hotel. The sea facing location is absolutely serene and beautiful, so I even took the opportunity to shoot my outfit for the day with a new purse that I recently got from
Rosegal
.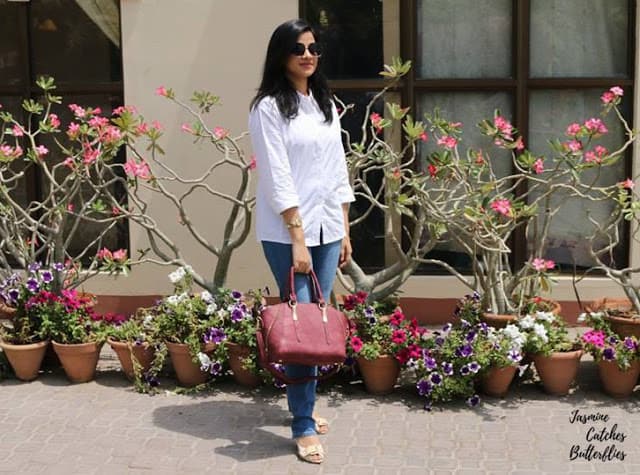 Sunday Brunch At Beach Luxury
I chose to keep my attire fairly casual but I still wanted it to look put together, hence I opted for a button-down white shirt that I seriously got almost ten years ago from Saudi Arabia. It just goes to show that I have not grown up at all since. Haha. I paired it with my blue Levi's jeans and printed white heels from Regal. To add a pop of colour to this otherwise plain outfit, I styled it with a Rosegal Red Metal Zip Embellished Faux Leather Handbag*. This bag does cost a pretty penny at $33.52, but I love the quality and the gold detailing on it. It is quite spacious with two big compartments, three smaller ones on the inside and has a zipper at the back too. The faux jeans pattern with gold zippers on the sides as embellishments add a modern touch it.

I was glad to wear this outfit as it was comfortable for a hot day in Karachi and also practical as I took photos around the hotel for my blog. This is a photo heavy post, but I really do hope that you enjoy the beauty of the hotel and tell me that I fitted right in. Just kidding, but how amazing is the view?! I wish I could have stayed longer and gone for boating too. Yes, you can go for boating at this brunch and it's included in the 1750 PKR, which is exclusive of taxes, though.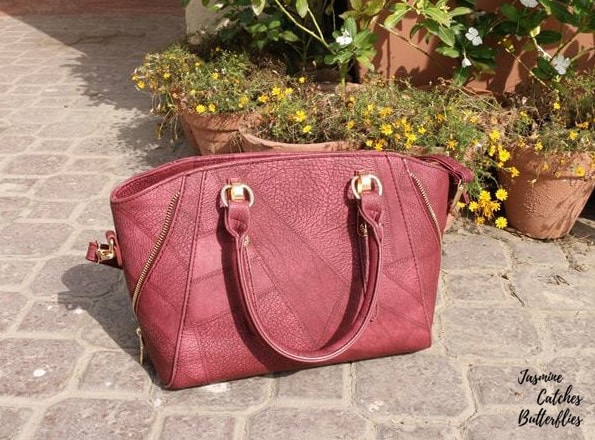 Rosegal Red Metal Zip Embellished Faux Leather Handbag*
PR Sample*
The timings of the Sunday Brunch at Beach Luxury is supposed to be from 12 PM to 3 PM but at the opening, things got a bit delayed, so consequently, it was open until an hour later too. We dined in the Jasmine hall where salads and desserts were present for the buffet, along with a jumping castle for kids, musicians performing live on stage, and a corner dedicated to face painting and bangles for kids and women respectively. While the main courses were present just outside the hall, for buffet too, but mainly at live cooking stations by the sea so that we could get our food served hot.
I must say that there is a good variety of salads and appetizers as you can choose from Greek salad to good old coleslaw to even nachos and salsa with a large number of dressings to pick your favourites. I liked all the salads that I tried and most of them were quite filling on their own. Now, I do love Doritos which were served as tortillas but it would have been better if the hotel served its own version of nachos. Also, the salsa tasted good but it was pureed which is something common but is not how authentic Mexican salsa is. Anyways, I am just looking at it like a food critic, but otherwise, it was still scrumptious.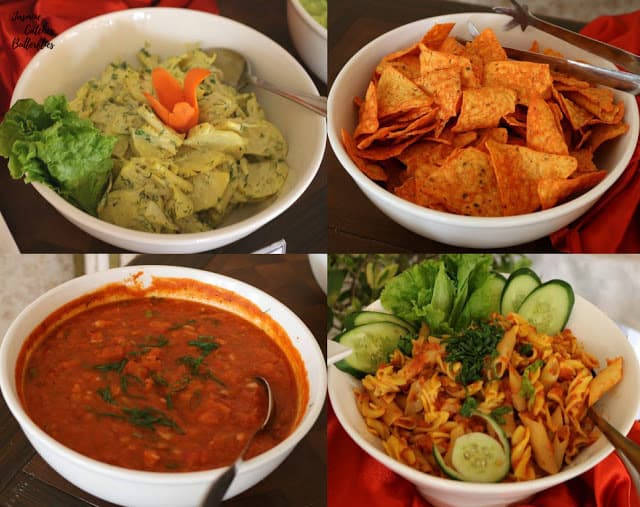 Salads and Appetisers at Sunday Brunch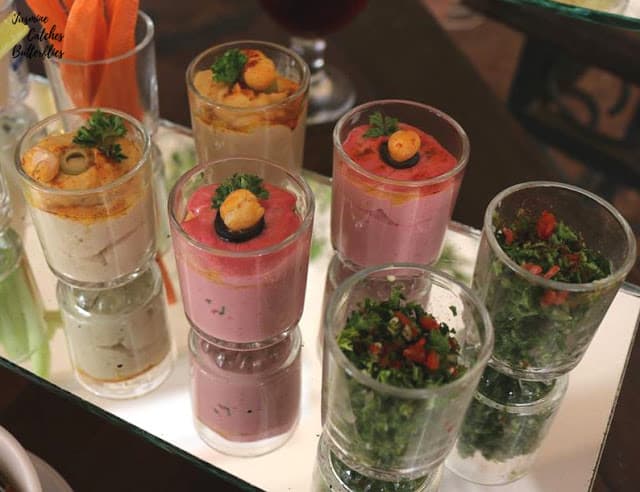 Salad Shots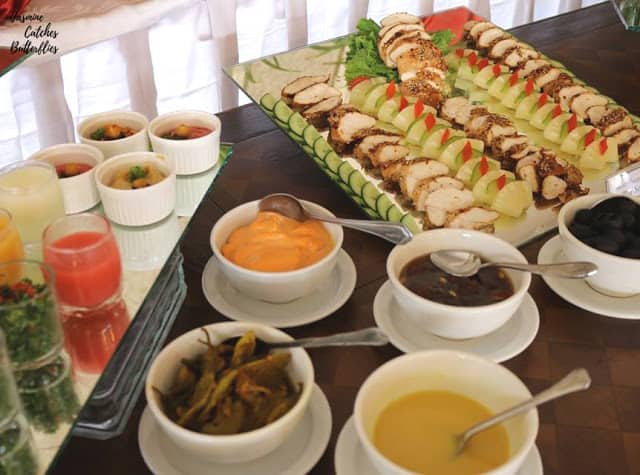 More salad & dressings!
L-R/T-B: Biryani, Stuffed Chicken, Beef Steak, Chow mein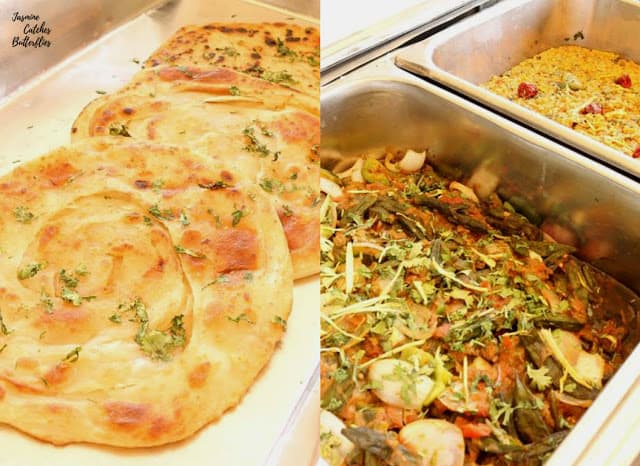 Parathas, Mixed Vegetables and Daal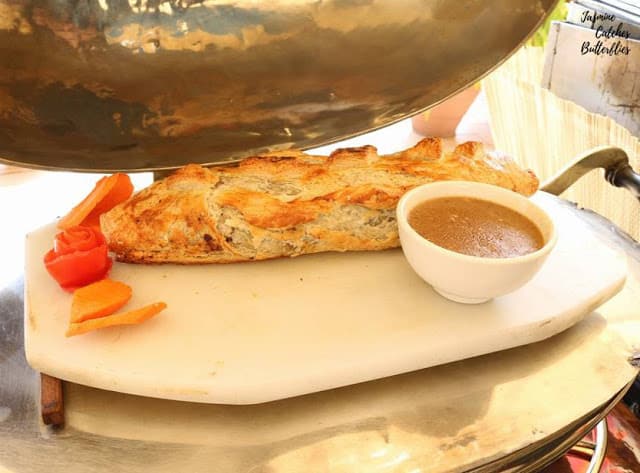 Beef Wellington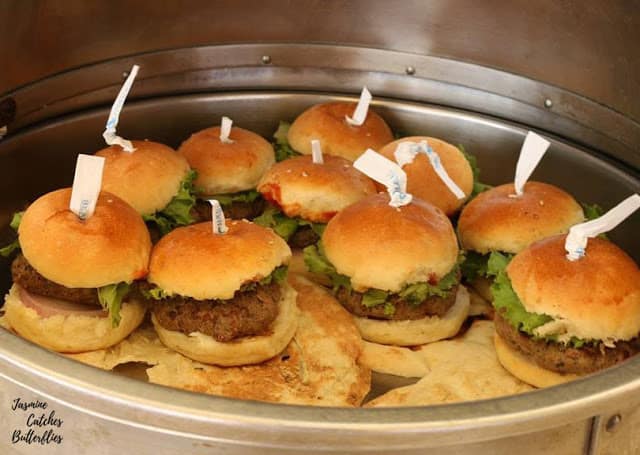 Mini Burgers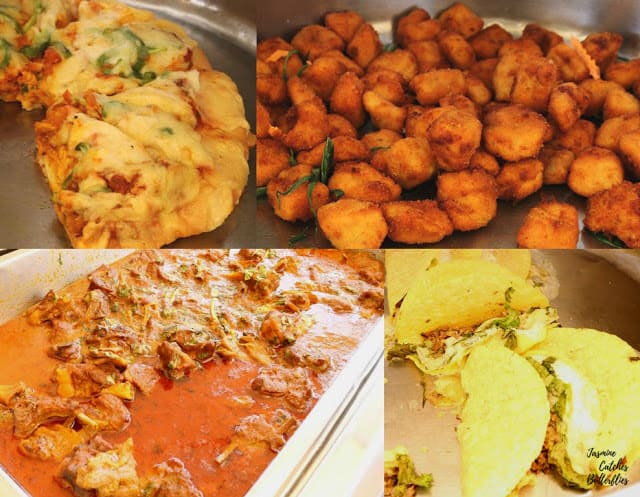 Pizza, Chicken Nuggets, Tacos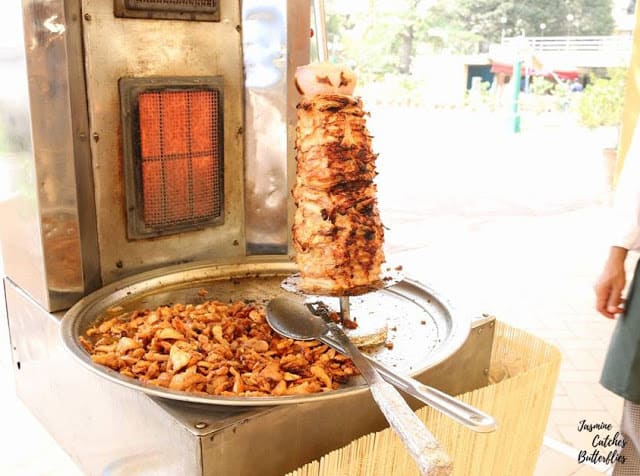 Shawarma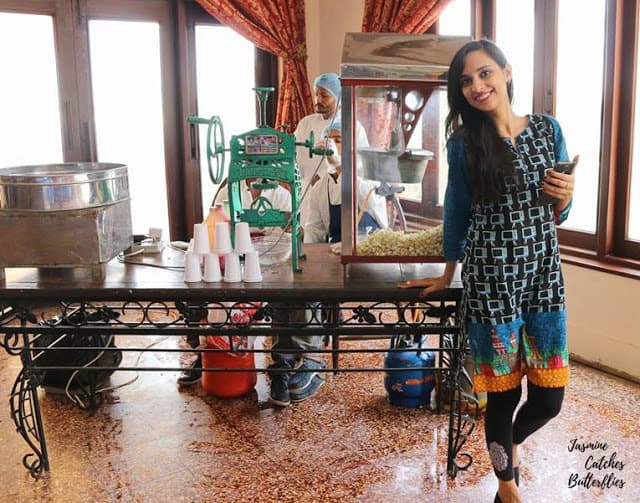 Aesha from Oh My Mascara posing with the Cotton candy, Gola Ganda and Popcorn Stand at Beach Luxury
Moving on to the main courses, one can choose from the likes of biryani, nihari, mixed sabzi, daal to Chinese fried rice and chow mein. There were other desi and continental options too like seekh kebab, fried fish and prawns and even beef wellington. Furthermore, I really liked the shawarma and the pizza. However, I was most excited to see stands for popcorn, gola ganda, cotton candy, and gol gappay. The food tasted pretty good and I was happy that they had enough options for kids and adults alike. I mean if you are getting french fries and other snacks as someone who does not fancy full blown desi meals at a brunch, the choices were sufficient. Though, it would be great if the hotel includes more breakfast dishes on the menu too, like paninis, waffles, pancakes and even scrambled eggs, rather than mainly having the lunch ones like biryani and nihari.
At the opening, Kiran Khan, the famous TV host, was also present to cover the event for Hum TV and I clicked a photo of her while she shot the show for the channel. She came across as a very sweet person by nature. Which now leads me to talk about the desserts. I would be honest and tell you that I did not get to try any of it because I was so full after tasting the huge variety of main courses. However, there were some really mouth watering desserts. I loved the presentation of the ones in small shot glasses, the puddings looked yum and I was pleased to see kulfi and gujia too.
Even though there was tea, for beverages, I still felt there should have been fresh fruit juices too rather than just soft drinks and an instant juice.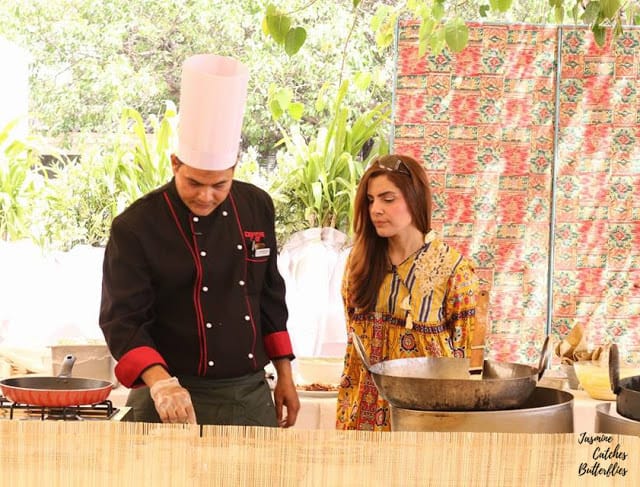 Kiran Khan covering for Masala Hum TV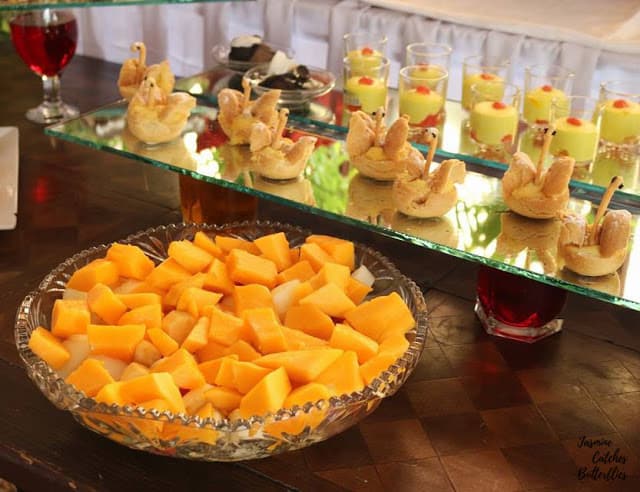 Desserts – Sunday Brunch At Beach Luxury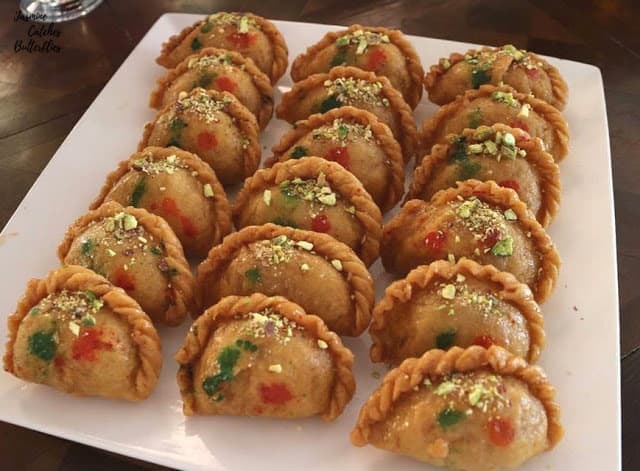 Gujia at Sunday Brunch At Beach Luxury
I consider myself lucky to be living in a city by the sea as I find the sight and sound of water bodies to be quite soothing and calming for stressful days. The ambiance at Beach Luxury is tranquil and nice for a laid back noon brunch with friends and family. Overall, I enjoyed the experience and would love to go back for another one.
Now you let me know what do you think of the Sunday Brunch at Beach Luxury and also, did you like my outfit or would you wear something else for a day of the sort? I think if not this, then I would have gone for a floral maxi dress. It would have fitted the beach theme better if the dining setup was outdoors, but since we dined indoors, what I wore worked fine. The handbag turned out to be a cherry on the top as it held all of my essentials for a hot day in Karachi.
If you would like to know more about the brand, check out my past posts on Rosegal. I have always had a good experience with the online portal and I was surprised that my order arrived within a couple of weeks this time around.
p.s. You guys know that I frequently attend food festivals so I am now thinking of vlogging such events for my Youtube channel. Let me know if you would like to see such videos and I would be happy to post them for you.