Living abroad seems fun and games until homesickness hits you. A major reason for which is missing home-cooked food and the delicacies of your own land. I have seen all my Indian and Pakistani friends cribbing about food since day one.
Being a "chatori" who is more fond of street food than proper desi meals, I did not really see it as a big problem. However, after seven months of living away from home, I started missing 'daal chawal' more than 'gol gappay'.
Keep scrolling if you do not wish to read my glorious tale of victory in home cooking as a student in Germany. I have always had a knack for cooking but I seldom cooked anything past coronary-heart-disease-inducing pasta and pizza back home. Of course, I knew the basics of boiling an egg and making the tea, but I had never tried my hand at cooking fancy dishes like Qorma or Biryani. Nonetheless, I have grown up seeing my mum cook lip-smacking cuisine so I had a fair amount of idea what ingredients work together. Long story short, I can pretty much cook anything now after spending a few minutes on Google, thanks to all the food blogs.
However, there are still days when I am not in the mood to cook. So being a foodie, I love experimenting and eating out. Cologne is a city in the state of North Rhine-Westphalia, which is basically in West Germany and it is pretty close to my own town so I often go there on weekends with my friends.
I have a very desi group but even my foreign buddies enjoy Indian/Pakistani cuisine a lot. To be honest, I have not been able to spot any Pakistani restaurants or shops in this part of the world so far but the Indian restaurants have a lot of Pakistani dishes like Karahi and Peshawari Naan on the menu too.
So over the span of the past few months, I have tried three of the most popular Indian Restaurants in the city and here's what I think about each of them.
Before you proceed, this might be of your interest that all of the below-mentioned restaurants provide Halal meat only and no beef or pork is sold. There are plenty of options for vegetarians too.
1) Royal Punjab Restaurant
This was the first Indian restaurant we tried after hearing positive reviews from some of our friends. Honestly, I was a bit taken aback by the dingy looking setup and small portion sizes. However, after being to other Indian restaurants I realised this is a common theme and you would not be able to find a good value for money because you are in a foreign land.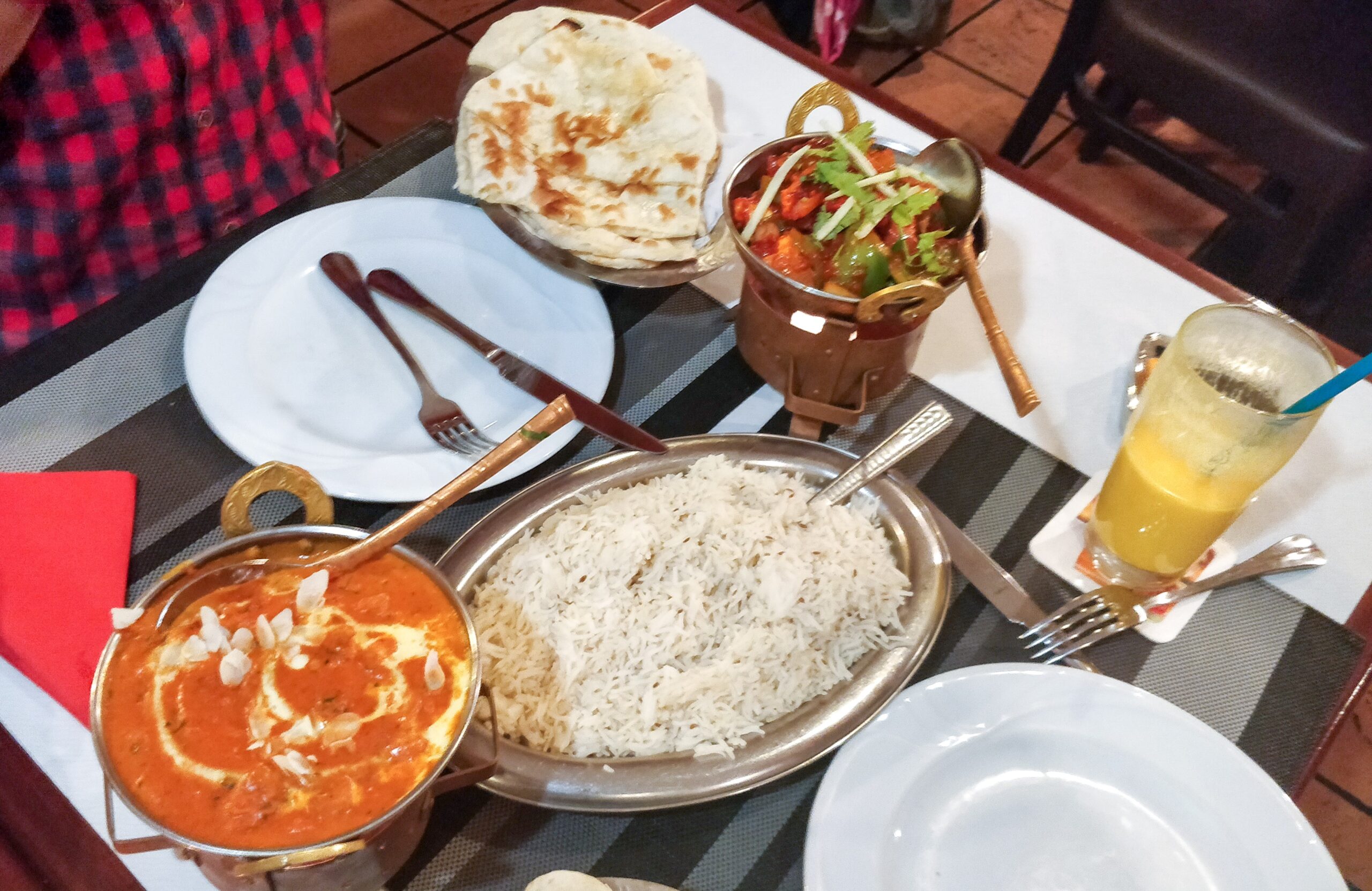 That being said, we ordered three dishes; Chili Paneer, Tandoori Prawns and some chicken dish (it was probably Kashmiri Chicken) that I do not remember the name of now. To eat with those, we ordered Butter Naan and rice was complementary with all the dishes. We also got Mango Lassi and Ruhafza Lassi.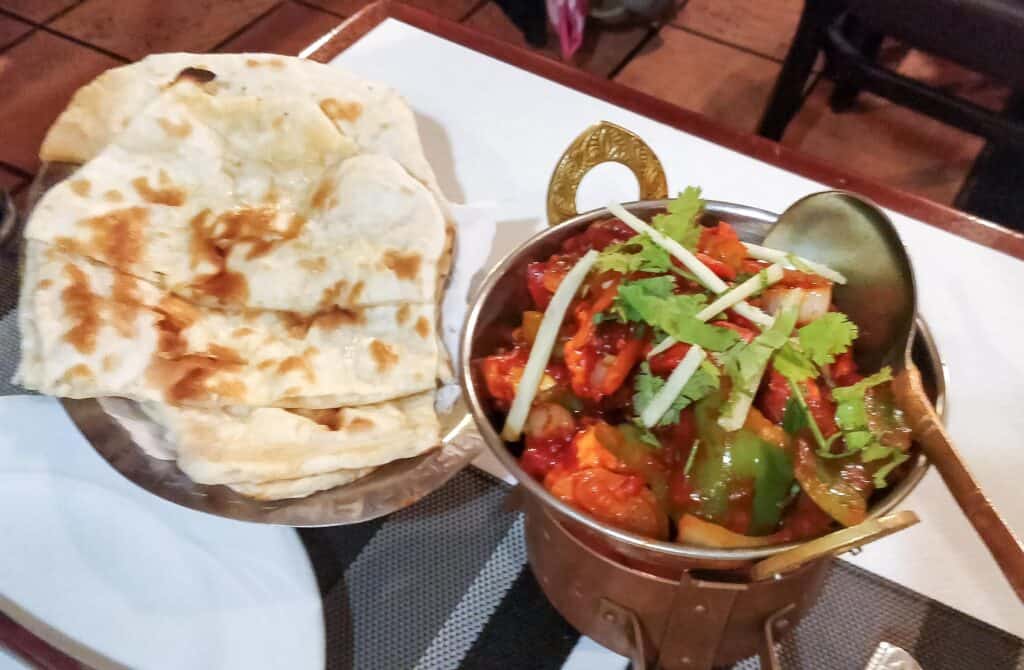 Chili Paneer was a new dish for me and I liked it but I just wished that the chilies were cooked a little bit more. Anyways, I am a sucker for prawns and I do not leave any opportunity of eating them. Tandoori Prawns were hot and spicy but it was apparent that they had not been marinated for long enough as the flesh itself did not contain much flavour.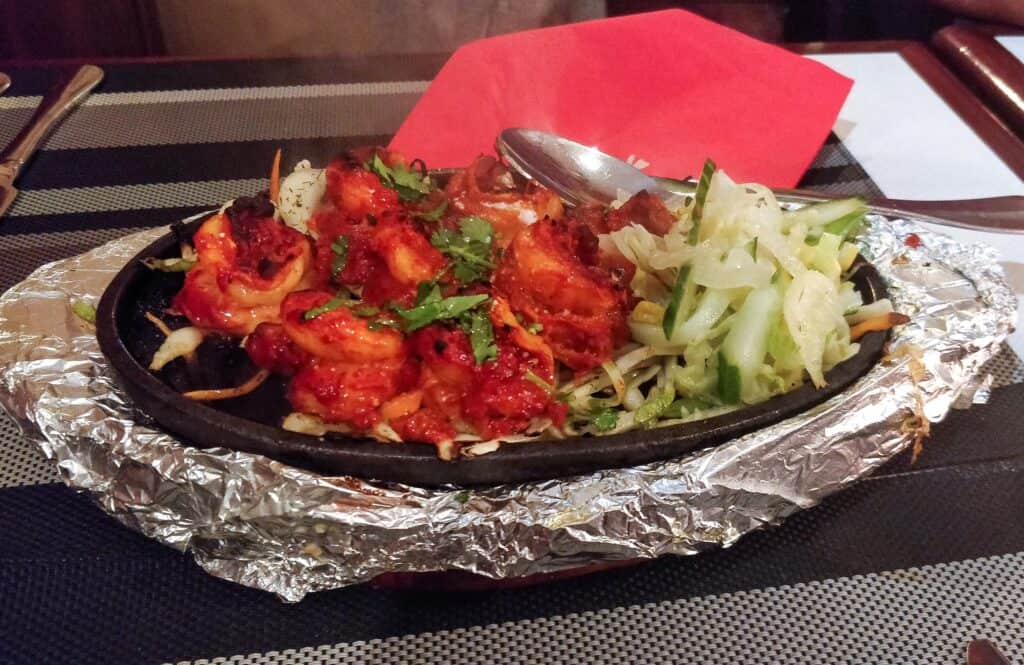 The chicken dish was good but not the best. The Butter Naan was amazing though and we also liked the lassi. So, I did enjoy my meal because I had desi food in a restaurant after a long time but it was still disappointing. Though, in retrospect, it was much better than the other two restaurants.
Royal Punjab Prices:
Chili Paneer – € 11.90
Tandoori Prawns – € 18.90
Chicken Dish – € 12.50
Butter Naan – € 2.60
Mango Lassi – € 3.50
Ruhafza Lassi – € 3.50
2) Ginti Restaurant
After spending another weekend in Cologne, we ended up going to Ginti restaurant for dinner. I kid you not, there was a long queue outside and we ourselves stood there for 30 minutes until we could finally get a table. That just goes to show how popular the place is. It was again, dimly lit but it still had a swanky feel to it.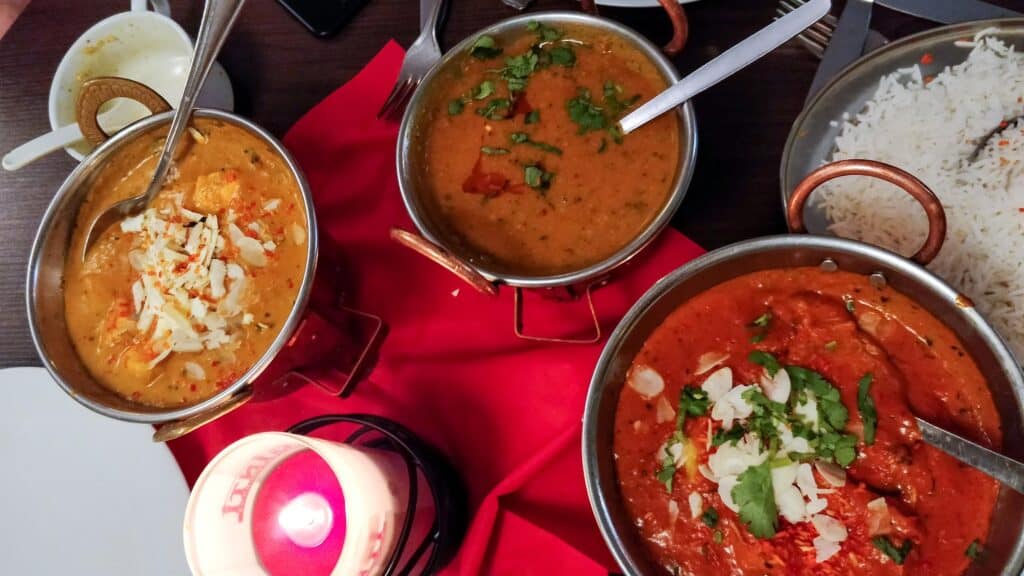 This time around, there were more of us but we did not order a lot. So we got Shahi Paneer, Butter King Prawn (of course!) and Malai Kebab with Paratha. Rice was complementary here too.
Just like Chili Paneer, Shahi Paneer is also a vegetarian dish but it was nowhere as good. It had a strong offputting taste of cardamom and was also oddly sweet. Though my Butter King Prawns tasted amazing! Unlike, the last time, the dish was rich in flavour and was finger-licking good with the paratha. The Malai Kebab was also underwhelming. They were just chicken pieces and were nowhere as soft as malai (cream). Also, it was compulsory to order a sauce with it which was so unnecessary, tasteless and expensive.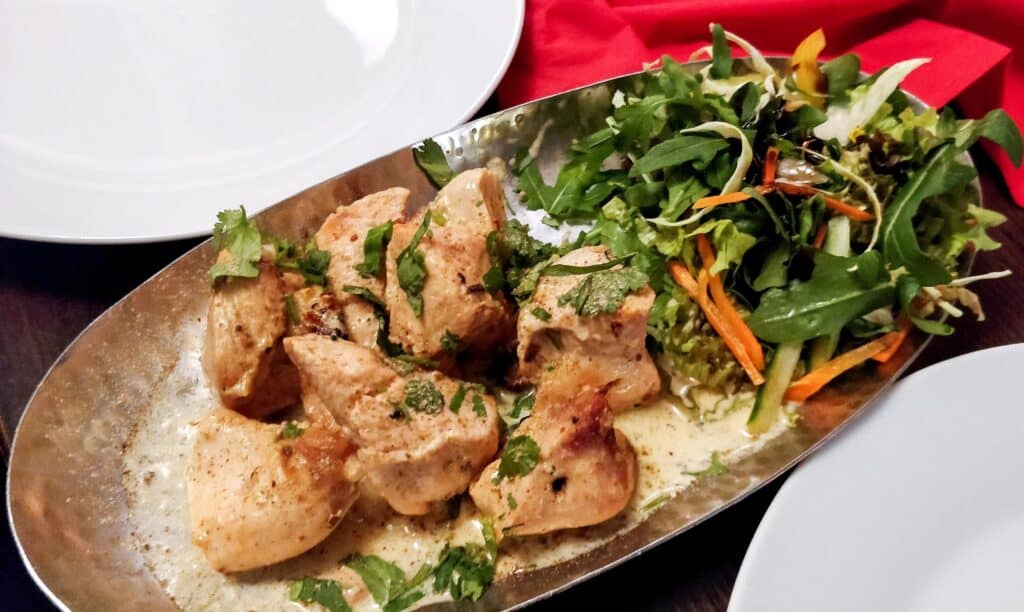 Ginti Prices:
Shahi Paneer – € 12.00
Tandoori Prawns – € 16.50
Malai Kebab and Curry Sauce – € 13.00 and € 3.00
Paratha – € 3.00
This restaurant did not only turn out to be overpriced but also overhyped.
3) Ganesha Restaurant
The last one of the lot, we went to this restaurant most recently. It is in the lane opposite to Ginti and while it was bustling with life on the inside, we did not see any long queues outside.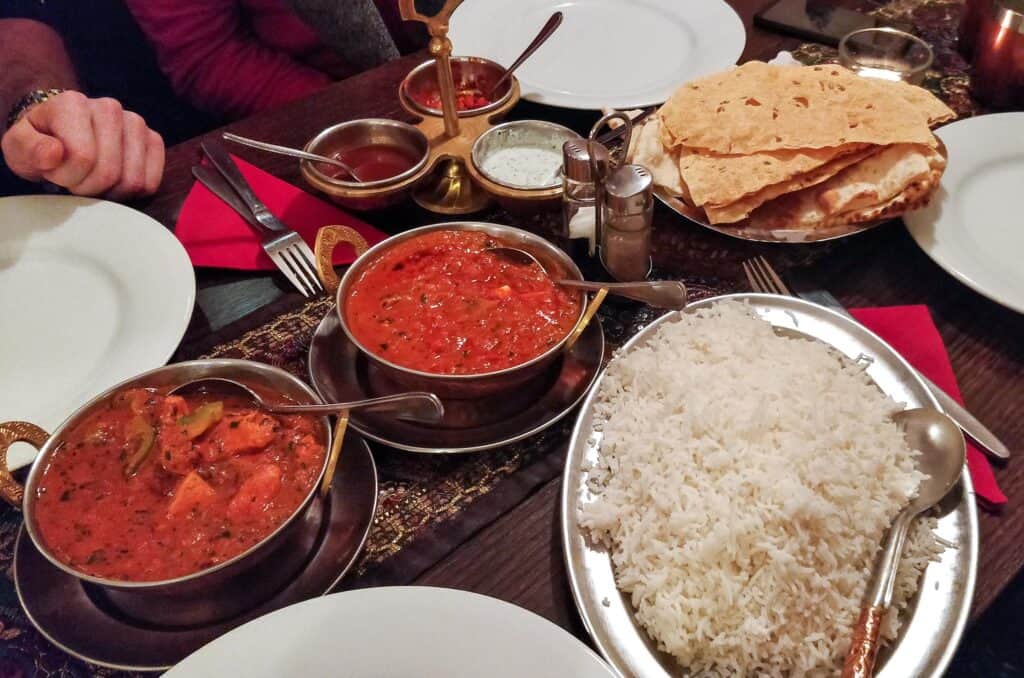 I am not sure what's up with gloomy yellow lighting in the restaurants but it is a staple here so Ganesha was no different. The ambience is certainly better than Royal Punjab but this restaurant does not attract as many elites as Ginti does.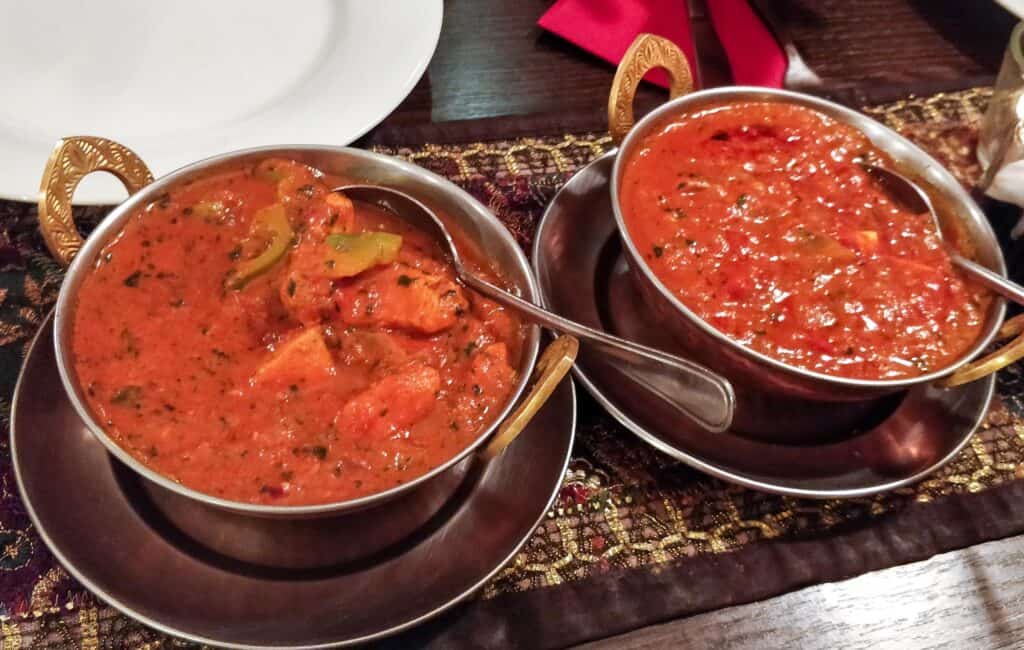 In terms of pricing, we found this restaurant to be a tad bit cheaper than the other two but then also the food was not as good. We ordered Murgh Karahi and Paneer Masala. It seemed as if both the dishes had exactly the same tomato sauce base and that was really disappointing. However, the Naan was good and rice was again complementary.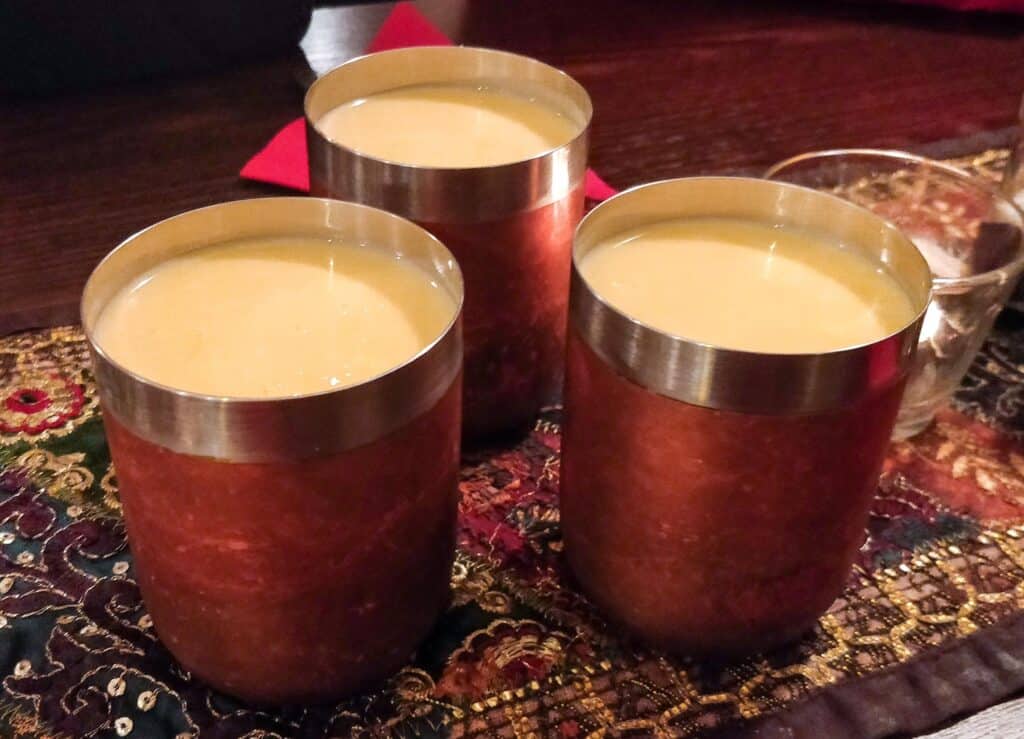 We also ordered Mango lassi which was good but it was half in quantity when compared to what we got at Royal Punjab. For dessert, I got myself Gulab Jamun and boy, I have never been let down more. They tasted stale and seemed as if were served right out of a tin can.
Ganesha Prices:
Paneer Masala – € 10.90
Murgh Karahi – € 12.50
Mango Lassi € 3.00
Naan – € 2.00
Gulab Jamun – € 4.50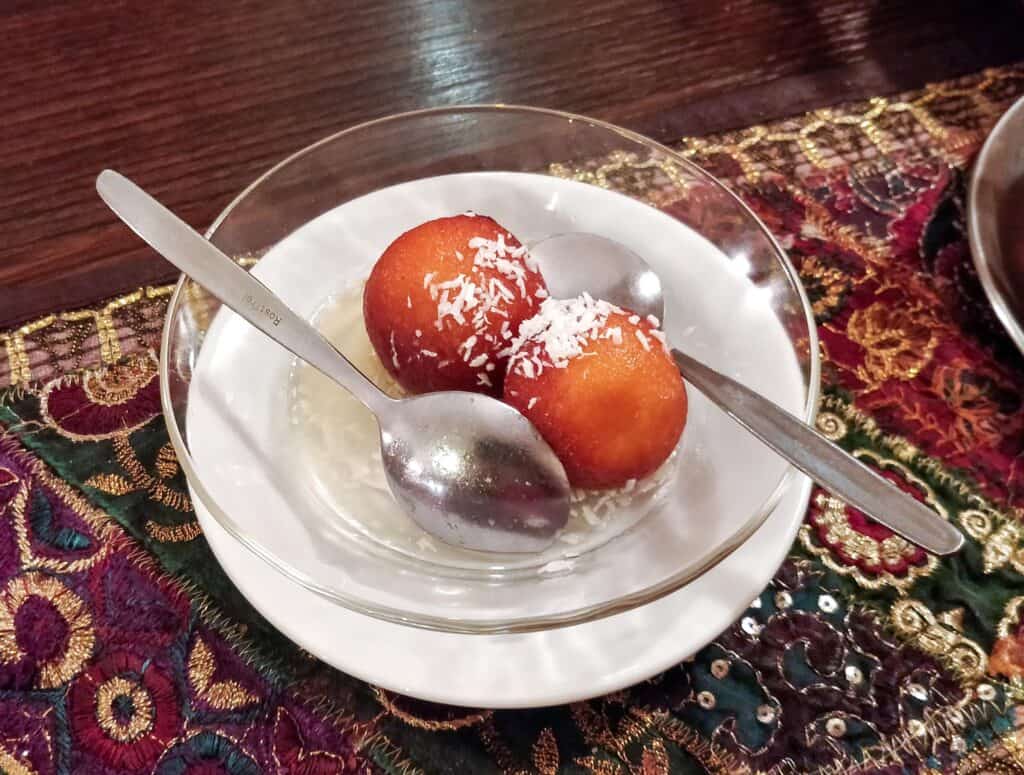 I personally feel that these Indian restaurants in Germany are a bit of a rip-off. I mean I can cook a way better meal for less at home but I also understand that this is just a business and the restaurants also have to tweak the flavours according to people's taste here. So the mirch masala (spices) and tel ghee (oil) have to be toned down. Just like we add our own twist on continental food back home.
You can find full menus with pricing on the websites of all the mentioned restaurants.