The British brand, Simple Skincare, took the beauty world by storm a couple of years back. I recall at that time, Bioderma, the boujee, French pharmacy brand, was everyone's favourite. However, all of a sudden almost every beauty blogger I followed, started recommending Simple as a cheaper alternative.
While Bioderma had made it to the Pakistani markets pretty early on, I reckon Simple is still not available in stores back home so I only got my hands on it after moving to Germany. I have religiously used Bioderma products in the past as I often used to get PR samples from the brand, but also for me it is a very clean product line that has always worked for my bad skin.
Once Simple started making waves, I was really intrigued to see if it was just as good. To be honest, initially, I was not even ready to believe that anything can even come near to the Bioderma Micellar Water because that product has always been my ride or die. So after using the Simple Skincare Kind To Skin range for months, here are my thoughts.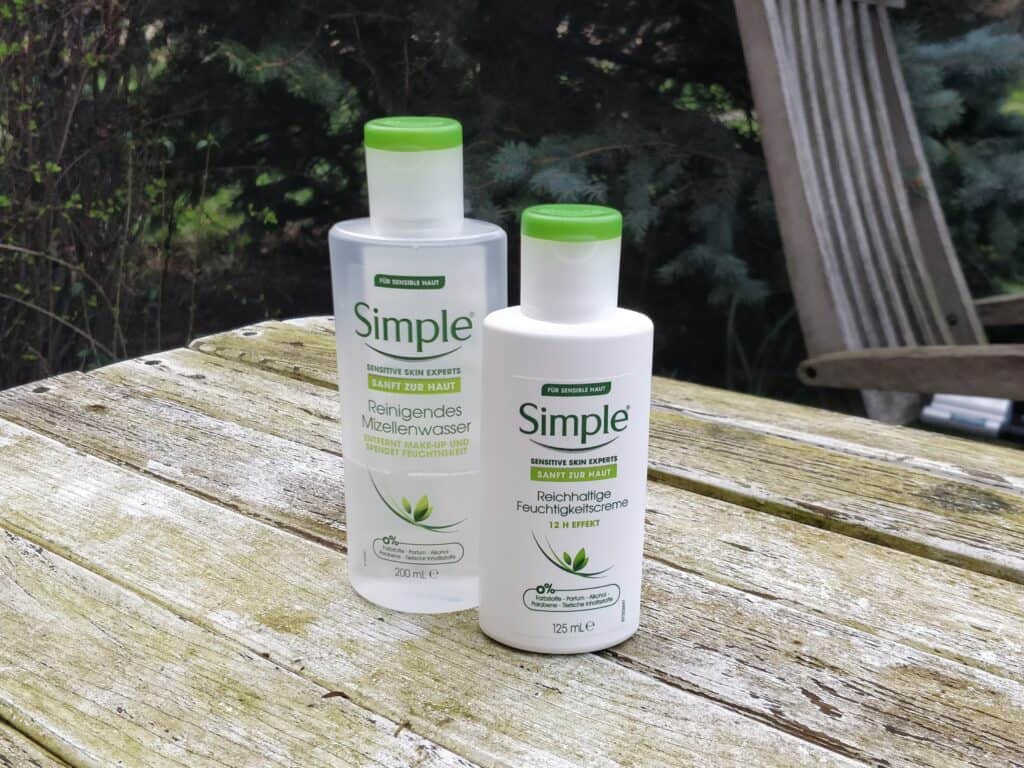 Simple Micellar Cleansing Water
Ever since I got introduced to the Bioderma Micellar water, I have not looked back, particularly when it comes to removing my makeup. It is the most important step in my night-time skincare routine. Micellar water is amazing at breaking down makeup and if you want to know more about how it works, please read my Bioderma review post.
That being said, in order to look for cheaper alternatives of my beloved Bioderma, I tried the micellar water from Nivea and Garnier. I failed miserably as none of those is good enough to beat my favourite. So obviously, I was pretty sceptical about the Simple Micellar Water, but boy was I wrong!
This is the only micellar water that I have ever tried that is nearly as good as the Bioderma one. I would still say Bioderma stays undefeated but for a fraction of its price, Simple Micellar Water takes the cake. It is inexpensive and yet removes makeup pretty well with only a little amount of product. The bottle you see in the photos has lasted me for almost 4-5 months.
I love that the Simple Micellar Water is alcohol-free and also does not have any perfume or harmful chemicals. My skin is pretty dry so I always steer clear of such ingredients as I cannot afford any more damage. The Simple Micellar Water also comes in "Water Boost" variant and I might try that out next!
Simple Micellar Water Price: € 3.45
Simple Micellar Face Wipes
Simple makeup wipes come in 10 different variants, including biodegradable ones, but the ones readily available here are the Simple Micellar Face Wipes and since I am a big believer of taking makeup off with micellar water, it was a win-win for me.
Now I know, makeup wipes can be damaging for your skin in the long run, so I only use one wipe to take the bulk of my makeup off and then double cleanse. Previously, the Nivea Gentle Cleansing Wipes were my go-to, but I think the Simple makeup wipes are a tad bit better for pretty much the same price. These makeup wipes are perfect for sensitive skin as they are soft, they do not have any harsh chemicals or perfume and would not dry your skin out.
I love how wet these Simple makeup wipes are and they do a pretty good job of breaking down layers of makeup, including waterproof liner and mascara to a certain extent.
Simple Makeup Wipes Price: € 1.95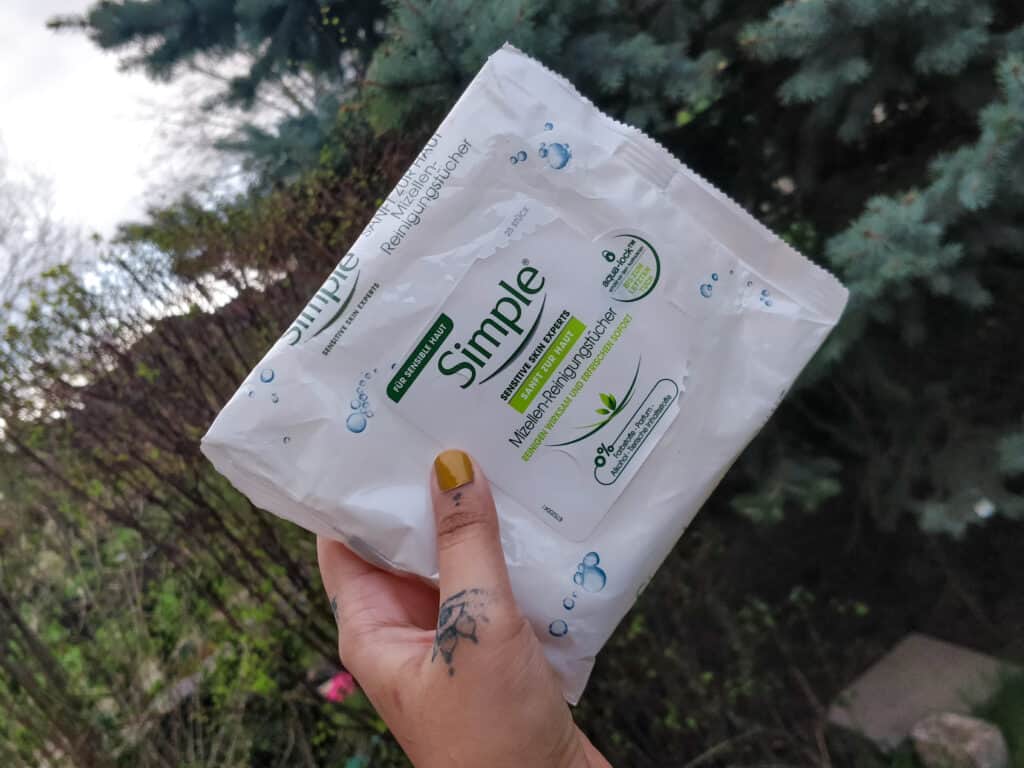 Simple Replenishing Rich Moisturiser
Looking for a rich moisturiser for my eczema-stricken skin was always the biggest challenge for me. I have had a terrible skin history which you can find out more about by checking out my detailed video and see if you have had any similar issues. Honestly, it has taken me years to find out what works for me and for the longest of time, I could only use medicinal ointments on my face.
Since I have dry/combination skin, I love slathering on moisturiser multiple times daily. This Simple moisturiser turned out to be impressive as it is not only rich in terms of formulation but it also absorbs into the skin nicely because of its light texture, without leaving behind any greasy residue. I love mixing this with my sunscreen and it is ideal for using under makeup as well.
This is a little bit on the pricier side for my desi gang, but trust me this Simple moisturiser is a good investment and would last you for months. Simple also has a couple of other moisturisers, so you can check their website to see what would suit you better.
Simple Moisturiser Price: € 7.95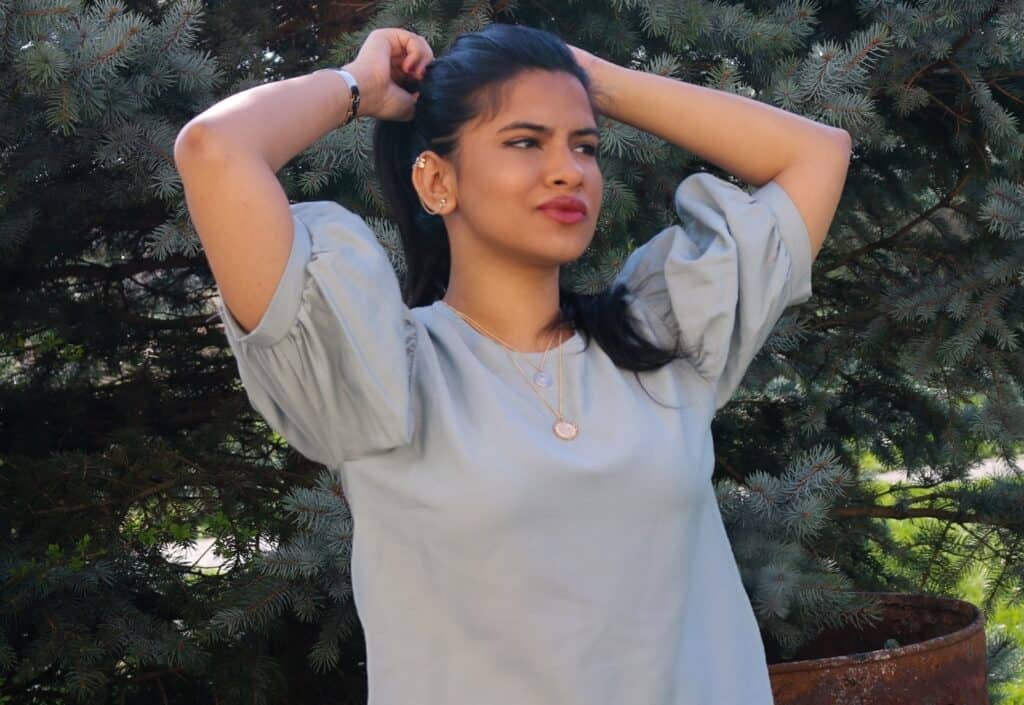 The packaging of all the Simple Skincare products looks neat and simple as the brand name goes, however, the bottles are not the ideal size for travelling. So I hope that the brand works on that and brings out their amazing products in travel sizes too.
I must say I was pleasantly surprised to see how amazing the Simple Kind to Skin range turned out to be and I would say it is definitely worth the hype. I believe all three of these Simple Skincare products would be a permanent part of my skincare routine until something else just as good and inexpensive comes my way.