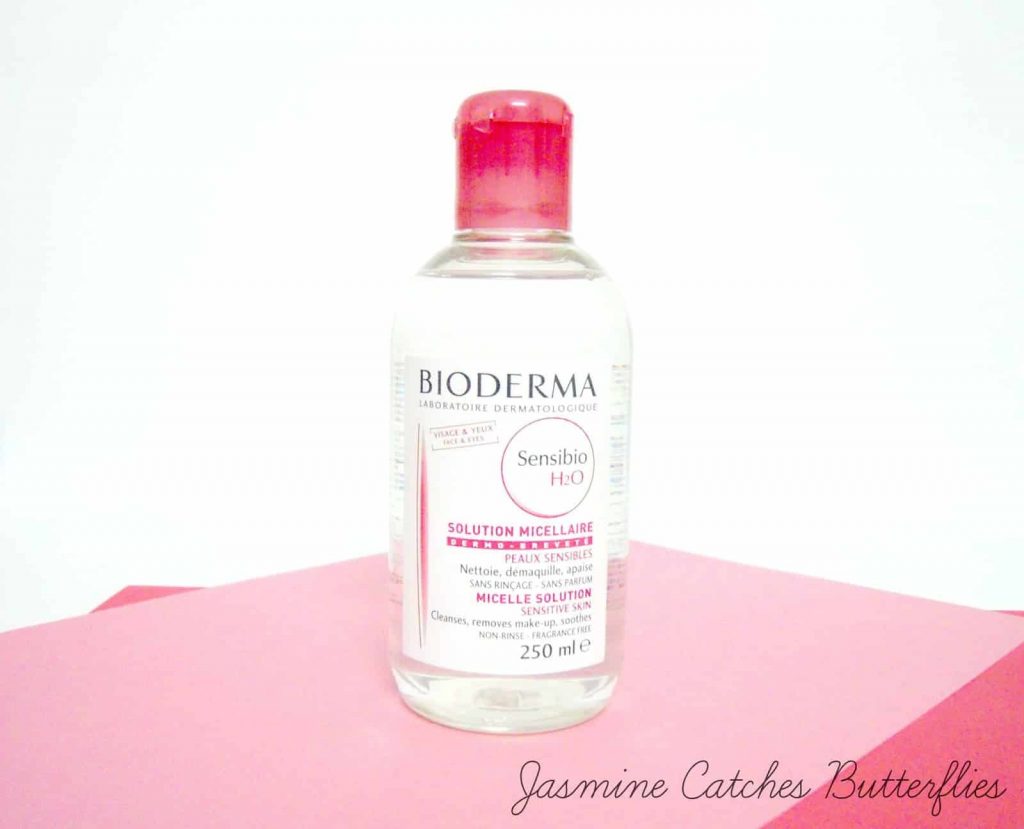 Bioderma Sensibio H2O is a much hyped about micellar water in the blog-world which is quite difficult to get hold of in most countries, but now there are increasing Bioderma stockists around the world than there were a year ago. Luckily I got two 250 ml bottles on a buy-one-get-one-free deal from Kuwait through a family friend last year.


The term 'micellar water' basically means that this is a solution containing oil molecules to remove dirt and makeup from the skin. Bioderma has a wide skin care range to choose from for different types of skin. The 'Sensibio' range, formerly known as 'Crealine' is specifically designed for people with sensitive skin. I personally have combo/dry skin which is also sensitive, and I might have bought the Hydrabio micellar water if I had known about it earlier, but after reading various reviews over time, I gathered that people with both, oily and dry skin prefer the Sensibio range over the Sebium and Hydrabio ranges.
My personal experience with Bioderma has been no different than that of most people. Since it is fragrance and alcohol free, this product is ideal for sensitive skin as it does not irritate or dry the skin out. I lightly soak up a cotton ball to remove makeup and repeat the process until I see no more makeup on the balls. It usually takes me 2 to 3 cotton balls, depending on the amount of makeup I'm wearing. Ideally, I would prefer to use this with a cotton pad rather than a ball, as directed but I've been out of cotton pads for quite some time now. Bioderma effectively breaks down makeup and makes the whole process of makeup removal just so much more speedy and effortless. It even removes my waterproof eyeliner in a swipe, but the problem occurs when it comes to the waterproof mascara, especially heavily built-up coats of waterproof mascara. For that, it requires a little more effort but since the eye area is so sensitive, rather than crazily yanking at the lashes, it's better to lightly go over with a soaked cotton pad a few times and then remove any remaining amount of mascara by gently swiping with q-tips dipped in Bioderma, which are also handy for correcting minor makeup mistakes. The best thing about Bioderma is that it does not sting eyes, and that makes it a winner for me!
Bioderma Sensibio H2O can be used daily on its own for cleansing skin and requires no rinsing afterwards, but it is necessary to pat dry the skin after use.
Price: 4.75 KD which is 1769.09 PKR for a 250 ml bottle but I got one bottle free with that (Bargain!!).
Availablity: I got mine from Kuwait through a family friend, but it is now available at Hyperstar Karachi and if you're living in UK, check out French pharmacies.
I highly recommend it if you're looking for a fuss-free makeup remover! 🙂

Most of you are already aware, but those of you who do not follow me on my social media or missed the big news, JCB has moved to its own new domain! 😀
www.jasminecatchesbutterflies.com
Tell your circle too! 🙂

Follow
(function(d, s, id) {var js, fjs = d.getElementsByTagName(s)[0];if (d.getElementById(id)) return;js = d.createElement(s);js.id = id;js.src = "https://widget.bloglovin.com/assets/widget/loader.js";fjs.parentNode.insertBefore(js, fjs);}(document, "script", "bloglovin-sdk"))