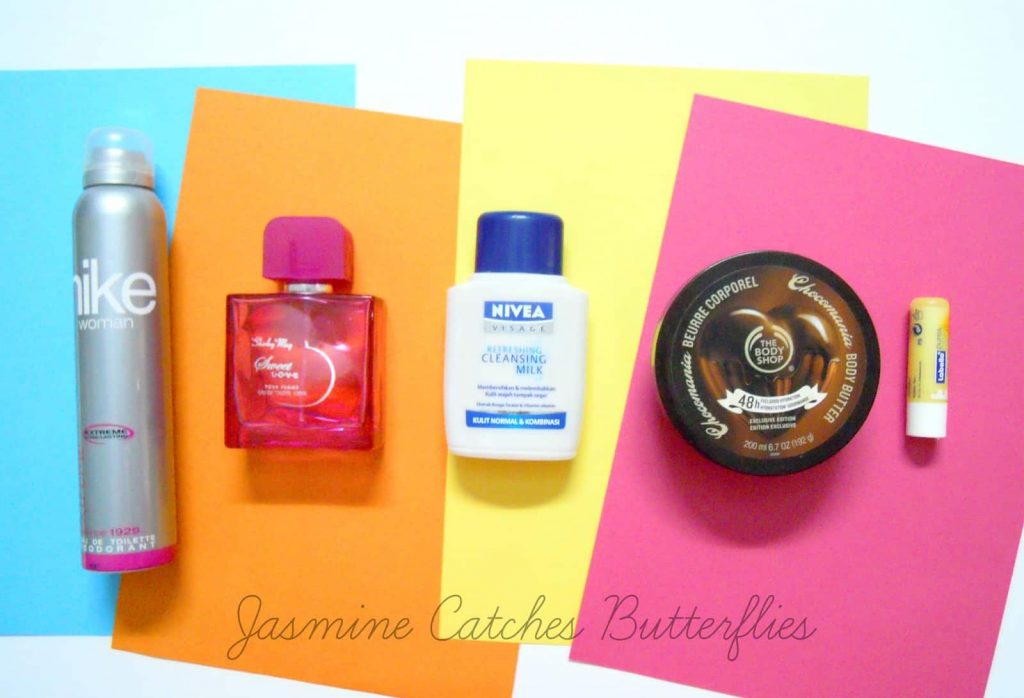 Halfway through March and Karachi's weather continues to fluctuate. By now everybody is desperate for spring to take complete charge and as we wait, here is my first ever empties post. I haven't been consistent with favourites post previously, and I know empties won't be making their way on the blog often either, as who even uses up a ton of products each day or have a decent number of new favourites every month? Therefore, I believe it's a better idea to publish empties or favourites of a couple of months collectively in a single post every now and then.
So here's what I have used up so far in 2014;
1) Nike Woman Extreme Deodorant: This is one of my all-time favourite deodorants from Nike's entire woman range. I had been using it for a long time since I keep switching up deos just to not get bored of the same one, and finally managed to finish this up. I currently have Nike Woman Trendy in use.
2) Shirley May Sweet Love Eau De Toilette: This perfume came in a romantic gift set as a birthday present from my best friend! 😛 It smelt feminine and light but for some reason, I always felt that it's an incomplete scent as if there's a note missing. It's weird, but have you ever felt like that? Even though I've received compliments while wearing this, I'm in no mood to repurchase it any time soon as I have Marc Jacobs Daisy and Tommy Hilfiger Tommy girl (fave fragrance ever!!) on my perfume wishlist at the moment.
3) Nivea Visage Refreshing Cleansing Milk: This is a decent budget-friendly cleanser and gets the job just done. I usually use it before or after Bioderma to completely remove my waterproof mascara. Already repurchased.
4) The Body Shop Chocomania Body Butter: I'm actually a little upset to finish this up as this has been a favourite all winter long! I never felt my skin needed any extra attention this winter as TBS Chocomania body butter took care of all. Even my mom enjoyed using it, and she absolutely loved the scent. To read my detailed review click here. I bought a new tub in the Shea Butter flavour from the recent sale.
5) Labello Milk & Honey Lip Balm: Another product that was a part of my wintertime essentials! I did not even for once went through the chapped lips phase this season, and I love the flavour! To read my complete review click here. I will be repurchasing it in the near future but now it's time to test Maybelline Baby Lips!
What did you manage to use up this year so far? 🙂 x