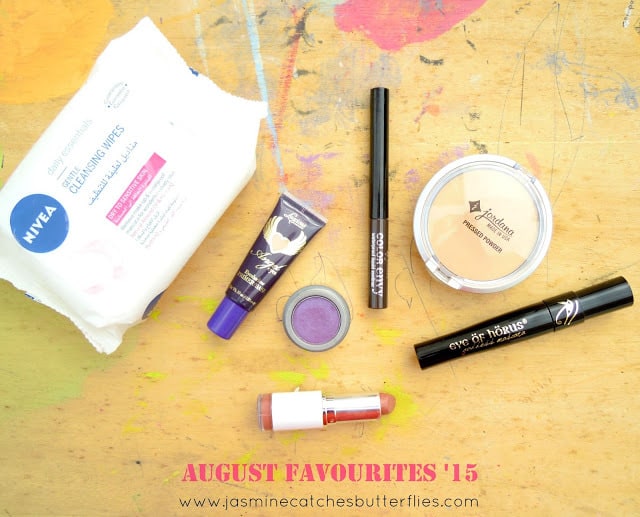 In July, I was so occupied with work that I hardly got time to enjoy anything including my makeup stash and food. However, this month, that by the way has passed too speedily, I got back in routine and made sure to try out new products while still loving some oldies. As a result, this is going to be a longer than usual favourites post, but I know a lot of you guys look forward to these so I hope you enjoy reading as much as I love writing these.
1. Nivea Daily Essentials Gentle Cleansing Wipes
Remember the time when I blogged about my Makeup Removing Arsenal and ranted about makeup wipes stating that baby wipes worked just as well if not better? Well, on my most recent superstore trip I decided to give them another chance and I was pleasantly surprised by these Nivea ones I picked. I have been using Nivea's daily essentials range for dry/sensitive skin for a couple of years and I am glad to report that these makeup wipes did not disappoint either. In fact, these are so amazing that I had to share them with you. Nivea Cleansing Wipes are not soaking wet and when I first pulled one out I thought these feel just as dry as the L'Oreal ones which I did not previously like. However, once I wiped it against my skin, this gentle face wipe effortlessly removed my makeup. The pack is a bit pricey at around 600 PKR, from the top of my head, for just 25 wipes but I can remove my Masarrat Misbah Silk Foundation, which is full coverage, heavy and a tad bit tough to take off, with just a single sheet and even then it still feels usable. There's hardly anything left for my Bioderma to remove once I use this and therefore I highly recommend Nivea wipes. These are the best ones I have come across so far! Super gentle, moisturising and even the sheets are nicely folded so you don't accidentally pull out more than one.

2. Luscious Angel Eyes Eyeshadow Primer 
This was one product that I had been looking for since ages and I totally understand the hype it has received over time now that I have used it myself. It really does wonders to even the chalkiest eyeshadow and this is one of those products that will go in my lifetime stocking list. You can read my detailed review on it to see for yourself how effective it is.
3. Jordana Eyeshadow Powder – 10 Ms. Jordana*
You would have noticed Jordana products a lot in my recent blog posts and well it has been the brand's month. I used this pretty iridescent purple eyeshadow in my Easy Makeup for Brown Eyes look and you can read more on it and see it in action there. To sum it up, I got a lot of compliments on that look and Ms. Jordana is a unique shade of purple that I cannot find in the rest of my eyeshadow collection.
4. Jordana Color Envy Waterproof Liner – 02 Brown Desire*
This eyeliner is the life of me. I don't know when and why my obsession with brown liners began, or maybe I do. One of my older cousins had this really chic looking brown liquid liner and I was too naive in terms of makeup to note its name back then. Anyways, I had been looking for a similar looking liner forever and Brown Desire is the closest thing to that I have found so far. I absolutely love it and I know it is just more of a thing in my mind than in reality since it isn't really differentiateable from black on eyes but just check out that chocolate brown in my Easy Makeup for Brown Eyes post. Yum!
5. Jordana Perfect Pressed Powder – Classic Sand*
Shade, coverage, consistency, this powder has got it all right and if I say I like it better than my Rimmel Stay Matte than I really do like it for setting my makeup. You can find out all the details of Jordana Perfect Pressed Powder in my review.
6. Eye of Horus Goddess Black Mascara*
Yet another product that I would call the best I have used till date, for clump-free lashes. This mascara is ooo pricey, but it is love, pure love. for the most feminine yet well-defined lashes. I recently wrote a detailed review on it so do check that out.
7. MUA Matte Lipstick – Fawn Fancy* 
Fawn Fancy, first glance, nah, I don't think it'll suit me, first lip swatch, whoa!, this is my perfect nude lippy! The reason that I love this lipstick so much is that you can't really tell I have a lipstick on when I wear this which makes it great for university but it still adds a something something to my look. I talked about it in depth in my Budget Friendly MUA Lipsticks post, in case you are interested.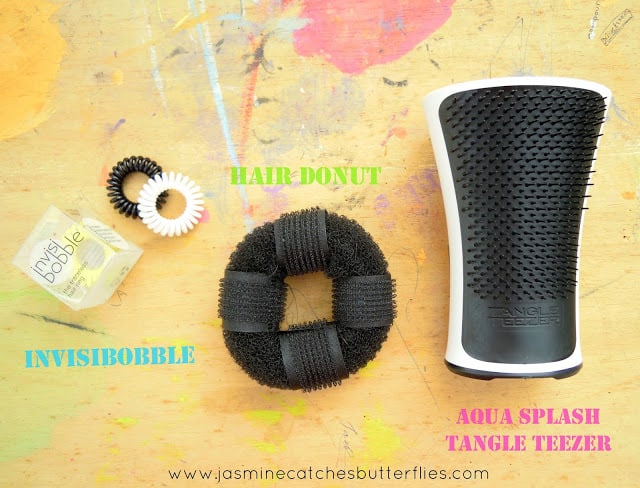 Okay, I guess I found all the perfection this month and you still have to go through a few more of my favourite products so bear with me.
This month I got a chance of working on several new projects and one of these resulted in collaborating with Super Brands International who has been bringing international brands, as the name suggest to Pakistan. I appreciate their efforts and I was lucky enough to attend their recent meetup at Amethyst Spa where we were introduced to some of the new brands that they have brought here. Those included Invisibobble and Tangle Teezer, both of which have been my favourites for August in the hair category along with the hair donut.
8. Invisibobble Hair Rings* 
Invisibobble is a spirally, telephone cord style hair ring that is gentle on hair unlike rubber bands. When I tie my hair with it, I can't really even feel it as it does not tug or pull and it comes of easily too, leaving no kinks like scrunchies do at the base of the ponytail.
9. Hair Donut 
I am sure if you follow bloggers and vloggers avidly, you must be aware that hair donuts are quite popular for creating huge hair buns, but I only got my hands on one a few weeks ago. Thanks to my cousin, who looked with pity at my tiny hair bun because of my LOB and suggested why don't I pick one of these at Naheed. I didn't know these are available here or I would have bought one way earlier. In case you are wondering this single donut costs 105 PKR. I like how much volume it adds to my bun and I can even rock a top-knot now! My only gripe is that the 4 additional Velcro straps on it make it a bit tricky to push in bobby pins, but I don't really need them if I use a hair tie over this.
10. Aqua Splash Tangle Teezer* 
Tangle Teezers were what really excited me when I saw them at the meetup. They have been so popular and since most of the bloggers I follow are British, I have been seeing them for the past of couple years over and over. I was generously given two, the Original and the Aqua Splash Tangle Teezer at the meetup and it just happened that I started using the Aqua Splash first rather than the Original. I will be reviewing both of them in detail this September but for now all you need to know is that these really do work and Aqua Splash is magical for wet hair.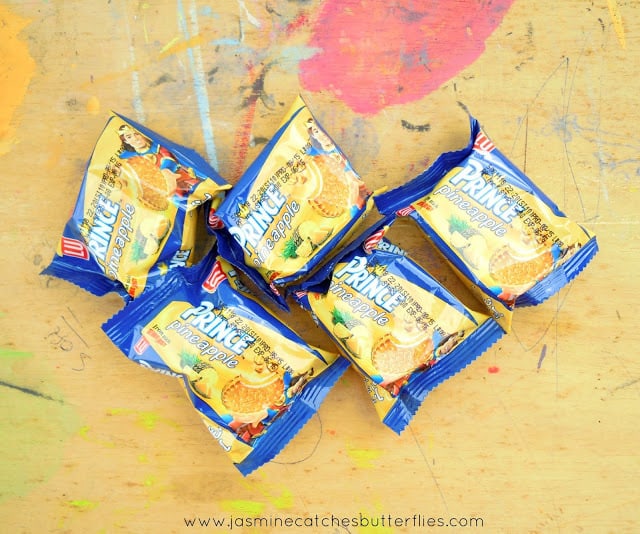 11. Prince Pineapple Biscuits*
Prince Biscuits just came out with a couple fruity flavours and I was sent two boxes of these pinepapple biscuits which I have been snacking on nonstop. The brand reminds me of my childhood and I still love the chocolate flavour but pineapple was new for me. To be honest, I like pineapple but it is not one of my favourite fruits. However, I do like how these taste and I am hoping Prince would come out with more fun flavours in the near future. You can watch its TV commercial here.
As you can tell, August was the month of eye makeup and hair products for me, I am glad to be dabbling in more of both now rather than keeping things monotonous!
Jordana and MUA products are available at just4girls.pk and you can use my discount code J4GJB5 to avail 5% off.
Psst! Tomorrow is the last day to enter my Cross-Body Bag Facebook Giveaway which is being sponsored by the generous people at Groupbuy.pk! Make sure to take part if you are a Pakistani resident. Also, today is the last chance to grab an advertisement slot on my blog for September so hurry up!
What are your August favourites?