After reading twilight and a bunch of other vampire-werewolf stories, people probably aren't really up for reading any of these anymore. I had bought Shiver Trilogy by Maggie Stiefvater in 7th Karachi International Book Fair (KIBF), back at the end of 2011 along with many others, but due to a tough academic year I didn't get time to read much at all and by the end of 2012 this was the only one left from my previous bookfair raids. However, after my aptitudes and all when I finally had some time for myself, I begin to read this and trust me, it's not just another werewolf lovestory.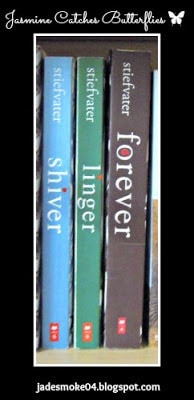 As mentioned above, Shiver is a trilogy. The first part in the series is Shiver itself, then there is Linger and the final sequel is Forever. This story is unpredictable and twisted, which kept me engrossed in reading for hours. I really love the way, the author has described simple things around us beautifully and I have picked a few favourite quotes from the series to share here. You can see most of these are Sam's (the lead character) lines and this proves that he was my favourite character in the book.
"As the hours crept by, the afternoon sunlight bleached all the books on the shelves to pale, gilded versions of themselves and warmed the paper and ink inside the covers so that the smell of unread words hung in the air."
-Sam Roth
Maggie Stiefvater (Shiver; Wolfs of Mercy Falls #01)
"I won't let this be my good-bye. I've folded one thousand paper crane memories of me and Grace, and I've made my wish.
I will find a cure. And then I will find Grace."
-Sam Roth
Maggie Stiefvater (Linger; Wolfs of Mercy Falls #02)
"No good deed goes unpunished."
-Cole St. Clair's Mom
"Then I begin to play. Variations on a G major chord, the most wonderful chord known to mankind. Infinitely happy. I could live inside a G major chord, with Grace, if she was willing. Everything uncomplicated and good about me could be summed up by that chord."
-Sam Roth
"Life was a cake that looked good on the bakery shelf but turned to sawdust and salt when I ate it."
-Cole St. Clair
Maggie Stiefvater (Forever; Wolfs of Mercy Falls #03)
I kept posting these on my facebook and coming back to that presumptious, criticizing, prejudiced crowd, I had actually been texting these line to such book loving friends of mine and when they agreed that it was indeed praise-worthy, I used to tell them it's actually from a werewolf lovestory and they were like: 'aw, shucks man! I wish you never told me that.'
Also, I would thank Maggie for getting me hooked to Rainer Maria Rilke's poetry, who was a German poet during the period of 1894-1925.
I would recommend you to read this trilogy if you are a fan of fiction.
Like my FACEBOOK PAGE & add it to your interest list for updates.
Check my sidebar to Follow Me Around & Grab My Button! x
Don't forget to comment, follow, subscribe! 🙂