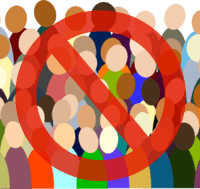 Here is a quick notice, I have been feeling extremely upset lately to discover that in this blogosphere there is a certain bunch of people who leave similar flattering comments on all the blogs that they come across just to ask for follow for follow.
This is just outright mean and such bloggers are lowering the benchmark of blogging by exploiting newbies like me. Just because I have a small audience as a beginner, doesn't mean that I'll settle down for a growing phony audience.
To my dear "newbie exploiters", it gives a very bad impression when people read comments like; "thank you for your kind words on my blog, I'm following you now." , from just about everyone who has commented in return on your post. It just reveals the bitter truth behind your sweet act.
Please note that I do not follow for follow as I don't want a fake audience, rather sincere readers. Kindly, do not spam for a pay-back follow request. Follow my blog only if you really like it. Furthermore, if you want me to check out your blog, please leave your link below in the comment box. I will follow if only your blog would be of any interest to me.
Thank you.



Like my FACEBOOK PAGE for updates.
Check my sidebar to Follow Me Around & Grab My Button! x
Photo Details:
Taken from Google Images
Edited on Picmonkey