Sorry guys, this post was due yesterday but I had guests over so I couldn't write it even though I had managed to take the pictures for this tutorial.
I love big cats but when it comes to clothing and accessorizing, cheetah print (for me) is a print that can either look tacky or classy, depending on how you dress it up. The word's out and I am so not into browns and golds this fall so this is my take on cheetah print with pink and black.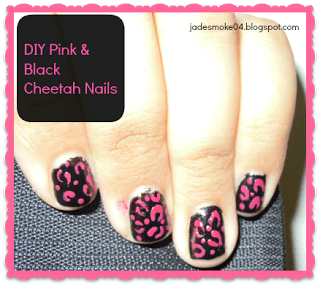 If you have read my past posts on nail tutorials, you must have an idea by now that I don't own a dotting tool and have rather substituted it with a toothpick!
I first painted my nails black as a base coat and then drew on thick curves (as shown in photo) with a toothpick to make my cheetah print.
Once again sorry guys, I forgot to take the picture while drawing these curves. 🙁
My nails are not very big so I couldn't draw on more than just a few curves on each nail, therefore, I filled in the little gaps with dots.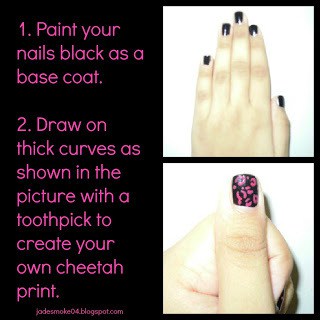 _________________________________________________________________________________
I would also like to share that today I went to the 8th Karachi International Book Fair and bought loads and loads of books! Watch out for a book haul 😉
Follow me on goodreads and leave me your link below if you are a bookworm like me. 🙂


Hope you liked this post! 🙂
Like my FACEBOOK PAGE for updates.
Check my sidebar to Follow Me Around & Grab My Button! x
Don't forget to comment, follow, subscribe! 🙂