Hey guys,
This is coming in a bit late but here's a quick someday summary! I made this strawberry slush on sunday which I am now totally head over heels in love with! ♥_♥
This weekend happened to be an unusually relaxing one so I took some out to pamper and treat myself before my mid-terms start! :/
I know, I know, I whine a lot about my university but gah, you'd only know if you've been there! Anyways, I'm naming this slush my "Secret Ingredient Strawberry Slush" as I also watched one of my all time favourite cartoon movies; Kung Fu Panda yesterday and Po's dad had this secret ingredient soup, get it?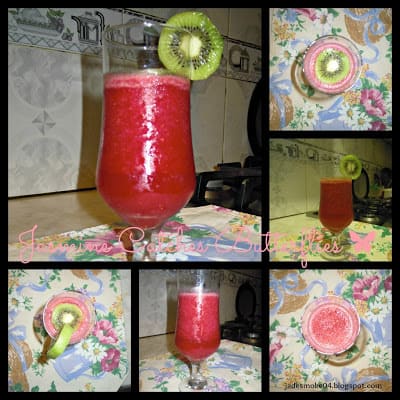 I'm thinking to preserve strawberries for summer so that I can make this for my brother when he returns for vacations. Also, I think this slush will be a big hit for girly parties like I might make this for my girlfriends when they come over for my birthday or it can be served at bridal showers or even baby showers.
The simplicity of this slush's recipe makes it even more splendid. It is so simple that you'd laugh at me!
Just take some strawberries, add some sugar, add some water, then blend! You can also add a little bit of lime juice if you like. Once you have blended it all well, pour it in the glass you wish to serve it in and then freeze it for a couple of hours. See, that's easy! 😉
I just added a couple of slices of kiwi for garnishing and it just tasted really good with my strawberry slush.
Hope you have a great week ahead! 🙂 xo
p.s: The secret ingredient is… nothing! To make something special you just have to believe it's special. – Kung Fu Panda Quotes
Like my FACEBOOK PAGE & add it to your interest list for updates.
Check my sidebar to Follow Me Around & Grab My Button! x
Don't forget to comment, follow, subscribe! 🙂