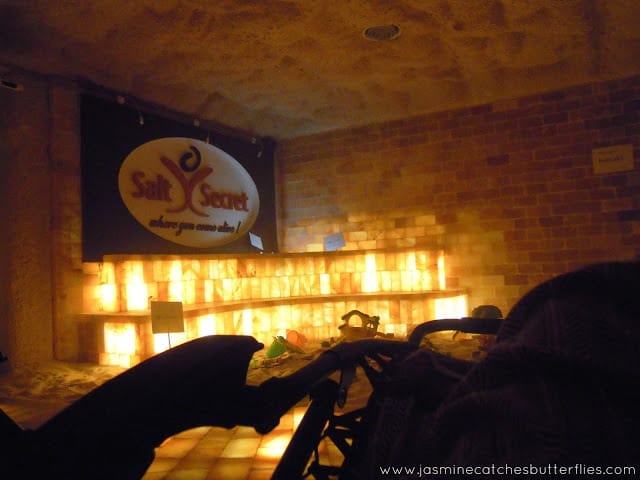 Last Thursday I had an opportunity to try out Salt Therapy at the Salt Secret, which is a project by Hub Salt. Now, I know most of you guys must be wondering what salt therapy exactly is and I was amazed too to find out about it. Basically, salt therapy is an ancient Greek treatment for various respiratory diseases including asthma, bronchitis, sinusitis, cold/flu, cough and skin ailments like eczema and other such allergies. In addition to these it also improves metabolism and helps in giving up on addictive habits.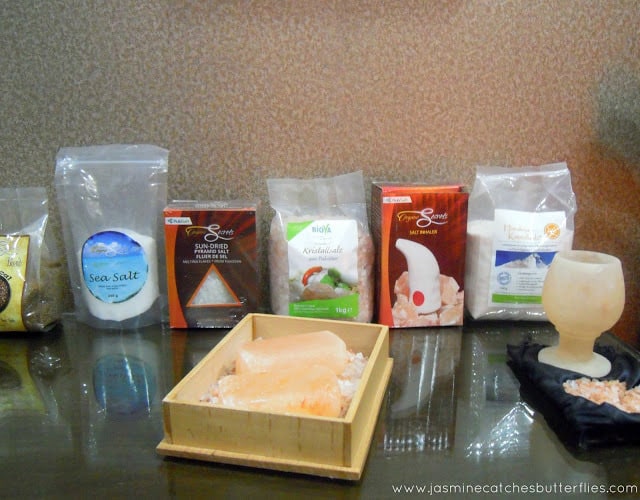 Salt and its processed goods.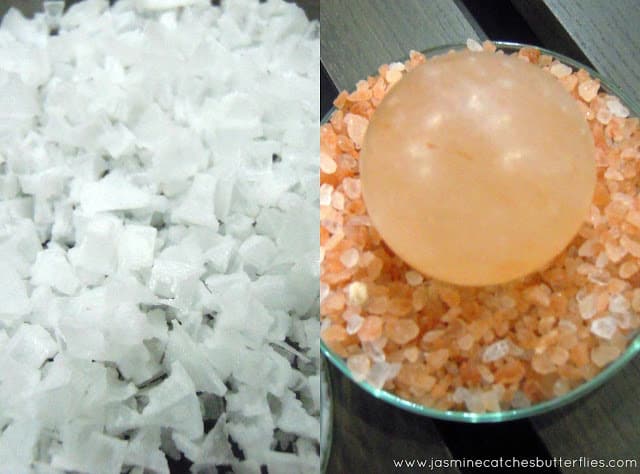 L: Pyramid Salt, R: Massag Ball
When I walked in, I was welcomed by a sweet lady named Ayesha, who gave me an overview of the therapy, I asked her a few questions and she also showed me around. Hub salt produces a vast variety of salts and processed goods that can be used for various treatments as well as luxury. Two types of salts that caught my attention were the pyramid salt, which is a naturally occurring salt in roughly the shape of a pyramid on the top layer of lakes, and the other was charcoal salt which is a processed salt used for barbecue and it tasted yum and smoky. Apart from these, you can also get other edible salts, bath salts, massage balls used during yoga, salt diffuser, glasses and even lamps in unique shapes made out of salt, all of which can be used for maintaining a good health.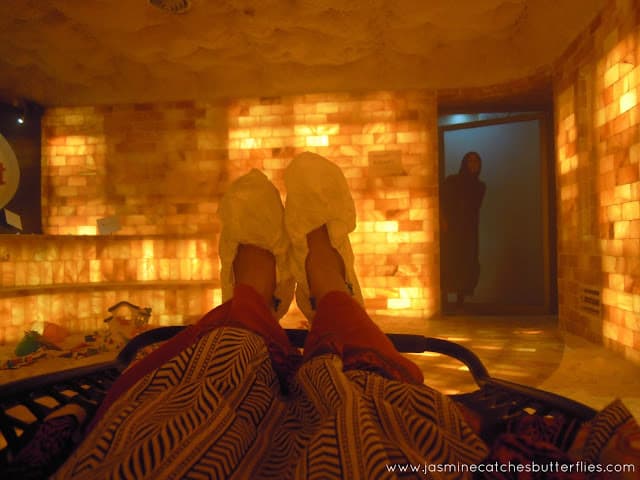 Ayesha doing peekaboo!
Onto the actual therapy, I was taken to a separate room which was covered in pink Himalayan salt from ceiling to floor. Once inside, I was told to lie down and relax in a chair while the salt released in air through diffusers worked its mojo and soothing music played in the background. A salt therapy session is of 45 minutes and costs 2000 PKR. I do suffer from some skin allergies and even though I have only taken a single session so far, I do feel that my allergies have been under control since then.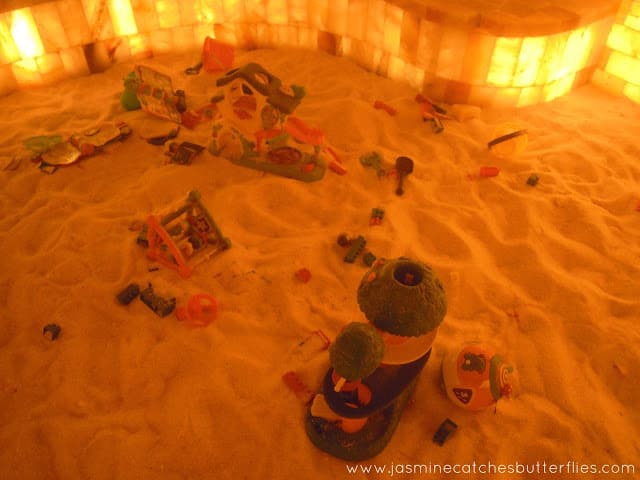 Children's Play Area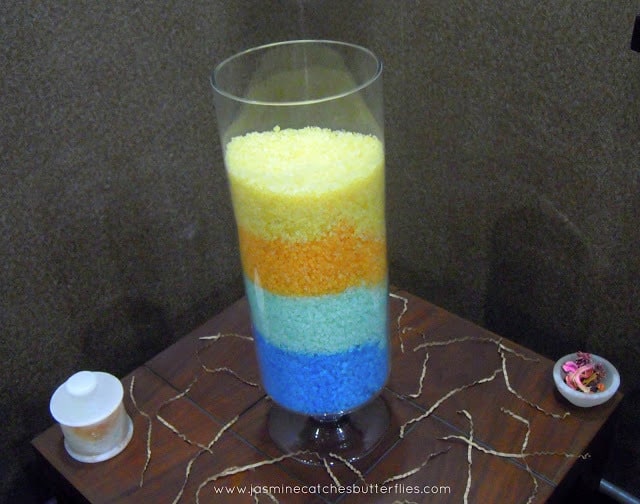 The Hub Salt team takes good care of hygiene as before going inside I was given a hair cap and asked to wear disposable plastic shoes. The therapy room was centrally air conditioned and had the facility of Wi-Fi too. There was also a cute sandbox type play area for children, which had salt instead of sand, of course. You can take infants for a salt therapy session and it is even perfectly fine for people with blood pressure since the quantity of the salt inhaled is minute.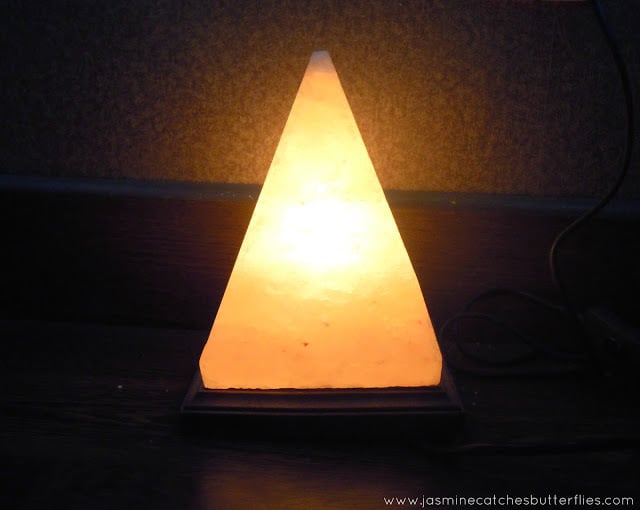 Salt Lamp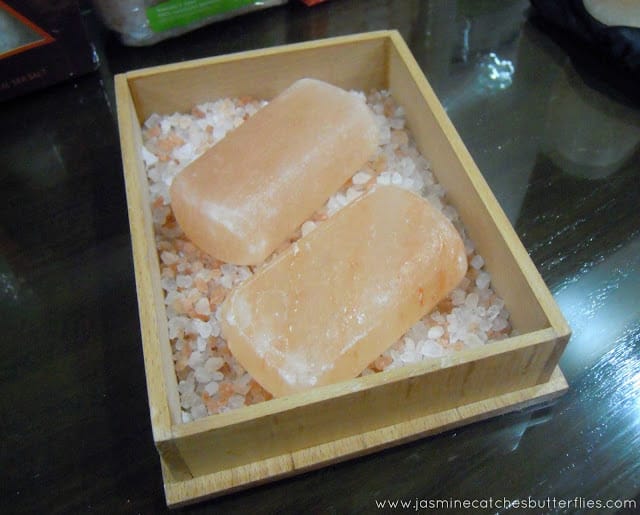 Biova Salt Soaps
I felt relaxed at the end of my session and I would recommend you all to try it out for yourself sometime soon to unwind if nothing else. I left with a generous goodie bag, thanks to Rabia Saif Joya, who had also arranged the session for me. Apart from that, I bought a Biova salt soap as I was told it is good for moisturizing skin and keeping allergies at bay, so I will report back about it in a later post and for now I am itching to buy a salt lamp, maybe in an animal shape or the checkered one? We'll see!
For more details visit http://hubpak.com/.
What do you think of salt therapy?



A-List Advertiser: Anaminah Beauty and Food Blog