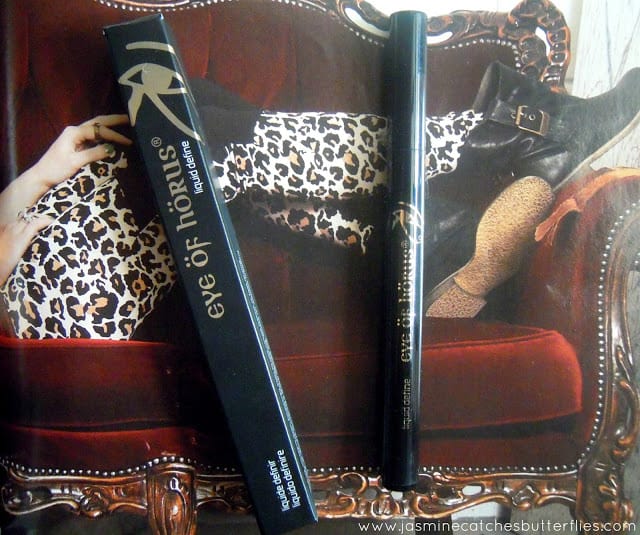 Eye of Horus Liquid Define Liner
PR Sample*
Eye of Horus is an Austrailian cosmetic brand that as the name suggests is inspired by ancient Egypt. They generously sent me a box full of their eye makeup products a while ago and today I am reviewing the Eye of Horus Liquid Define Liner. I have mentioned it in the past that ever since I have tried eyeliner pens, I have been hooked to them. They are speedy, easy to work with and therefore I have been reaching out for this liquid define pen so often lately.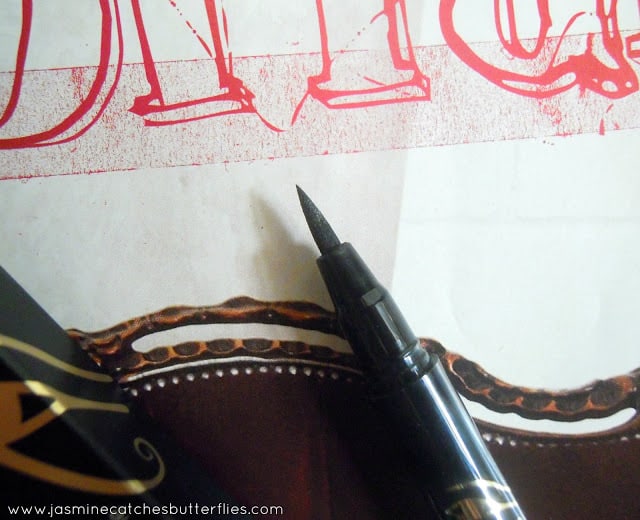 I like all of Eye of Horus packaging, it looks appropriate and is convenient. The cap on this liquid liner fits snugly and the plastic is good quality too. The nib of the pen liner is nicely shaped, the tip being precise and then the rest of it gradually widens. I was amazed to find out that once the nib loses its shape, you can pull it out with a tweezer and flip it to get a new, precise one again. Formulation wise, the liquid is quite thin, unlike a conventional liquid liner but what I like about it is that it still does not bleed and dries instantly without transferring to the crease. As for the pigmentation, I wouldn't say it lives up to its 'jet-black' claim, but it looks fine on the eyes once built up. Eye of Horus suggests pressing the tip on the edge of the cap to bring the product to the tip and I think it helps in getting better pigmentation. However, since the formula is a bit sheer, it is not ideal to wear this over eyeshadows, especially if you are working with creamy ones. You can certainly make it work by building it up, but the Liquid Define Liner works best on its own or with just a little matte eyeshadow.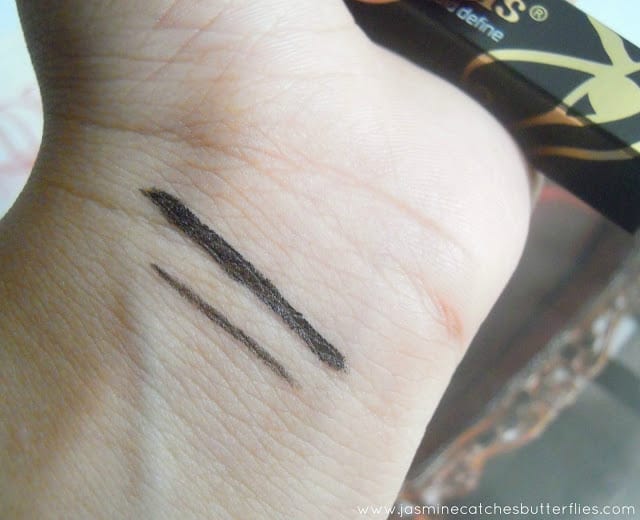 L-R: Single stroke, Multiple strokes
The photo was taken in natural lighting.
Other than that, this liner claims to be waterproof/water resistant. While, it is true that it can withstand water and does not run down giving you panda eyes, it comes off in a single finger swipe once it is wet. Throughout the day, it breaks on the lids and fades. The longevity is not commendable and you might need to touch up often, but it is easy to lug around.
In a nutshell, the Eye of Horus Liquid Define Liner has its pros and its cons, the reasons of both being evident but as a consumer I wished it was more long-lasting for the price.
Price: $30
Availability: Eye of Horus Cosmetics website
Amount: 2 g
My Rating:

Do you like pen liners?