I love traveling and to ensure a hassle free trip, I like to pack very smartly. So if you ever travel with me, you would know that I never over pack and yet always have the bare essentials needed for a smooth holiday trip. As a makeup enthusiast, of course, I have to always pack some of my favourites, but a brush kit like the
Sigma Beauty Mr. Bunny Travel Kit
is super important for me as well.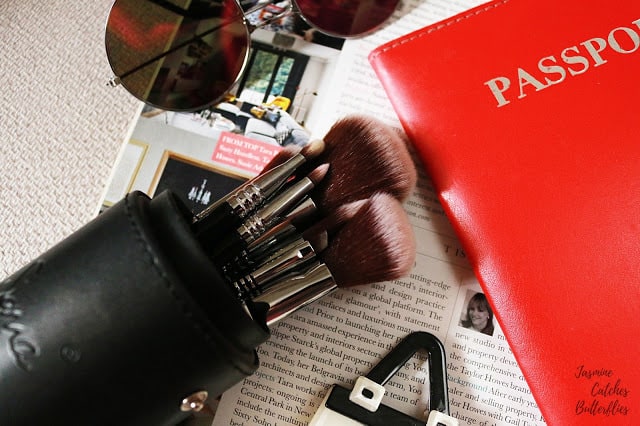 Sigma Beauty Mr. Bunny Travel Kit
Affiliate Links*
This brush kit basically contains pretty much all the brushes you would ever need and it is such a good investment as a beginner too. There are seven brushes in the Sigma Beauty Mr. Bunny Travel Kit, out of which four are eye brushes and three are face brushes.
E30 Pencil Brush
This is one of my favourites for popping highlight into my inner corner and smoking out the eyeshadow on my lower lashline.
E40 Tapered Blending Brush
Everybody needs an E40 in their life to up their blending game! This brush is quite fluffy and perfect for blending out eyeshadow in the crease and outer corner for a softer look.

E55 Eye Shading Brush
A shading brush of the sort is good for packing eyeshadow on the lid and this along with the E40 make a dream duo for starters.
E65 Small Angle Brush
It is no secret that I have to have a winged eyeliner every time I do my eye makeup and this brush is one of the bests for gel liner application. It surely is a ride or die for me.
F30 Large Powder Brush
A fluffy powder brush of the sort is a must have. It works well with both, loose and pressed powder. F30 is so soft and it has good size to quickly dust powder all over your face on the go.
F40 Large Angled Contour Brush
I love the size and the placement of the bristles on this brush. They make it ideal for product placement and allows easy blending when it comes to contouring.
F60 Foundation Brush
This is the only brush in the kit that I do not really use for the purpose it has been designed for as I prefer my Sigma F84 over a paddle brush for foundation. I also do not really like the way bristles are arranged on this one so I would much rather use the paddle brush from Luscious if I have to. However, I do use this brush for highlight or applying clay masks at times.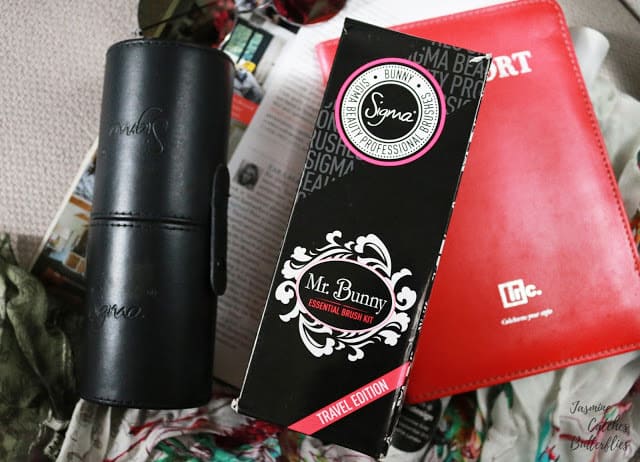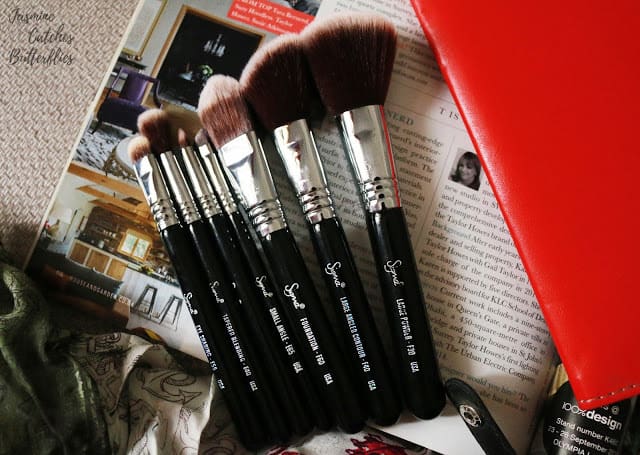 So you see this brush kit is pretty handy and ideal for traveling. It comes with a two component cup holder for storing the brushes on the go. I like the concept and it is easy to slide in between luggage without worrying about your brushes getting squashed out of shape amongst other stuff.
The size of the brushes is a tad bit smaller than full sized Sigma brushes but it really does not make much of a difference. Sigma is a cruelty-free brand so all the brushes are made out of soft synthetic fibers but this particular kit contains brushes with Sigmax fibers which are somehow HD for product placement and do not absorb product so nothing goes to waste. I use most of these brushes with powder products so I have not noticed any difference between these and the other brushes in the range of the same type.
Though, the good thing is there is no difference in pricing between the Mr. Bunny Travel Kit and Make Me Classy Travel Kit, which has brushes made out of normal fibers. Both the travel kits are identical and are priced at $86. Sigma Beauty is a high-end brand but you do get to avail good discounts at all times. This travel kit actually saves you $43 if you were to buy each of the brushes individually. You can further save some cash by using this year's 10% off code SIGMA2017 on checkout.
I have told you guys how I got into using Sigma brushes time and again and long story short I just wanted the E65 Small Angle brush from the set but ended up getting the entire kit. I have had these for around five years now and all of these brushes are in perfect shape and condition. None of them has shed or gotten a loose ferrule over the years. My eye shadow brushes tend to stain temporarily with some dark shades but to my surprise, it only takes a couple washes in between uses for them to be clean again. You can see it for yourself in the photos that none of them are stained.
The only thing I wish this kit included was a blush brush as then it would have been perfect. Nonetheless, the cup holder is quite spacious so I do get to add some extra brushes if I want to.
If you would like to know more about must have makeup brushes, watch my YouTube video below.