I know a lot of you naughty beans sometimes sleep with makeup on, especially after a long night out. Well, you already know that sleeping with makeup on can lead to breakouts, skin aging etc and perhaps you do focus more on taking off your base and everything that went on the face. However, many times, people neglect proper cleansing and rinsing of the eyes and as a result, residue from liners and mascara is left behind.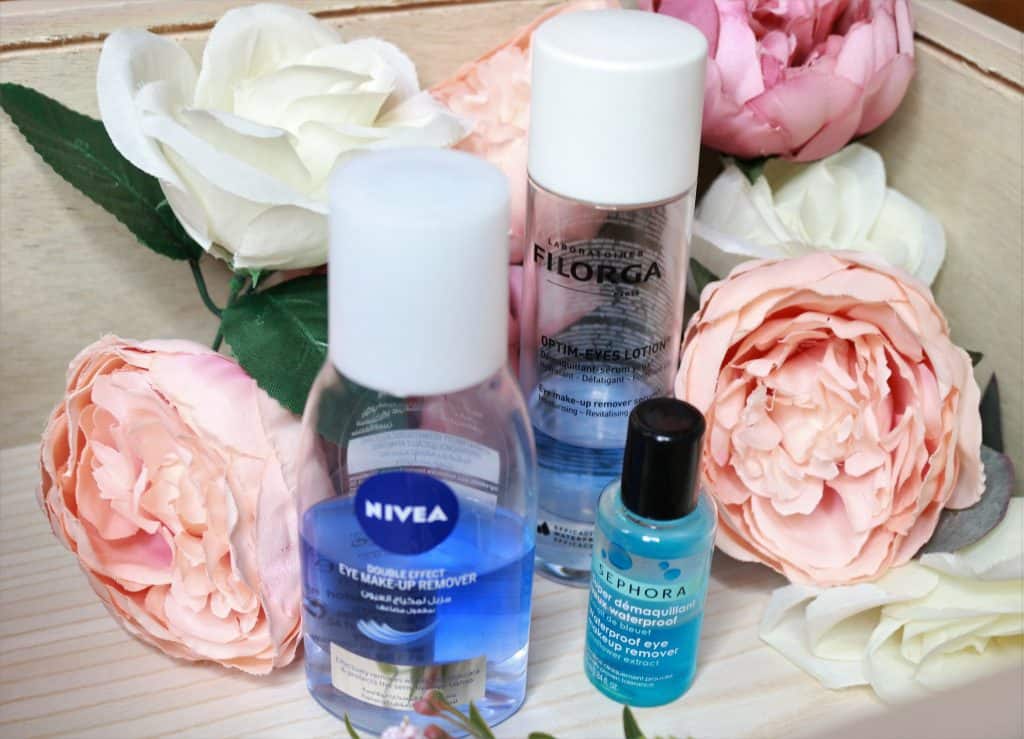 That residue can not only leave your eyes feeling crusty but also there are high chances of your lashes breaking and falling off if you do not take the mascara off properly. Waterproof eye makeup, in particular, is a hassle to remove. Since the eye area is sensitive, obviously tugging and pulling is not advisable.
Therefore, it is best to use a makeup remover that is specifically formulated for the eyes. It removes any eye makeup residues thoroughly and gets the job done a lot faster as well.
Most of the eye makeup removers that I have come across are heavy duty and easily remove waterproof products as well. They have a two-phase solution (high five, if you took chemistry in school), which just means that there's a layer of an aqueous solution and then one of oil. The two are immiscible so they do not mix on their own but you are required to shake the bottle before use. All you need to know is that since you are not using straight up oil, your eyes would not feel greasy. I have tried three different eye makeup removers myself and here's what I think about them.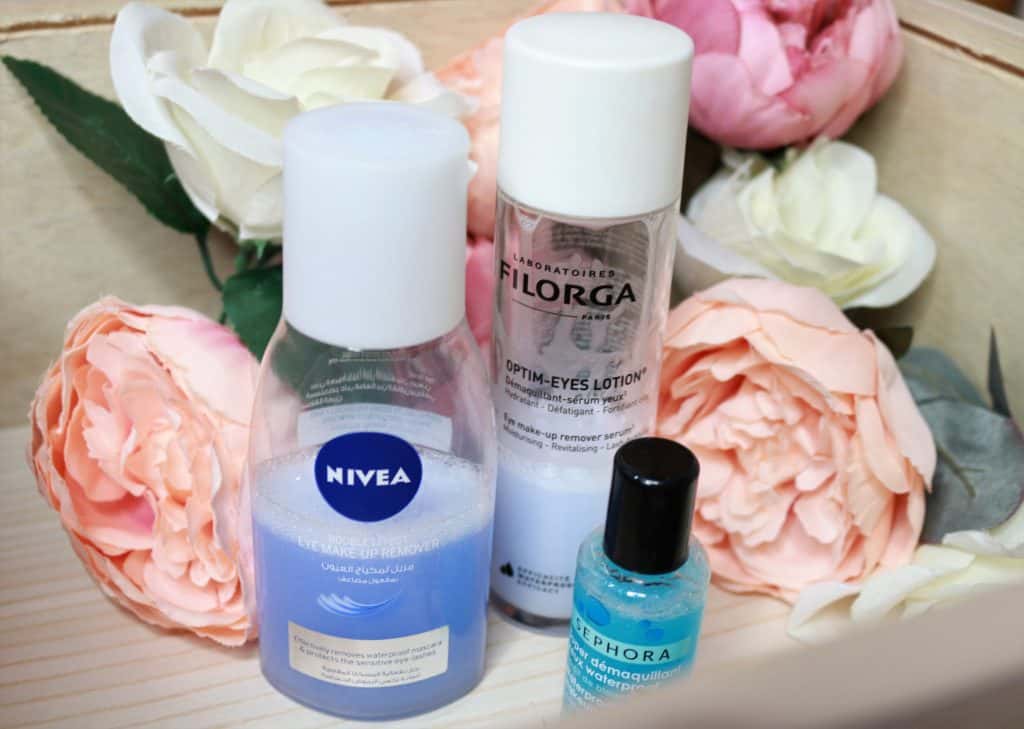 Nivea Double Effect Eye Makeup Remover
This was the first eye makeup remover that I ever tried and since then I have not looked back. I am currently on my second bottle of the Nivea Double Effect Eye Makeup Remover which just goes to show how much I love it.
Claims
The Nivea eye makeup remover claims to remove even waterproof eye makeup and that it surely does. I used to have a tube of waterproof Maybelline Lash Sensational and it was such a pain to remove without this eye makeup remover.
This eye makeup remover is suitable for sensitive eyes and I personally have not experienced any adverse reactions. It also contains Cornflower Extract which is beneficial in skin care for keeping the skin firm and preventing wrinkles.
How To Use
After shaking the bottle, I just pour a small amount onto a cotton pad and press it against my eyes for about 30 seconds and then wipe off the makeup. It works like a charm. I do not have to rub my eyes excessively but just to be sure that there is no residue left behind, I go back in a second time.
By the way, this is how I use all the other eye makeup removers too.
Price, Quantity and Availability
The Nivea Double Effect Makeup Remover comes in a 125 ml bottle and is sold in stores for 750 PKR. You might be able to get it for 600 PKR from places like Imtiaz and I have seen it being sold for as low as 515 PKR on saloni.pk.
Filorga Optim-Eyes Lotion
Filorga is a French skin care brand and while I have used several of their products, this Optim-Eyes Lotion, which is basically their 3-in-1 eye makeup remover, is my favourite one from their range.
Claims
This Filorga eye makeup remover claims to not just remove eye makeup but also moisturize, revitalize and fortify the lashes. It contains a fortifying serum phase that has protein boosters and stimulating peptide to reduce signs of fatigue like puffiness and also strengthen eyelashes.
I would say that it does a great job of removing waterproof eye makeup and I personally like its formula a tad bit better than Nivea's as it does not feel oily at all. Don't get me wrong, Nivea's is not over the top oily either but this is just better.
However, I have not seen any visible improvement in my eye area which has been tired looking for a million years already. Neither have I felt that it has strengthened my lashes in any way, but I will cut it some slack there since my lashes are already healthy.

Price, Quantity and Availability
The Filorga Optim-Eyes Lotion comes with a hefty price tag of 2450 PKR and you get 110 ml of product. Is it worth it? Well, I would this is surely worth a try but if you do not want to burn a hole in your pocket, go for Nivea instead. I got mine as a PR sample but I have seen Filorga being sold at Naheed Supermarket (Karachi) and at just4girl.pk online.
Sephora Waterproof Eye Makeup Remover
This one is the newest addition to my collection and I had no idea of its existence until it was sent to me in a PR parcel from Bagallery recently. You guys must be aware that Sephora is a well known makeup store with several outlets around the globe and also has an online shop
Side note, there is no Sephora outlet in Pakistan and they do not ship online orders to Pakistan either. Nonetheless, you can always rely on local Facebook pages and local online sellers like Bagallery to get you all the branded makeup and skincare from abroad.
Anyways, Sephora does not only carry other makeup brands but also has their own line of makeup and skincare. So this eye makeup remover is possibly my first ever product from the Sephora brand and I was excited to try it out.
Claims
Just like the Nivea Double Effect Eye Makeup Remover, this Sephora Waterproof Eye Makeup Remover also contains Cornflower Extract. It is supposed to be suitable for sensitive eyes and contact lens wearers. Again, I have had no irritation myself either. This eye makeup remover also claims to strengthen lashes which once again, I have not been able to tell.
This eye makeup remover works pretty much the same as the other two. It gets the job done and I have no complaints.
Price, Quantity and Availability
Like I said Sephora is not sold locally, so you would not be able to find it in stores within Pakistan but you can order it online. In that case, the prices would vary depending on dollar rates, seller profits and shipping rates. However, to give you an idea of what to expect cost wise, a standard sized bottle of this eye makeup remover is sold for $11 on Sephora and you get 125 ml of the product. The one I have is just a 25ml sample bottle. You can check Sephora's website for other bottle sizes and prices.
Final Verdict
If you do not already use an eye makeup remover in your makeup removal regimen, please start now. Your eyes and lashes will thank you in the years ahead. All three of the eye makeup removers mentioned in this post are free from parabens, only have a faint scent to them and they do their job well.
Formula-wise, I would say Filorga Optim-Eyes Lotion is my favourite. However, based on price and availability, Nivea Double Effect Eye Makeup Remover is the winner.