Last Thursday I ecstatically shot a Jeffree Star Lipsticks video for my YouTube channel on a newly bought Canon 70D along with using my glorious ring light. I was pretty happy with the outcome and knew that the swatches of Jeffree Star Rose Matter, Gemini, Watermelon Soda and Unicorn Blood would help anyone out with a South Asian skin tone like mine.
If you have followed me for a while, you would know that 
Jeffree Star Velour Liquid Lipsticks
 are my absolute favourites and I even wore a 
Rosegal Asymmetric Curved Cuff Choker
* similar to Jeffree's high-end one that he once showed on SnapChat, for this video to go with the theme of his brand. Surprisingly, this is of pretty good quality too but only costs $6.21. Bargain, right? I really love the hinged style and the feel of it too.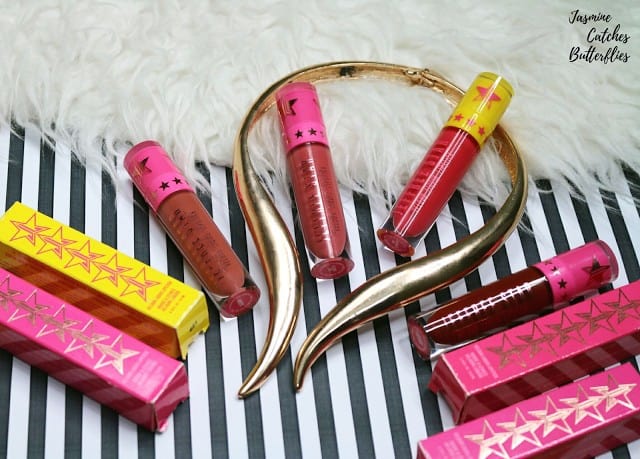 Jeffree Star Velour Liquid Lipsticks: Gemini, Rose Matter, Watermelon Soda, And Unicorn Blood
Rosegal Asymmetric Curved Cuff Choker*
However, since there is one other major upgrade left when it comes to my gear for YouTube, I failed to edit the footage successfully on my laptop which is really old and incompatible with most softwares now. It does need to be replaced and in fact, I had to get a laptop before rest of the stuff, but things did not go as planned and now I have to wait another couple of months before we can save to purchase a decent one.
Anyways, I was still determined to get the video up so I shot another one on my phone and hated the outcome. Also, it was breaking my heart to let go of such a good video that I had shot on my camera before, so I somehow managed to transfer that and edit it on my phone. In the process, however, the quality had to be severely compromised and initially, I ended up getting feedback from my friends that it was not loading properly. Nonetheless, later on, some people said it streamed smoothly at their end while others still reported glitches. I know the video is faulty to some extent but the mixed feedbacks have left me feeling even more confused.
So while I will be posting an updated version of the video once I get a proper editing setup, I still wanted to talk about these liquid lipsticks on my blog to further help anyone out.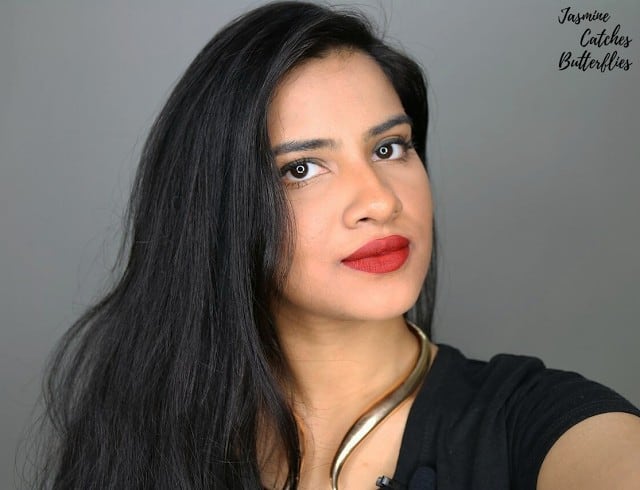 Jeffree Star Velour Liquid Lipstick in Unicorn Blood Lip Swatch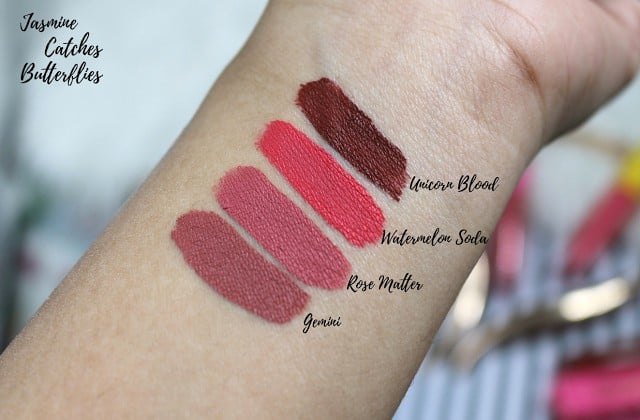 Swatches of Jeffree Star Velour Liquid Lipsticks: Gemini, Rose Matter, Watermelon Soda, And Unicorn Blood
I was first gifted a 
Jeffree Star Velour Liquid Lipstick in the shade Gemini
 for my birthday back in June last year and till date, I feel it is one of my top favourites. From the moment I first applied it to wearing it on endless occasions, I have fallen in love with it over and over. The chunky pink packaging with rose gold stars is iconic and the clear wand with a dip in the applicator is quite innovative and I find it convenient to apply an even layer of product.
Usually, I never even dip back into the tube and just the amount of product that comes out on the first go is enough for me to do both my lips. However, if I want it to last longer, then I can always build up another layer easily as these do not get cakey or crusty. The consistency is initially liquidy but not difficult to work with. It does dry quickly to a matte finish while providing sufficient play time to fix any mistakes too.
After caving in and buying another three shades, I would say that the formula is a little inconsistent. Do not get me wrong, I still do love every single one of these but they are slightly different. While this is something that Jeffree has also addressed on his channel due to the difference in pigments and all that chemistry, I have not seen him really mentioning anything of the sort for either of these particular shades. Rather, he has said such stuff about lighter shades like Drug Lord and 714.
Nonetheless, when he had launched his limited edition collection for summer last year, which included Watermelon Soda, there were complaints about the formula being sheer. That is when Jeffree did say that the oils and ingredients separate in hot weather conditions so refrigerate before use and these would work just fine. I myself live in the hot and humid weather of Karachi, so I do think his tip helps but I will get into the nitty gritty of each of these shades now.
Jeffree Star Gemini 
No secrets, this is one of my most worn liquid lipsticks as the nude pinky brown shade is perfect for everyday wear. Also, I lowkey feel this was made for me because I am a Gemini myself. Hah! No, but seriously, even though the shade is not anything out of the ordinary, this is something you can get more use out of. I would definitely recommend it to anyone to add this to their collection if they are looking for a nude lipstick for a South Asian complexion.
Jeffree Star Rose Matter 
Rose Matter is a shade that Jeffree released a little while before his summer limited edition and I now recall passing it at first (even though I guess I said otherwise on my channel) because I was not sure if I wanted it. However, once it became scarce, I literally asked pretty much all the trusted Facebook sellers for it and only Rouge had it in stock at that time. So, without letting this opportunity slip, I ordered.
It is a soft rose shade which is a tad bit brighter than Gemini so it is lovely for a cute girly look but I would still choose Gemini over it. As for formula and longevity, I would say that it is comparable to Gemini so I have had no issues with it.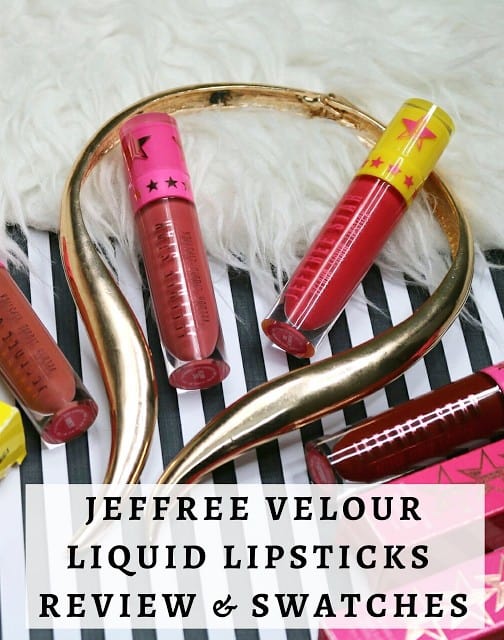 Jeffree Star Watermelon Soda
From Jeffree's entire summer collection, apart from the yellow, Queen Supreme, which I was not daring enough to splurge on, this was the only shade that called my name. I mean just look at it, how beautiful is Watermelon Soda. It seems as yummy as it sounds and the Jolly Rancher scent is the cherry on the top or watermelon.
I did toy with the idea of buying it too because it is a bold neon red and I was not sure if it would look good on my complexion. However, this is another one of my favourites and I adore the popping bright shade. Usually, I love pairing this with a pale yellow outfit as the combination is summery and looks traditional. You can get an idea of what I am talking by looking at the tube itself which comes with a yellow top and pink stars since this was Jeffree's limited edition packaging for the collection.
My only gripe with Watermelon Soda is that it is a little bit patchy and sheer in places in a single go and I do feel the need of building it up in places. Like I said, on a hot day, refrigeration prior to the application does help but there are still always spots that are to be filled. Nonetheless, it is not that big of a deal because I still do not have to use a lot of product and it is still comfortable to wear.
Jeffree Star Unicorn Blood
Unicorn Blood is one of Jeffree's best sellers and therefore, I decided to pick this too when I ordered Watermelon Soda. Also, I hate paying shipping charges so I told myself that since I already trust the brand, I should order all the shades I want in a go. Now, I did want Dirty Money and Abused but those never seem to be in stock on local pages so this was the only other shade I could get.
Anyways, Unicorn Blood is a gorgeous deep burgundy shade that does look like dried blood quite honestly. I know that sounds morbid, but it still looks beautiful on the lips and it is one of those shades that would suit a lot of people. My brother jokes that I look as if I have just eaten a fresh liver whenever I wear this, but I love how it makes my teeth look whiter.
Since the shade is really dark, it can easily get all over the place while applying and does require some neatening right around the edges but I am glad that it does not bleed once on. I would just say that the nude shades are more forgiving when they fade as opposed to such a shade because you need an immediate touch up once you eat a meal.
The amount that transfers and the lasting power also varies shade to shade, in which case I would again say that Gemini and Rose Matter perform better. Nonetheless, I have not experienced anything crazy with Watermelon Soda or Unicorn Blood either so I love wearing these often too.
Previously, none of the Jeffree Star liquid lipsticks had any added scent to them but since Gemini was one of the first ones to have the Root Beer Float scent, I have never owned any without a scent. Rose Matter was also launched with the same scent and in fact, the Unicorn Blood that I have, also has the Root Beer Float scent.
Jeffree Star's entire range is a hundred percent cruelty-free, paraben free and is also vegan. In addition to all of that, these liquid lipsticks are also eye safe and since they have high-quality ingredients, they have never caused me any allergic reactions.
The brand does not ship to Pakistan at the moment, so I rely on trusted Facebook sellers like Indelath and Rouge to order these. All of these have roughly costed me 3000 PKR each.
Now, based on what I have tried so far, the only other liquid lipstick that I think stands a chance against Jeffree's is Huda Beauty's.
I recently picked Spice Girl at the Dubai Mall
but I am yet to test it fully to give an opinion.
If you want to have a better idea of how these Jeffree Star liquid to matte lipsticks look swatched on lips, you can watch my YouTube video below.