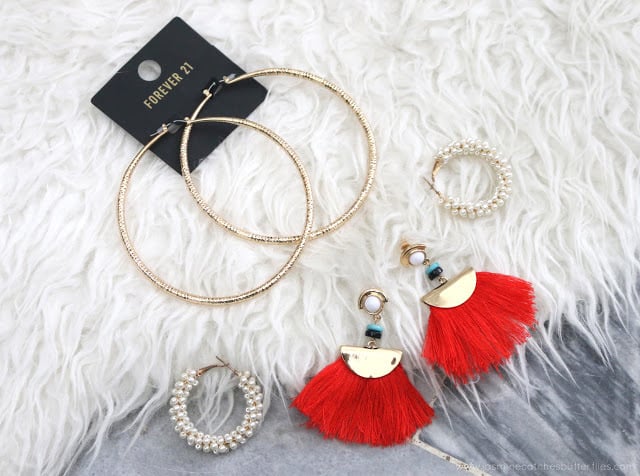 3 Must Have Earrings This Season
PR Sample*
After some inaccurate weather forecasts recently and the sudden spike in temperature, I guess it is safe to say that spring is on its way to Karachi now. I am all set to embrace the beautiful season of blooming buds and chirping birds. Being somebody who loves expressing her mood through fashion, today I am showing you three of my favourite pairs of earrings at the moment.

So, for this post, I have a nice mix of some bold western and eastern pairs that would go with most of your outfits this season. I think all of these would look great if you have a spring wedding to attend which I personally do. However, these would work equally well for girlie hangouts or even Fashion Pakistan Week which is just two days away.
Small Pearl Hoops 
So my first pair consists of these absolutely traditional looking pearl encrusted earrings. I bought these from Hyderi for around 200 PKR and if you know me, you would know by know that I am obsessed with white. Besides, this is such a classic pair without being over the top that it is a must have as it goes with a lot of eastern outfits. Be it white or any other colour, pearls will always make you look like a million dollars.
These hoops have a clasp which is very easy to work with and these are light weight too so you do not have to worry about the throbbing pain that the heavier earrings cause by the end of the night. Also, I love these for the cute gajra look they have. I reckon these are adorable for mehndi and dholki too if you do not want to go all out. I do recall that there were other sizes available in these so you can choose whatever you fancy. While shopping I tried a smaller pair too but just thought this looked better on my face.
Huge Gold Hoops
I find gold hoops to be timeless fashion jewelry and the bigger, the better. I got this super duper huge pair from Forever21 and clearly, I am obsessed with Khloe Kardashian. I have seen her sport a pair on numerous occasions, especially when her dresses are plain but she plays it up with some gold accessories. Of course, these would look great on red carpet but can also be flaunted with any semi-formal outfit be it day or night.
This particular pair only costs 450 PKR and I am impressed by the size and quality that it has for that price. Also, these are not plain and rather have tiny cuts all along the metal so the overlook is very chic and the detailing makes it look even more interesting.
Fringe Earrings
Fringe and tassels are everywhere at the moment. While this is another throwback trend, I have a feeling that this is going to be huge once again, for the year 2017. I got this lovely pair of Semicircle Fringe Earrings from Zaful* recently and boy, these are absolutely pretty. I was initially going to play it safe and go for black but then the colour red looked so good that I had to change my mind.
These were only priced at $3.72 on sale which is around 372 PKR. However, I was just going through their website, and it is now all sold out. I have blogged about the brand in the past and you can read all of my other fashion posts featuring their products here. This time my Zaful parcel took around 2 months to reach me which was much longer than usual but there was nothing much that could have been done once it was in transit. Nonetheless, I am grateful that everything reached me safely and I did not have to pay a huge customs fee either.
Anyways, these fringe earrings have a boho feel to them and I can think of some of my eastern outfits with which they can be easily paired. I love how it has gold incorporated along with turquoise and black beads which make these look funky and fun at the same time.
So those are all my must-haves for the season. I am sure you can add a lot more to this list and I would love to know what you have in mind so please do let me know in the comments section below.
p.s. I will be putting up an engagement guest look soon on my YouTube channel so be sure to subscribe here and click the bell icon so that you get notified when it goes up. In that video, I will be showing you how to pair these fringe earrings with an eastern outfit.