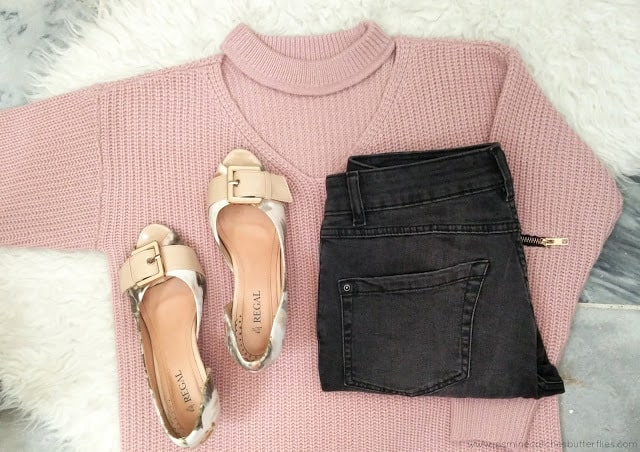 Pink Cutout Choker Jumper – Rosegal*
Dark Gray Slim Fit Jeans – La Redoute
White Printed Heels – Regal
As soon as chokers made a comeback a little over a year or so, everybody went high and low to find ways of wearing them more creatively. One of the trends that caught my eye was, of course, the oh so comfy looking yet so chic choker jumper. I have been wanting to get one for quite a few months now and I have not been able to spot one in stores within Pakistan. So, I was really excited when I saw it on 
Rosegal
 and they do have quite a variety of on-trend apparel. Anyways, this jumper is available in 5 different colours but oddly I decided to order a pink one, which is so not like me. Ideally, I would have picked black or gray but I wanted to try something different. I am so glad I did because I absolutely LOVE this tea pink shade as it looks flattering against my skin complexion and I have had so many compliments in person as well as on Snapchat from tons of you guys.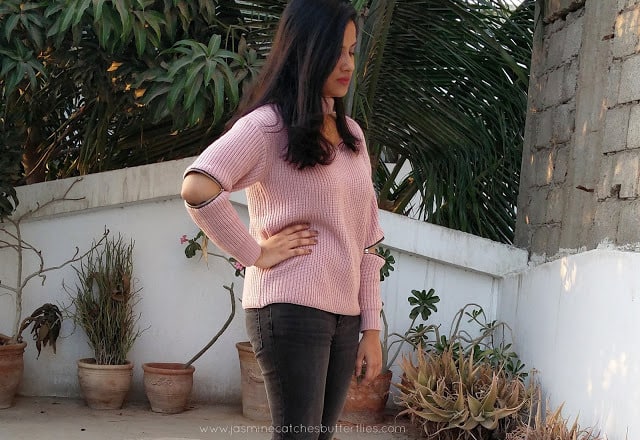 Now, winter is still here and I guess it will be around for a little bit more but I had actually ordered this jumper roughly two months ago and it took a pretty long time to arrive. Nonetheless, it is great for Karachi's weather as it keeps me warm enough without the need of layering in around twenty degrees. Also, once again the shade of this is so beautiful and I find it perfect for transitioning into spring. If you check Rosegal's website they always have all the sizing details and everything so that's helpful. Though I would admit I was too excited to go through it while ordering that after seeing so many Pinterest photos I kind of had the image of a mini dress in my mind so this turned out to be a little shorter than my expectations. However, now I think this length works a lot better with jeans as I wouldn't have worn it as a dress anyway.
Speaking of jeans, I was initially super confused which ones to pair this shade with as it is very different than anything in my wardrobe. So, I ended up wearing slim fit dark gray jeans and they were just perfect. I wouldn't want to go with straight up black as the colour of the jumper is muted itself so I did not want anything stark to clash with it. Picking the right pair of shoes was another hassle and I do not have a great collection, to begin with. This turned out to be a sophisticated look because I actually had to go for dinner at the Sky BBQ, Avari Towers. Normally, I would have worn a pair of white sneakers or tennis shoes but obviously, I could not wear them to a formal dinner so I took out my white printed Regal heels and I really loved the overall look. You could also probably go with some nude heels. I did not wear any jewelry because I did not want to take any attention away from the sweater itself. Nonetheless, to accessorise, a gold watch and a nude or white purse would look nice.
This Pink Cutout Choker Jumper is priced at $23.88 on Rosegal which I find to be a good deal as the quality of the jumper is pretty nice. The only thing that I felt on the fence about was the zipper cutouts on the elbows because I am not a fan of ripped jeans so I wanted to play it safe with this too but they did not have any such options. However, once I tried it on, I found it to be pretty cute and girly. So now I adore flashing my elbows at the world.  I was concerned if choker cutout and the neckline would be too deep and revealing but luckily they are modest and wearable for me.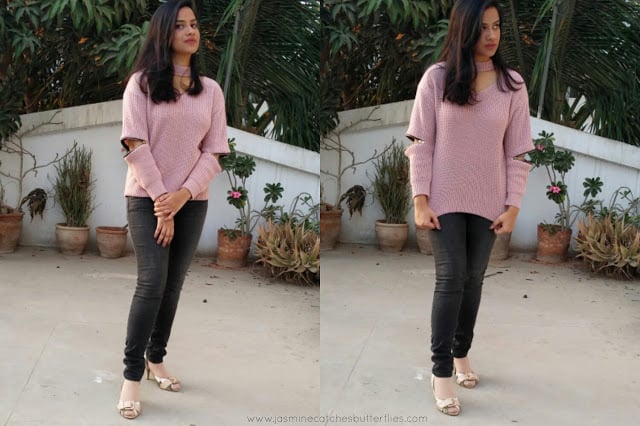 That sums up my look and love for this month. I say this because I find the outfit to be romantic chic and perfect for a date night if you do not want to try too hard and still look elegant while being cosy. I would love to know your thoughts about this style of the jumper. Also, what do you think of the look that I managed to put together and how would you style it yourself?
Like I mentioned that I got my parcel pretty late this time so I still do have a few other winter looks to show you. Let's just pray that it does not get warm anytime soon and if you follow me on Snapchat, which is at jadirahsarmad, you would have probably already seen me wearing some more stuff that I got. I am planning to do some more lookbooks for my YouTube channel so let me know if you want me to incorporate all of my new apparel in one too!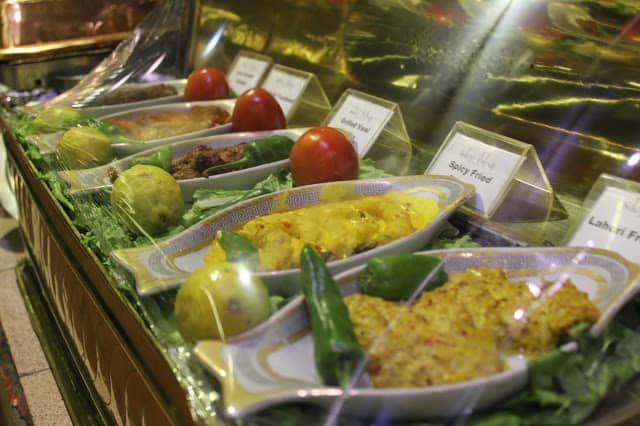 Photo Credits: Sky BBQ, Avari Towers
By the way, in case you are wondering, the dinner at the Sky BBQ was pretty good, especially the prawns and the barbeque, but it was so windy that day to be eating on the rooftop that we could not really concentrate on the food that much. However, it is the company that matters and they all told me I looked good so I was pretty happy! 😀