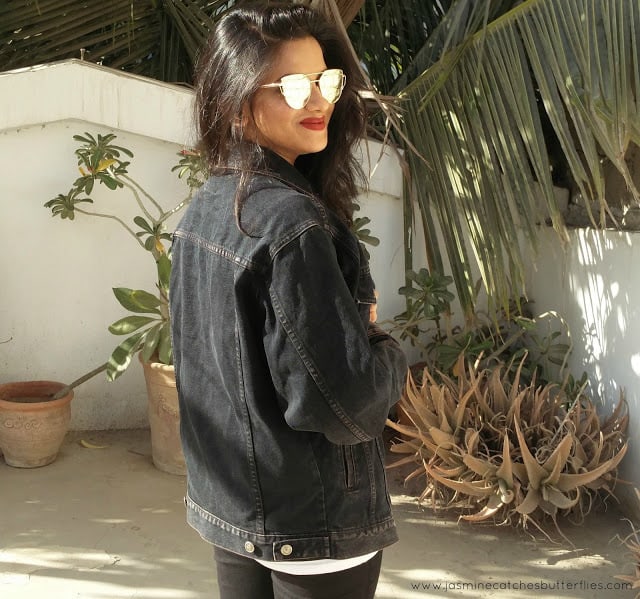 Zaful Metal Bar Golden Frame Pilot Sunglasses
PR Sample*
A lot of us are now anticipating sweater weather, and while I am more of a summer child because I hate how reptilian my already dry skin gets during winters, I love fall fashion. It still wouldn't be cold enough to turn off the air-conditioning for another couple of months in Karachi, yet this squirrel souled babe has started putting together warm clothing pieces to be ready for the season. I hope you remember my
Zaful Stand Neck Embroidered Loose Fit Shirt
* as I was on their
website
again and this time around I have picked quite a few things. My haul includes two winter clothing apparels, which you will be seeing in my future posts, along with four accessories one of which is my pair of
Metal Bar Golden Frame Pilot Sunglasses*
.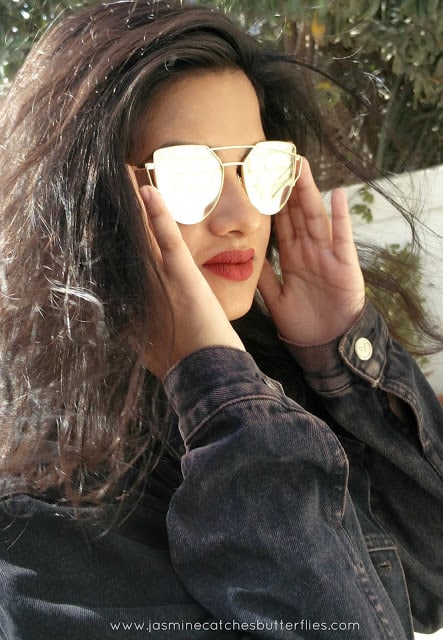 Metal Bar Golden Frame Pilot Sunglasses from Zaful
These sunglasses are quite popular at the moment and are perfect for dressing up any look. I also find them to be quite versatile since they seem like a perfect holiday pair for summer but can easily transition into fall as well. So, for my look, I styled these with a black denim on denim outfit. The whole attire is pretty monochrome which is fitting for the gloominess of fall but then you get a blinding pop of gold shades.
I am really pleased with the way this look turned out and there's something about a Black Denim Jacket which screams class to me in comparison to the usual blue one. To be honest, I am not even sure where we got this jacket from since it is quite old and was actually my brother's. I raid his closet often, which I am sure you can tell by the addition of watch and perfume in one of the photos. However, being the second child, I have always had my fair share of hand me downs and this particular denim jacket has to be my favourite. It is a bit big on me but fall clothing is all about layering and wearing oversized cardigans. If you are looking for something similar then check out the two options of black denim jackets on Zaful that I was able to find for you guys. None of these is identical to mine but they still have a modern twist to them.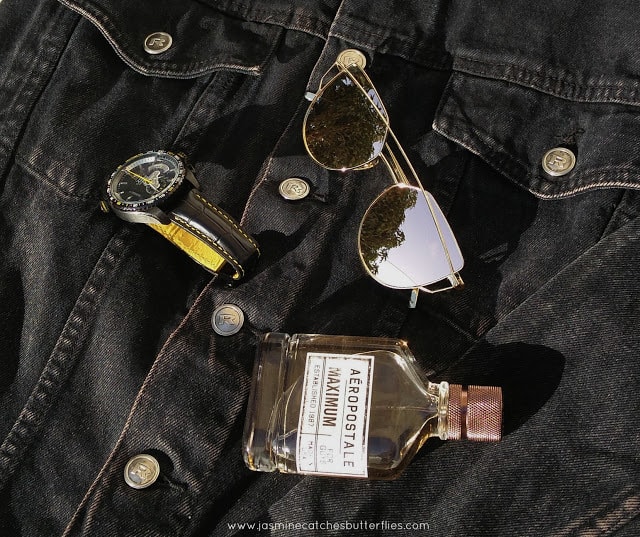 Tag Heuer Watch, Black Denim Jacket, Zaful Metal Bar Golden Frame Pilot Sunglasses, Aeropostle Maximum Perfume
Makeup-wise I didn't do much as a dark lip shade was enough to pull everything together. Besides, I don't know about you but I don't feel like going full beat during winter because my skin is pretty bad and flaky, so nothing takes away attention from all of that ugliness like a power pout. I painted mine with none other than Jeffree Star Velour Liquid Lipstick in Unicorn Blood and thanks heaven for its gorgeousness. Hang tight for a detailed review of this beauty.
Keeping it real with you guys, I shot for this blog post in a rush yesterday so I was wearing a rough pair of crocs for shoes. However, if I have had the time to give a little more thought to this outfit, I would have worn a pair of white sneakers instead or even ankle high black leather boots.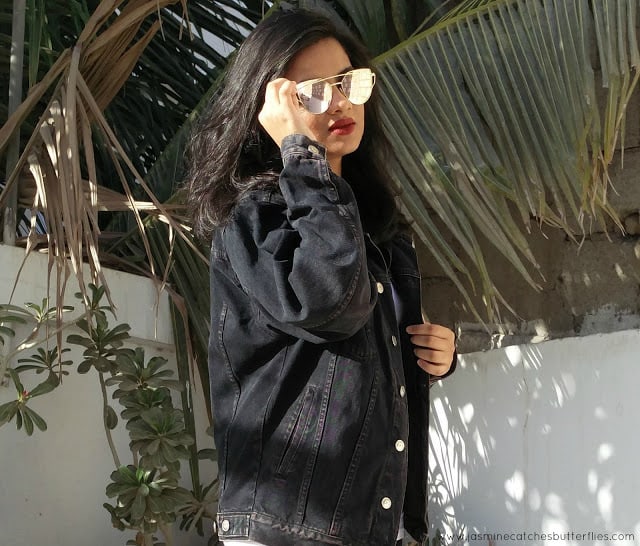 Black Denim Jacket and Jeffree Star Unicorn Blood Lip Swatch
Back to the Metal Bar aviators, these come in a few mirrored metallic lens options but on Zaful you can get either brown, gold or silver. Do note that the frame of all three is gold. This is something that I did not notice earlier but I am glad I chose a gold lens anyways because the other two with gold frames wouldn't have been my cup of tea. However, there are a lot more variants of such aviators available on Zaful and you can also get yourself a pair of black ones or one with silver frames.
I did not expect the shades to be of good quality as they are more of a funky fashion bit than a staple but I was pleasantly surprised to see how well-built they are and how good the weight of these felt in my hand when I first unpacked them. Once you put them on, they do not feel heavy but do check the sizing details on the website as I find them to be a tad bit loose on me and due to the weight, they slightly slide down the bridge of nose if I bend my neck downwards.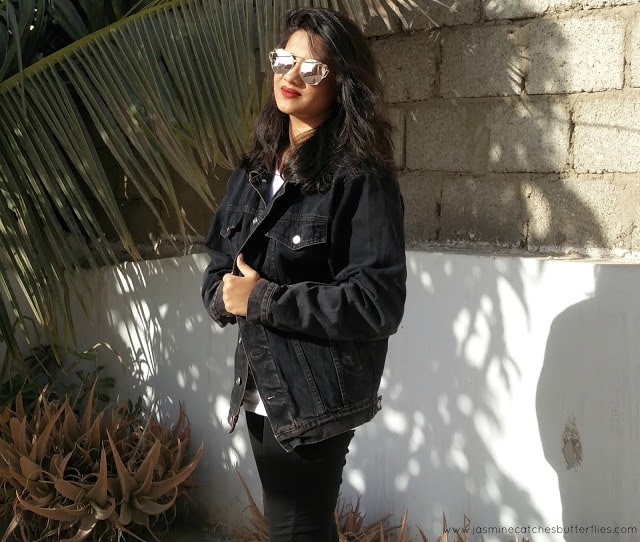 Black Denim on Denim Look
Since the lens is mirrored, you need to be careful about keeping it fingerprint free but they are easy to clean with a microfiber cloth, the kind you get with any pair of glasses. Though, this does make me wish that Zaful Metal Bar Golden Frame Pilot Sunglasses also came with one along with a case to safely store them.
Anyhow, I have seen Facebook pages selling these sunglasses at hiked up rates while on Zaful they only cost $6.21 and are currently on sale for $4.34 which is so much cheaper. So I would suggest shopping at Zaful for things like these as you can save a lot of cash.
The shipping can take anywhere from 2 to 4 weeks depending on the size of your order. The team at Zaful also says that delays occur when some of the listed items sell out quickly from the inventory. This sounds like a bummer but my order has always arrived safely in a month's time. Shipping for Pakistan is apparently free on orders above $30 and otherwise, costs $6.99. I was sent my parcels as PR samples so of course I was not charged shipping both the times but the local customs still sent me a receipt of 50 PKR last time when I had just one parcel and 200 PKR this time when my order was divided into two parcels.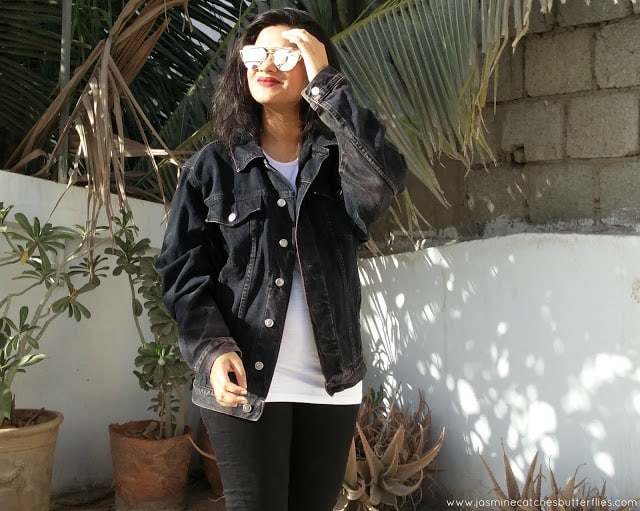 Gold Aviators
On the whole, I am pretty pleased with Zaful as it is a hub for inexpensive fashion finds. I am eyeing a lot of sunglasses on the website and I may place a crazy huge order one night. Meanwhile, you tell me if you liked this look and how would you style these Metal Bar Golden Frame Pilot Sunglasses!
p.s: If you want to get geared up for Halloween, check out DressLily.com for some amazing accessories and outfits on sale.