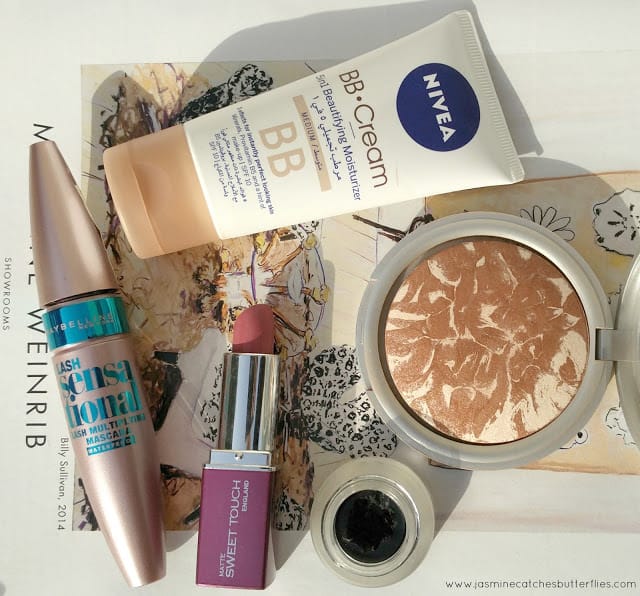 Top 5 Easily Available Budget Buys in Pakistan
So many new makeup brands launch every year but in Pakistan, we do not even have half of the older ones like NYX and MUA available in stores. Not everybody is up for online shopping since especially with makeup products, we like to swatch and see how products really feel and look like. Even if there are a few stores which now stock drugtore as well as high-end products, the prices are ridiculously high for both the categories. So, Asumbal from http://beautybyasumbal.blogspot.com/ suggested that we share our best budget buys when it comes to makeup products that are easily available in the local market.
Do keep in mind that makeup products are mostly sold for higher prices than actual ones in Pakistan so we had to set a budget of maximum 1500 PKR for each of our picks. This might still seem a lot to some of you guys but most of our choices cost much less. I know you guys also request me to buy more from the local brands and I try but I steer clear for the most part from buying incredibly cheap makeup products because I do have sensitive skin and brands like Medora have a high lead content in their products which is alarming. Therefore, I would not advise anyone to get them. I am by no means claiming that the ones listed below are perfect but I personally have not experienced any adverse reactions.

Anyways, for today's post I tried picking a product from each of the main makeup categories so you get an option for base, eye liner, mascara, blush/highligher/bronzer and lipstick. These products alone can help you in doing your full face of makeup.
1. Nivea BB Cream in Medium
This is the newest BB cream that I have come across as of late in the local supermarkets and most of my skin care collection consists of Nivea products so I had to give this a go. Nivea BB cream is available in two shades in the superstores, one is light and other is medium. I got the latter but this one is darker than your average medium for Pakistani skin tones, and also pink toned. If you have been around for a while on my blog, you would know that my face and neck have a different tone and are a few shades darker than the rest of my body so this shade seems to blend just fine.
What I like about this BB cream is that it feels and blends into the skin just like a moisturiser which is something that I have not experienced with other BB creams before. It legit feels like an actual cream and is more of a fast absorbing, light-weight tinted moisturiser. The formula is supposed to be shine free but it is not intensely mattifying and since it is quite creamy, it does not accentuate any dry patches. The coverage is light but just enough to even out your skin tone for an au naturale look. It contains provitamins, minerals and also has SPF 10 so it is supposed to rejuvenate and protect the skin as well.
There were no testers available in store for me to swatch and check the shade in person -online shopping rolls eyes- but since it only costed around a few hundred bucks, I am willing to try the light shade too. This might be my favourite BB cream that I have tried so far.
Price: 600-700 PKR (Estimated price since I lost my receipt.)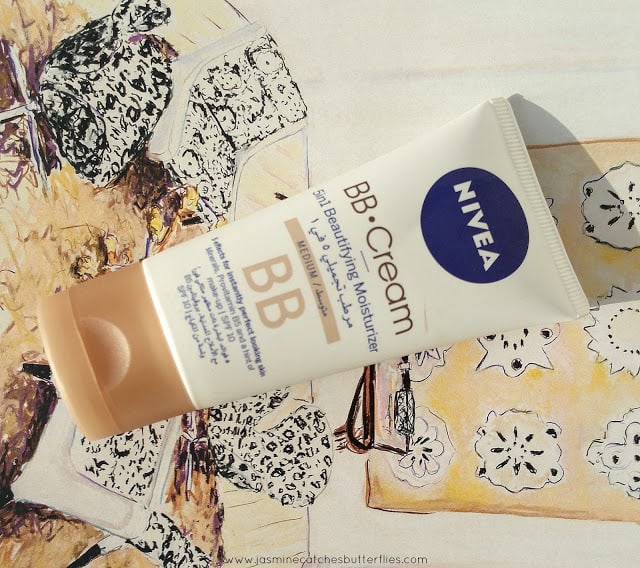 Nivea BB Cream in Medium
2. Maybelline Lasting Drama Gel Liner in Noir Black
I have had this Maybelline Lasting Drama Gel Liner for nearly a year now and it is my top ride or die makeup product. I have elongated, hooded eyes and I love wearing a wing liner no matter the occassion. Lasting Drama waterproof gel liner glides onto lids smoothly and stays put for lenghty hours.
You can read my detailed review if you are interested in trying it.
Price: 1450 PKR
3. Maybelline Lash Sensational Waterproof Mascara in Classic Black*
I do not recall seeing any bad reviews on this mascara and I was super excited when I was sent this for my Eid look by Maybelline. I am yet to review Lash Sensational in detail but to put it precisely, this is simply the best mascara that I have ever tried. It has a nice consistency which is neither too wet nor too dry. The wand has small bristles with a curve to it which helps in lifting and volumising the lashes. It is called a lash multiplying mascara so I can totally see why. I also like the fact that it is waterproof as I do not have to worry about getting it smudged in the humid weather of Karachi.
Price: 1350 PKR
4. Sweet Touch Glam 'N' Shine in Bronzing Natural*
This is a three in one product as it triples up as a blush, highlighter and bronzer on medium skin tones. I have had this in my stash for a really long time and I still reach for it quite often. With its intense pigmentation, Sweet Touch Glam 'N' Shine Bronzing Natural blushing highlighter can make you look like a sunkissed goddess. Just lightly dust this on your cheekbone areas and you are good to go.
See the swatches and my detailed review here for a better idea about this product.
Price: 900-1000 PKR
5. Sweet Touch Mattle Lipstick in 773*
Having a nude matte lipstick shade is such a necessity and 773 is one of my favourite pinky nude shades for medium complexions. This lipstick stays in my mug of everyday lipsticks and I love wearing it when I am not obsessing over my liquid lipsticks. Sweet Touch had revised their matte lipstick formula last fall so it is creamy to apply and feels comfortable to wear without excessive drying.
For more details and swatches, click here.
Price: 345 PKR
I use these products regularly, especially for a day to day look to get my makeup done within 10 minutes. Now head over to http://beautybyasumbal.blogspot.com/2016/10/top-five-affordable-makeup-in-pakistan.html and check out what Asumbal has to share with you!

Follow
(function(d, s, id) {var js, fjs = d.getElementsByTagName(s)[0];if (d.getElementById(id)) return;js = d.createElement(s);js.id = id;js.src = "https://widget.bloglovin.com/assets/widget/loader.js";fjs.parentNode.insertBefore(js, fjs);}(document, "script", "bloglovin-sdk"))