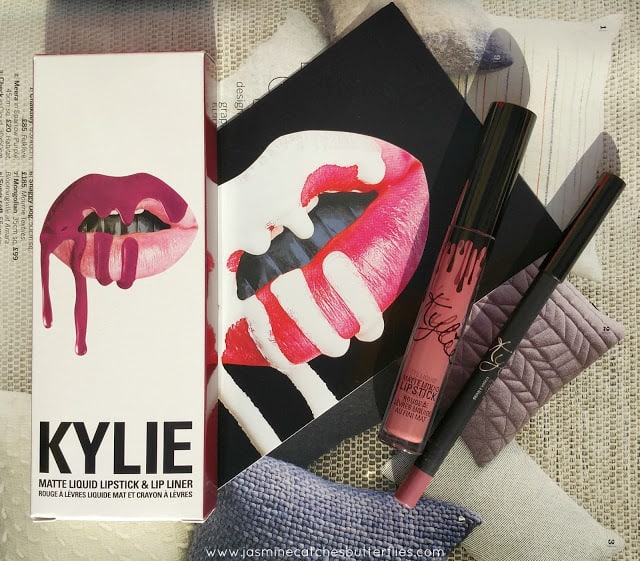 Kylie Posie K Lip Kit Review and Swatches
Kylie Jenner and her lips were the talk of town for a hot minute over the past couple of years and she made the wisest business move by launching Kylie Cosmetics Lip Kits before the craze could lose its charm. When I first came across the lip kits, I wasn't too much of a fan and I'll tell you why. Firstly, I don't give into hype that easily so you will never catch me running out the door when something new launches. Secondly, none of the shades (Koko K, Candy K, Dolce K) really got my fancy as they seemed too light and bland for my taste. Thirdly, I initially found the liquid dripping print on the bottle along with her signature kind of childish. Above all, the price tag freaked me out because even though these retail for $29, which I thought was lesser than what I would expect from a multi-millionaire celebrity, the local sellers were demanding nothing less than $55 to $80 in Pakistani rupees (PKR).

Kylie Jenner Posie K Lip Kit Review and Swatches
So there was no way I was willing to splurge on the brand until I started seeing a lot of positive reviews once Kylie tweaked the formula since her first launch and came out with newer shades. Posie K, a beautiful mauvy pink shade, was the one I thought I could definitely pull off and with anything THAT expensive I always want to make a safe choice rather than regretting after buying a ridiculous shade of say, blue, which I can't even wear to every other social gathering. I decided to treat myself for my birthday, but I still wasn't out of my mind to blow 8000 PKR on a box of lip kit.
Now, I do usually get foreign brands (which aren't sold in stores in Pakistan) through my relatives living abroad or after comparing prices on local shopping websites and Facebook pages but hardly ever order directly through the official website because custom handling can be a pain and there are high chances of losing the parcel in shipping. This time instead, I asked a friend of mine to get it for me through the website as she has a address in US so I was sure that it won't be fake and will reach me safely too. However, the international shipping and customs still hiked my total to 5050 PKR but I still managed to save a couple of hundreds.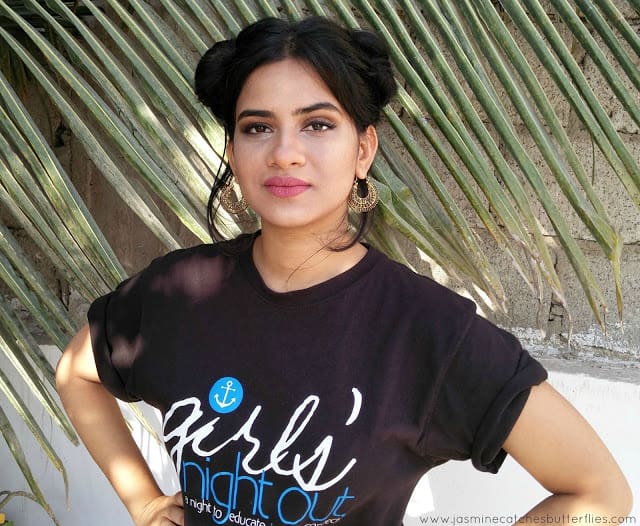 Kylie Posie K Lip Kit Lip Swatch on Pakistani Skin Tone
(Natural Lighting)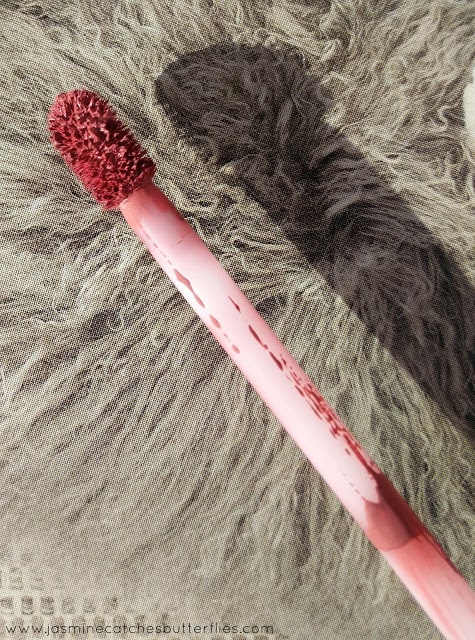 Kylie Posie K Lip Kit Wand and Applicator
Onto the actual review, Kylie Lip Kit comes with a matte liquid lipstick and a lip liner. You can also buy each separately now for $17 and $14 respectively. The glass tube of the liquid lipstick is sturdy and even though I didn't like the print on it initially, it looks fine to me now. I must say that I love the simplistic yet grungey box because of the dripping lip logo and I did partly get the lip kit for the lip printed on the backside of Kylie's note that came with my order. The sides of the box are supposed to match the shade of liquid lipstick within the kit but in Posie K's case, the actual shade is lighter than the purpley shade on the box. This of course is not a deal breaker, but just something you might need to be mindful of. The liquid lipstick wand is long and the applicator itself is small and stubby so I think a lot of people will find it easy to work with but I am not too bothered by things like these unless they are peculiar.
The consistency of the Kylie Matte Liquid Lipstick is creamy at first without being runny and it goes matte almost instantly. The colour payoff is remarkable and especially with a shade like Posie K, you only need the tiniest of amount to achieve even and full opacity. On my first two attempts I had noticed slight crumbling on the inner rim of my lips as soon as I had applied the lipstick and was a bit put off. However, oddly that has never happened again. Once this liquid lipstick sets, it does not budge easily. Since Posie K is so rich in pigmentation it is unbelievably long lasting and stains my lips a lovely shade of dark pink as it wears. It holds up pretty nicely through eating and drinking and you might only need a touch up on the inner rim. Though, I wouldn't really recommend layering this liquid lipstick at all as it can then get crusty. This formula is a bit drying and lip tugging even on freshly scrubbed and moisturised lips so it is advisable to only apply a thin layer of the product.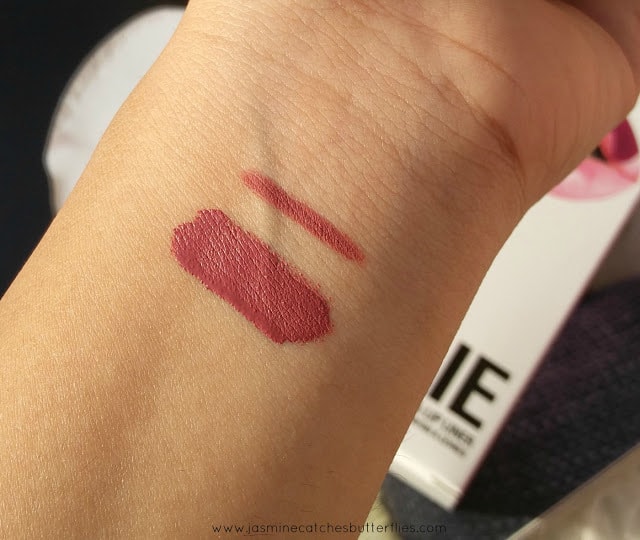 Kylie Lip Kit in Posie K Swatches
L-R: Matte Liquid Lipstick, Lip Liner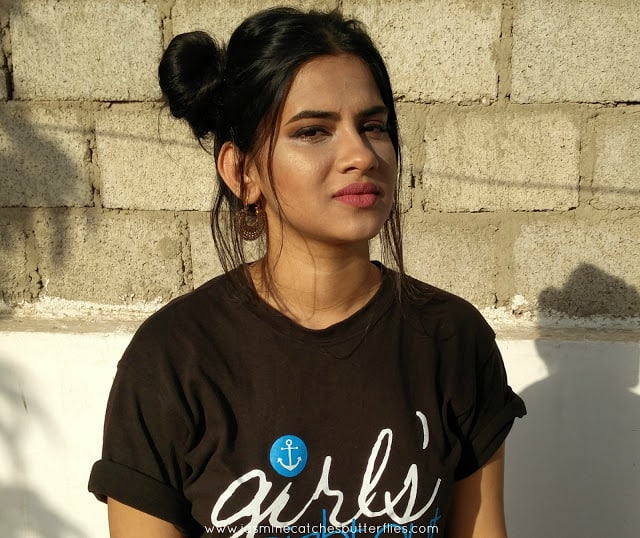 Kylie Lip Kit in Posie K Lip Swatch
(Direct Sunlight)
I did not edit my skin or brightness in any of the swatch photos to show you how it really looks on me without taking anything away from the shade. You can also notice how it accentuates the natural lines of my lips. I do not mind the way it looks but if I talk or laugh a lot then I have noticed that my lips do hurt a little sometimes, especially if I have a generous amount on, because of stretching under the influence of this lipstick. Nonetheless, it is not as bad I might have just made it seem and it is still in my top three liquid lipsticks of all times because I love its longevity.
Posie K lip liner is also of great quality and I find Kylie's signature in silver on the shaft cute. The cap of the pencil fits snugly and it is sharpenable. I know a lot of people do not like this but unlike most retractable ones if it goes blunt you can always sharpen it for a precise application. It is quite soft so glides onto lips effortlessly. Posie K matte liquid lipstick does not bleed on its own and I do have symmetrical lips so I can always wing lipstick application sans a liner but it does definitely make the job easier.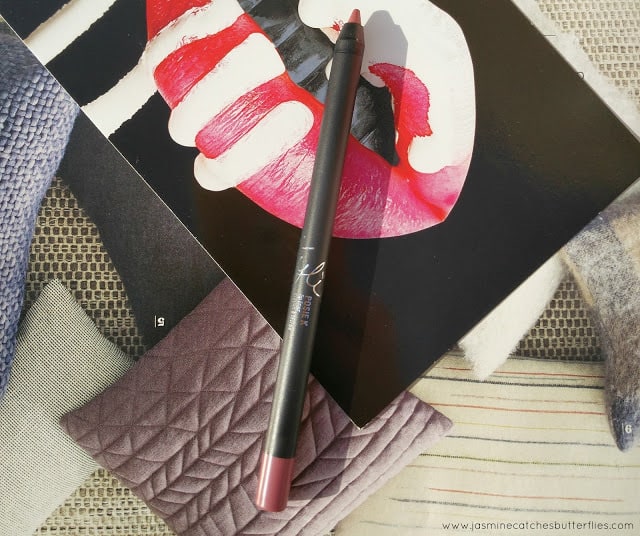 Kylie Posie K Lip Pencil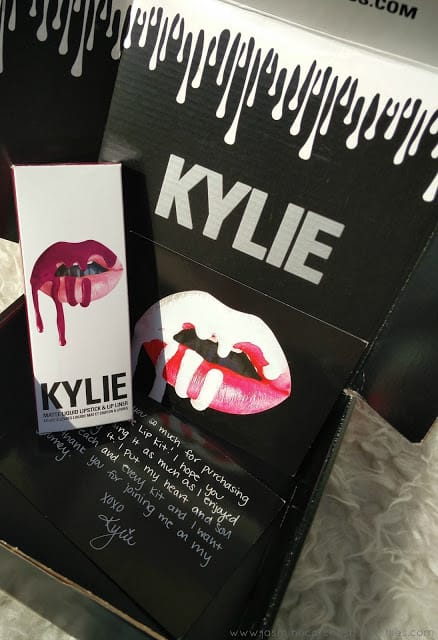 Kylie Posie K Lip Kit
The Kylie lip liner smells like nothing but the liquid lipstick has the yummiest vanilla scent. If blindfolded, I could eat this product without doubting the fact that it is not something straight out of the oven. However, I do not find it to be overpowering or gaggy upon application.
I love my Posie K lip kit for one too many reasons and I am glad I got my hands on this. I am not too crazy about the formula based on comfort level but the long-wear bit is unbeatable so you win some and you lose some. The Kylie Lip Kits are pricey in comparison to other options in the market so I don't think I will be getting any more of these but I have been eyeing Kristen lately so if I save up I might get it as a single.
————————————————————————————————————–
Train-In (Seedling Advertiser)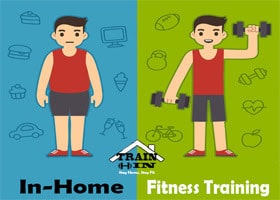 "Train-In offers a personal training services at comfort of your own home. We are the fitness solution to your busy lifestyle. Whether your schedule prevents you from going to the gym or you simply 
just enjoy the comfort of working out at your own home. Train-In Trainers will motivate you with individual programs and personalized attention. Now is the time to workout where you feel most
comfortable, with the trainers who get you results. Train-IN – Stay Home, Stay Fit."
Train-In currently provides fitness and nutrition consultations along with training sessions in Karachi with the help of their experienced and reliable trainers. For charges or any other details you can contact them on Facebook or Twitter.