Hey guys! Please welcome our new guest blogger,
Maya
from
Fab Frag World
. She's a newbie in the blogosphere and so please be kind and show her some love by visiting and commenting! 🙂 Also drop some likes on her
Facebook Page
.
————————————————————————————————————————–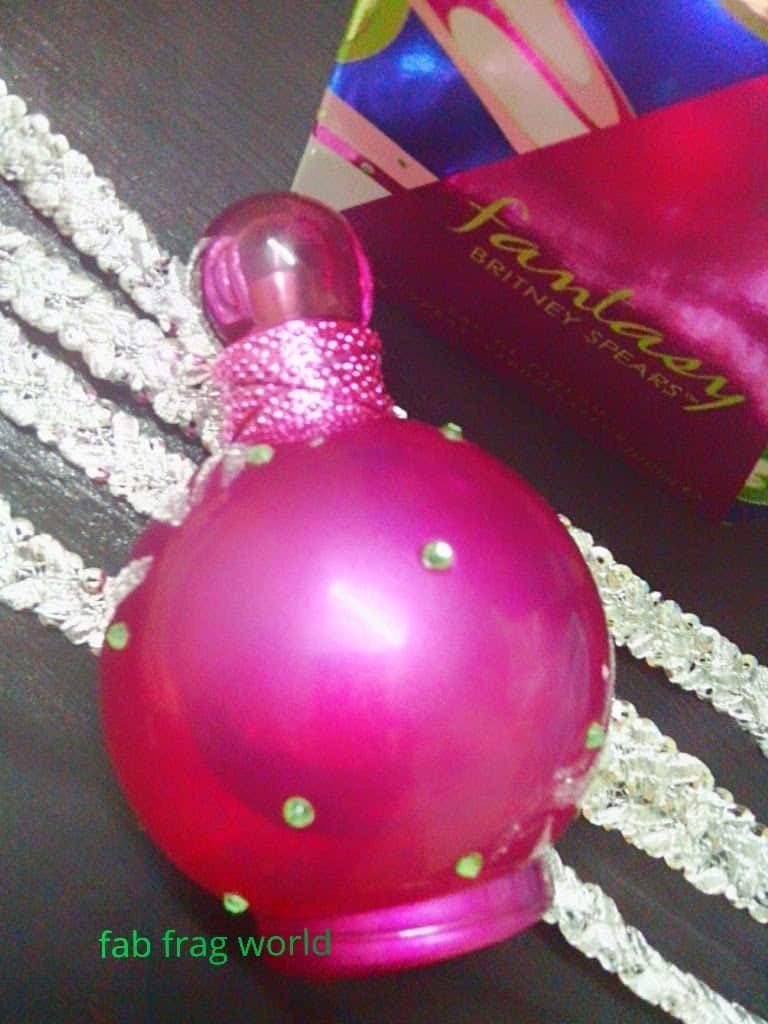 Hi beauties,
Today I am going to write a review on Fantasy eau de perfum by Britney Spears. Britney Spears perfumes are loved by the young crowd all over the world. She launched her first fragrance "Curious" in 2004 and it became a runaway bestseller. In 2005 Fantasy was launched, and many flankers of Fantasy followed later on. Britney Spears produces fragrances in collaboration with Elizabeth Arden USA.

Fantasy comes under the category of floral fruity gourmand, it was created by perfumer James Krivda. The top notes consist of litchi, golden quince and kiwi, heart is composed of jasmine and white chocolate, the base has notes of orris root, musk and woods.
My Thoughts:
I was never really into gourmands, Miss Dior Cherie converted me from aquatic floral person to a gourmand lover. Fantasy was the second perfume after Miss Dior Cherie to pull me towards gourmands. The box & bottle is so cute, colorful & girly, the bottle looks like a magical potion bottle. Fantasy opens up with a blast of fruity freshness, kiwi is very prominent from the beginning, you get this tarty fresh feeling of fruits and then the perfume becomes very sweet. I think its the sweetest perfume I have ever worn.
You get this sweet creamy feeling of white chocolate and cupcakes, I mean it literally smells of some yummy white chocolate cupcake served on a plate with kiwis, decorated with the prettiest jasmine flowers. Every time I wear this perfume, I am amazed by the beauty of this perfume, its sweet but not in a sickly sweet way.The presence of flowers, fruit especially orris root & musk give this perfume a sweet, enchanting & luxurious edge. From the middle, Fantasy starts transitioning into a more floral musky & intense perfume that keeps smelling gorgeous till the end. I am blown away by the projection & longevity of Fantasy, for an average priced celebrity perfume, it stays longer than you can expect, it stays on my clothes for ages, so it means you just need to use it in moderation. Fantasy's 100 ml bottle can be sufficient for a long time as compared to my aquatic florals that are empty so quickly because of reapplying again and again.
I do not find any fault with Britney Spears Fantasy, what a lovely concoction it really is, feels like you are in some kind of a fantasy world made of white chocolate & cupcakes. The only downside for me is that it's a winter perfume, so it's suitable to wear in the colder weather only, wearing it on a hot day can seriously turn this into a sickly sweet suffocating mess. It's a total thumbs up for me.
Thanks for reading, ciao!
Instagram: Mayaahmed03
Twitter: mayaehmed03
————————————————————————————————————————–
Thanks for your time Maya! I'm a perfume hoarder so I really enjoyed reading your post! ^_^