Spring it is, isn't it? At least, that can be said for Karachi now. I am enjoying the mild weather and exploring the fashion trends for this season. Spring weddings are my absolute favourites as there is something about this time of the year that is very calming and the overall scene is pretty laid back unless you are about to sit board or mock exams. When it comes to Pakistani weddings there are just so many events from engagement to
dholki
to
mayoon
to
baraat
to
valima
to this dinner, that dinner and what not that you need to have a variety of clothes even as a guest.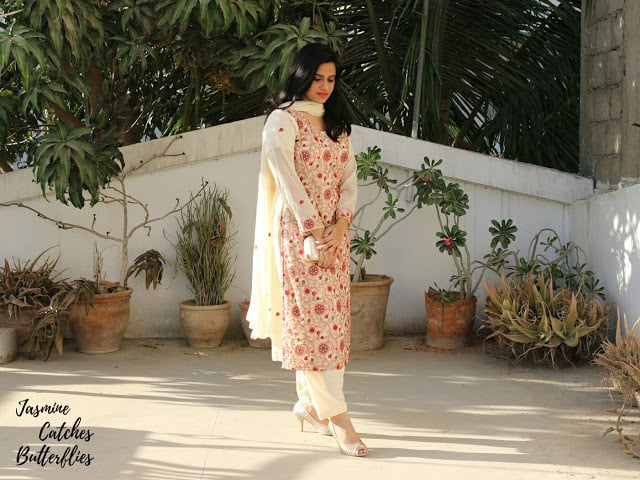 Spring Wedding Guest Dress // Pakistani Edition
Rosegal Kiss Lock Chains Evening Bag*
PR Sample*
What builds up the tension, even more, is when more than just one relative is getting married. This happens to me all the time as usually, siblings here decide to hold their weddings back to back since aunts and uncles from abroad are visiting or to just save some expenses but even then there are a couple of extra events.
Now, I for one, am not the kind of girl who gets a new dress stitched for every wedding and neither do I wear extremely heavy traditional dresses. I guess I would only go out of my and wear something like that when my own brother gets married so I do look like dulhay ki behn (groom's sister). Or maybe not even then as I do not believe in spending excessively on weddings.
Irrespective of the amount of pretentious or passionate people out there, I know I am not the only girl who chooses to go for something simpler because of the comfort and the budget. So even though, I adore sharara and gharara, I only wear them if the person getting married is extremely close to me. For the most part, as an adult, I am now naturally drawn towards lighter shades and simpler cuts. Also, these are perfect for spring when you do not have to go all out and a fresh, down to earth look is totally acceptable.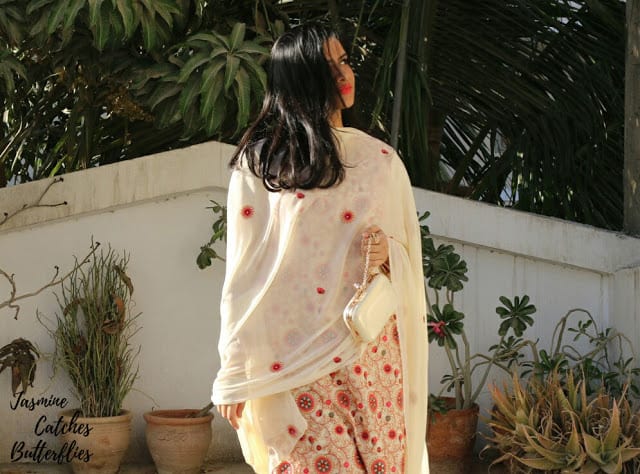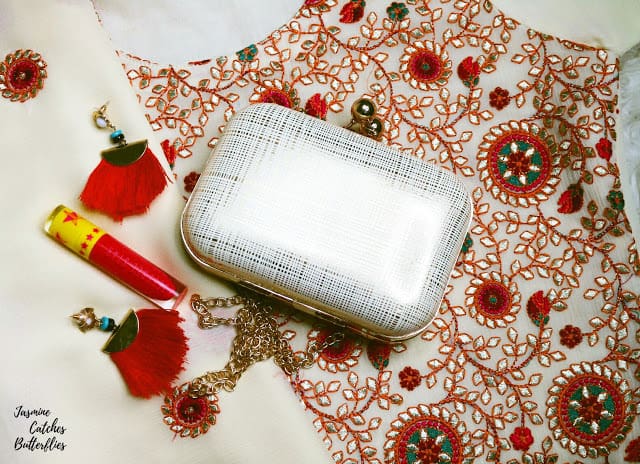 Spring Wedding Outfit
Fabric – Gulf
Earrings – Zaful*
Box Clutch – Rosegal*
Watermelon Soda Liquid Lipstick – Jeffree Star
So, recently my second cousins got engaged and for the occasion, I chose to wear a pale yellow shalwar kameez with gota work on it. Spring is synonymous with pastel and yes, shalwar kameez is not only back but is going to be big this year! I am so done with culottes and chooridars anyways, which have been in style for the past 6 to 7 years!
While the overall look is pretty simple, I like how the intricate gold gota work with colours like red and green in the mix make the embroidery pop and hence, the outfit becomes "Pakistani wedding appropriate". I bought this unstitched georgette fabric from Gulf and it was only for 2500 PKR with dupatta, shalwar and of course, the kameez material.
Going with the theme, I just wore a pair of red fringed earrings without loading on any more jewelry as the work on the dress itself is heavy and I did not want to overshadow it. Fringe earrings are currently in style and I have talked about them in my 3 Must Have Earrings This Season post, so give that a read.
To further accessorize, all I did was carry a chic white and gold Rosegal Kiss Lock Chains Evening Bag* which does have room for carrying a lot of mini essentials like lipstick and hair ties, and most importantly 'dulhay ki salami'. Though, like most box clutches it is a little small for my smartphone, which is Oneplus 2, so that is bummer. However, the phone itself is a phablet so if you have a smaller smartphone or do not like to carry phone, which by the way, I do not most of the time, it is pretty cute to style your outfit with. Also, it does look pretty pricy to me but only retails for $16.70 and is does come in other colours too.
For shoes I just wore a pair of pale gold heels from Walkeaze, which are not festooned with gems and yet look beautiful. Surely, a must have for capsule wardrobes, be it desi or western! I had bought these last year during a Mother's Day sale so I do not recall very well how much these were for but probably around the 2000 PKR mark.
I would admit that even though I had planned on wearing the Jeffree Star Watermelon Soda Velour Liquid Lipstick with this outfit from the beginning, that is when I had bought this outfit, on the event night, I thought it would look over the top so I ended up wearing Kat Von D Lolita instead. However, for the shoot of this blog post, I did wear Watermelon Soda and my final verdict is that shade is made for this dress and Lolita did it no justice.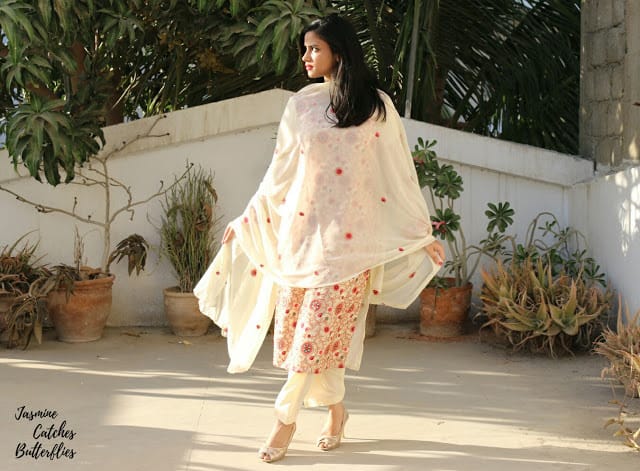 So, tell me what do you think of this look. Is it too simple, or would you like to wear something similar to a wedding too? Are there any particular colours that you would be wearing this spring for weddings or even parties? Most importantly, as a guest do you find selecting clothes for ten different wedding events a hassle too or do you have some neat trick up your sleeve to look stylish on a budget? I am all ears, today!
For more fashion inspiration, you can follow me on Pinterest as I do have a variety of fashion boards including one especially dedicated to South Asian Fashion. Also, I would really appreciate if you guys could subscribe to my Youtube channel. It is only a month old and I am grateful to everyone who watches my videos and gives me honest feedback. Means a lot and I would be doing lots of makeup and fashion videos on there too.
If you have any requests for my channel or blog, feel free to leave a comment below and I will try to produce the content that helps you guys even more.
Psst! Did you notice that I have switched up my blog's look? 😉