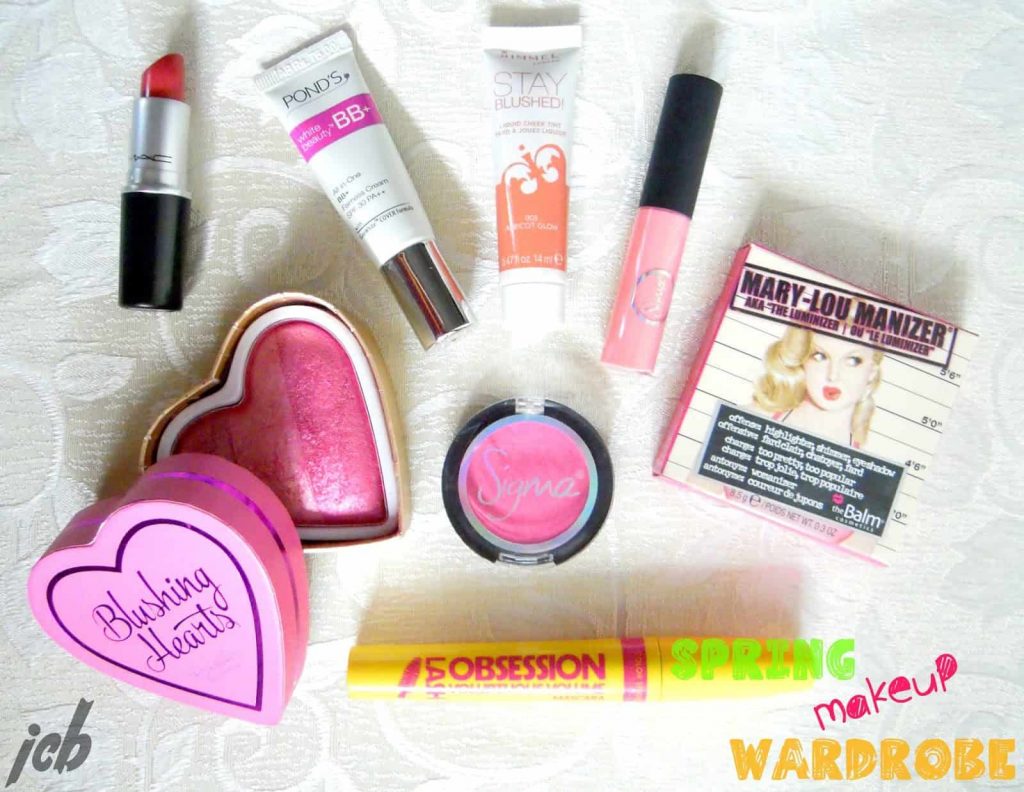 Spring is my favourite time of the year because of the pleasant weather, blooming flowers, fluttering butterflies and the list goes on. The word spring instantly brings 'colours' in my mind and to celebrate the livelihood of this season, I wanted to do a mini spring series on my blog. I have seen bloggers including Magpie Jasmine doing such 'wardrobe' posts in the past and that is where I got my inspiration. So, rather than doing just a single post, I am extending it to three categories. They have nothing to do with actual clothing, rather some of my beauty and makeup bits which I find spring appropriate.

So, welcome to the first part which is all about spring makeup bits.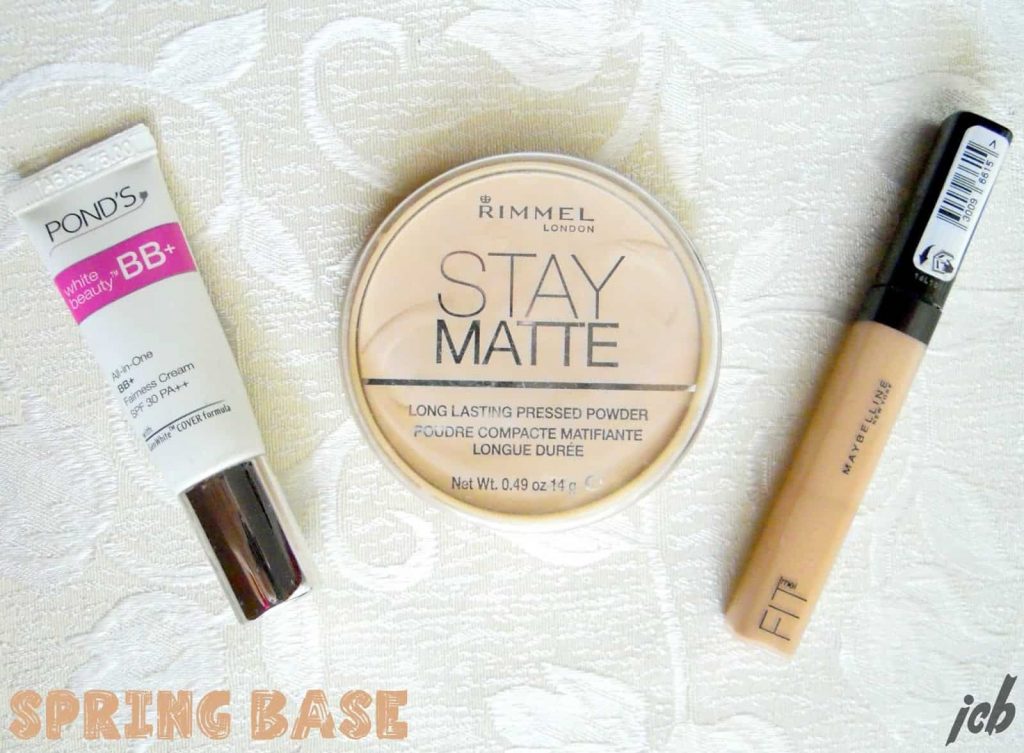 Base: I like to keep my base simple most days so all I use are Pond's BB Cream, Maybelline Fit Me Concealer Medium 25 and Rimmel Stay Matte Powder 001 Transparent. I have already raved about the BB cream in my past post but the reason I love this concealer is because it instantly brightens up my under eye area which needs some serious help, thanks to all that insomnia. I don't really need powdering as I have dry skin, but I use the Rimmel powder to set my concealer.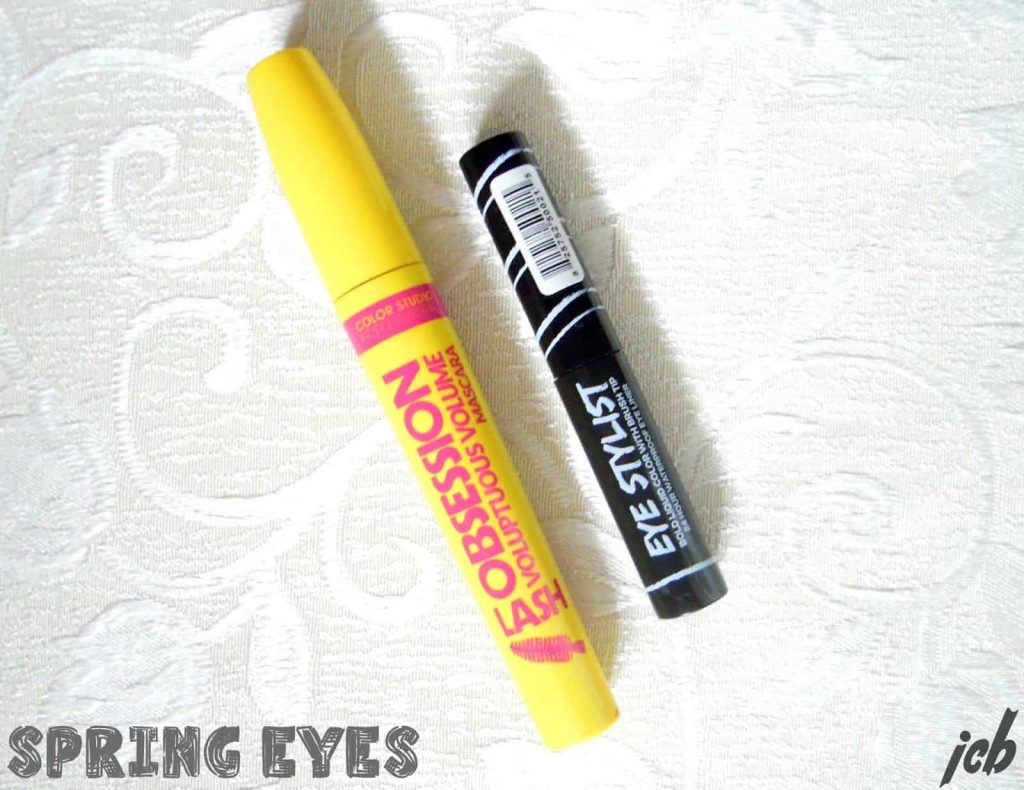 Eyes: Sadly, I recently had an eye infection so I have been a bit reluctant about using any eye makeup. My eye kept hurting for several days so I couldn't even touch it. Then I cleaned my collection and got rid of some stuff too. Therefore, all I have been recently wearing is this Color Studio Professional Lash Obsession Voluptuous Volume Mascara* and Eye Stylist Waterproof Liner*. To be honest, I am not a fan of either but I had to test these out and that's the only reason they made their way into my current routine. The mascara hardly does anything for my lashes and it's only good if you are looking for a subtle everyday lift. Nothing too impressive unlike its volumising claims but it does separate lashes well. As for the liner, the product itself isn't bad, it has a fine tip which is ideal for precision, however, I just don't like brush applicators for liquid liners.
I know it's strange to even put these here, but you now know, my eye makeup department has been a mess lately.
Cheeks: By the amount of cheek products I use, you can tell this is my favourite makeup category. For me, blushes and highlighters really pull the look together.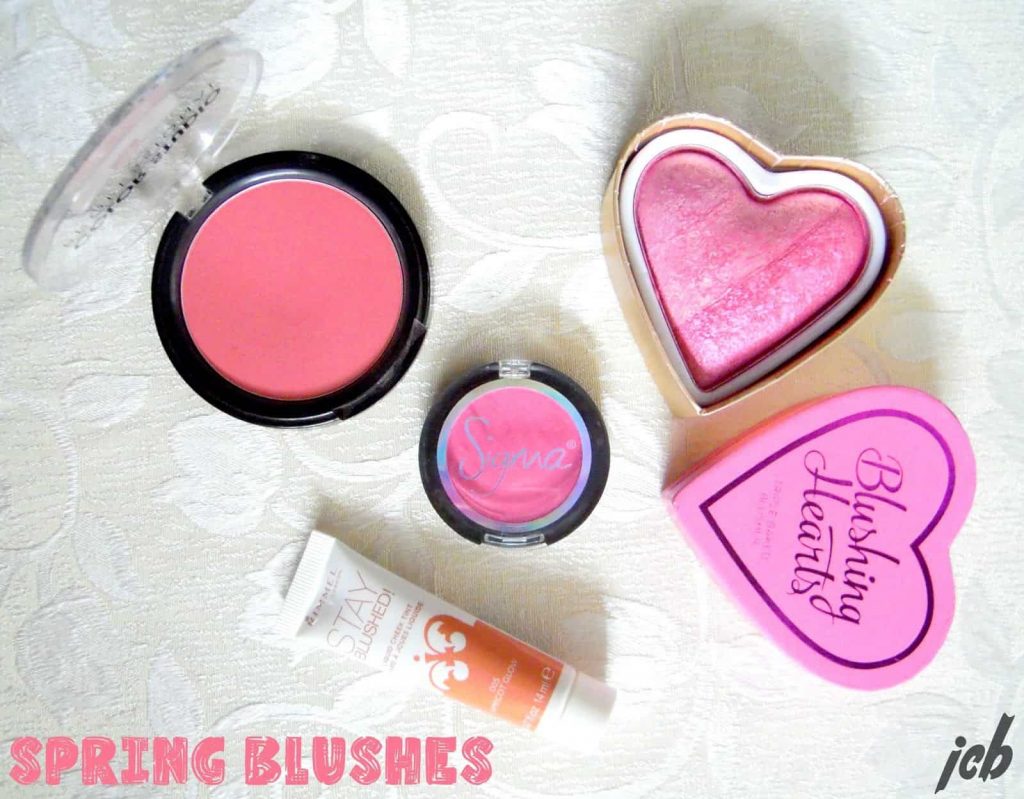 My go to blushers are; Rimmel Stay Blushed Liquid Cheek Tint in Apricot Glow for I am a lover of liquid and cream products, you can check my review for details. Sigma For Cute Blush*, because this is such a girly pink blush perfect for this time of the year, find out more about it along with the swatch in my review that I posted a few months back. Color Studio Professional Pro Blush in Pinkify, this looks similar to For Cute but is a bit warmer. I rediscovered it this month and you can find the details in my review. Makeup Revolution Blushing Hearts in Blushing Heart* is even though light, yet nice for a fresh glow. In my review, I did mention that it barely shows up on my complexion, but I like this for a natural look as it subtly highlights too.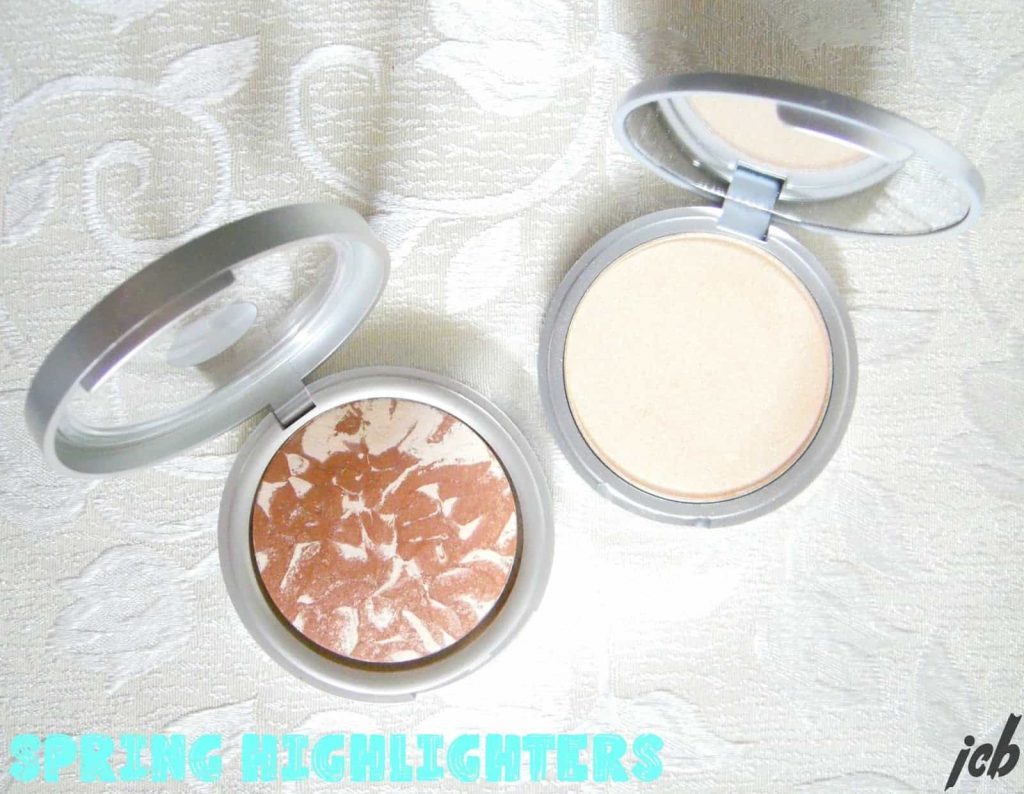 Other highlighting products in my spring makeup wardrobe are; Sweet Touch Glam 'N' Shine Bronzing Natural*, which actually triples up as a bronzer, blusher and a highlight. I love the bronze goddess look for spring and summer and this compliments my tan. You can see how beautiful it is in my review and you can also see me wearing it lightly in my recent MAC Crosswires review. This is a gem of a product because of its versatility. I love it both ways, light and built up. theBalm Mary-Lou Manizer, this highlighter needs a post of its own for many reasons. All I want to say right now is that it is bam wham, in your face, lights, camera, action kind of product.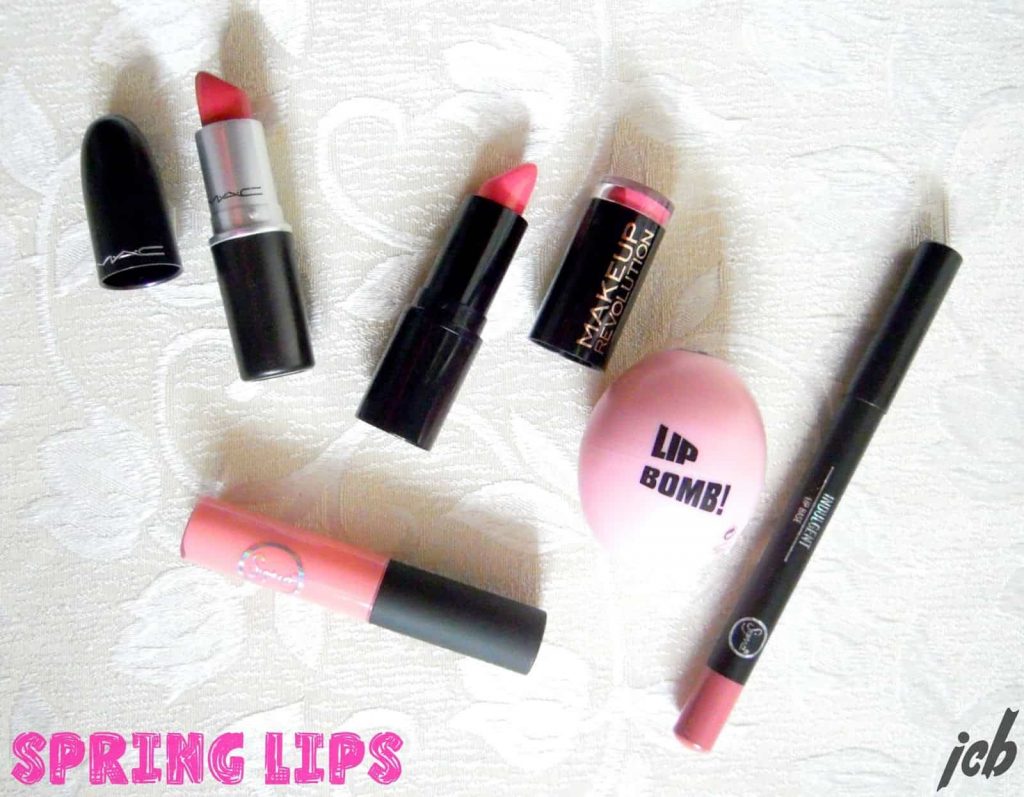 Lips: A year from now, this category was practically non-existent for me as I used to be such a shy lipstick wearer. Now though, I am addicted to MAC Crosswires. This is such a lovely shade of pink and everybody complimented me so much in my recent review of it that I feel all the more confident about wearing it. As for a natural, everyday lip shade, I am still loving Sigma Indulgent Lip Base*. For more on that, check my review. If I want to go for a glossy look, I top that lip base with Sigma Tender Lip Vex*. It adds a plumping effect and also smells yummy! Check out my review for swatch. For an even more, 'my lips but better' look I love the Makeup Revolution Beloved Lipstick*. I never expected this lipstick would turn out to be a favourite, but you can read more about it in my review. Lastly, I was recently sent this W7 Lip Bomb in Pink Cherry* and so far I quite like it. I will talk more about it in a future post.
I hope you enjoyed this post! Be ready for the next two parts and let me know if there's anything special that you would like to see! 🙂
p.s: Advertising for April is open & two FREE blogger slots are still up for grabs! 😉
What's in your spring makeup wardrobe? 😉 x









Check out my A-List Advertiser: Something New Each Day