Batiste was one of the earliest dry shampoo brands that took the beauty community by storm back in the day. Initially, everyone jumped on the bandwagon and sang praises. However, when more reviews started to trickle in, it did not seem as promising as it once did and one of the brands that started to take centre stage instead was an influencer launched range called COLAB.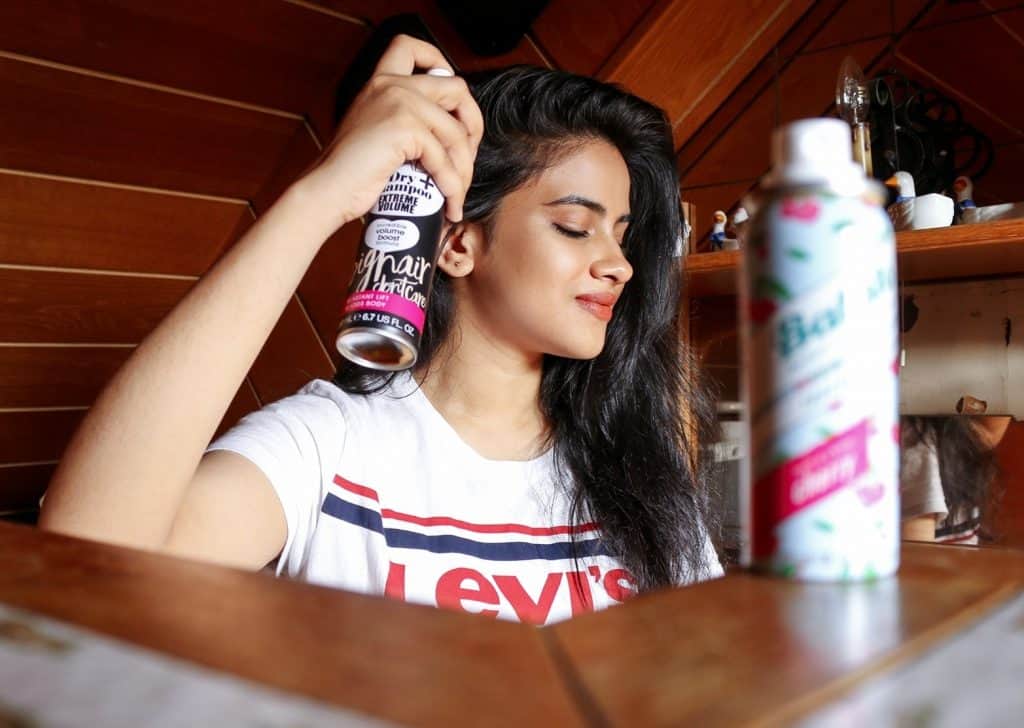 My predicament was always that neither of the brands is easily accessible in Pakistan and to place an online order via some Facebook page would cost an arm and a leg so I ended up sticking to the good old baby powder.
If you have been keeping up with my Instagram, you would be aware that I have moved to Germany. (You will find more tea on that later this week on my YouTube, so SUBSCRIBE!!!) So, my shopaholic-self couldn't restrain herself from buying two cans of dry shampoo when I spotted them here.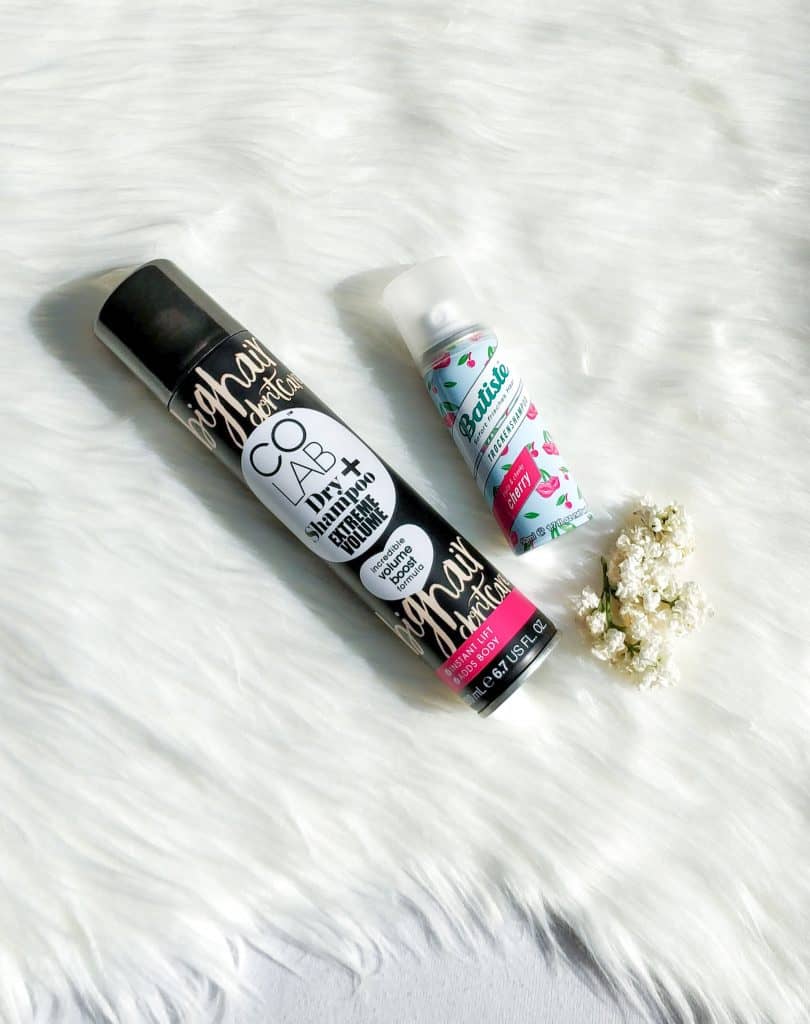 COLAB Extreme Volume Dry Shampoo
Even though this comes with a heftier price tag, I picked the COLAB dry shampoo first because I recalled it being called better than Batiste by numerous British bloggers. COLAB dry shampoos come in quite a few variants and the brand claims none of them leaves any residue or white cast on the hair. However, for some reason, I thought that this black can is for brunettes like myself. Therefore, I was not really pleased after using it for the first time.
Sure, it did take away the greasiness but at the same time, my hair felt stiff to the point that it was giving me a slight headache and I could not go another day without washing it. So it took me a while to realise that this is not just an ordinary dry shampoo that can be used on a daily basis. Rather, this is something you should reach for when you want to style your hair and add volume while keeping everything in place as a hair spray does.
The COLAB Extreme Volume Dry Shampoo does perform well if you are looking for a dry shampoo that takes away greasiness, adds body to your mane and also provides hold to your hair. However, this is not the one for me in between washes and I might go and pick a regular one from COLAB next time around.
Price: 3.75 €
Quantity: 200 ml
Availability in Germany: dm
Batiste Cherry Dry Shampoo
I did not intend on picking another dry shampoo this soon but I found a mini version of the Batiste Cherry Dry Shampoo in the travel essentials section (or that is what I assume it was) and it
only cost under a euro so I decided to give it a go before investing in a full-sized version and repeating my mistake.
Just like COLAB, Batiste too comes in numerous scents. It has been notoriously known to leave a white cast in hair. However, for this reason, the brand now does have a few colour versions for both, blondes and brunettes.
This Cherry one is, of course, a regular one and in fact, I think this was one of the original releases. I would say that even though I have dark hair, I do not find this dry shampoo to be problematic as long as I spray a moderate amount and rub the product into my scalp rather than spraying too much in a go. To my surprise, I ended up really liking this Batiste dry shampoo over the COLAB one.
I am not a fan of fruity scents but this Batiste one is quite light and pleasant. If you are curious, the COLAB dry shampoo also has a scent but I don't know what to call it other than the "hair spray scent".
My only gripe with the Batiste dry shampoo is that it does leave tiny white particles on my scalp so a good brushing through the hair after spraying it is always required.
Price: 3.25 €
Quantity: 200 ml
Availability in Germany: dm and Rossmann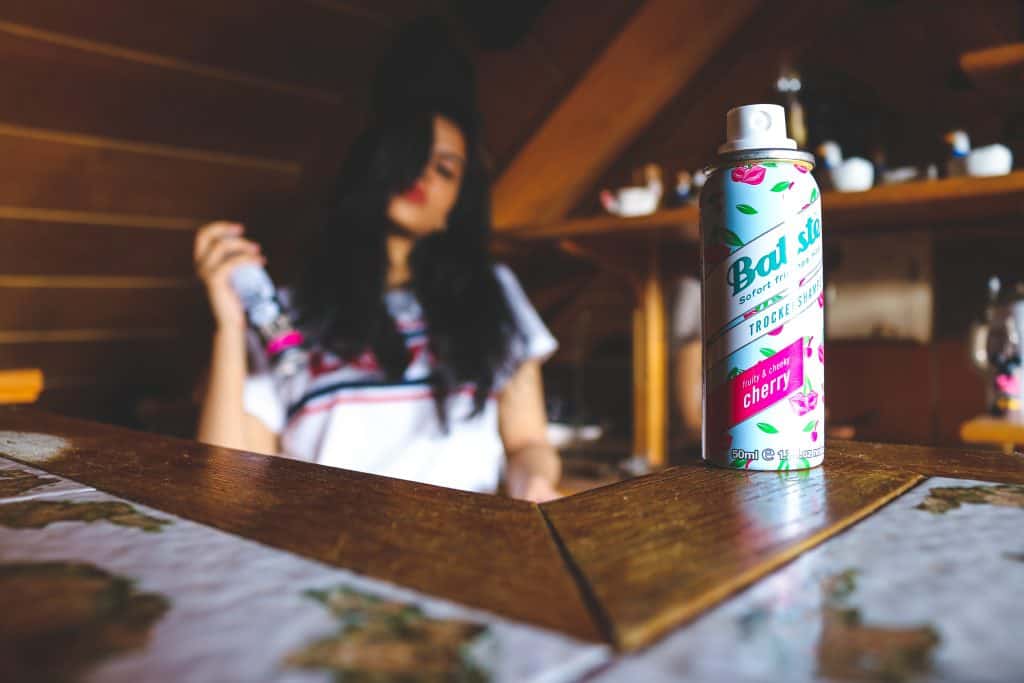 COLAB vs Batiste, which one won? Well, Batiste for now. I will report back if I try another version of the COLAB one and let me know if you want me to review the Batiste hair spray for dark hair as well.