Hey all! 🙂
I know, I mentioned in my last post that I'm not up for a 2012 Favourites post due to a busy schedule, but nonetheless, I changed my mind as I think it is an important thing to be posted not only for you guys but also for my personal record, and therefore, I'm taking time out from my tight routine to write it down.
Plus, I can't wait just another year to do my year favourites! It's not too late yet, is it?
I'm actually doing my 2012 favourite posts in a series or otherwise it'll just get too long in one single post! So, for the rest of this week, all you'll be seeing are my 2012 favourites plastered all over my blog.
To check out this week's schedule, please refer to my "Upcoming" page.
Also, note that I had already mentioned my 2012 Favourite Food blog in my previous post i.e Bird On A Cake
Skin Care Favourites: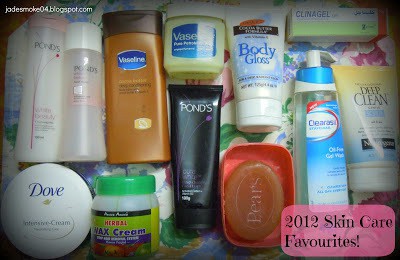 1. Ponds White Beauty Cleansing Milk.
2. Ponds White Beauty Toner.
3. Vaseline Cocoa Butter Deep Conditioning Body Lotion.
4. Vaseline Petroleum Jelly.
5. Ponds Pure White Deep Cleansing Facial Foam.
6. Dove Intensive-Cream. Review here.
7. Anees Anees Herbal Wax Cream.
8. Palmer's Cocoa Butter Body Gloss. Review here.
9. Pears Gentle Care Soap. Review here.
10. Clearasil Stay Clear Oil-free Gel Wash. Review here.
11. Clina Gel.
12. Neutrogena Deep Clean Gentle Scrub.
For my 2012 Skin Care Routine click here.
It's 2013 and my 1st week's blog schedule seems jammed! Whoa! Except for I missed out yesterday! -_-
To make up for missing out 2013's first Wednesday, I'm writing two posts for you peeps today! Yay!
Watch out for my 2012 Hair Favourites today only! 😉


Disclaimer:
I by no means am a professional. The results of the products stated above may vary for different skin types. It's always best to check with your dermatologist or beautician before trying out any new product.
Like my FACEBOOK PAGE for updates.
Check my sidebar to Follow Me Around & Grab My Button! x
Don't forget to comment, follow, subscribe! 🙂