-dramatic sigh-
It's the last day of November and I've picked my November Favourites to share with you all 🙂
Lets start with Beauty Favourites:
I'll go through these quickly and I have already short-listed them as I feared this post would get too long otherwise!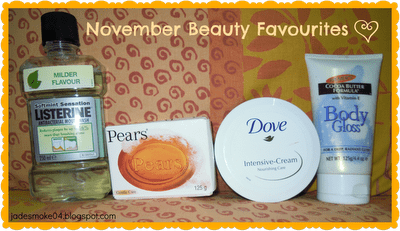 1. Listerine Mouth Wash: I don't think most of you would consider it a beauty favourite but I do because I'm very keen about oral health and beautiful teeth are a turn-on for me! If you want, I can do a whole post dedicated to oral health, just leave me a comment below saying so.
This particular mouthwash became a favourite mainly because of it's mild soft-mint flavour unlike many of the other mouthwashes that I have tried. It does burn but of course it's less intense. Though, only yesterday I found out that Listerine has also launched Listerine Zero which is alcohol-free so it doesn't burn at all. I'll be trying that out next!
2 & 3. Pears Soap & Dove Intensive Cream: Even though I have been seeing Pears advertisements for ages, for no particular reason I never bought it until on our last run to supermarket when my mom suggested me to try this, knowing that I have dry skin all year long and considering the fact that it has glycerin in it. This one has been a life-saver pick! In combination with the Dove Intensive Cream, which too was a new pick, it has worked wonders for my skin. Now my skin looks smoother, feels softer and stays well hydrated. I have not gotten even a single dry patch on my face since ever I'm using these two. Pears smells like nothing but glycerin and its very mild so no problem at all. However, I wasn't really sure about Dove at first because it is scented and I don't like to use scented moisturizers for I fear reactions and allergies. Good that I didn't get a chance to take a whiff at it in the supermarket because the salesperson was just so cranky -_- . Anyways, I have had no reactions at all on my skin after using it so I reckon its safe to use. 🙂
By the way, Pears is also available in two other flavours, namely Oil Clear and Germ Shield, but I think Gentle Care is the one for me. 🙂
4. Palmer's Cocoa Butter Body Gloss: I already reviewed this product this month and I'm loving it for both day & night-outs. You can read my review here.
Moving on to Blog Favourites:
Note: These are in order of my subscription date.

1. I started actual blogging this month only and I believe Hayley from
Water Painted Dreams
has been a major inspiration for me. I found her blog linked in another blogger's favourite and when I read her blog, I felt that we have a lot in common. I enjoy reading her blog. It's light hearted and not cluttered at all. Her blog has a nice balance between life and beauty, and I'm sure you'll love her. Do visit her blog and tell her I sent you. 😛

2. I don't remember how I came across Sara's blog,
! Pretty In Pink !
, but I am glad I did. 🙂
Everything about her blog is just as cute as she herself is. ^.^ From her layout to her posts, everything is such an eye-candy! I fell in love with her blog at first sight and I enjoy reading her posts a lot. Very few bloggers have the art of actually making their audience willing to read even their less exciting posts all the way through and undoubtedly Sara belongs to that lot. She is simply amazing! Do visit her blog as well and tell her I sent you. 🙂
Best thing about both the bloggers mentioned above is that they are interactive with their audiences. 🙂
Two great ladies, double blog treats for you! Enjoy 🙂
Lastly, I've been loving this ladies website called
YouBeauty
that I came across a while ago. I mainly love it for it's quizzes and I have subscribed to it via email. Everyday, I receive a "Daily Aha" and one other email about health and beauty. I find it a very useful and knowledgeable subscription as everyday I discover new beauty and health facts and figures in addition to loads of helpful tips! You must check it out! 🙂
Last night, I took a
Hair Age Quiz
on this site and apparently my hair is just 14 years old 😉 haha! That's good, considering that I am 18 actually! Take this quiz and tell me how old is your hair by commenting below . 🙂
Links: