Whether it is just a weekend blemish or tattoos that need covering up for corporate slavery, Dermacol Foundation claims to cover it all and perhaps, rightly so.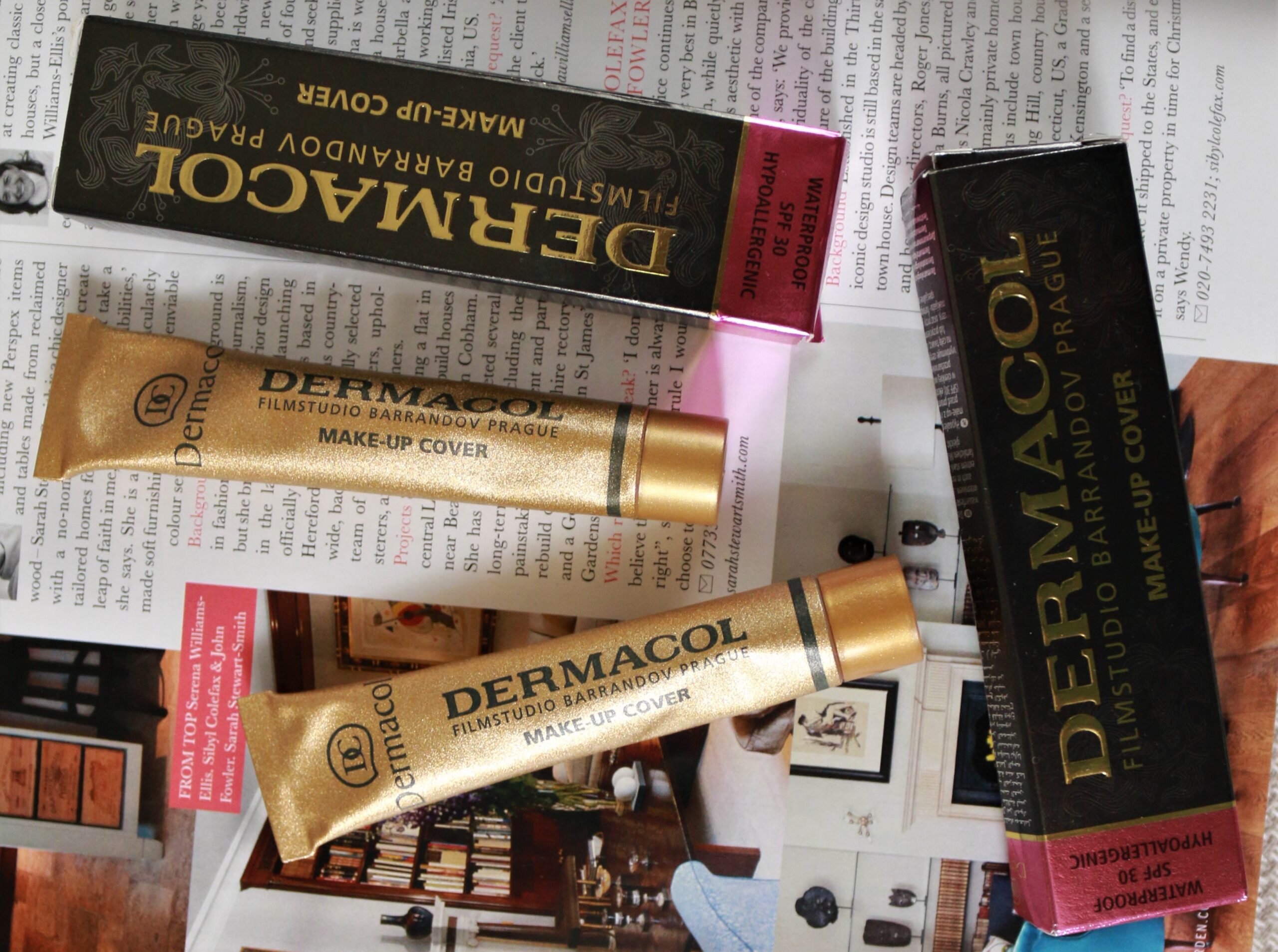 Dermacol is a Czech makeup brand and I fell in love with their foundation about three years ago and back then I had filmed a Dermacol First Impressions video along with a How to Use Dermacol video. If you are here, you either love to read or have just stumbled upon my blog to skim through a Dermacol review before impulse buying. Therefore, I am giving you all the nitty-gritty details on the Dermacol full coverage foundation in this blog post as well.
Dermacol Shade Range
Dermacol Makeup-Cover comes in 19 shades and while it is not the most extensive shade range, I am glad there is still a nice balance of light, medium and dark shades. You might need to mix and match but the brand also offers a variety of undertones.
I have a medium-tan complexion and my face is a few shades darker than my body. So based on the online swatches, I had initially ordered this Dermacol foundation in the shades 218 (medium beige with yellow undertone) and 222 (golden dark beige). After trying them out in my first impressions video, it was evident that 218 was a touch too light for me while 222 matched my overall complexion better.
My friend Wurduh from the blog, The Digital Zarda, was the one who got me hooked onto this foundation in the first place. Once when she was over to do a Halloween collab on the 1920s Gatsby Inspired Makeup look, she used the shade 223 (dark olive with beige undertone) for covering my hyper-pigmentation and it matched my face pretty well too but a was a touch too dark to go with my overall complexion.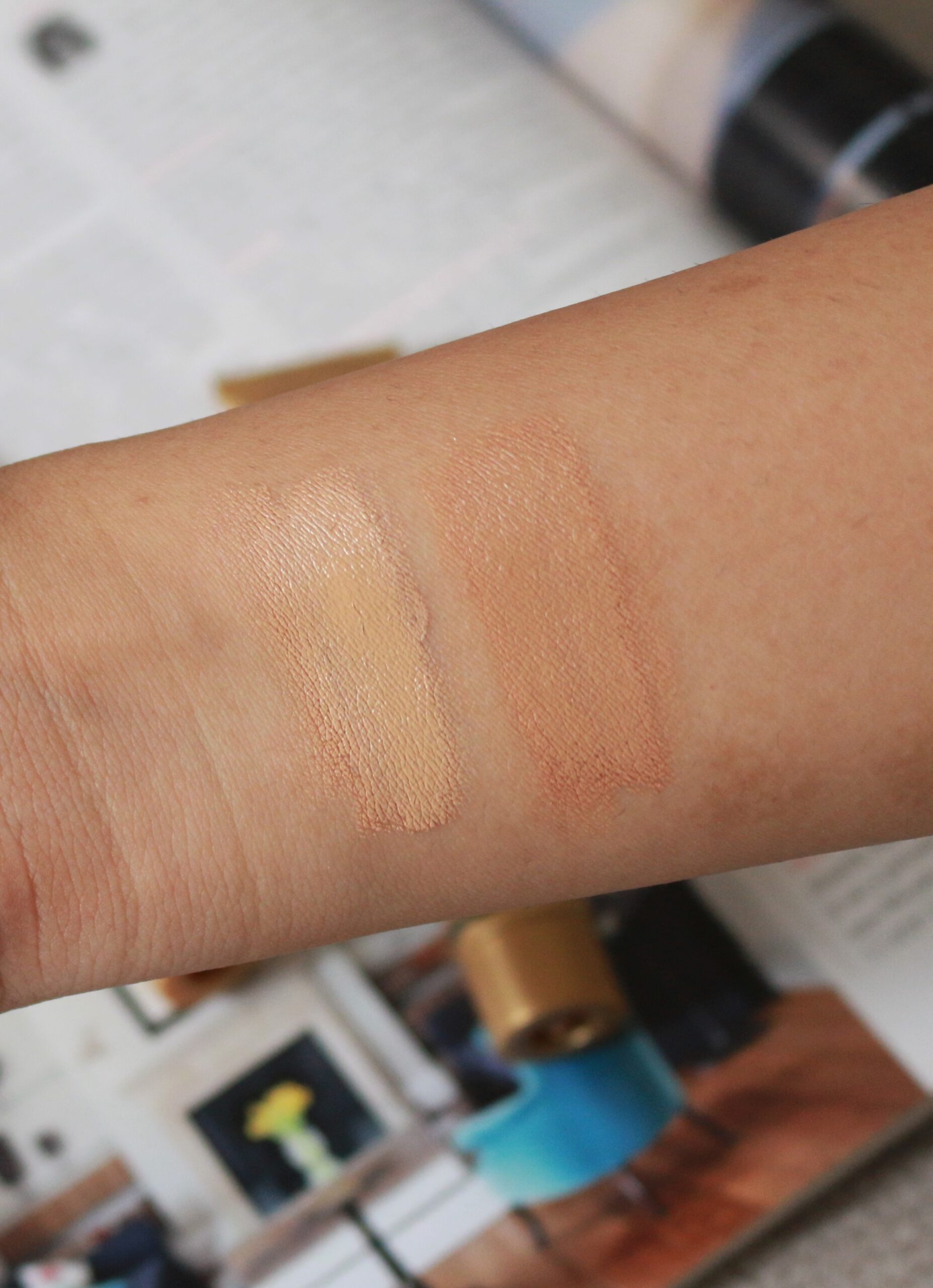 Consistency and Finish of the Dermacol Foundation
The Dermacol foundation consists of 50% pigment and since that is the key ingredient, it definitely has high coverage. The consistency of the foundation is also quite thick. Therefore, you only need a small amount of product for a medium to full coverage. I have huge pores and some texture on my skin so I love applying the Dermacol foundation with a beauty sponge rather than using a brush. It looks more blended and flawless. However, if you a smooth skin but want to achieve a full coverage look, you can use a brush.
The key is to use very little product as otherwise, it can end up looking cakey. Watch my Dermacol application video below to see how little product I actually use. Just a little bit of Dermacol Makeup-cover goes a long way.
The Dermacol foundation has a satin-matte finish and is easy to work with as long as you build the coverage little by little. If you use too much product this foundation is bound to crease and look oily after a couple of hours. That's why I cannot stress enough that you do not a lot, to begin with, and set your face with a translucent powder for best results.
The Dermacol foundation is also waterproof and has SPF 30, both of which are added bonuses for me. Although, due to the SPF, this foundation does give a little bit of a flashback in photographs. Nonetheless, I often use it for most of my Instagram makeup looks.
Dermacol Packaging, Price and Availability
The Dermacol foundation comes in a palm-sized golden tube. It looks appropriate for a makeup artistry kit as it is quite compact and easy to travel with. I have personally never experienced any damage or leakage but that is a possibility with a tube like this.
I recently repurchased this foundation for €6.79 on sale from Amazon but the price varies between €6 to €10 (for 30 g), depending on where you buy it from. You can purchase it directly from the Dermacol Deutschland website or check it out on Amazon, eBay etc. The brand has its own stores in some countries, as well as Czech Republic.
If you are in Pakistan I would advise you to buy it from Dermacol Pakistan E Shop on Facebook as I had purchased my first ones from there too and they sell authentic Dermacol products.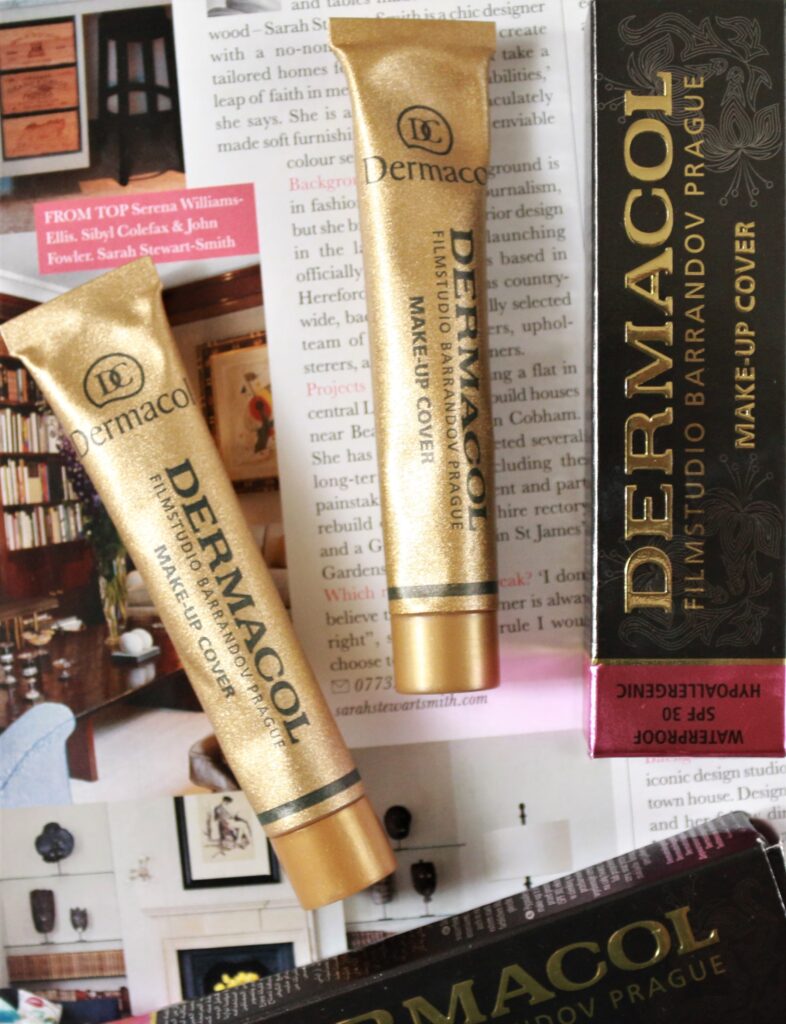 Is the Dermacol Makeup Cover worth the hype?
I usually steer clear of hyped up products but the fact that I ended up repurchasing this foundation after moving to Germany, says it all. I have been using this foundation for nearly 3 years now and while I do have some other favourites, I still reach out for Dermacol pretty often.
A lot of my friends and family even bought this foundation after seeing how flawless it looked on my skin. That for me is a huge deal because like I said, I have textured skin and getting complimented on my base in person, really means that this foundation is amazing. So in my opinion, Dermacol is definitely worth the hype.
Also check out my thoughts on the Dermacol Satin Makeup Base (Primer).