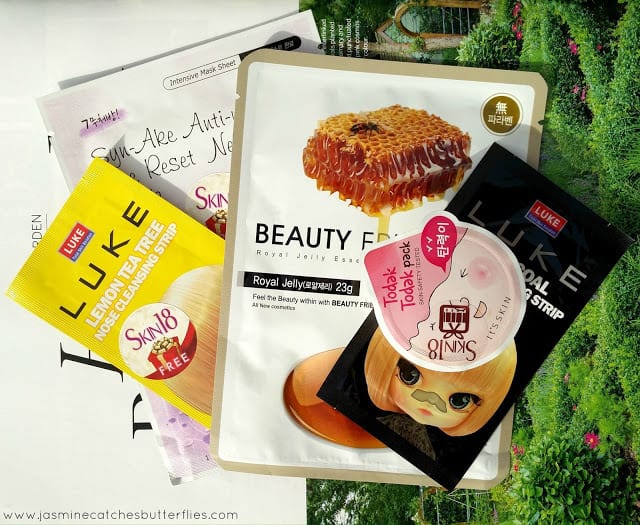 Korean beauty products from Skin18
PR Samples*
Keeping up with the Koreans, here is another skin care range review. I was sent a handful of masks by the infamous Skin18 which is an online haven for all things beauty. I have been quite excited to try these out as I always say focus on your skin, makeup is secondary.
So I got a total of five products in my care package out of which one was a wash off gel mask, two were sheet masks and two were nose cleansing strips. So I did a little spa ritual at home and split the sheet masks and nose strips with my mum.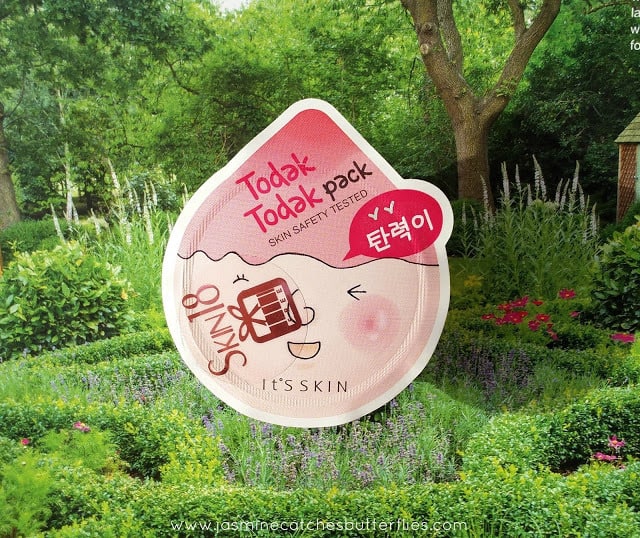 It's Skin Todak Todak Pack Elasticity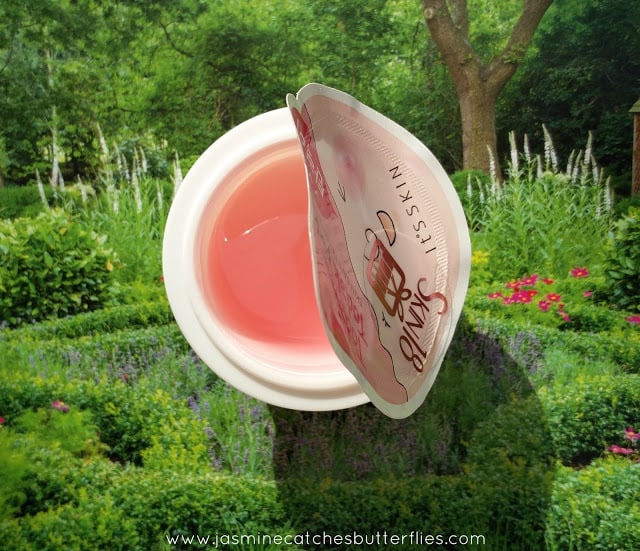 It's Skin Todak Todak Pack Elasticity
1. It's Skin Todak Todak Pack Elasticity
This is the cutest little tub of gel mask from the brand It's Skin and I like how small it is because the idea behind this 10 ml sizing is to prevent the product from wasting and you can get a couple uses out of it. The Todak Todak range has 5 types of masks and the one I got is for skin elasticity as it is infused with Shea Butter and Pomegranate. The brand says that this has a fresh pomegranate scent though I find it to be synthetic and it smells like a typical gel mask.
To use this, just spread it evenly all over your skin and wash after 10-15 minutes with warm water. It is quite light weight and is not sticky at all so it absorbs quickly into the skin and surprisingly washes off easily too unlike most gel products. After using it I can certainly say that it gave me a nice glow.
Price: $2.85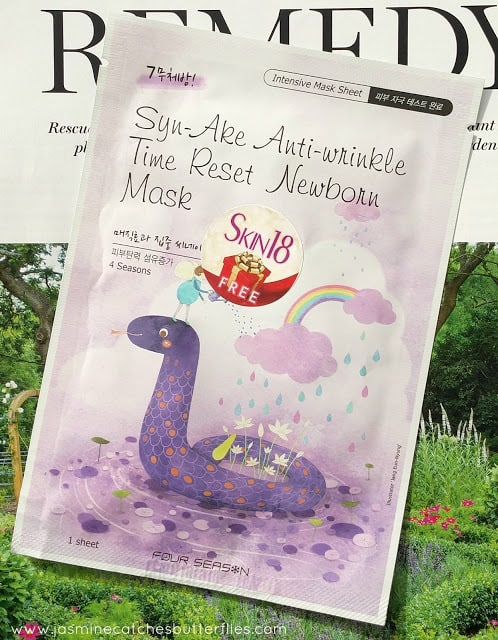 Four Season Syn-Ake Anti-Wrinkle Time Reset Newborn Mask
2. Four Season Syn-Ake Anti-Wrinkle Time Reset Newborn Mask
Now this is an interesting sheet mask from the brand Four Season as it contains the essence made up of a protein structure similar to that found in snake's venom. It is anti-wrinkle and pore tightening so this is the one I gave my mum to use. I found it to be dripping wet and there was a good amount of essence left in the packet so I rubbed that remainder on my own face later.
The size of this mask was pretty good for her face and it only slightly covered her lip area. She had it on for over 30 minutes and after that, as directed, we let the essence soak into her skin rather than washing it. She said that she liked it and her skin felt soft but I believe a mask like this has to be used regularly for seeing a noticeable difference. Nonetheless, this was the nicest smelling one of the lot with a fresh floral scent.
Price: $0.95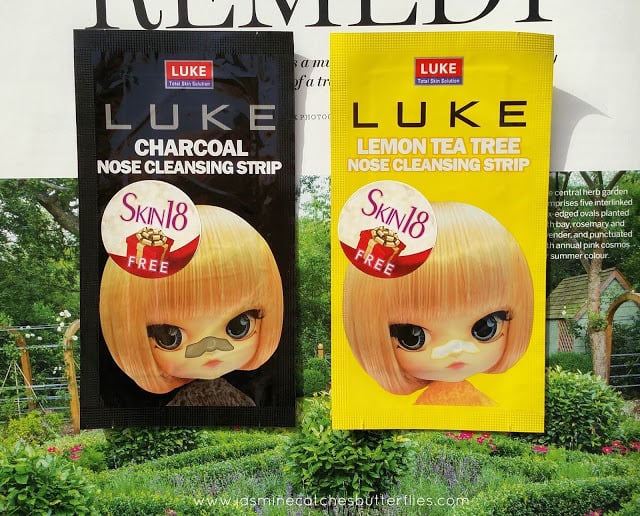 4. Luke Charcoal and Lemon Tea Tree Nose Cleansing Strip
3. Luke Charcoal Nose Cleansing Strip
I hadn't used a nose strip in a hot minute and had been lusting after charcoal skin care products so this got me very excited. When I first peeled the strip off the plastic I was actually confused which side would go on my nose. One was covered in charcoal, the other was just the mesh. The directions said that the strip won't stick if the nose isn't made wet with water but this strip was quite sticky on the charcoal side so I doubted if I should instead put the mesh on my nose and the product will seep through. I think it happened because of the hot weather and luckily I put the charcoal side as required.
Once on, I added a little more water on the top to smooth it down evenly and peeled after 15 minutes when it felt stiff. Now I don't have a major blackhead issue other than some extremely faint peach fuzz on my nose so this strip didn't take that off but if you notice in the photo, you can see that it did manage to pick whiteheads. Other than that I just felt my nose was really soft afterwards.
The brand claims that this is supposed to be pore tightening and I think that can only be judged with continual use. However, it is packed with Vitamin E, Aloe Vera, Hamamelis Virginiana (pore tightening agent) and Liquorice Root the latter of which I feel gives it the faint sweet scent.
Price: $0.65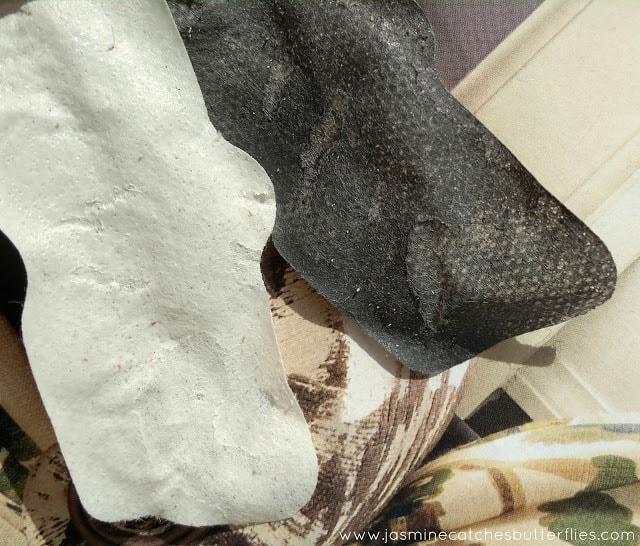 4. Luke Lemon Tea Tree and Charcoal Nose Cleansing Strip
4. Luke Lemon Tea Tree Nose Cleansing Strip
I gave this strip to my mum and again she did not have any major blackheads so you can just see little bits of fabric and whiteheads stuck on the white strip. Result wise it was quite similar to the charcoal one but I think I would still go for charcoal even though the key ingredients and claims of both are same.
One thing that I noticed was that this did not smell anything like lemon, instead, it kind of reminded me of ginseng.
Price: $0.65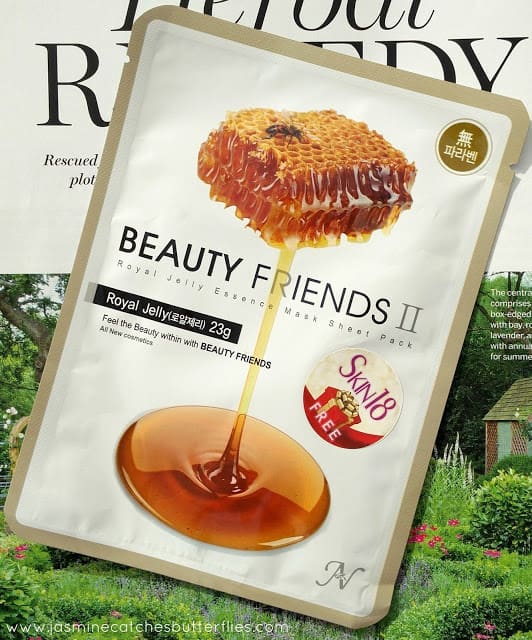 Beauty Friends II Royal Jelly Essence Mask Sheet Pack
5. Beauty Friends II Royal Jelly Essence Mask Sheet Pack
I love anything that has honey because I have a dry/combination skin so I love keeping it as moisturised as possible. As of late my skin has not been dry at all because of the humidity in Karachi but I still tried this mask and considering the claims, the result actually blew me away.
For the first impressions, I would say that this royal jelly sheet mask was soaking wet which I liked and I found it to be a bit big for my face as it covered my lips completely though I don't mind. It just shows that it would be sufficient for a variety of face shapes. I left it on my face for a good 40-45 minutes, until every drop of essence was sucked up by my skin. The mask claims that it heightens moisture retention and on taking it off, my face looked bloated but in a healthy way. It was like my skin had been just filled with water and it felt so soft, supple and elastic.
However, one thing that alarmed me at the first sight was that my discoloured skin patches looked darker than usual but I soon realised that it does sometimes happen to me after facials as blood circulation to the face is increased. Now since the skin on the patches is already dark, rather than looking red, it looked purple but if you are someone prone to redness, you would know what I mean.
Beauty Friends II Royal Jelly Mask can also be used cold or hot, you just have to refrigerate it or place it in warm water. I personally didn't do either of that and still found it to be amazing. It has a diluted honey scent which I am not too keen about but it is not bothersome.
This mask has to be my favourite out of everything I got and it is something that I would definitely like to stock up on for the colder months.
Price: $0.80
For more details please visit skin18.com.

Follow
(function(d, s, id) {var js, fjs = d.getElementsByTagName(s)[0];if (d.getElementById(id)) return;js = d.createElement(s);js.id = id;js.src = "https://widget.bloglovin.com/assets/widget/loader.js";fjs.parentNode.insertBefore(js, fjs);}(document, "script", "bloglovin-sdk"))